If you've watched any American game show, you have probably heard a charismatic host shout the words "you're going to Aruba," while excited contestants jump for joy. With so many pretty beach destinations around the globe, you might find yourself wondering what's the big deal. Is Aruba as great as they make it seem?
Black Bride had the pleasure of visiting the paradise island of Aruba for a schedule packed four day vacation. In-between sunset dinners overlooking the dazzling Caribbean Sea, cultural excursions, windsurfing lessons and a few more glasses rum and beer than we'd like to admit - we found out why Aruba is considered the "Happy Island" of the Dutch Caribbean. Whether you're looking for an adrenaline rush or a unique venue for a destination wedding, honeymoon, anniversary or even a baecation, Aruba has got all your needs covered.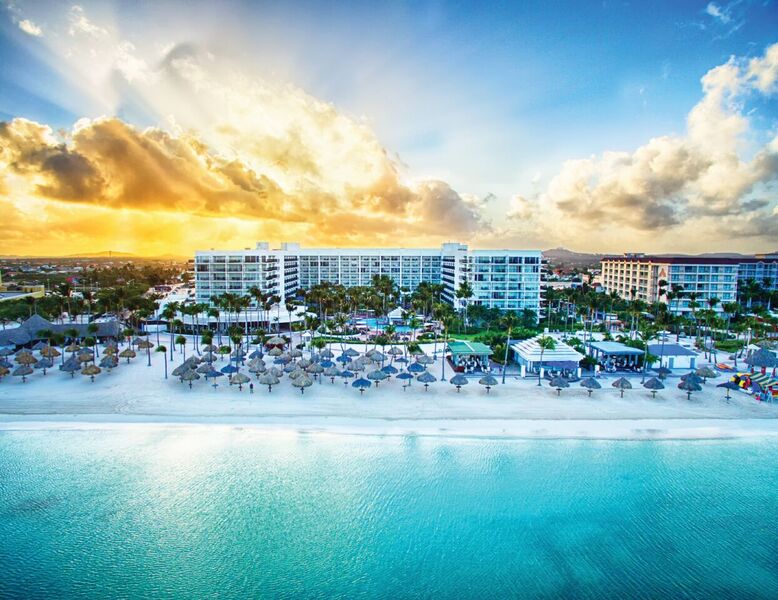 Our first stop: Aruba Marriott Resort & Stellaris Casino. With over 10,450 square feet of indoor and outdoor event space, this island retreat is located in the center of Palm Beach. You only need to take a few steps from the lobby to land yourself in Aruba's luxurious white sand and sparkling turquoise waters. If you need to take a break from the salty air, you can take a dip in the Aruba Marriott's beachfront swimming pool, lazy river, whirlpool spa or the adult-only H20asis. For those who are more adventurous, you can partake in exciting outdoor activities with your loved one, including: underwater safaris, sailing, every extreme water sport you can imagine, hiking and biking trails, as well as land rover expeditions and party bus tours.
When it comes to architecture and decor, the Aruba Marriott is a stunning and and modern resort that perfectly blends contemporary interiors with tropical island accents. Each room is decorated with crisp white linens and exotic patterns, alongside cool and warm tones that'll remind you that you're only a short distance from the beach. Tasteful furniture and art provide those cozy, yet sophisticated vibes that make your visit feel like you're staying at a chic vacation home.
Offering a variety of rooms with limited, garden, partial- and full-oceanfront views, you can wake up to breathtaking Aruban sunrises. And if you're lucky enough to be on Palm Beach with your sweetheart during sunset, we absolutely recommend you take a lovely stroll along the coastline for a romantic date with nature.
Black Bride Tip: Want to save money? Make your reservation between April and August for lower rates. Aruba sits well below the hurricane belt, so you also don't have to worry about tropical storms. Additionally, the Aruba Marriott is currently accepting donations to help rebuild its fellow Caribbean islands affected by Hurricane Irma and Maria.
While on property, couples are free to explore all the Aruba Marriott Resort & Stellaris Casino has to offer. Whether you want to maintain your body goals with a workout at the two-floor Fitness Center, indulge in a savory meal or treat at one of the resort's restaurants, or decide to spend your time lounging in the sun, there's something for everyone at the Aruba Marriott.
Nightlife is very much a part of Aruban culture, and the Aruba Marriott mirrors that value by providing numerous entertainment opportunities for their mature clientele. The Stellaris Casino is an obvious favorite for guests that enjoy Vegas-style action. With over 26 gaming tables, 500 slot machines and gaming kiosks, the Stellaris Casino is Aruba's largest 24-hour casino. If gambling isn't your cup of tea, you can exchange that glass for an alcoholic beverage in the lobby bar or swimup pool bar. We were huge fans of the Aruba Ariba, the island's signature cocktail that's delectably mixed with vodka, 151 rum, Coecoei, Creme de Banana and a variety of fruit juices. If you're more of a beer drinker, the One Hoppy Island Toasted Coconut Pale Ale is a craft beer you should definitely try.
Other recreation couples can take part in away from children include live music, comedy shows, the world famous Mandara Spa and pool cabanas. You can also enhance your vacation with a customized adults-only Seaside & Sundown Package or a Parent's De-Stress Package. Joining the Tradeswinds Club is another option where membership provides lavish guest rooms, as well as exclusive access to the Aruba Marriott's Tradewinds Club Lounge and other special perks.
.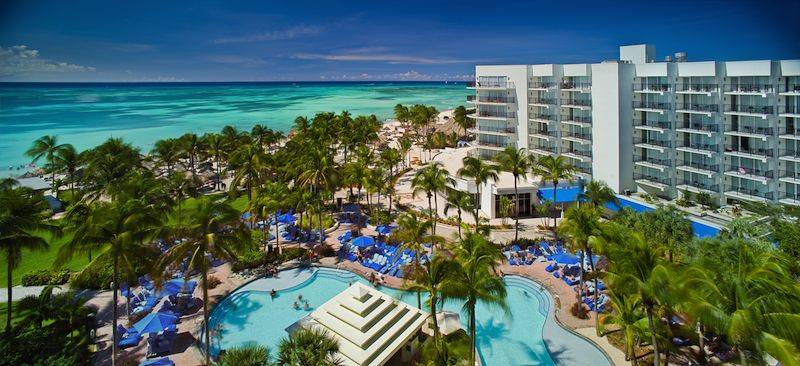 During our stay in Aruba, we opted for a cultural excursion at the Museum of Industry and learned about the island's rich history. We followed up our history lesson with a tour of San Nicolaas in southeast Oranjestad, where we saw the neighborhood's growing art scene. We were touched by the African influence we saw in many of the murals as we walked down the vibrant streets. Our excursion ended with a quaint lunch at Charlie's Bar, where we found out what the locals really like to eat.
Additional activities we busied ourselves with included wind surfing lessons in Palm Beach, an off-road tour through Arikok National Park - which provided numerous photo opportunities and a thrilling cliff dive experience into one of Aruba's natural pools and a pit stop at the Donkey Sanctuary.
Black Bride Tip: For your convenience, the Aruba Marriott Resort & Stellaris Casino allows you to charge purchases to your room so you don't have to carry a wallet everywhere. Take advantage of this system to avoid losing cash or other valuables while you explore the resort. Though, we also advise you to be wary of this when you're at the casino. We don't want you to spend all your souvenir money in one place!
Weddings At The Aruba Marriott Resort
As a popular destination for beach weddings, the Aruba Marriott Resort & Stellaris Casino is one venue that's in high demand because of its unique offerings. Brides and grooms are of course treated to a tropical haven, but also receive an affordable ceremony and reception that's tailor-made. From cakes, catering, decor and beyond, the Events Manager of the Aruba Marriott is available to help you every step of the way.
With both indoor and outdoor banquet space available, the Aruba Marriott can accommodate up to 500 wedding guests. Most couples choose to wed during sunset at the West, South or Tradeswinds Beach for the superb views of the Caribbean Sea. La Vista Terrace is another popular outdoor option that provides a scenic island wedding. The Grand Ballroom is ideal for opulent fairytale unions thanks to its magnificent decor and four separate salons.


Black Bride Tip: If you're planning a destination wedding in Aruba as a non-Dutch national, file your paperwork as soon as possible to have a legally recognized ceremony. You'll need to submit copies of your birth certificate, passport or state ID, a certification of no-impediment and supplementary documentation if you've been divorced or are a widow/widower. It's also required that you have at least two witnesses over the age of 18 present at your ceremony, and you must provide a copy of their valid form of ID as well. Your application and payment for the marriage license should be submitted to Aruba's Office of Civil Registry before arrival.
Honeymoons At The Aruba Marriott Resort
Already married? No problem! Set a glorious tone for your new life together with an unforgettable honeymoon in Aruba. Romantic honeymoon packages are obtainable for couples, including the Honeymoon Bliss Package and Seaside & Sundown Package. After all the stress you've gone through planning your wedding, the Aruba Marriott Resort & Stellaris Casino perfect grand finale to your once-in-a-lifetime celebration.
There's also the One Happy Honeymoon Program, where honeymooners are provide red carpet treatment with a bottle of champagne upon arrival, a souvenir gift and a free night stay when returning for a first anniversary. Who could say no to that?
Black Bride Tip: To get a glimpse of what Aruba is like around Christmastime without the sky-high holiday price, reserve your stay for the first week of December. You'll get to see all the preparations that go into turning this tropical location into a festive "Winter Wonderland."
Ready to book your trip to Aruba? We won't blame you if you already opened a tab to look up reservations. After enjoying hearty meals at Atardi, La Vista, +297 and Tierra del Sol, on top of adrenaline inducing day trips - we at Black Bride ended our #ArubanAdventure with a night out at the Stellaris Casino. Let's just say Lady Luck wasn't on our side, but we remedied our losses with sweet, sweet gelato. We regret nothing!
If you want to see more of what we got ourselves into during our Aruba takeover, check out our trip updates on Twitter with the hashtag #BlackBrideAruba. For Instagram - see our slideshow here. If you want more information on the Aruba Marriott Resort & Stellaris Casino, please visit ArubaMarriottTravelCompanion.com. We promise you'll fall in love with this lovely property!
Click HERE to win a FREE Honeymoon to Aruba! One lucky engaged or married couple will win a once-in-a-lifetime honeymoon: a 3-night romantic getaway at the Aruba Marriott Resort & Stellaris Hotel! After all the stress of wedding planning, you deserve a chance at paradise!