Jaquada and Gideon met at church. He had just moved back from overseas because he was in the military, and he started attending church. Jaquada would always tease him and call him names. One night, they went to a Hawks game with Jaquada's aunt and she offered to buy Gideon a drink. On their way back to their seats, they saw a friend of his and he introduced Jaquada as his wife. Needless to say, they started dating. Not long after, that joke became a reality. They married with an elegant, purple and turquoise themed fairytale wedding at HOPE Banquet Hall in Atlanta, Georgia. Check out their special day, captured by Shannon Ford Photography.
Bride's full name and occupation: Jaquada Williams, Teacher
Groom's full name and occupation: Gideon Williams, Electrical Engineering
Place of residence: Georgia
Wedding date: September 3, 2016
Wedding location: HOPE Banquet Hall, Atlanta, Georgia
Wedding theme: Simple & Elegant Wedding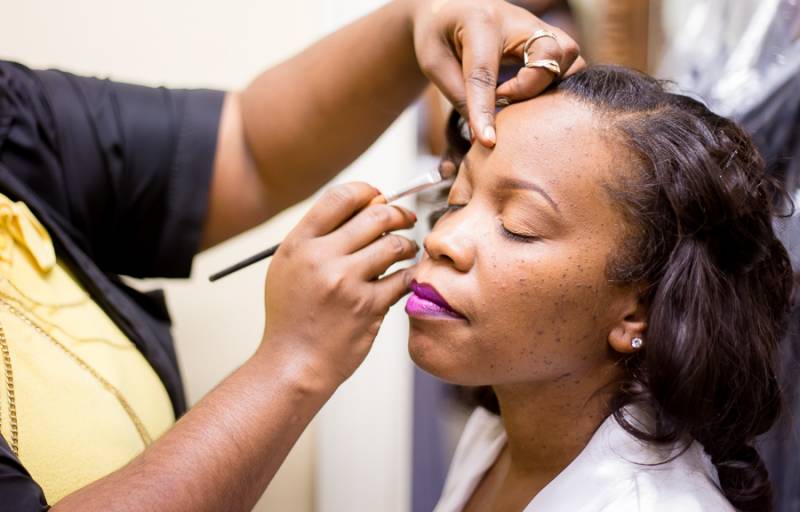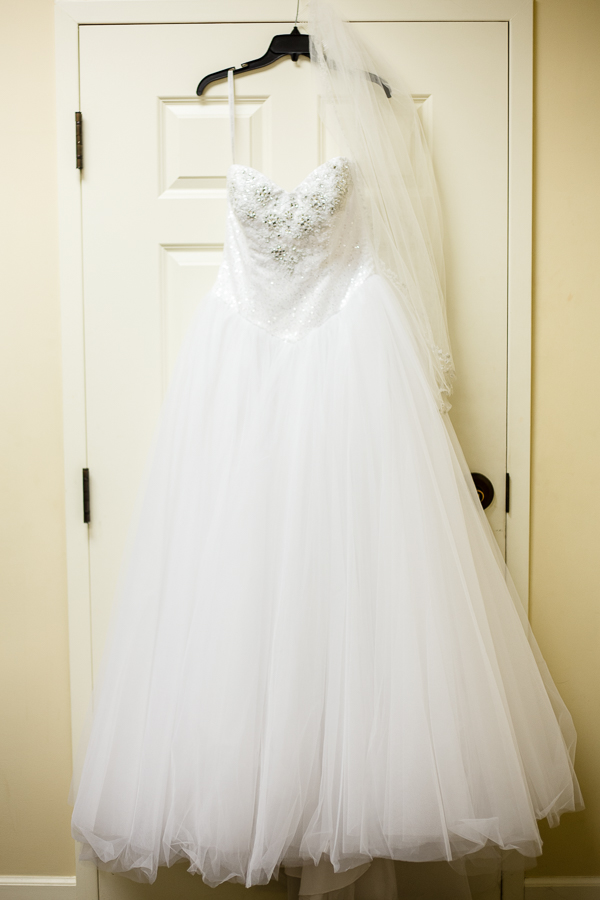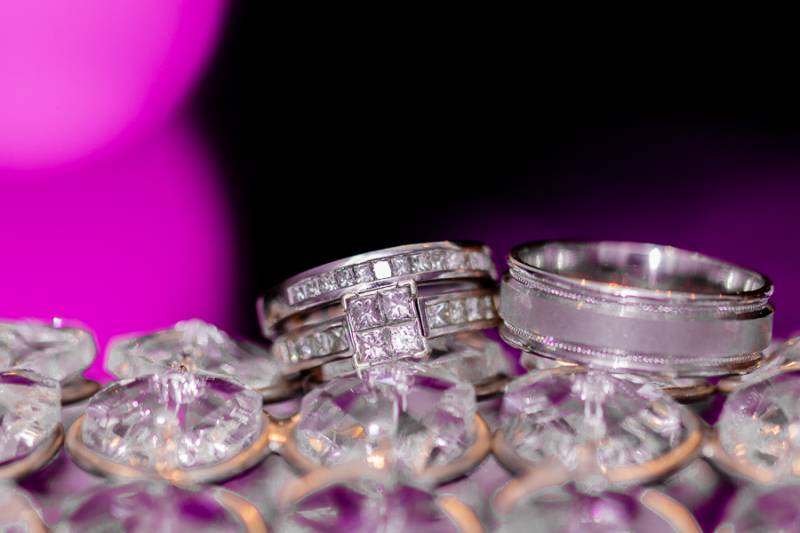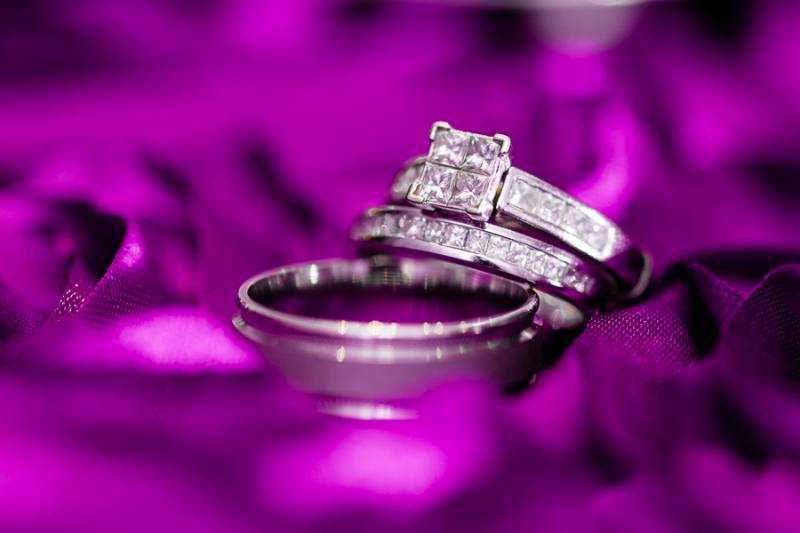 Engagement story:
We were approaching our four year anniversary and I was a little anxious about marriage. We had talked about it and looked at rings, but nothing was happening. I thought the proposal would be before I started work in the fall of 2015, but it wasn't.
My mom had come to me and said she was planning a summer barbecue when my stepdad was in town. I didn't think anything of it, so I helped plan it and made sure my family brought their items. As we were about to eat, my stepdad asked Gideon to say the prayer.
We bowed our heads in a circle and all of a sudden, he started talking to me, saying he loved me and that I was his best friend. At first, my head was still down because I thought he was saying a prayer. Everyone backed out of the circle and he proceeded to kneel down and asked me to marry him. I laughed, cried and laughed some more and said, "Yes."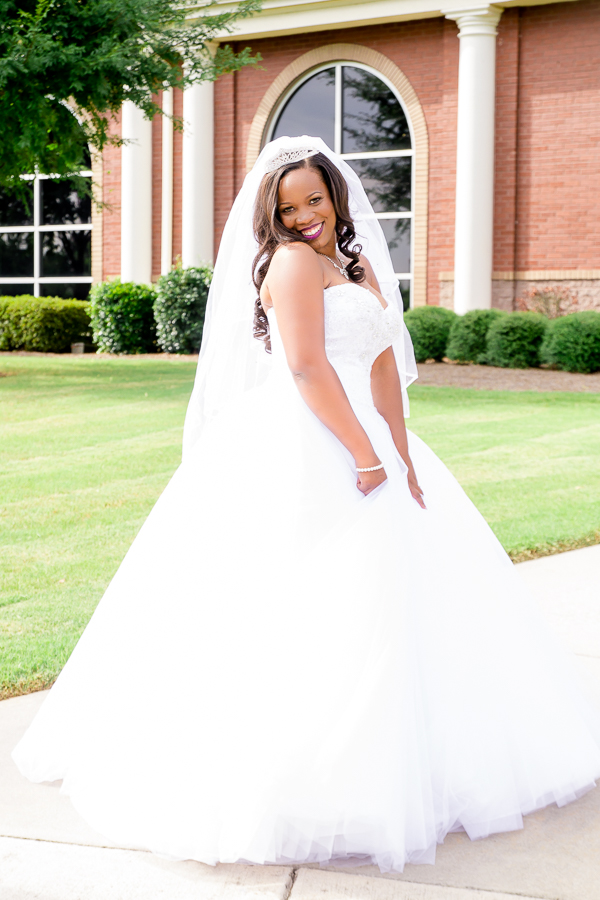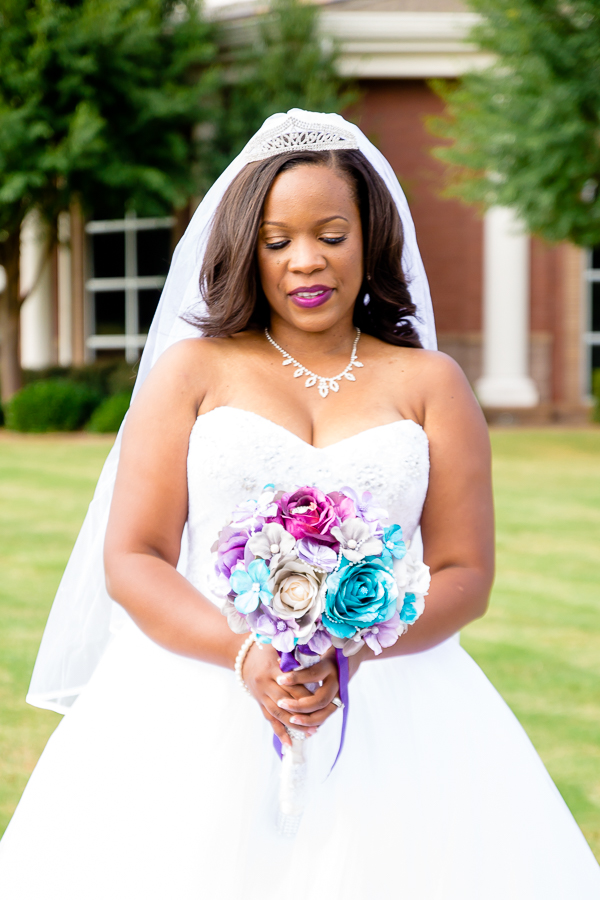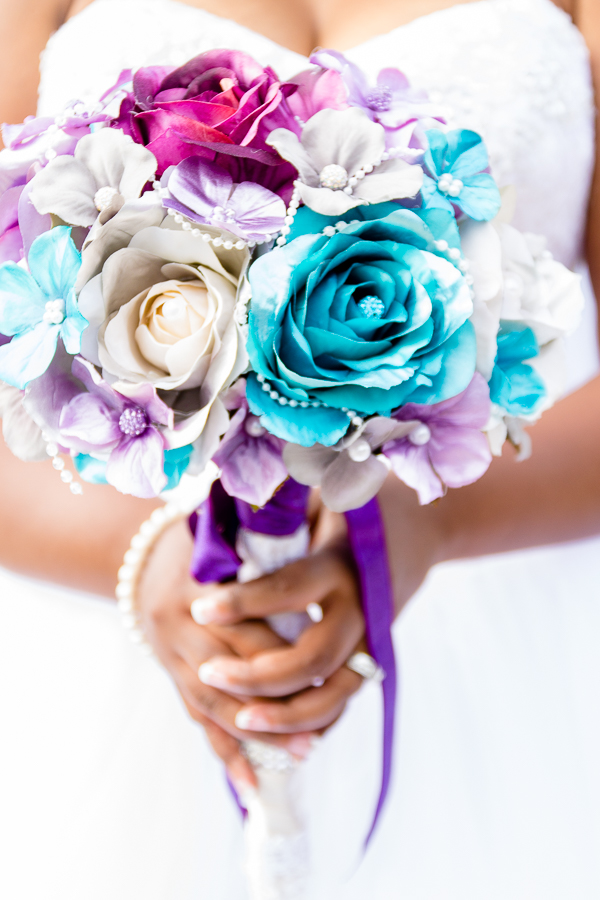 From the Bride:
I have many parts that were my favorite. I asked my sixteen-year-old cousin to sing as I walked down the aisle. I remember that moment because when I heard her voice, I looked up and saw Gideon crying. That I would say is the moment that is forever etched in my mind. As we stood reciting our vows, I remember getting a handkerchief and wiping his tears. There were also moments during the ceremony when everyone laughed.
From the Groom:
I was just happy to marry the love of my life. I cried when I saw her walk down the aisle.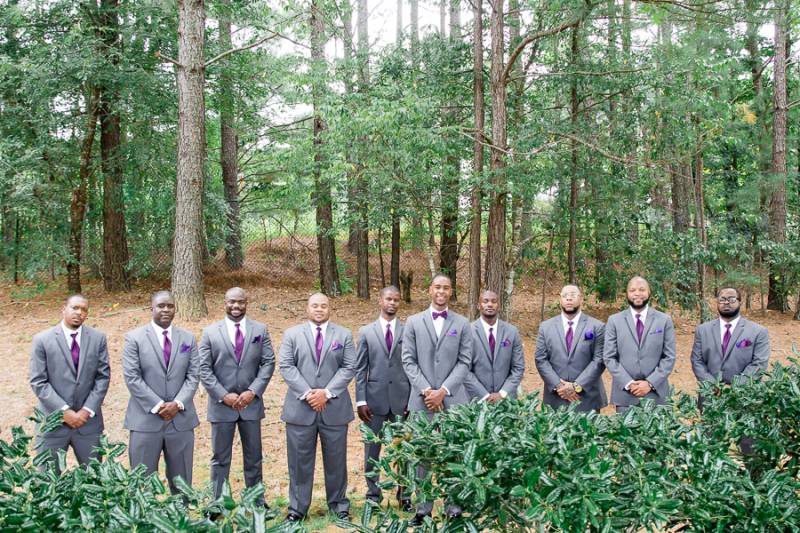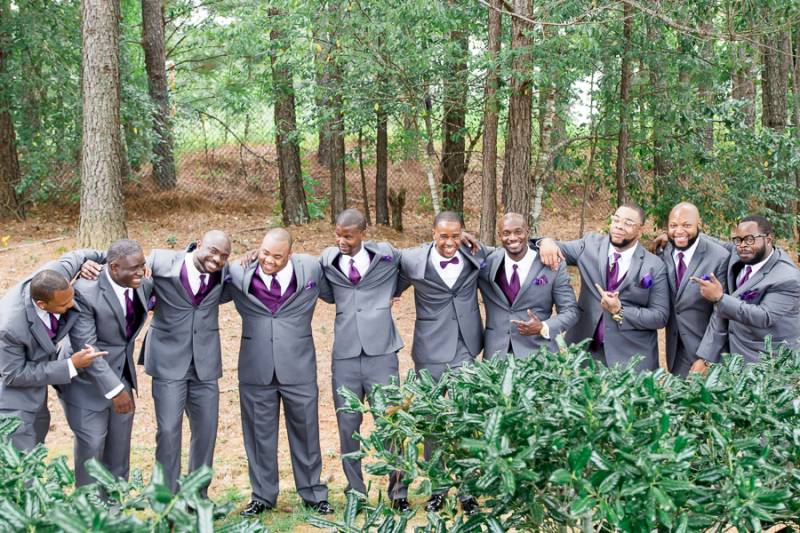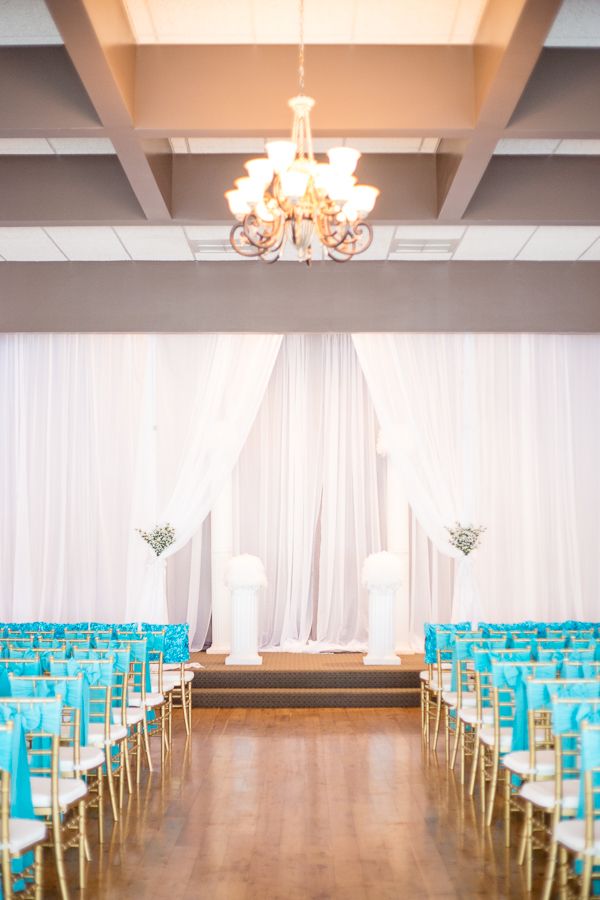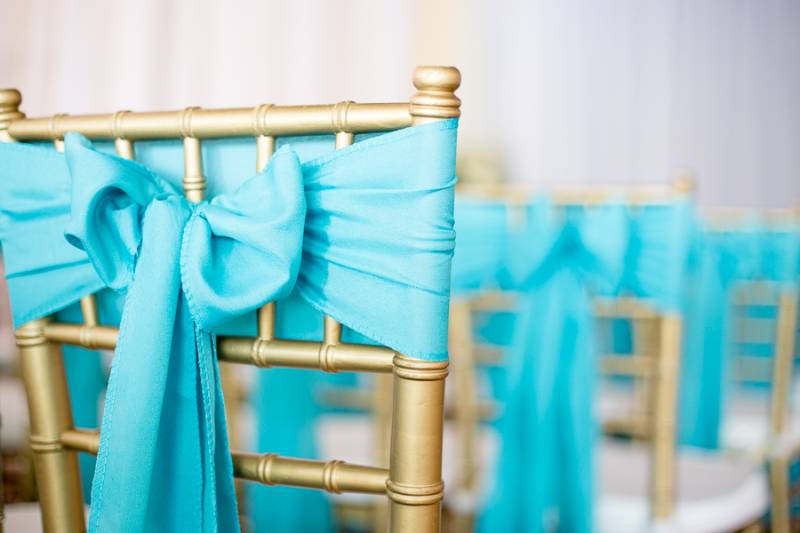 Your most memorable moment:
The most special moment of the wedding was when I walked down the aisle and saw him crying.
Wedding song:
I also loved our first dance and the dances with our parents. Everyone had a wonderful time jamming to new school and old school music, which included 90s and millennial R&B and hip hop. The overall day was unforgettable.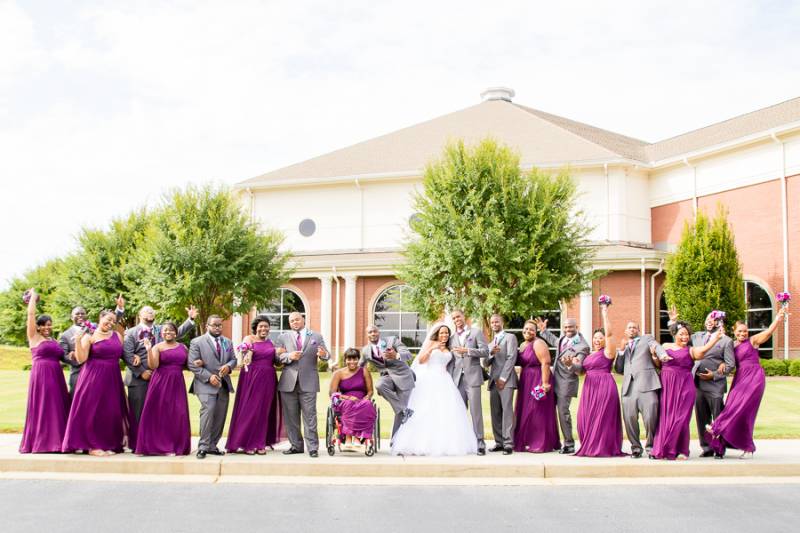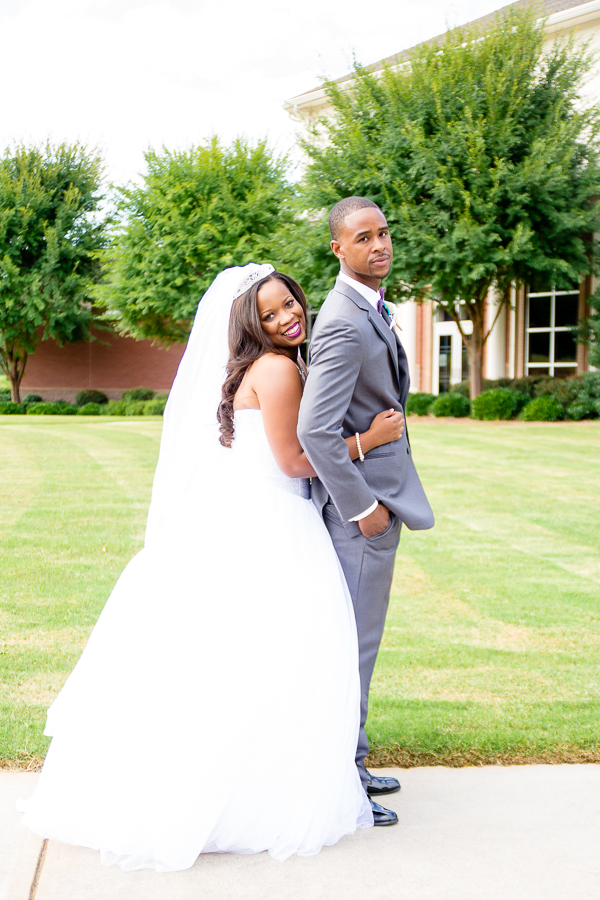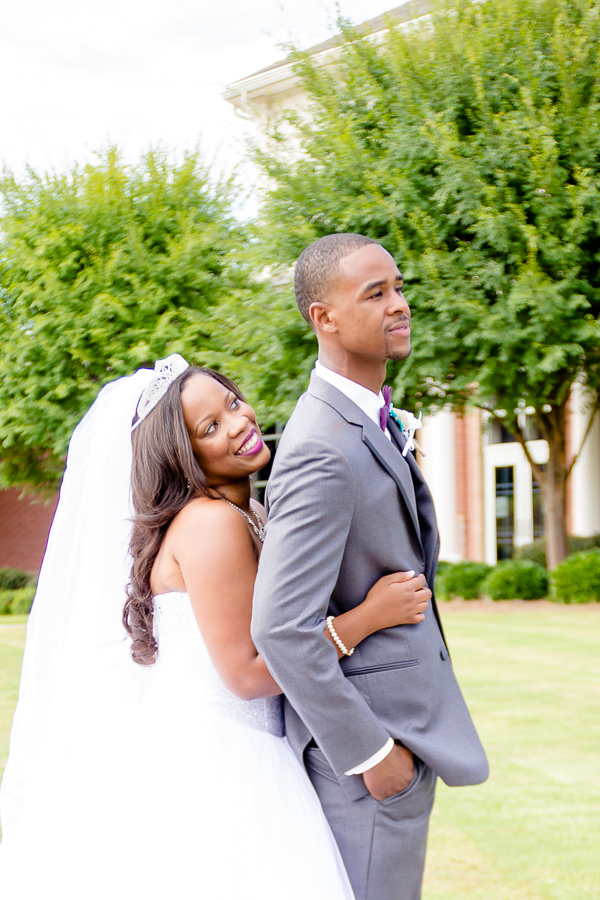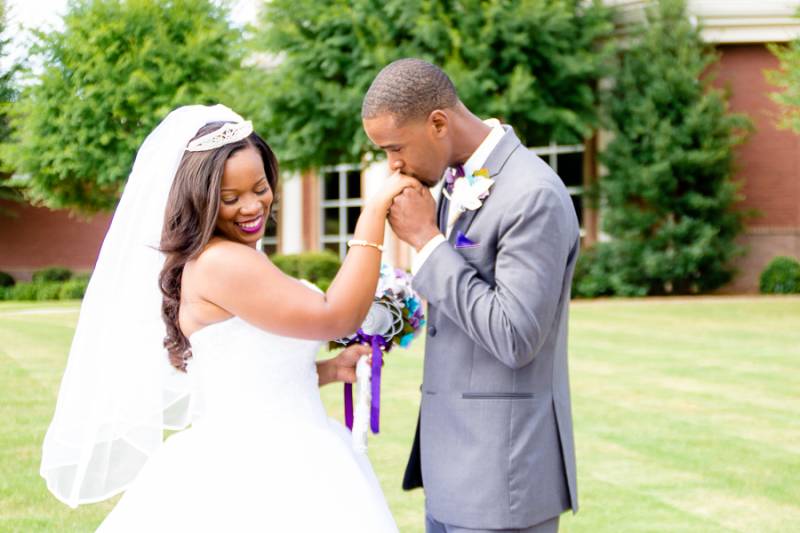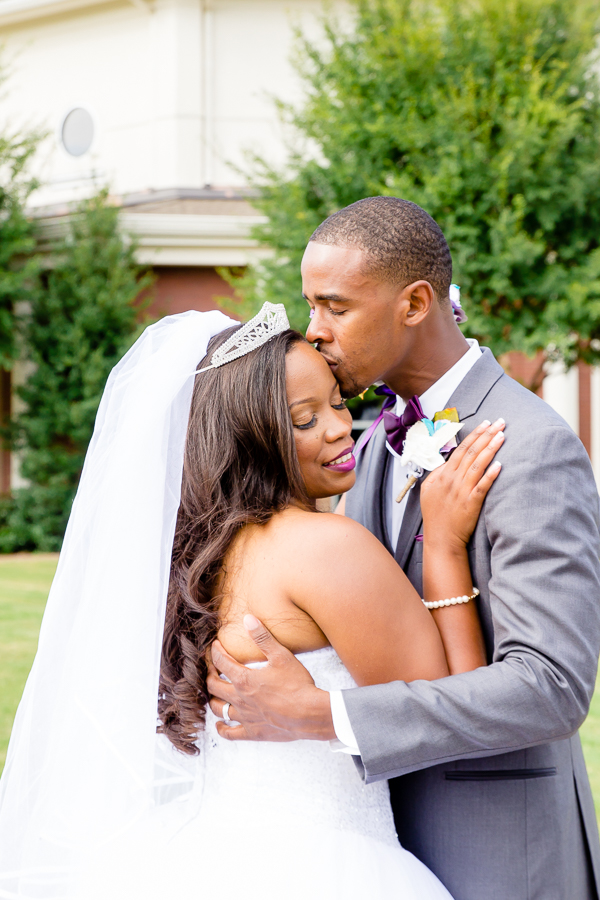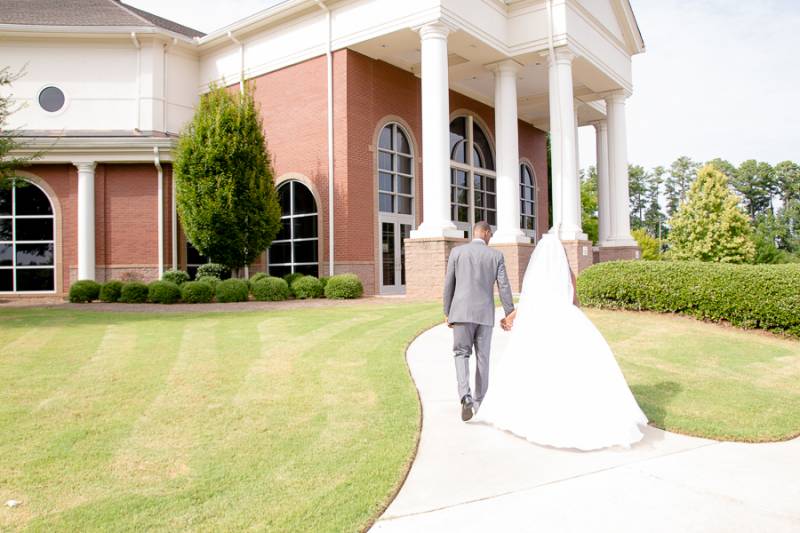 Favorite wedding detail:
Our wedding colors were turquoise and purple. We wanted a blend of our favorite colors. Purple is my favorite color while turquoise is his. Gideon and I decided to not see each other until I walked down the aisle. The last time I saw him before the wedding was around 7 p.m. the day before. We waited until 4 p.m. on our wedding day to see and talk with each other! That's a difficult thing to do when you speak with someone everyday.
Luckily, our ceremony and reception was decorated by Monique Williams of Hope Banquet Hall, where we had the wedding and reception. Our floral arrangements were done by Tying the Knot with Tifanie. This included the bridal bouquets, boutonnieres, corsages, and the bridal party bouquets. Tifanie and I chose the flowers and I told her to work her magic. She designed every arrangement and detail. It was so intricate.
What are you most looking forward to as a married couple?
At the time, we looked forward to starting our life together as husband and wife. It's been great so far.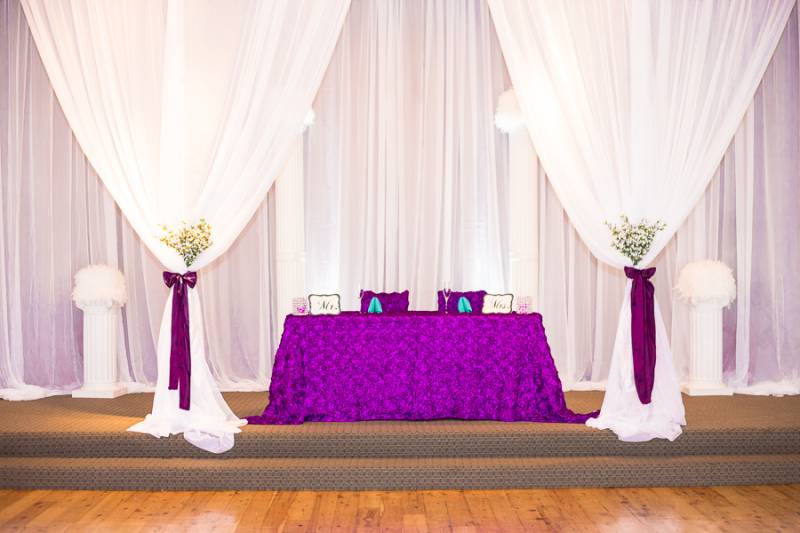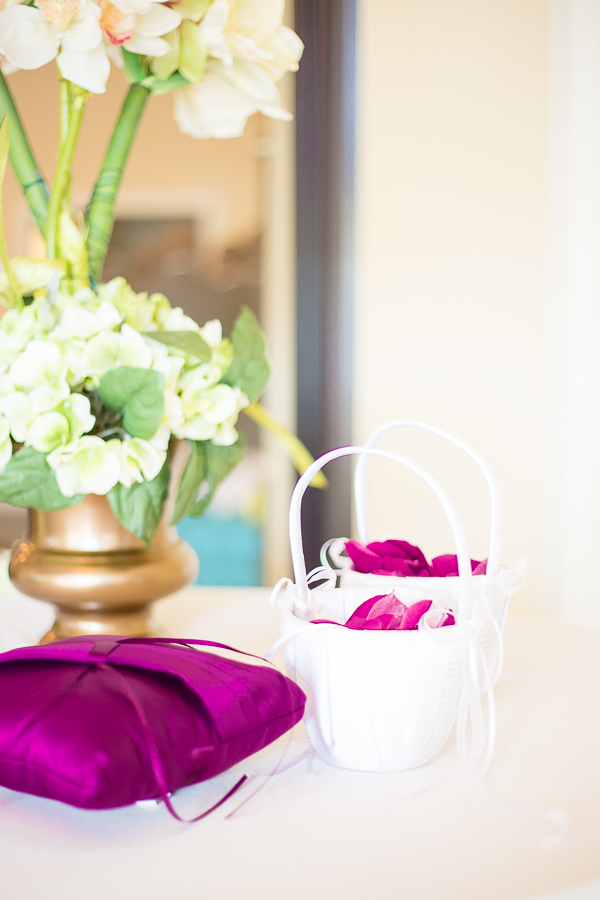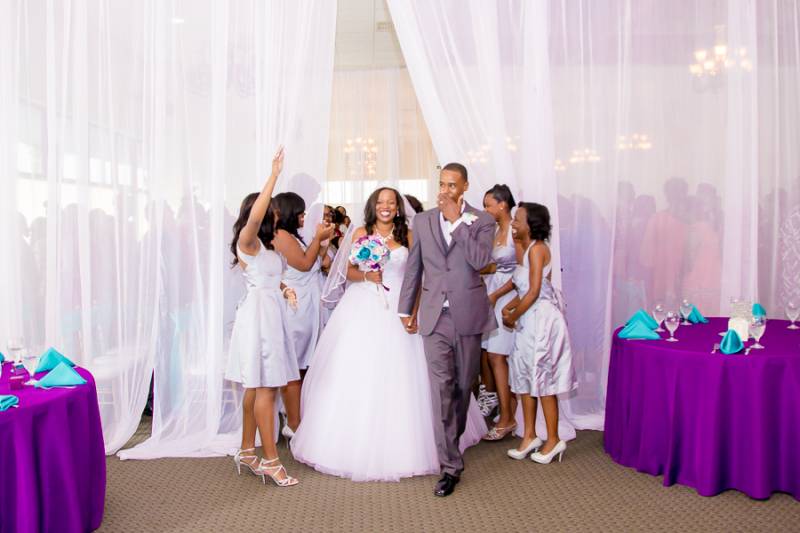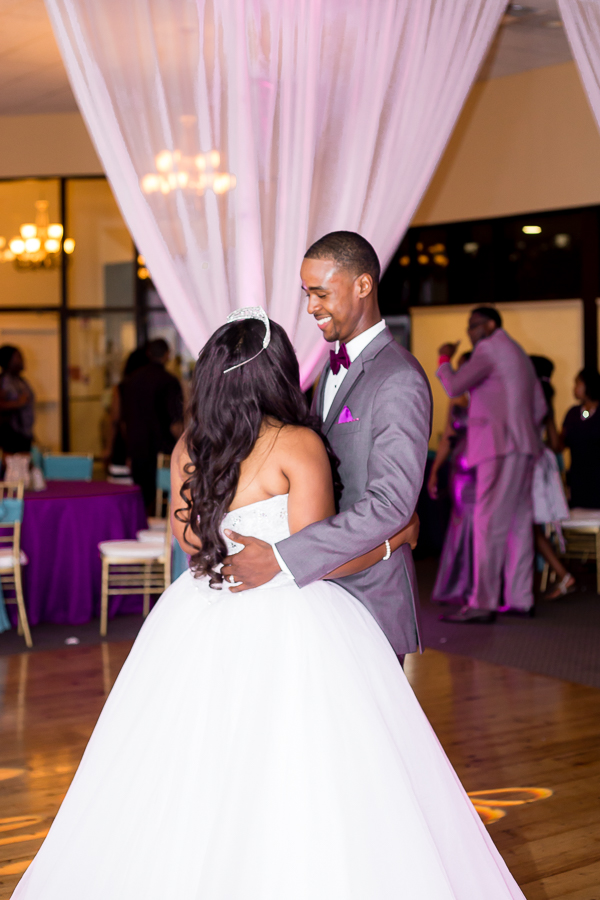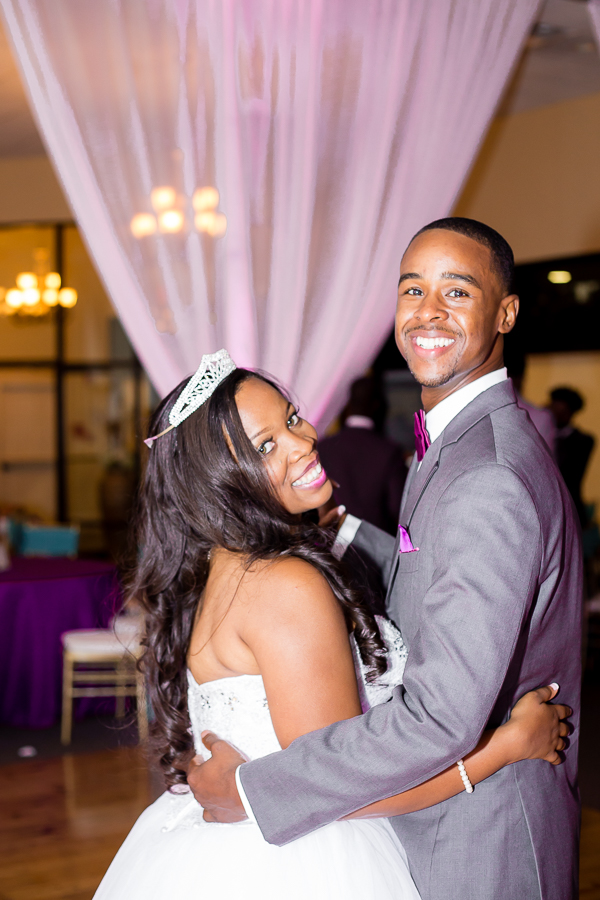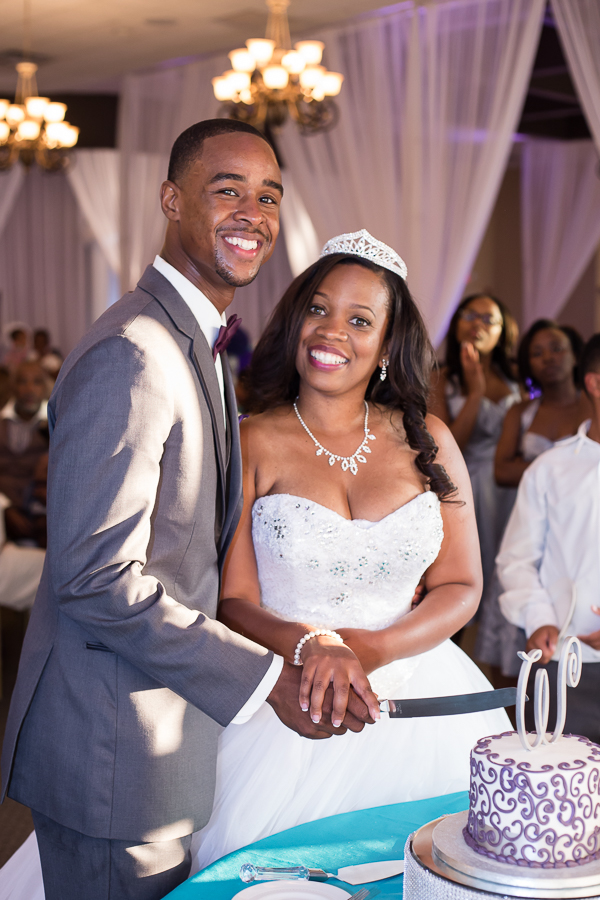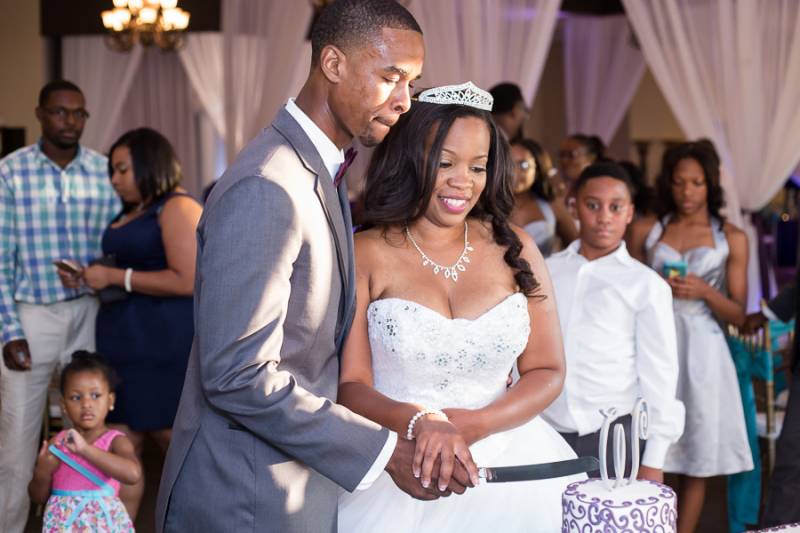 Advice for a Bride and Groom on their wedding day:
It's about comprising and working together. Don't go broke trying to get everything you want! At the end of the day, the wedding day is only one day. You have a whole lifetime to look forward to together. You can have a very elegant and memorable day and not spend a lot of money. As long as you and your fiance are happy, that's all that matters! Oh, and something is bound to go wrong, so you just have to roll with it and live in the moment!
Please feel free to include any other interesting anecdotes from your big day!
My mother actually chose my dress. She had a certain price range she wanted to stay between, but she ended up asking me to try on the most expensive dress first. I remember trying the dress on and when I looked in the mirror, I knew it was the one! The dress was a ball gown fit for a princess. It was strapless with embellishments that looked like a corset. It flared out at the bottom like I was Cinderella at the ball.
Congratulations to the happy couple! We wish you many years of wedded bliss!