This contemporary and glam style shoot uses lush florals and tropical accents to show the beauty of Haitian culture. The abundance of rustic, natural details like the tablescape alongside the bold color palette will make you ready to book your reservation for a Haitian wedding. Featuring fashionable bridal attire, luxe centerpieces, and deliciously artistic cuisine -- including the Creole appetizers and gorgeous flower wedding cake, all of which stay true to the Haitian theme. Check out this exotic destination styled shoot, captured by Dadi J. Photography at the Canvas Showroom in Norcross, Georgia.
"The vibrant colors. The music and dance. The colorfully flavorful foods. Haiti. The concept of a 'Modern Tropical' theme is something that I was inspired by when coming up with the concept for this shoot, but what mostly inspired the shoot was the essence of Haitian culture. This shoot meant a lot to me because I am in fact Haitian American. I wanted to take some elements of the Haitian culture and modernize them in this Tropical Shoot. Instead of taking the typical route and use the colors of the Haitian flag, I decided to go deeper and be inspired by the culture. Throughout this shoot we incorporated elements of music, food, and lots and lots of color from the cake, to the florals, and all way to shoes. Prepare to be transported to Haiti."
Shoot location: Canvas Showroom, Norcross, Georgia, USA
Shoot theme: Modern Haitian Tropical
Color combinations:
Tablescape: Orange, Purple, White, Red, and Blush
Bouquet: Orange, White, Red, Blush, and Yellow
Cake: Blush, Purple, Ocean Blue, Light Green, Yellow, and Orange
Greenery and Gold Accents throughout
Favorite detail: The Cake which embodied the essence of Haitian culture through music, colors, art, and the Countries National bird Hispaniolan Trojan.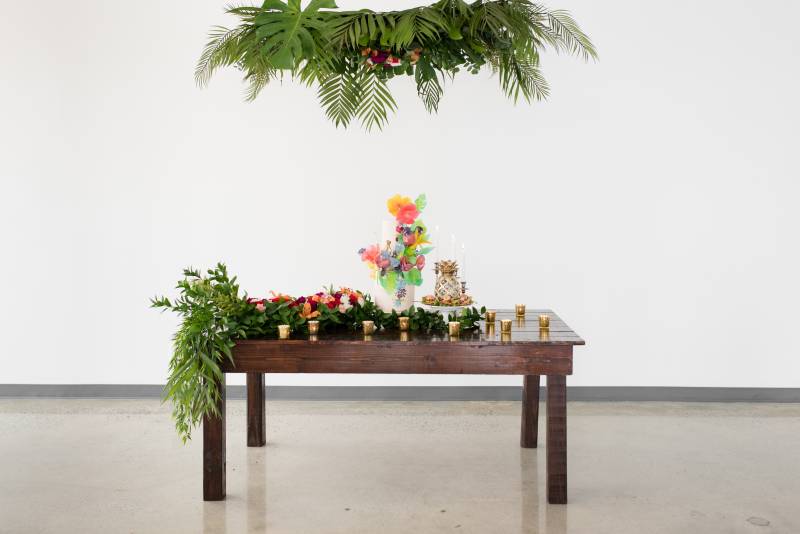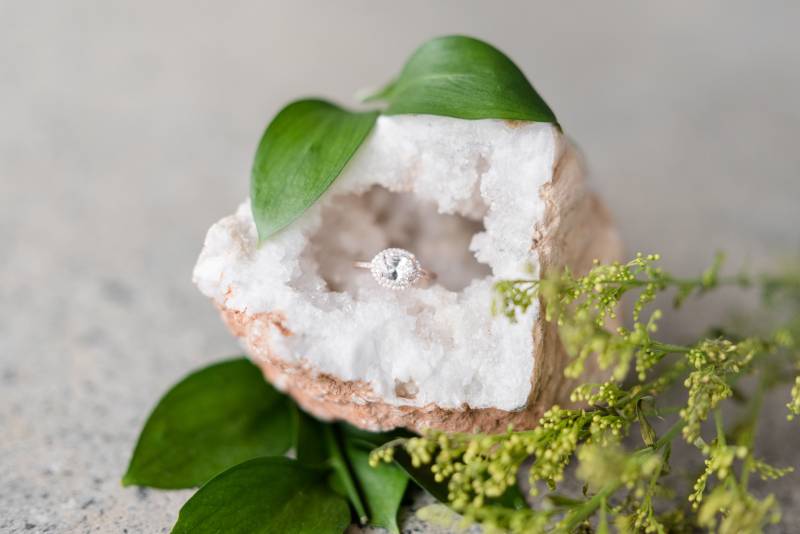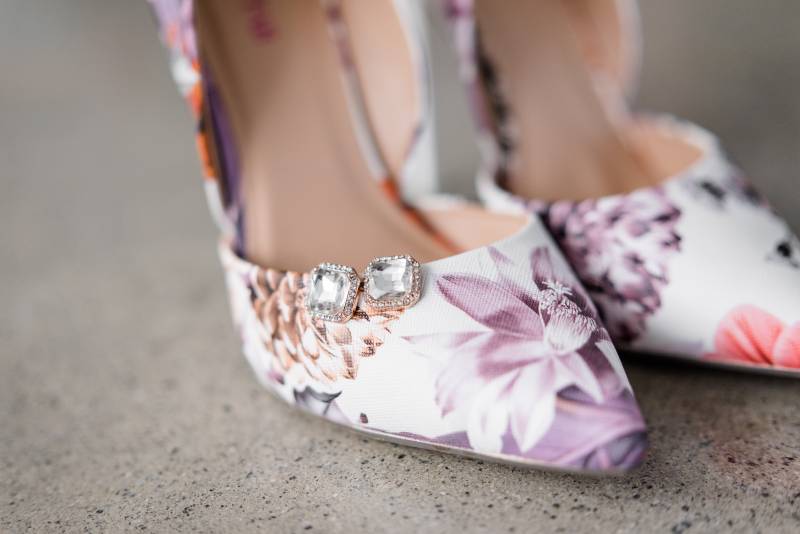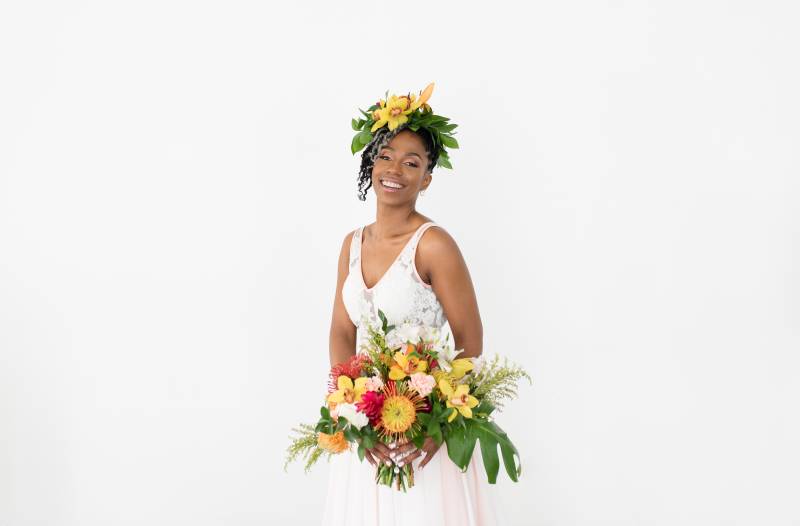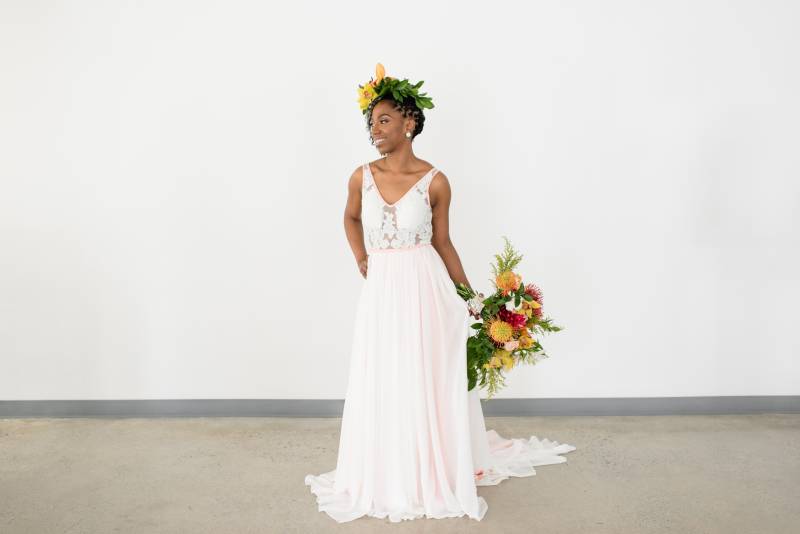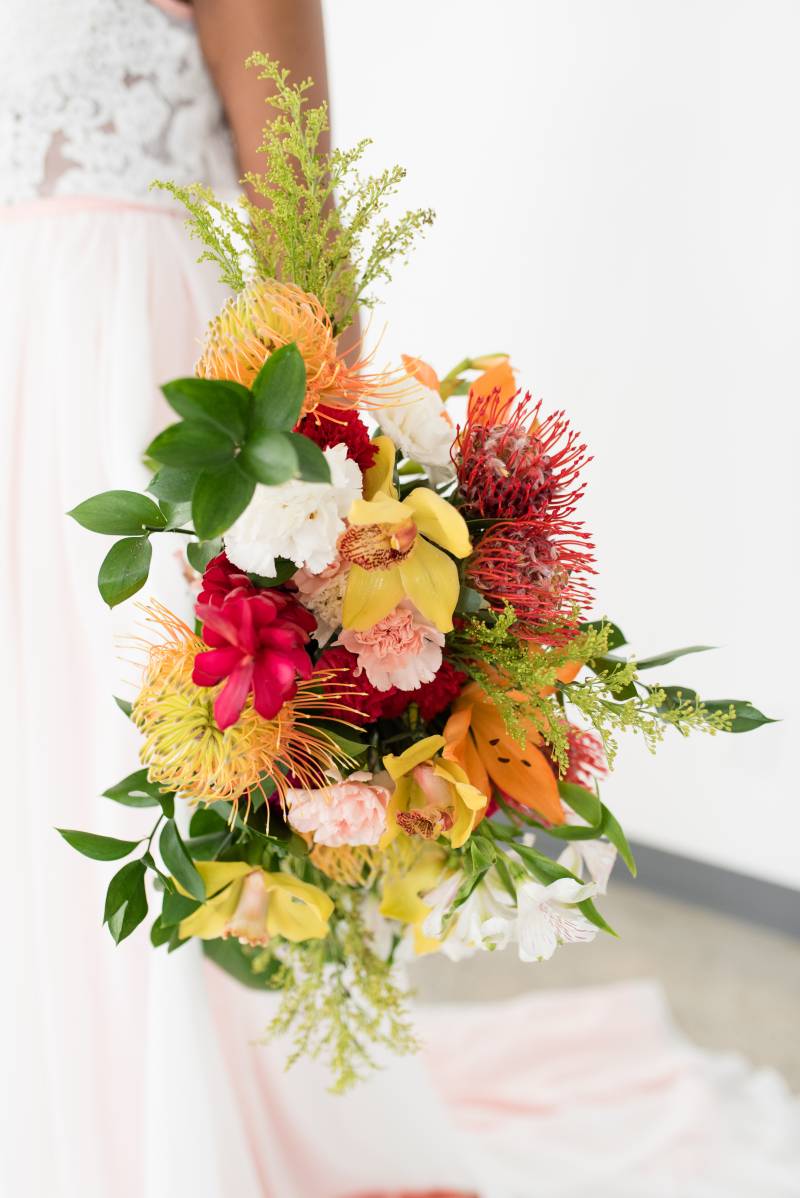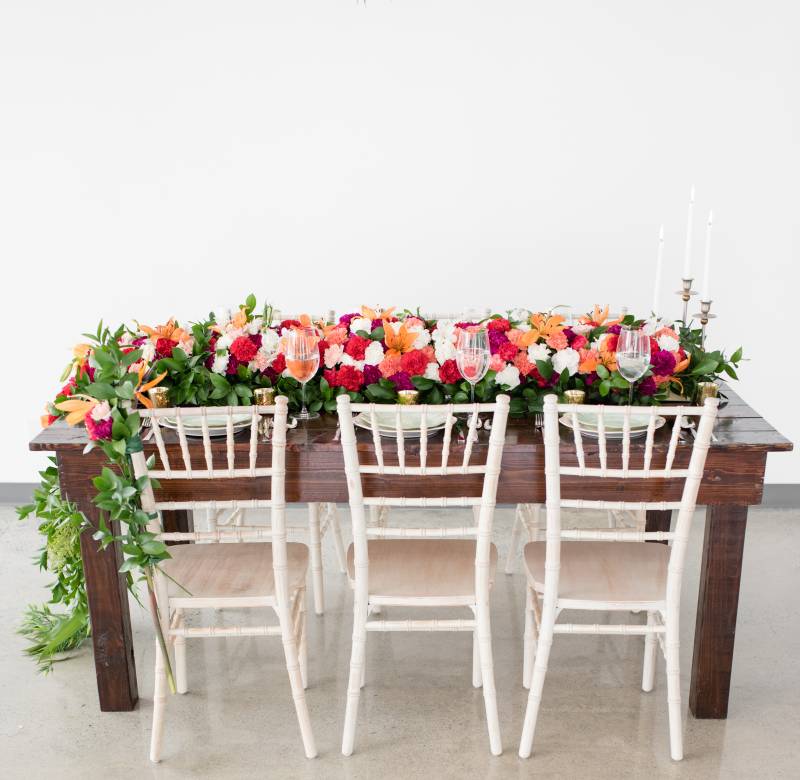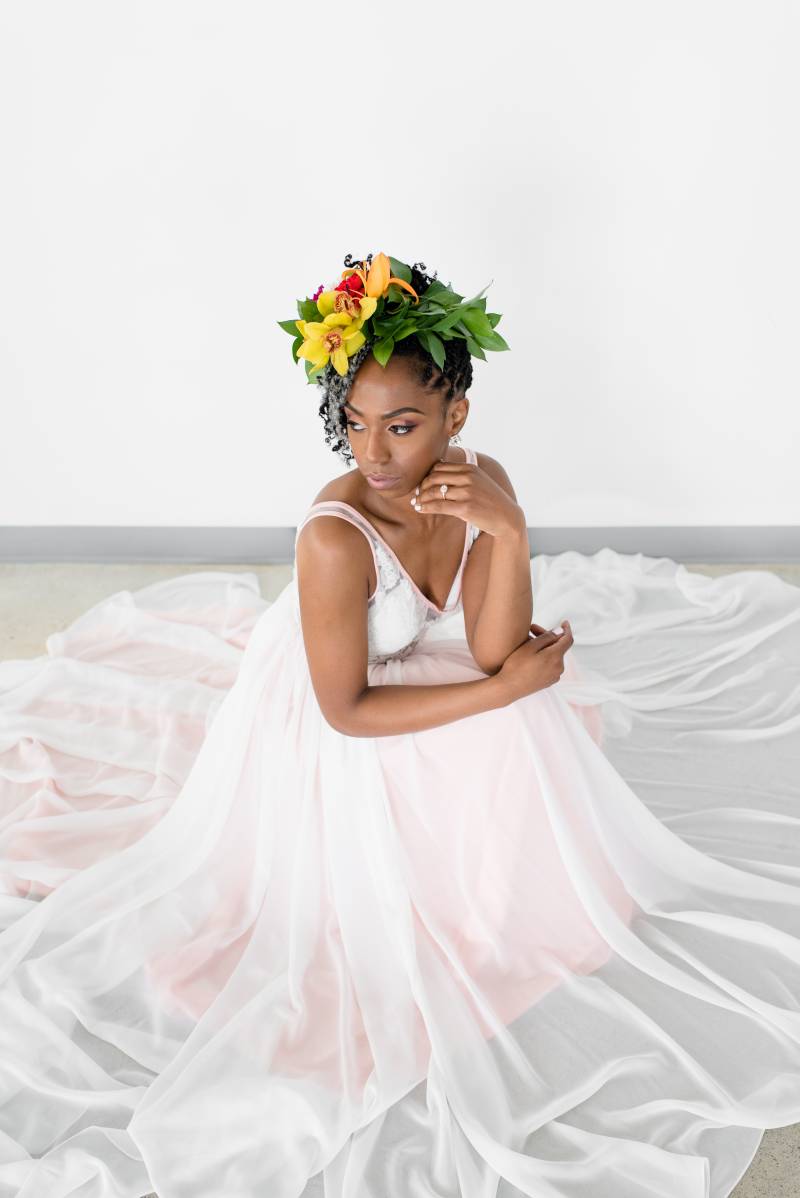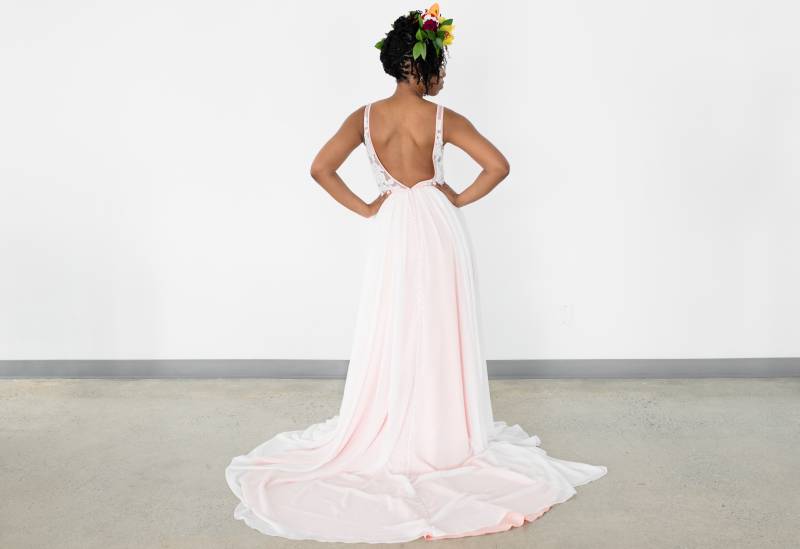 Decor Details:


Centerpiece Description:
Our centerpieces were composed by carnations, lilies and greenery, as well as Florida and Italian Rustics,
Bouquet:
The florals we used in the bouquet included orchids, proteas, alpinia purpurata, carnations, Italian Rustics, and greenery.
Place Settings:
Our place settings were white and sage with a modern rustic feel.
Please share unique details from your shoot:
A very unique detail included the appetizers. We incorporated one of the Haitian culture's most popular meals, "Banan Peze" (fried plantain), "Griot" (fried pork), and we accented them with "Pekliz" (pickled cabbage and carrot spice), and avocado which is not traditionally paired with this meal, but gave it a nice green pop of color.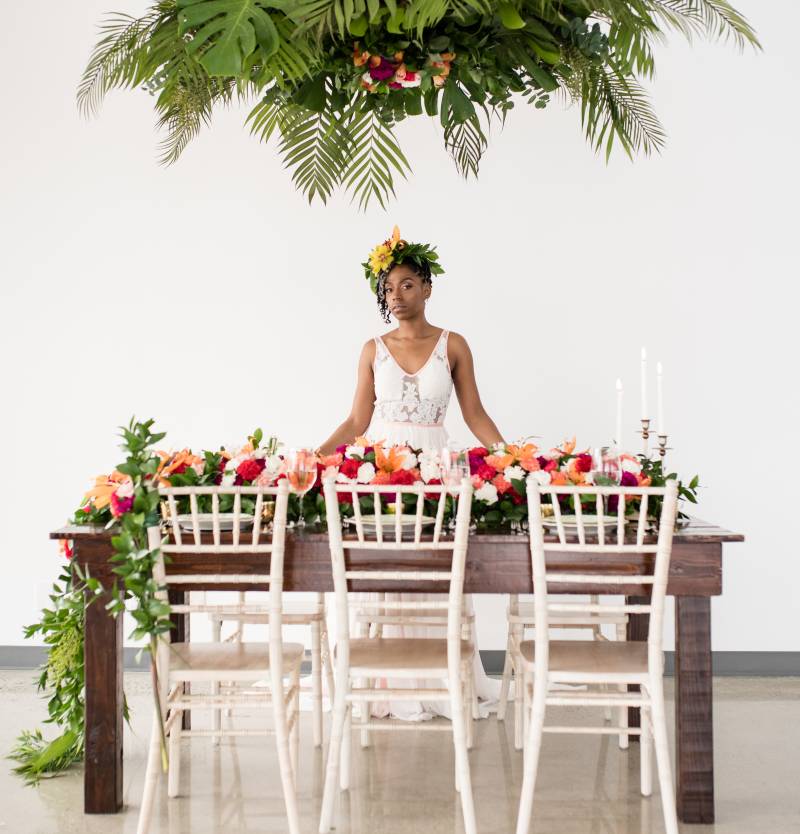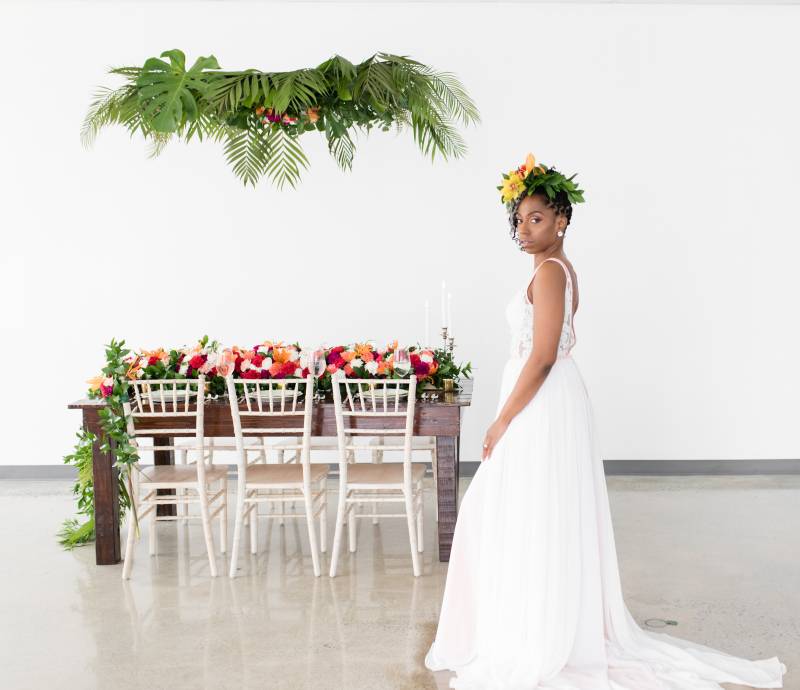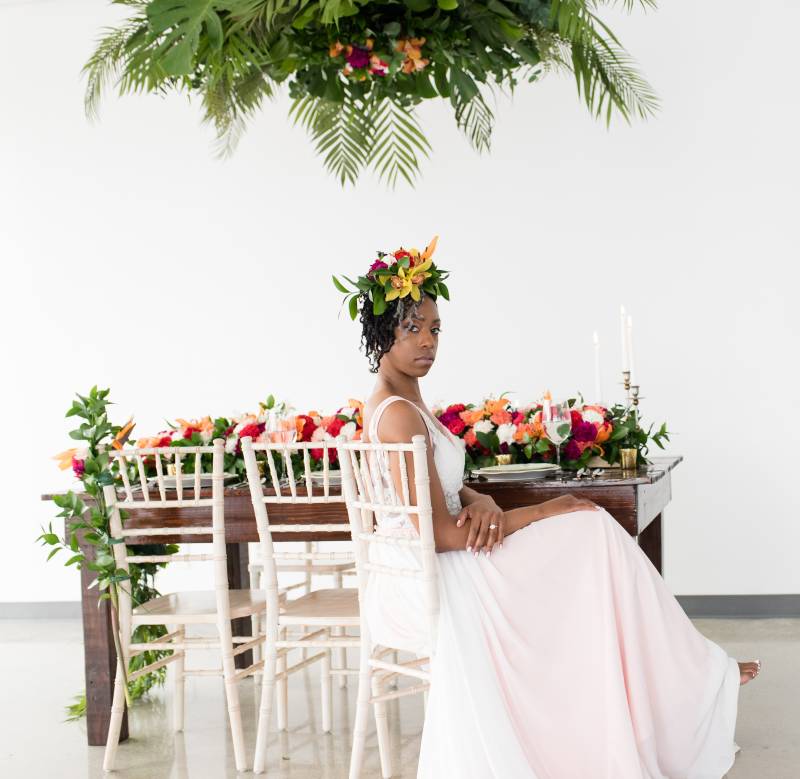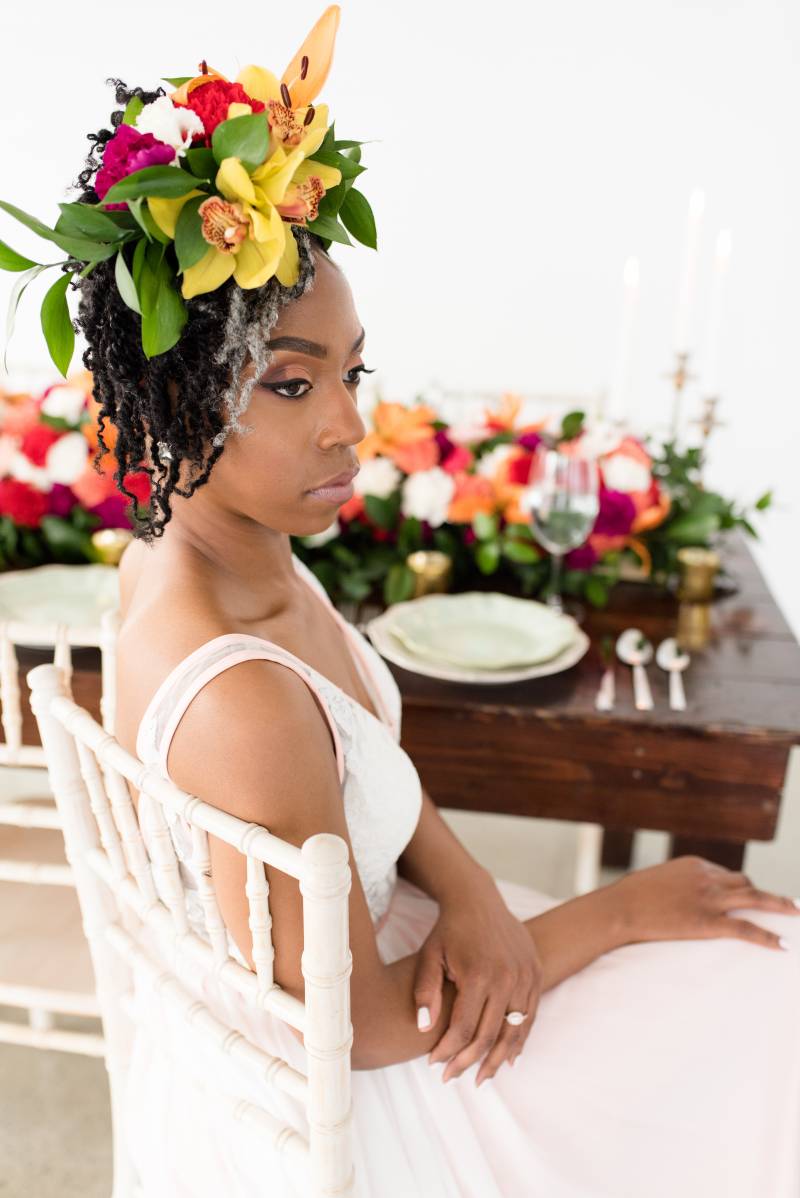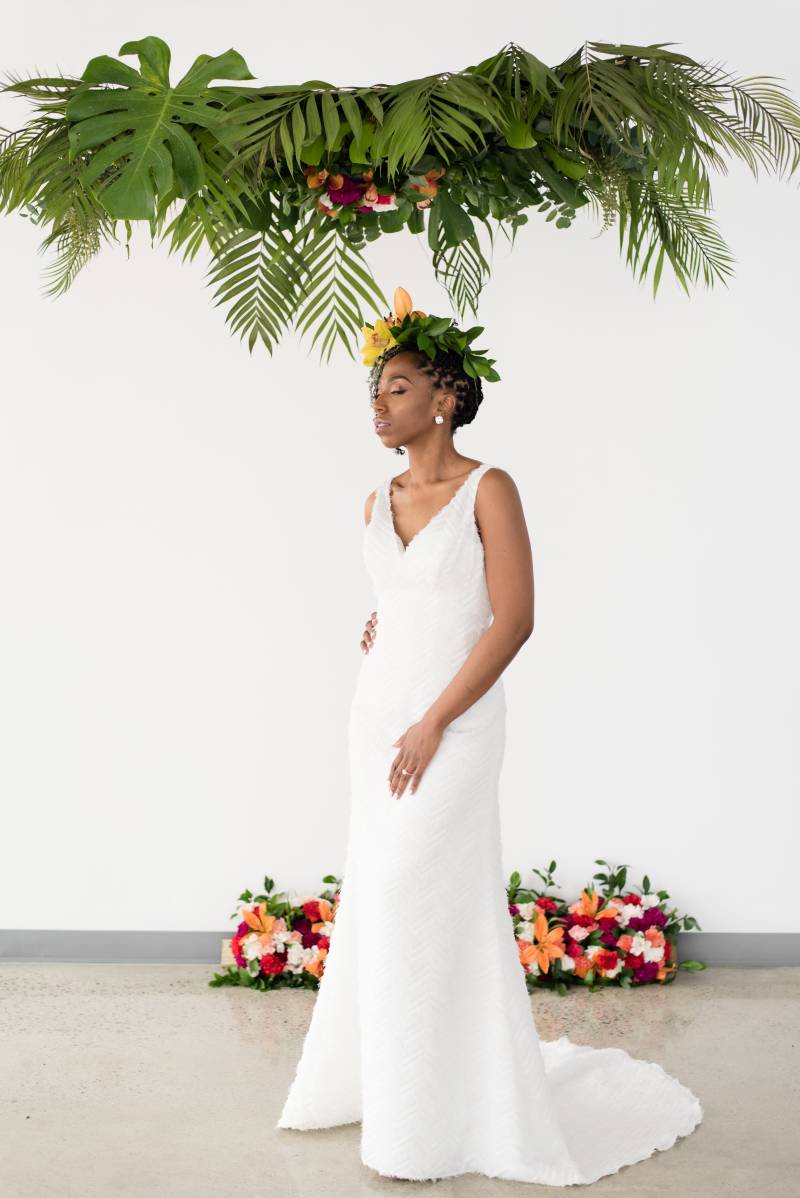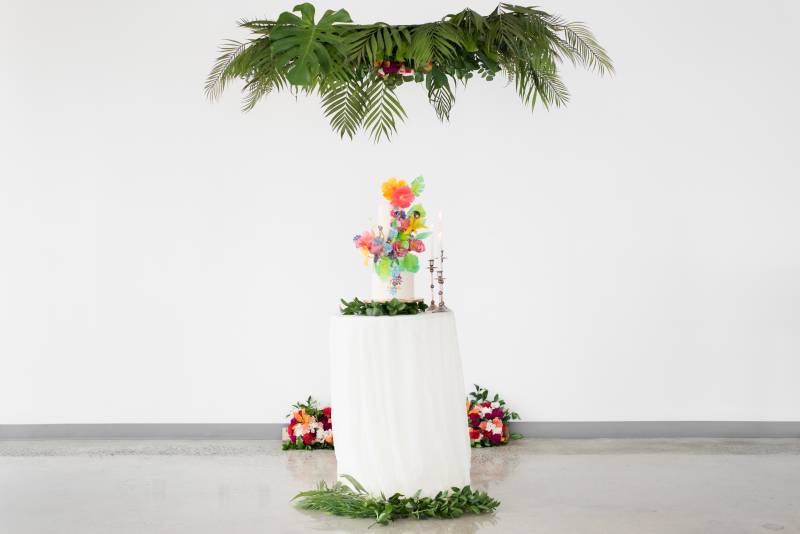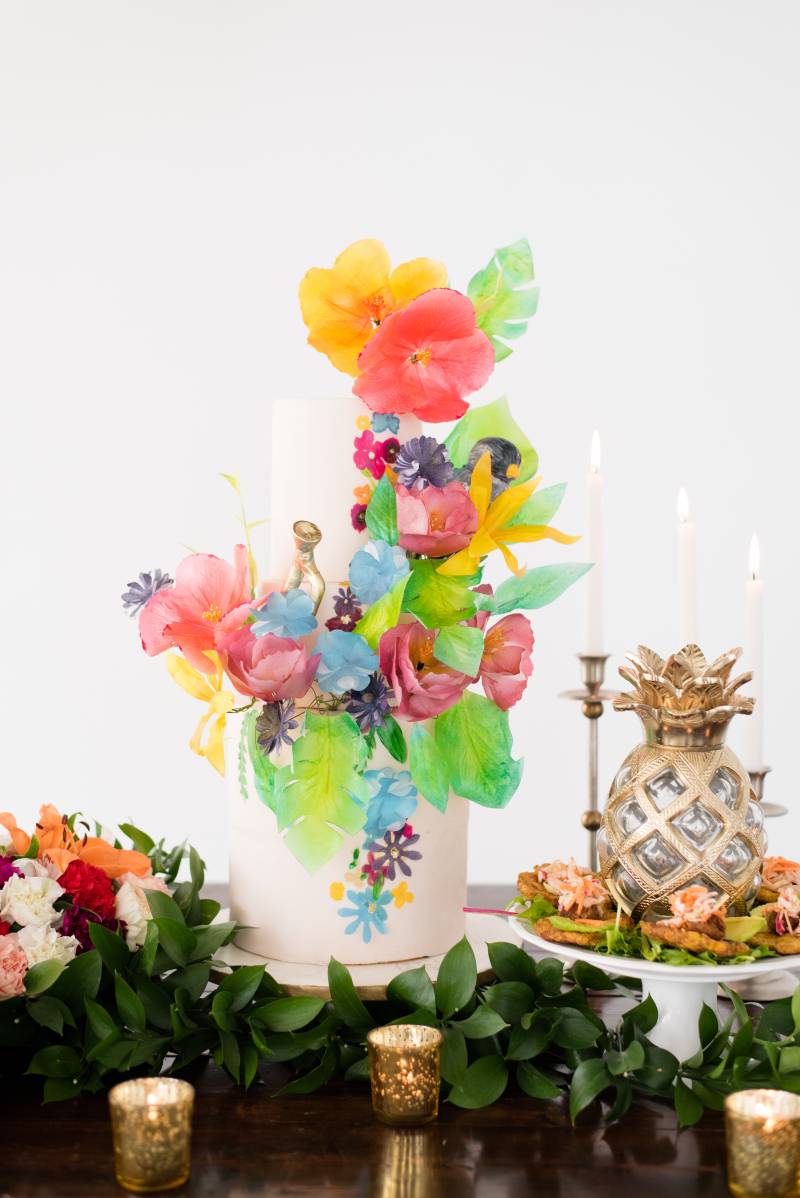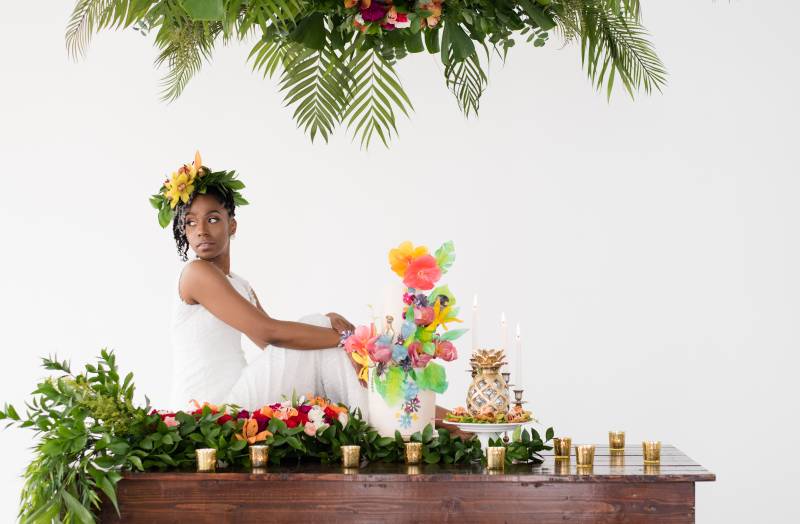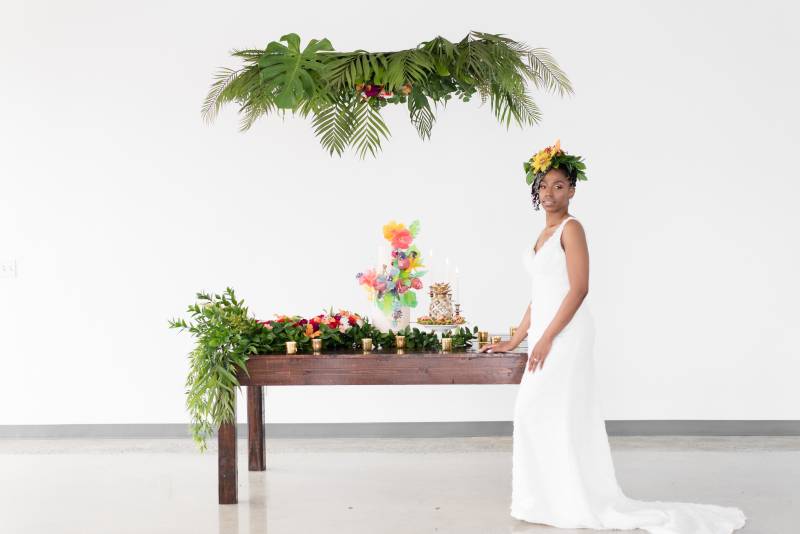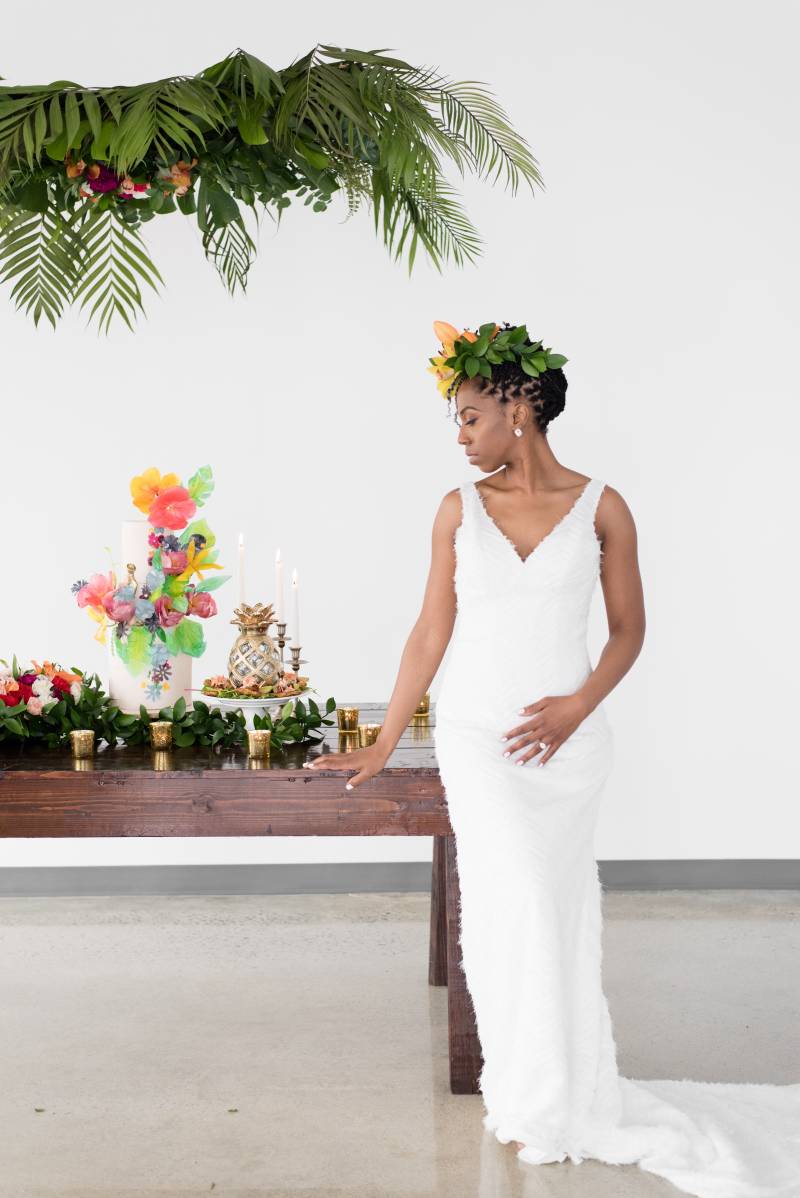 We can't get enough of this gorgeous styled shoot. Share your favorite details in the comments below.