Taking inspiration from American poet Langston Hughes, this abstract styled shoot delves into the deeper and sometimes challenging parts of marriage. With stunning floral arrangements that turn into a crown and mask, alongside the notable venue and boho chic models, it's hard to take your eyes away from this untraditionally modern styled shoot. The shoot's dark color palette mixed in with alluring shapes, metallics, and vintage elements are sure to make you want to grab hold of your significant other on your wedding day. If you desire romance with a little edge, check out this unique shoot, captured by Sarah Clance Photography and Kelsey Diane Photography at the historic El Torreon event venue in Kansas City, Missouri.
Worth the Wait Studios, a Missouri-based wedding planning and design company, teamed up with a group of talented vendors to create this jukebox-inspired styled shoot, which showcases an alternative glam aesthetic. Here is what Alanzo McIntosh Jr. of Worth the Wait Studios had to say about this intriguing styled shoot:
"In THE JUKEBOX, we dive into the experience of how love is perceived to be the happiest day of a couple's life versus the struggles they may face prior to walking down the aisle; along with how the arts (music and literature specifically) help to serve as de-stressing outlets. But most importantly, how unconditional love from one special person is the greatest form of therapy! We try to illustrate how people dealing with trying circumstances often try to mask their issues and make life appear, at least on the outside, to be beautiful. It is only when we're face to face with that special person that we're able to strip away the masks and find beauty, strength, and freedom in vulnerability."
Shoot location: El Torreon, Kansas City, Missouri
Shoot theme: THE JUKEBOX - A Jukebox Love Song
"I could take the Kansas City night and wrap around you, Take the neon lights and make a crown, Take the Minnesota Avenue buses, Taxis, subways, And for your love song tone their rumble down. Take Kansas City's heartbeat, Make a drumbeat, Put it on a record, let it whirl, And while we listen to it play, Dance with you till day-- Dance with you, my sweet brown Kansas City girl." ~ Langston Hughes
Color combinations: Shades of green, burgundy, black, dark brown, caramel, deep purple, dusty blush, golden yellow, gold, silver, and copper.
Favorite detail: Floral Mask and Headpiece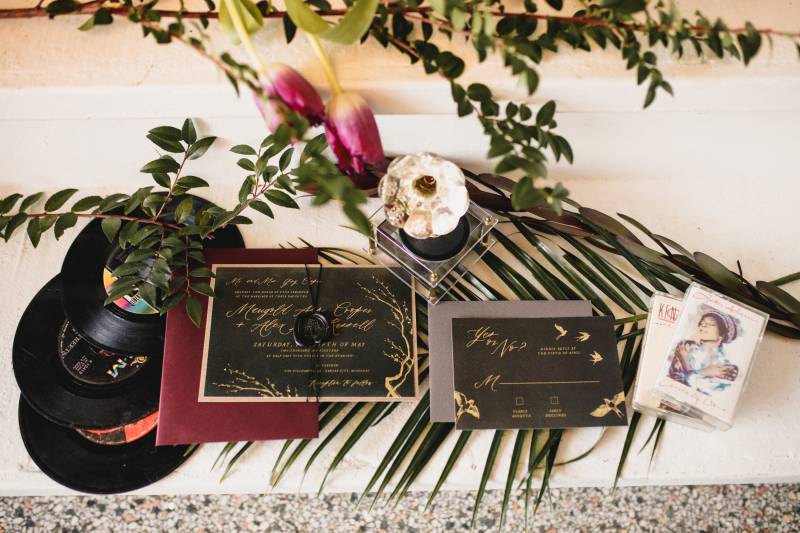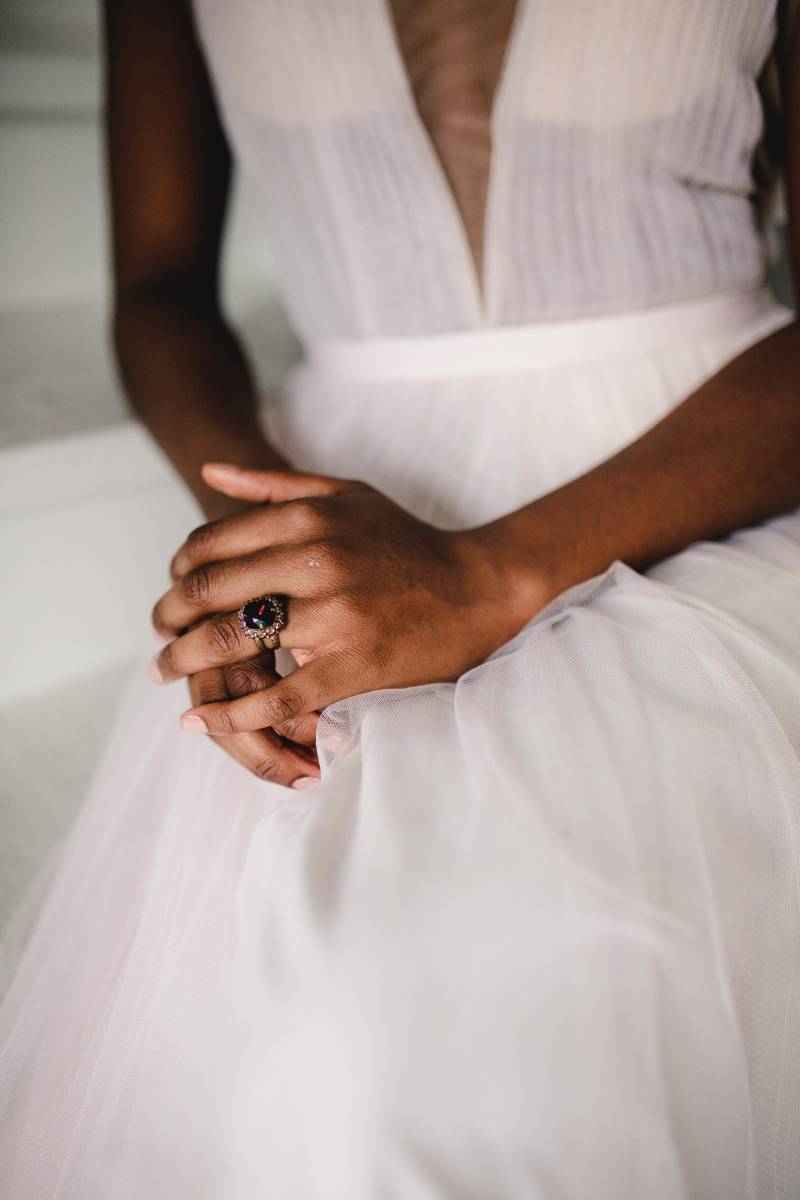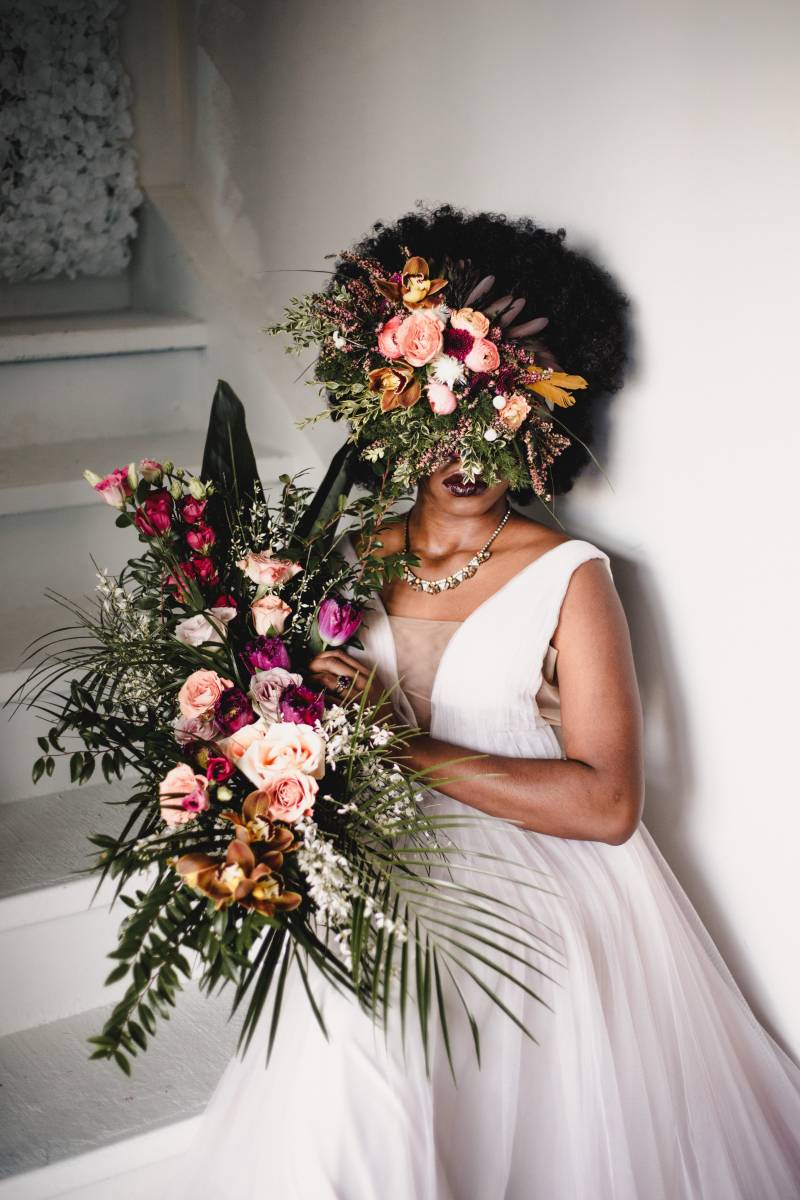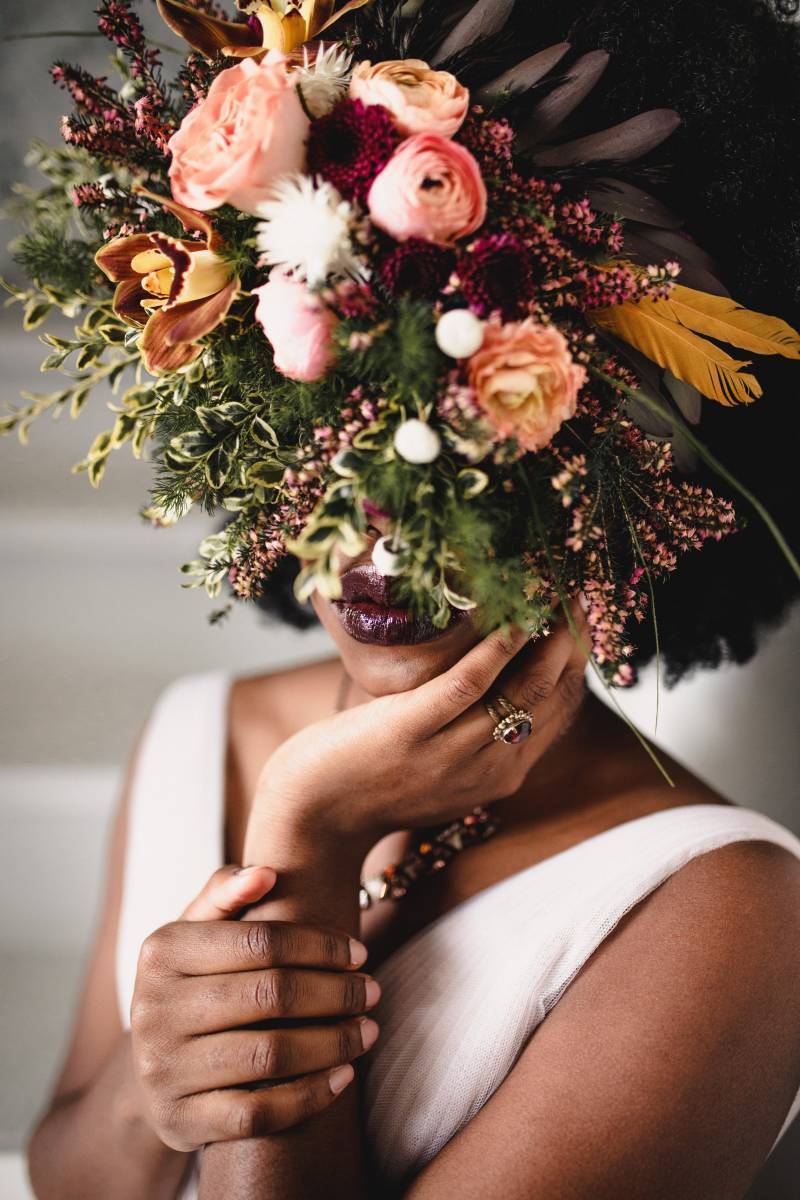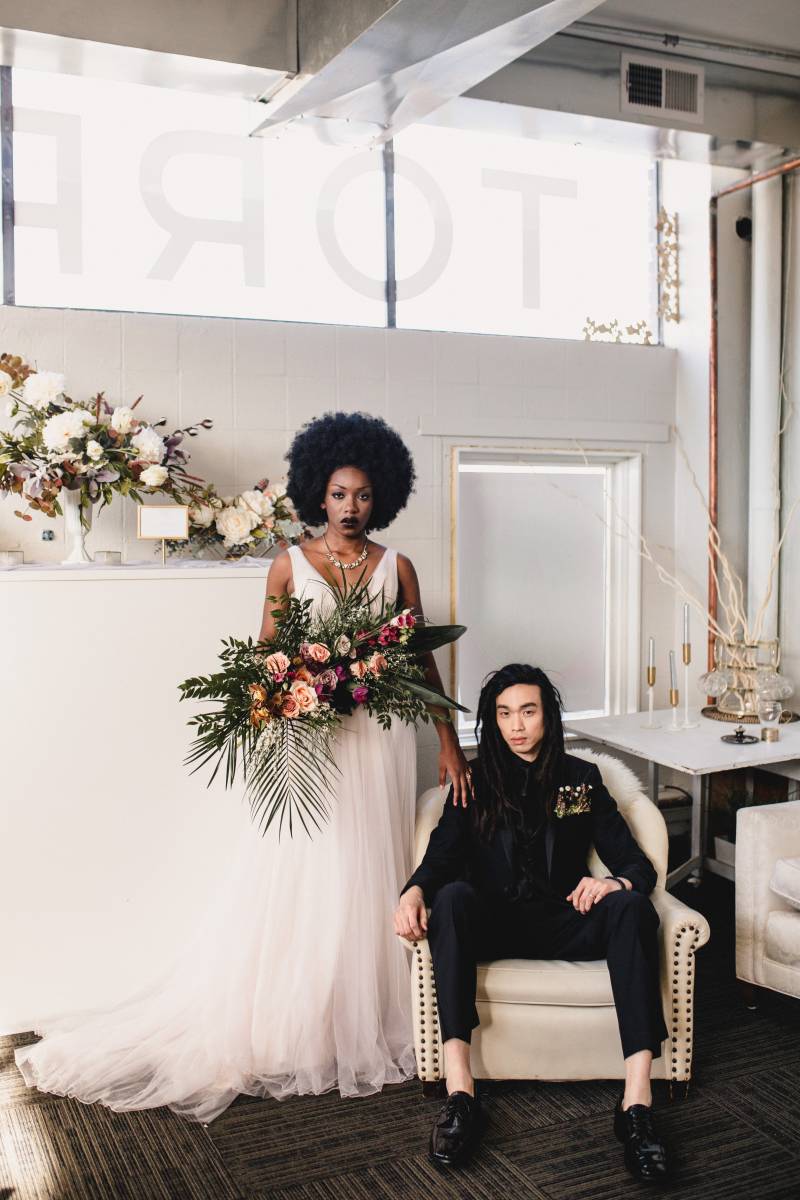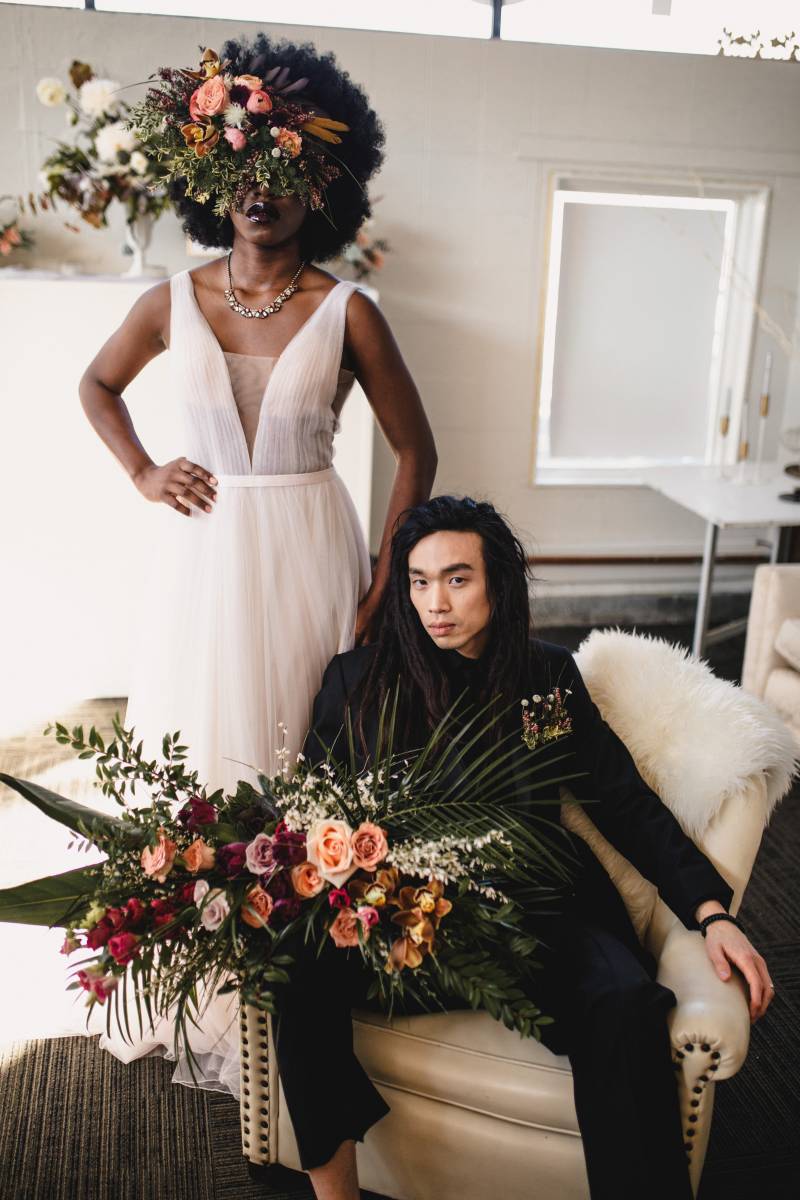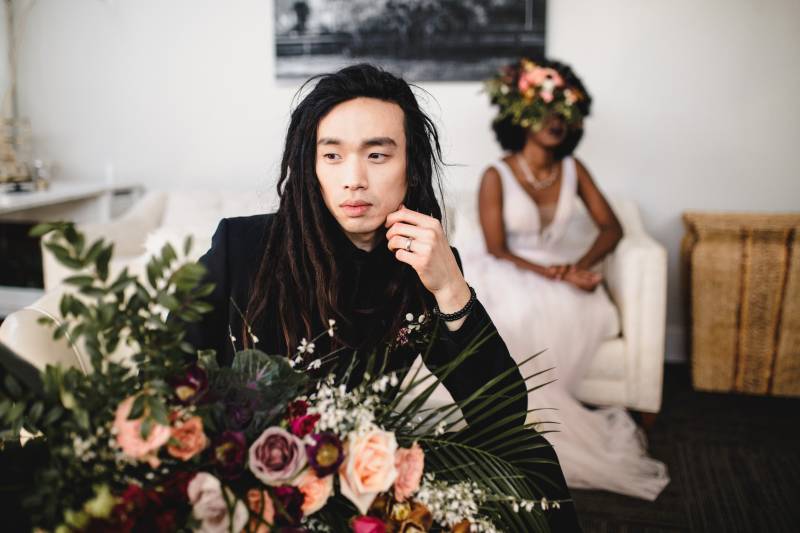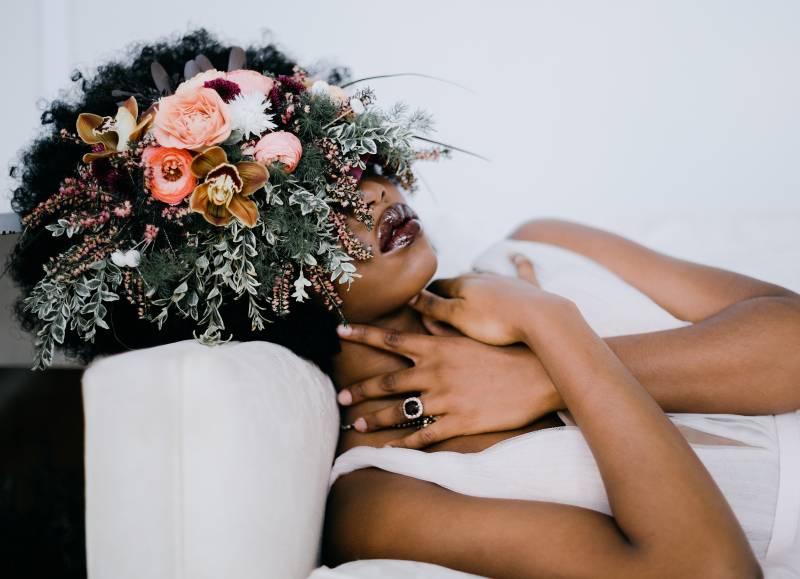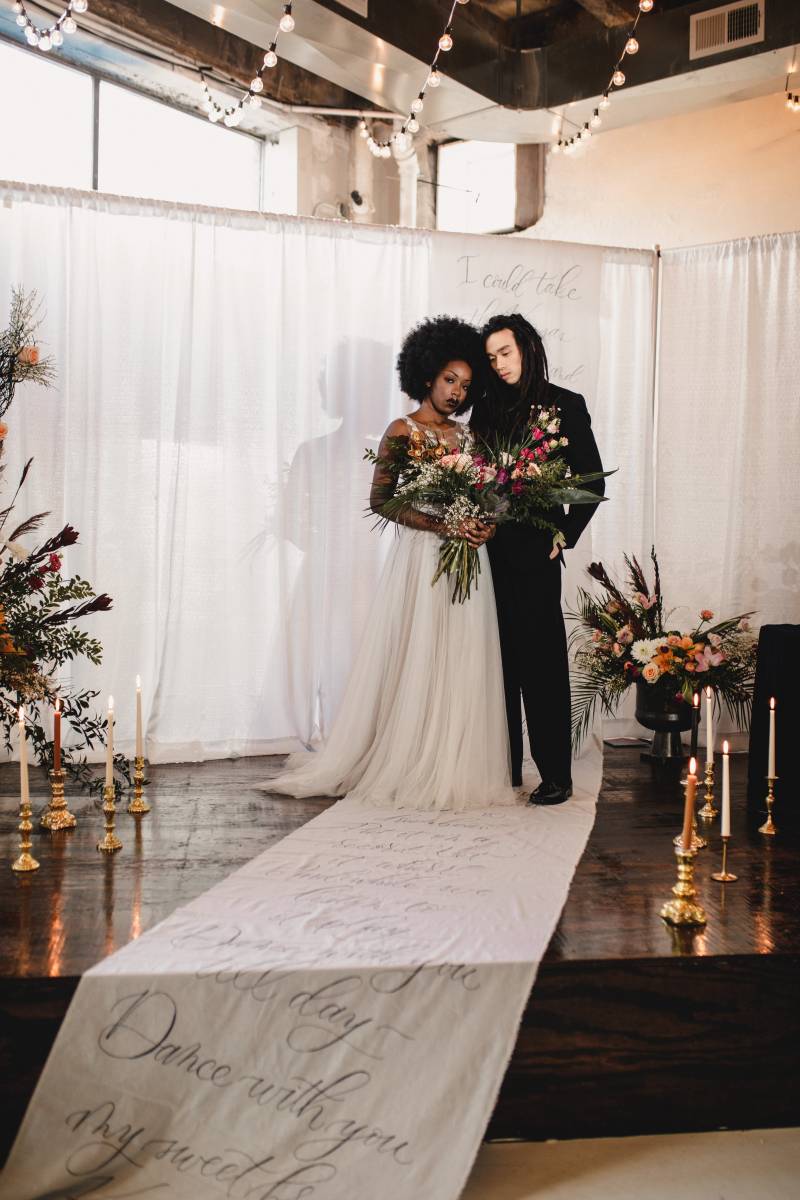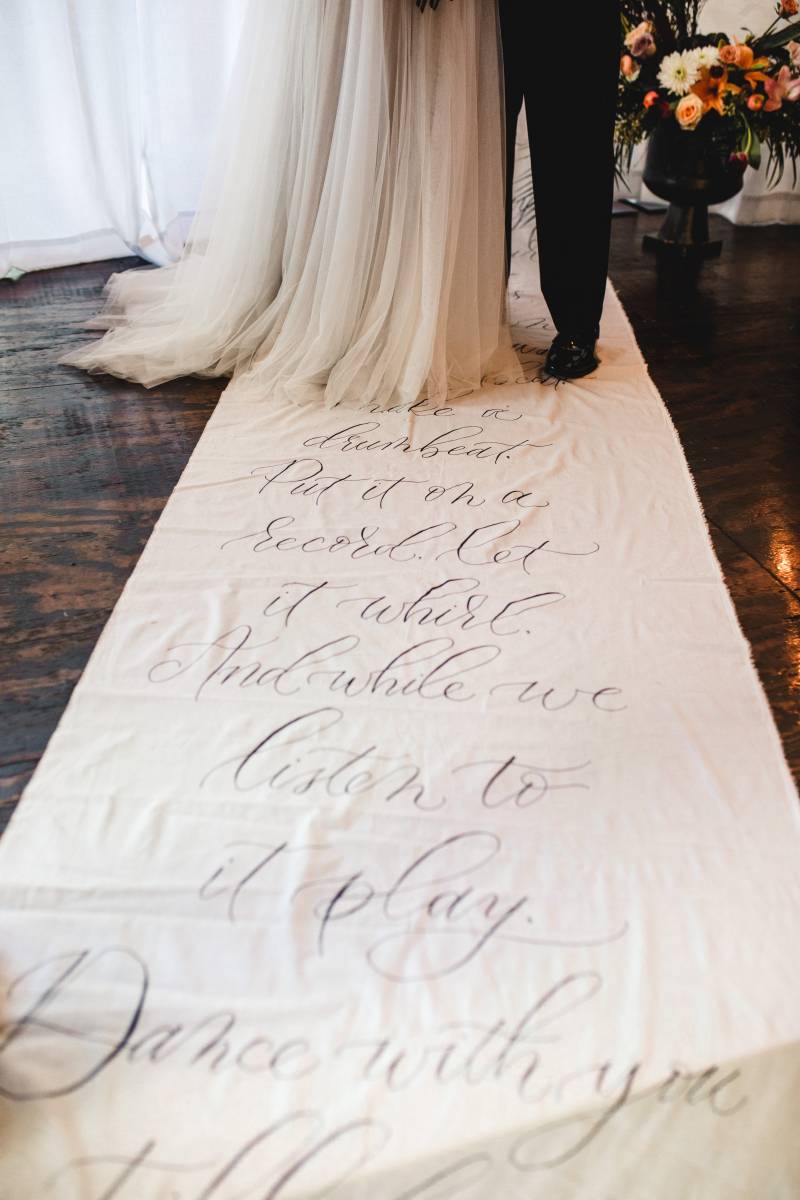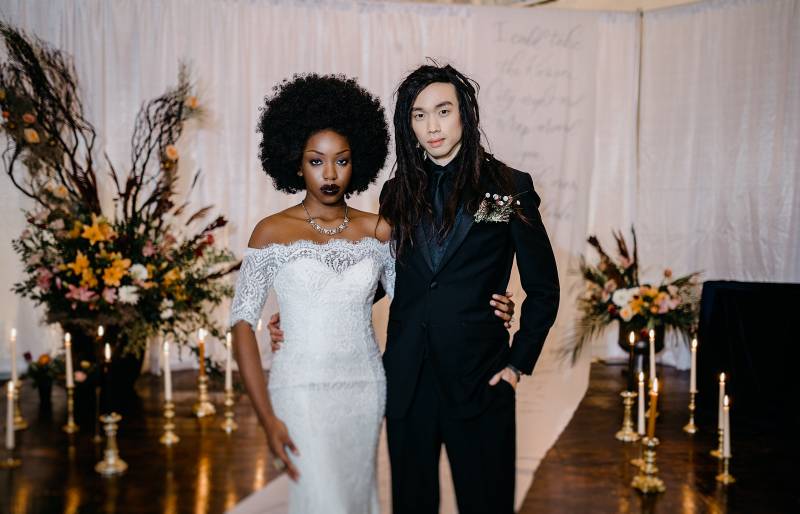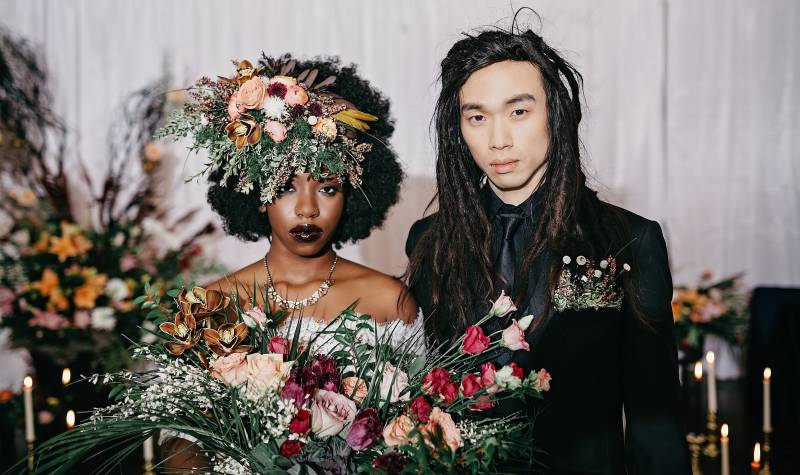 Decor Details:
Linens:
We used a silver velvet 90 x 156 linen for the tablescape and paired it with standardly sized velvet, black napkins. In one of our cake shots, you will see a midnight blue linen draped over a piano top.
Centerpiece Description:
For the centerpieces we used a brass bowl filled with mauve lisianthus, lilies, plum fringe tulips, pheasant feathers, ranunculus, safari sunset, robellini, huckleberry, quicksand roses, white genestra, cymbidium orchids, birds of paradise leaves, and a few more that all blended with the overall floralscape.
Place Settings:
We layered elegant white salad plates with thick gold trimming on-top of Noir stoneware plates, which provided a bold yet complementary contrast to the gold geometric placemats. We paired the dishes with black wine goblets and clear stemless water glasses. We also used burnished copper flatware to help create a very warm feeling table setting.
Stationery:
We paired the stationary color scheme almost perfectly to the cake color scheme. For the main invitation and rsvp card, we used a dark green topper with gold calligraphy. And then we paired it with a silver and a burgundy envelope. For the shots, we used vintage records, cassettes, and even a gramophone to help bring in not only the rich music history of the venue but also to show the presence of the fine arts.
Cake:
We created a four-tiered cake where we experimented with not only with bold colors but also bold textures to really make the cake pop.
Ceremony Backdrop:
As stated before we drew inspiration for this shoot from Langston Hughes classic poem, "Jukebox Love Song." The Kansas City adapted version of this poem was handwritten onto a 10-foot long white muslin fabric that was attached to a pipe and drape, which meticulously laid across and ran off the stage.
Flower Mask:
As a part of the foundation of this shoot, we wanted to show the ways that sometimes people try to mask their issues in marriage. Whether it's anxiousness or just the common insecurities, we all have things that we are forced to deal with. It is very common for many of us to always put on a facade that we're okay or that things are beautiful; as the shoot progresses and the couple become more intimate with one another the mask is stripped away. By the end of the shoot we see our bride wearing that same mask as a crown of sorts, giving hope that through love we are able to turn our trials into triumph.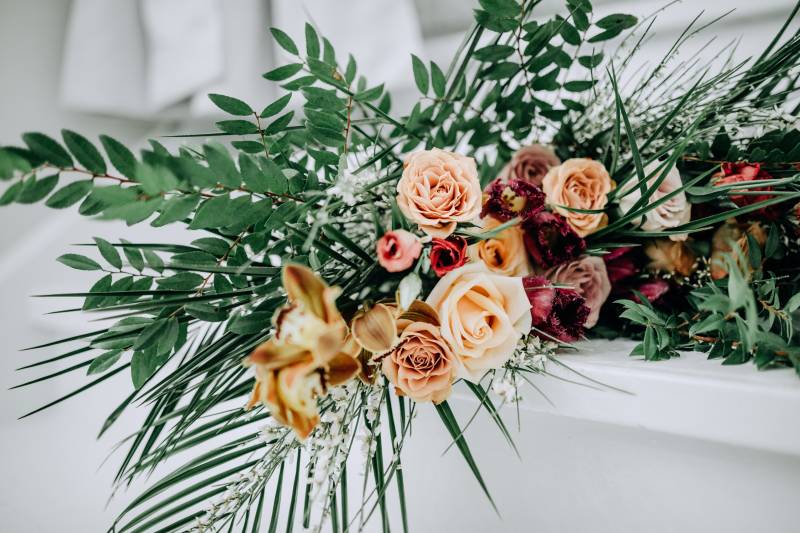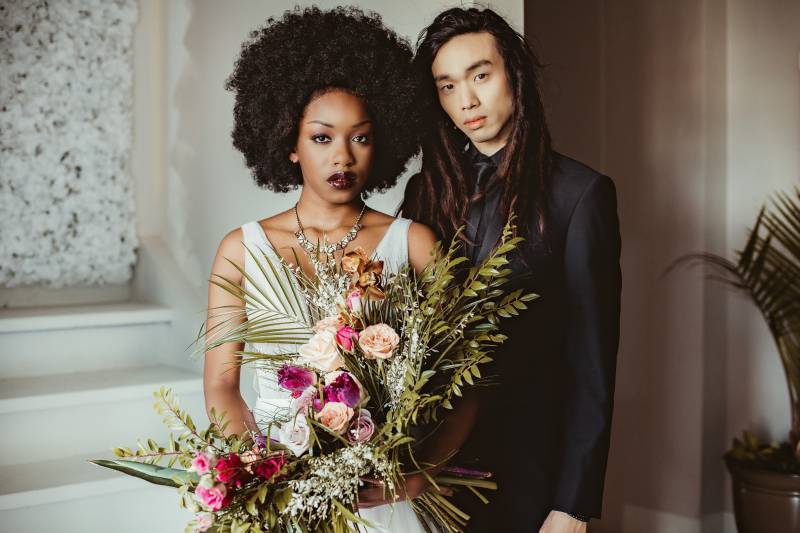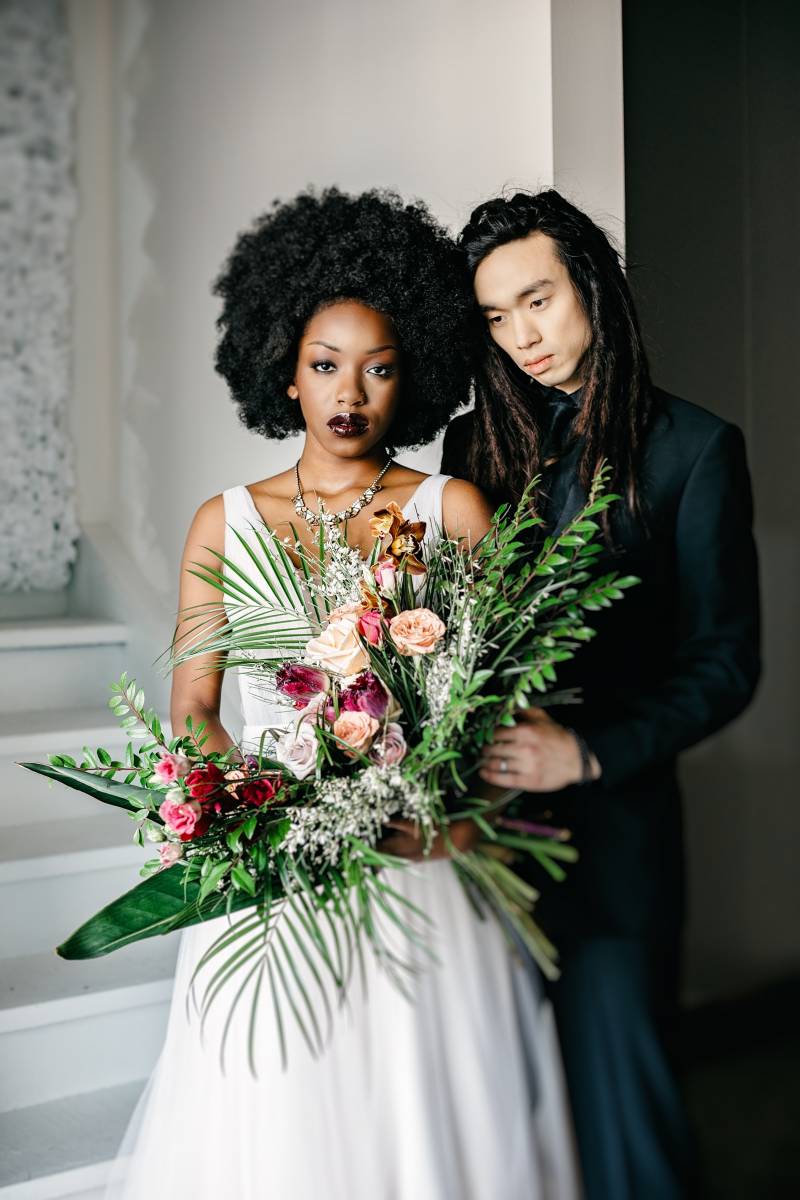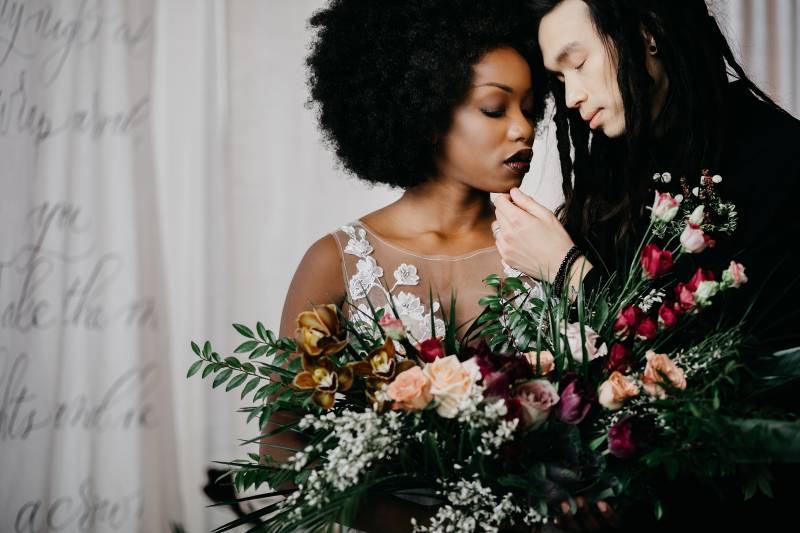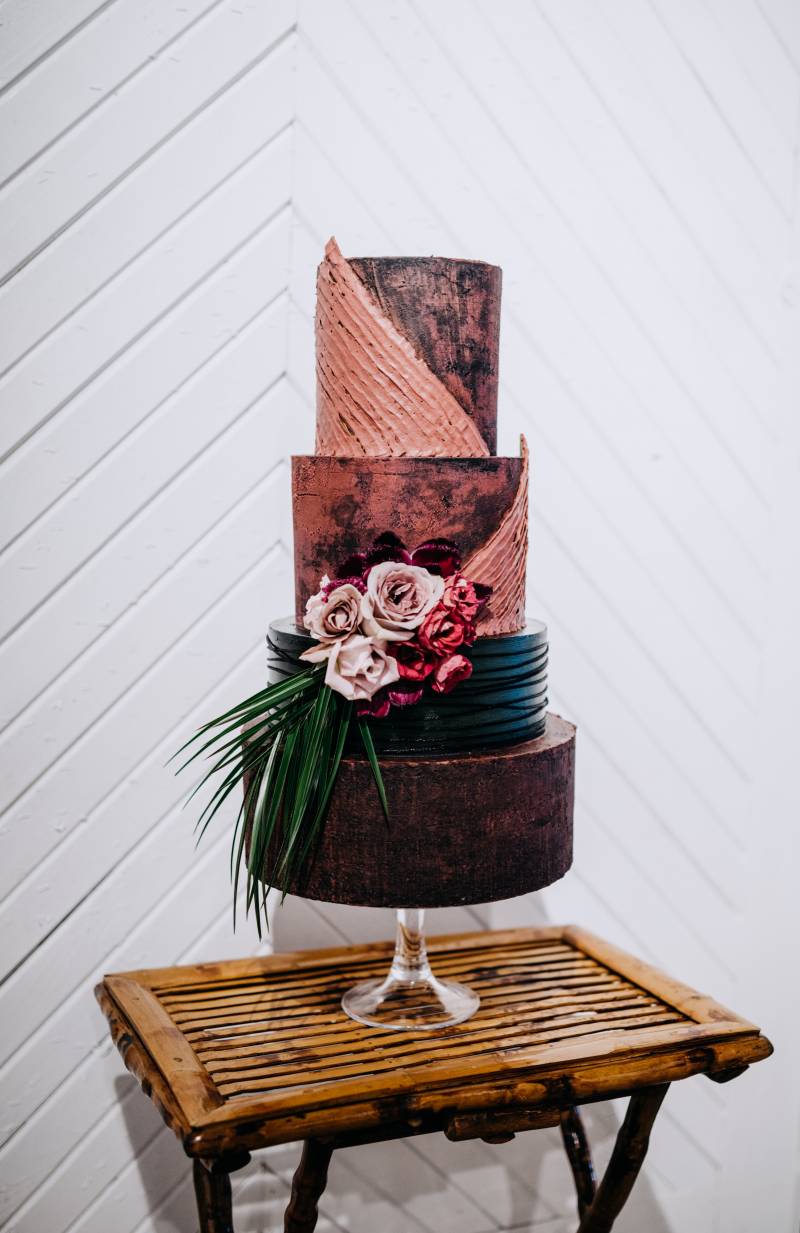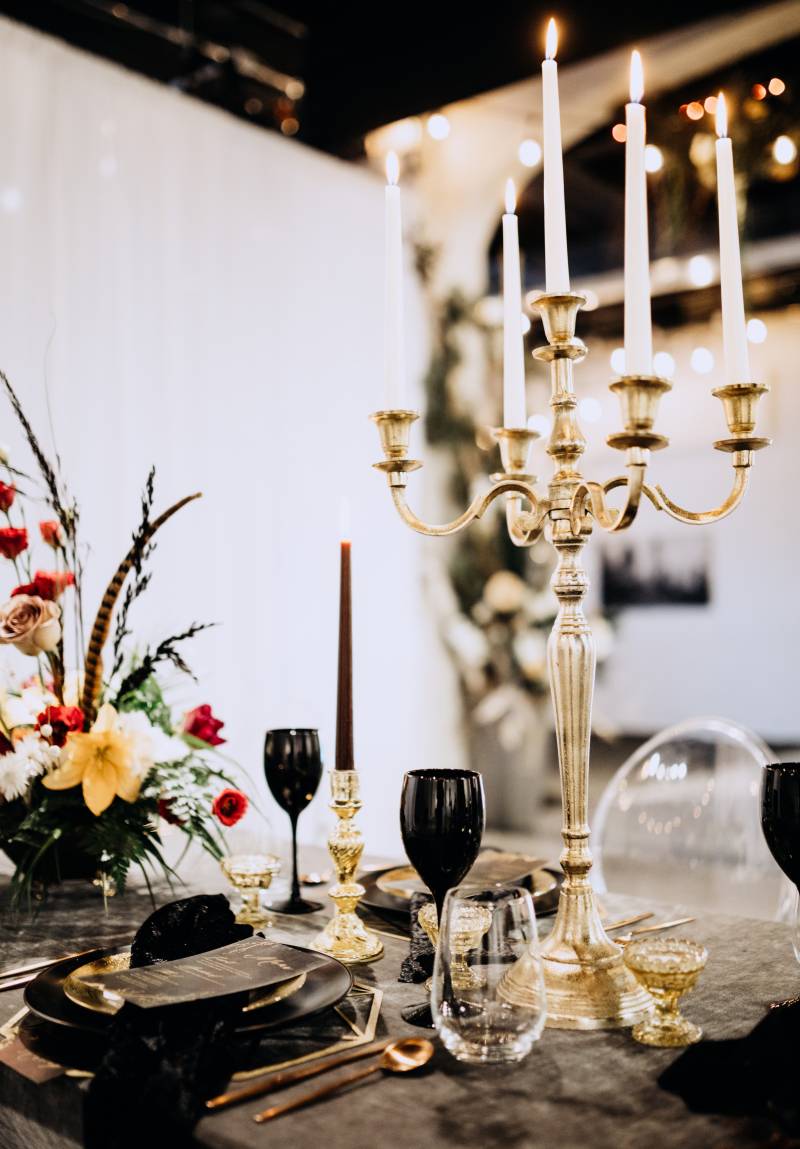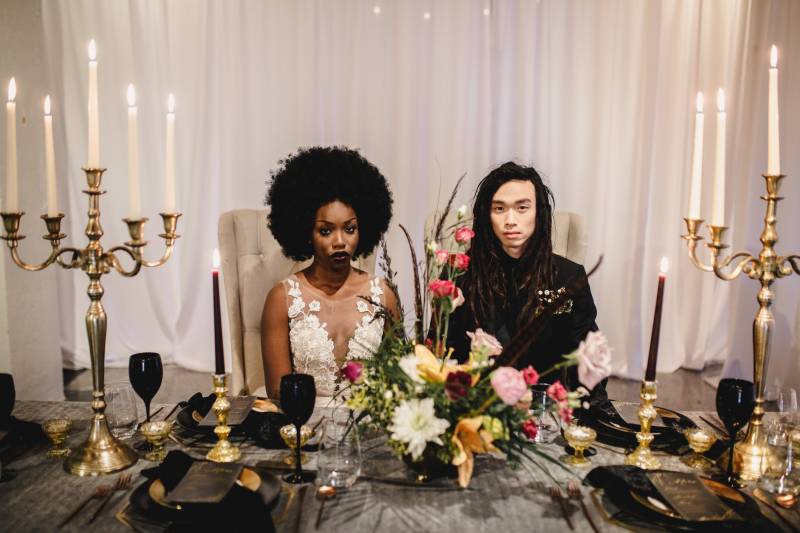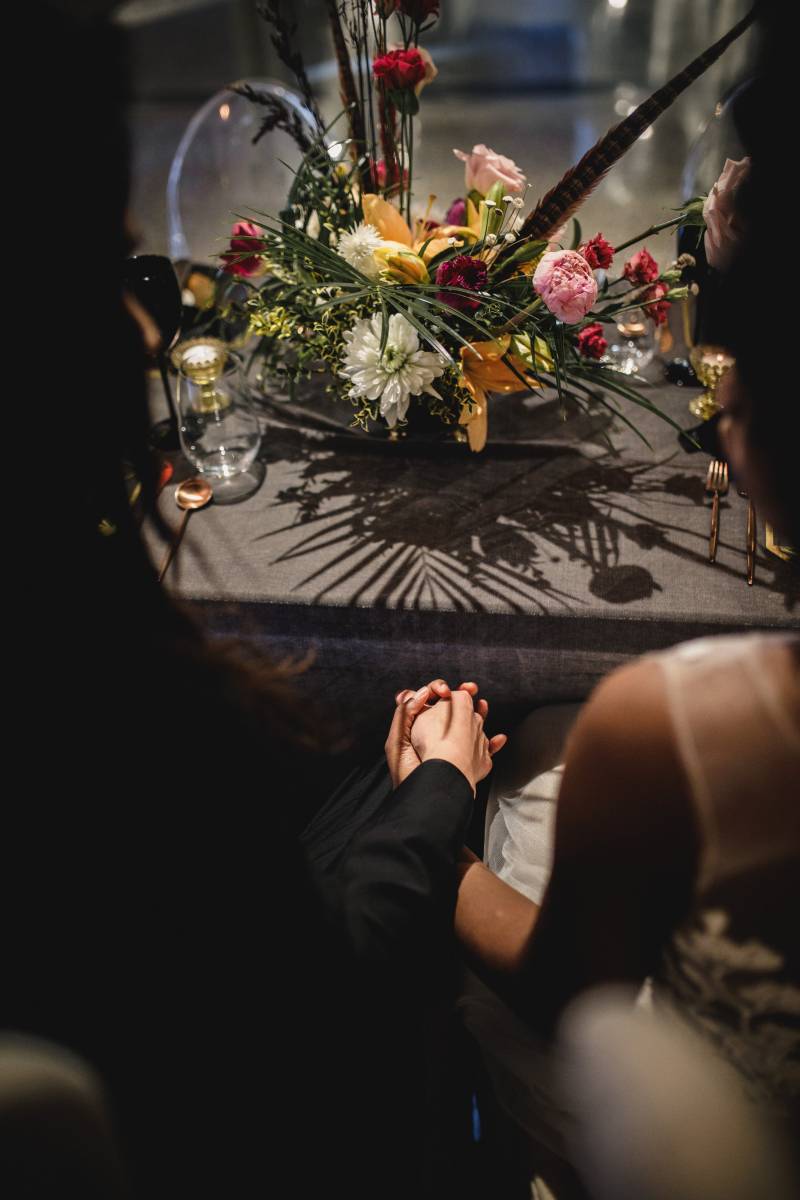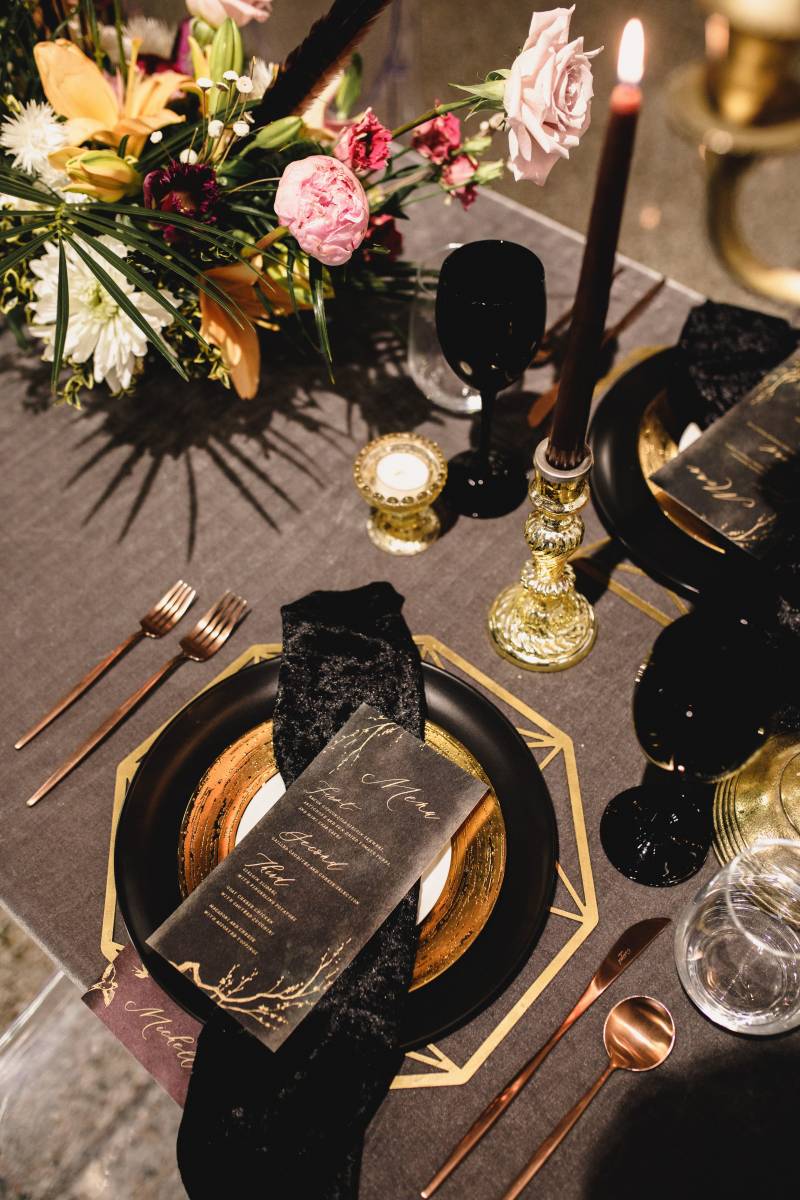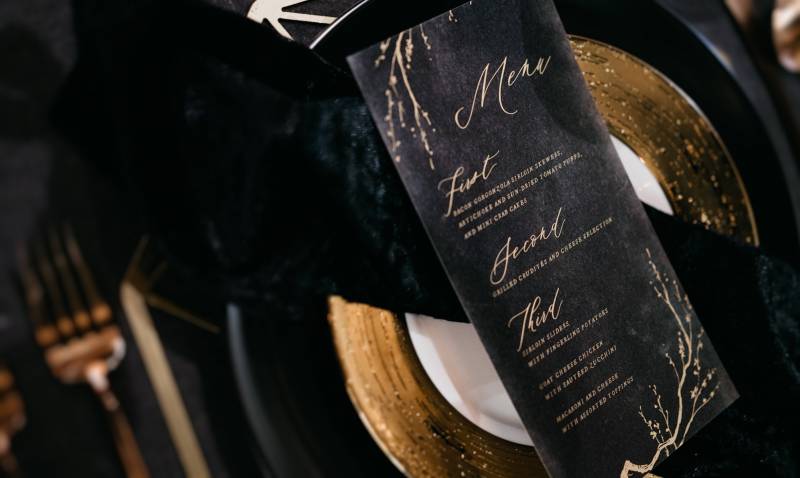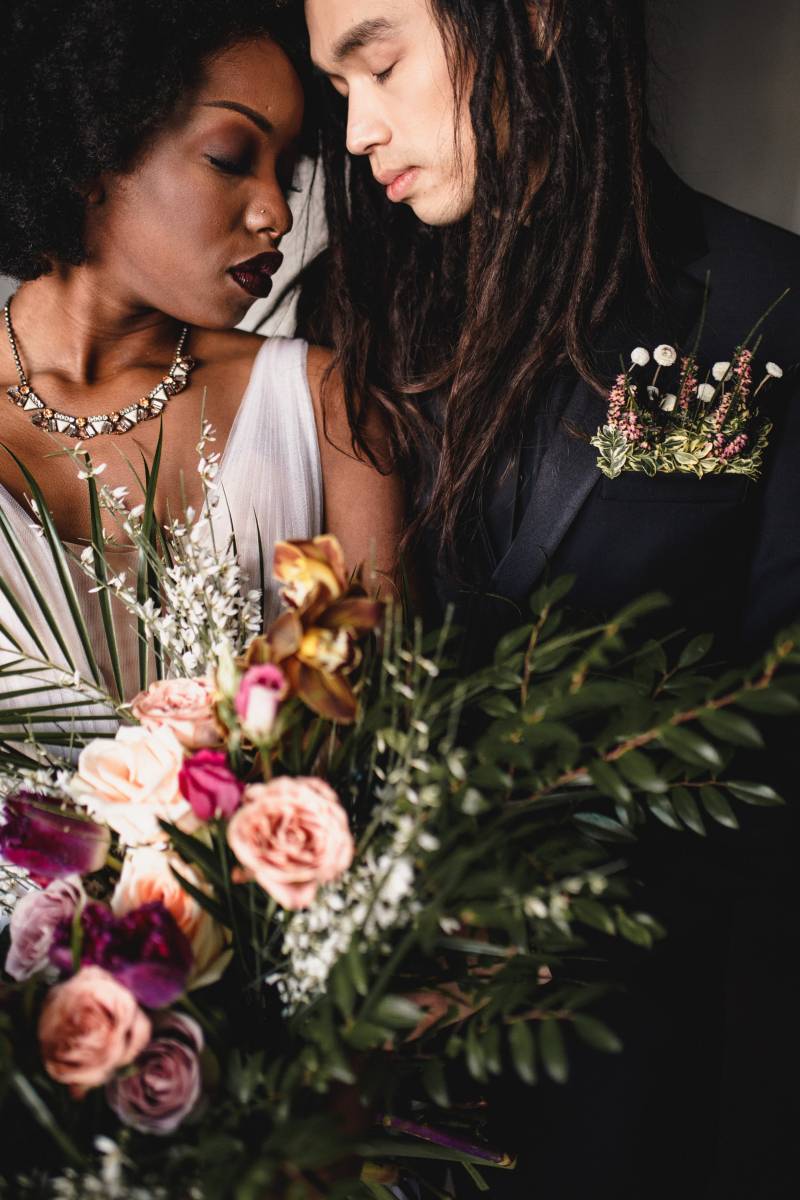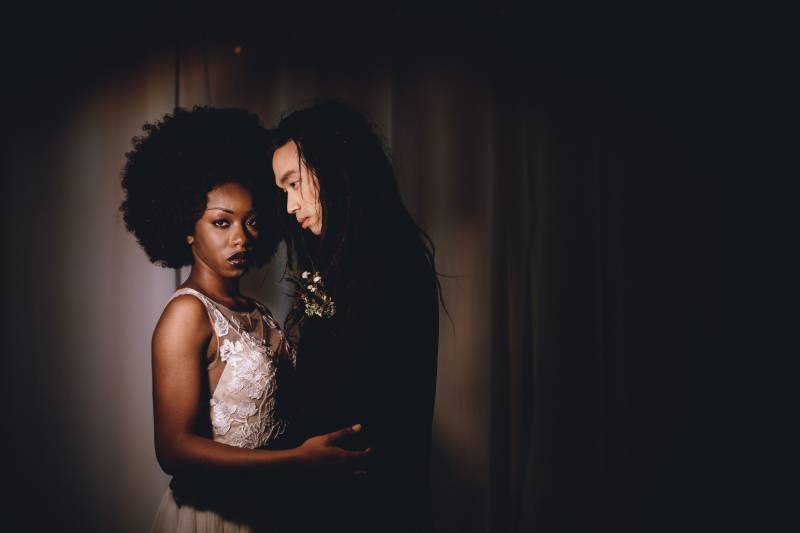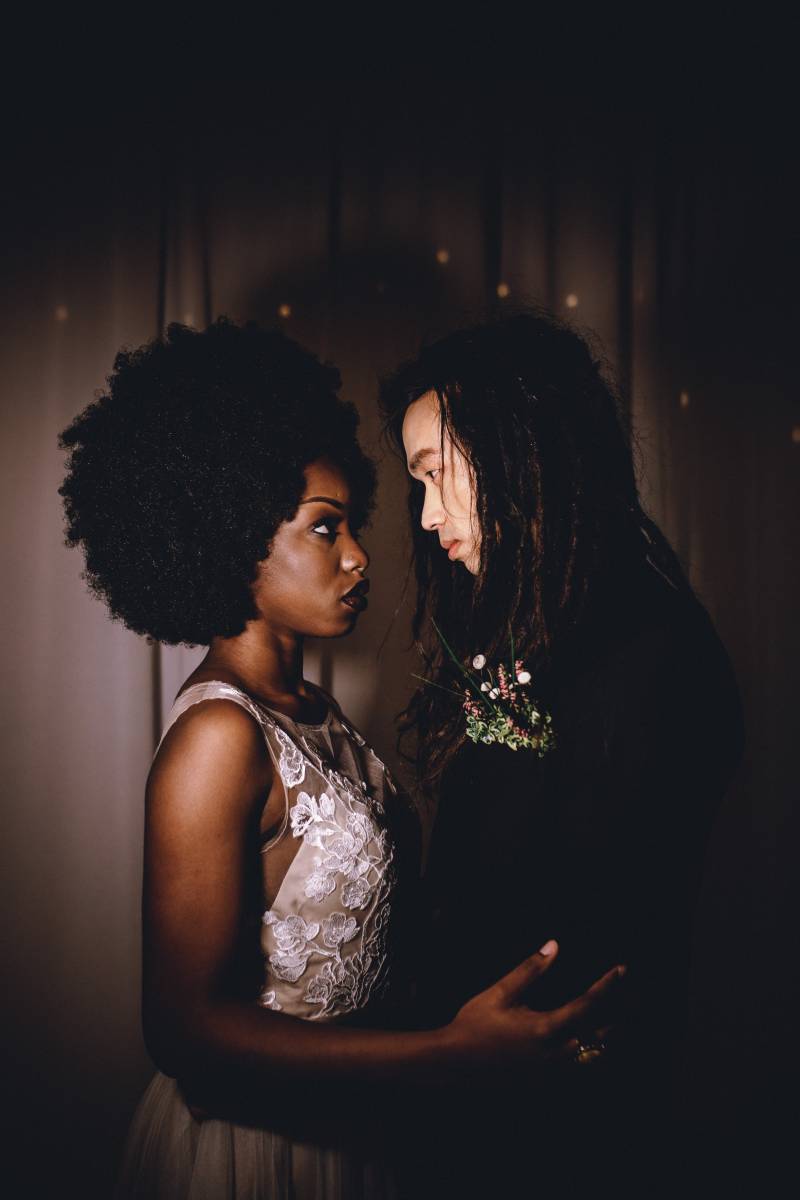 We can't get enough of this gorgeous styled shoot. Share your favorite details in the comments below.