Tanya and Jean Paul met in the fall of 2013. A friend from college invited Tanya out to a local sports bar to watch a college football game, to which she responded, "Ummm I'm laying on my couch with my scarf on." After some back and forth, Tanya decided to go and was told to bring a friend since there were about 20 other guys there. Jean Paul just so happened to be one of those 20 guys. The pair ended up exchanging phone numbers that night but lost touch until Jean Paul called Tanya about six months later. Since then, they've been in love and enjoyed a four-year relationship before tying the knot. On their very special day, Tanya and Jean Paul joined together with an elegant botanical garden wedding in Miami Beach, Florida. Check out this sophisticated union, captured by Ector Javier of Thirty Three and a Third Photography.
Bride's full name, age, and occupation: Tanya Nicole Arthurs, 42, Corporate Facilities - Starbucks
Groom's full name, age, and occupation: Jean Paul, 42, Entrepreneur
Place of residence: Atlanta, Georgia
Wedding date: September 30, 2017
Wedding location: Miami Beach Botanical Garden, Miami Beach, Florida
Wedding theme: English Garden
Honeymoon Destination: Bali, Indonesia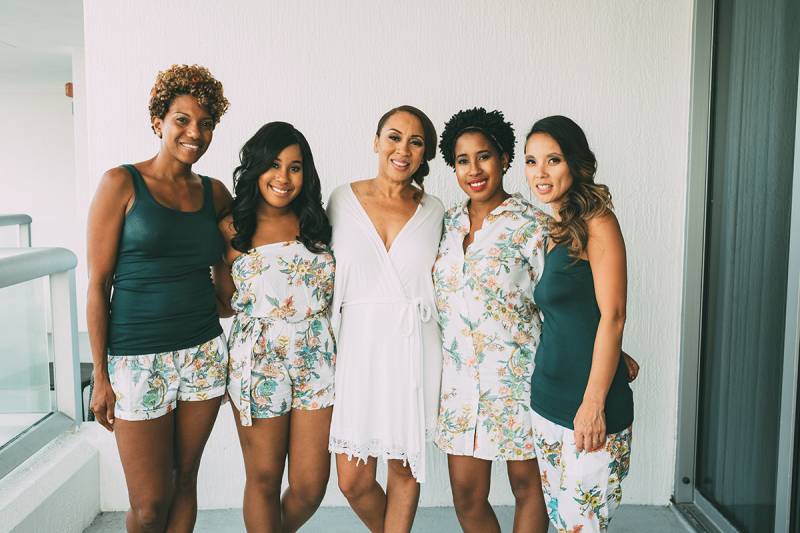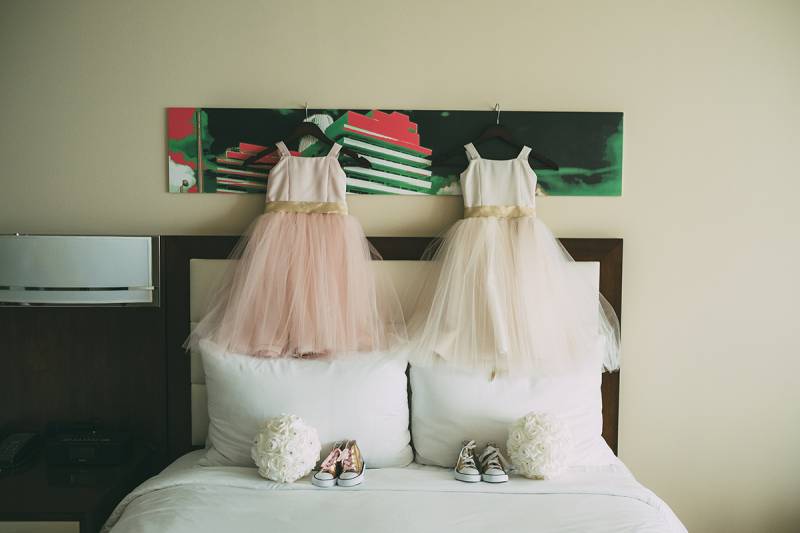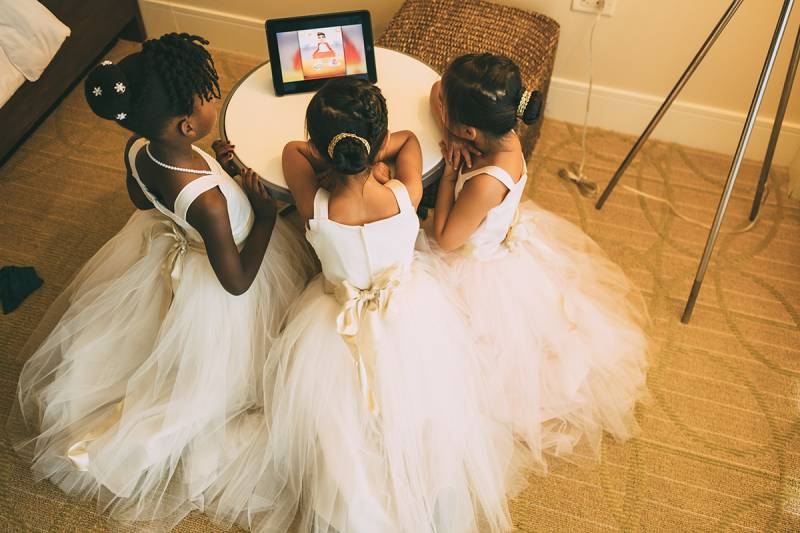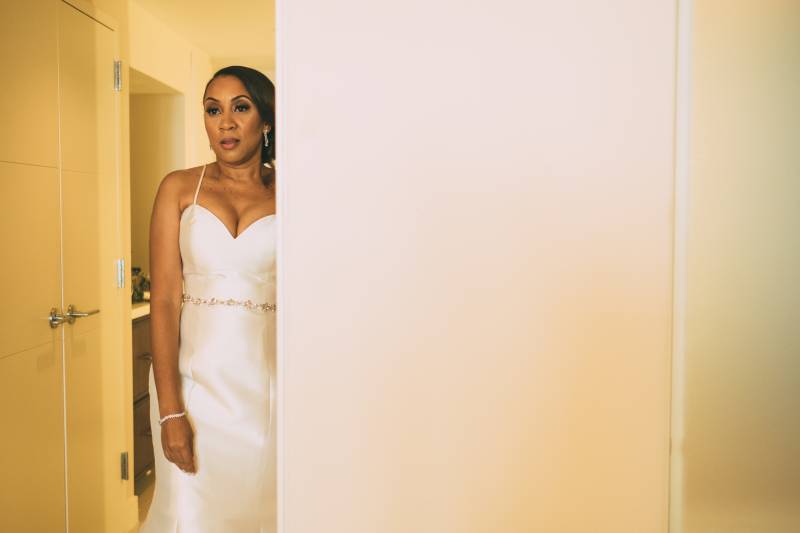 Engagement story:
He texted and asked me to meet him at his cousin's house to help him do something. His cousin was out of town and I remember thinking, "Why didn't he do this before he left?" We were leaving for Jamaica the next day for my cousin's wedding and I had to work late, still had to pack, and had some errands to run. For a split second I wondered if he was going to propose then thought no because he could easily do it at my place without making me drive to his cousin's when he knew I was busy.
When I walked into the house, he had candles lit, flowers on the table and dinner ready. We had been arguing and he told me he just wanted to clear the air before we went on vacation. I told him, "This so sweet, but I already ate." He sat there and made me watch him eat the whole time I'm thinking of everything I still had left to do and how this was such a waste of time.
After dinner, he was making small talk and he gave me a bottle of Tom Ford perfume he had gotten me. He asked if I liked it and I told him it's just ok, it may have to grow on me. He asked again if I liked it and when I said I wasn't sure, he pulled a box out of his pocket and said, "Well maybe you'll like this," and got down on one knee. As soon as I saw the box I knew it was a ring. My response, "Are you sure, because this is forever and I am crazy."
What makes your love special?
We met in what I think is one of the most random ways, I almost didn't make it out that night. Neither one of us was necessarily looking for a relationship, so we genuinely started as just friends. JP splits time between Philadelphia and Atlanta and I was based in Atlanta, so we spent a lot of time on the phone. We really got to know each as friends first.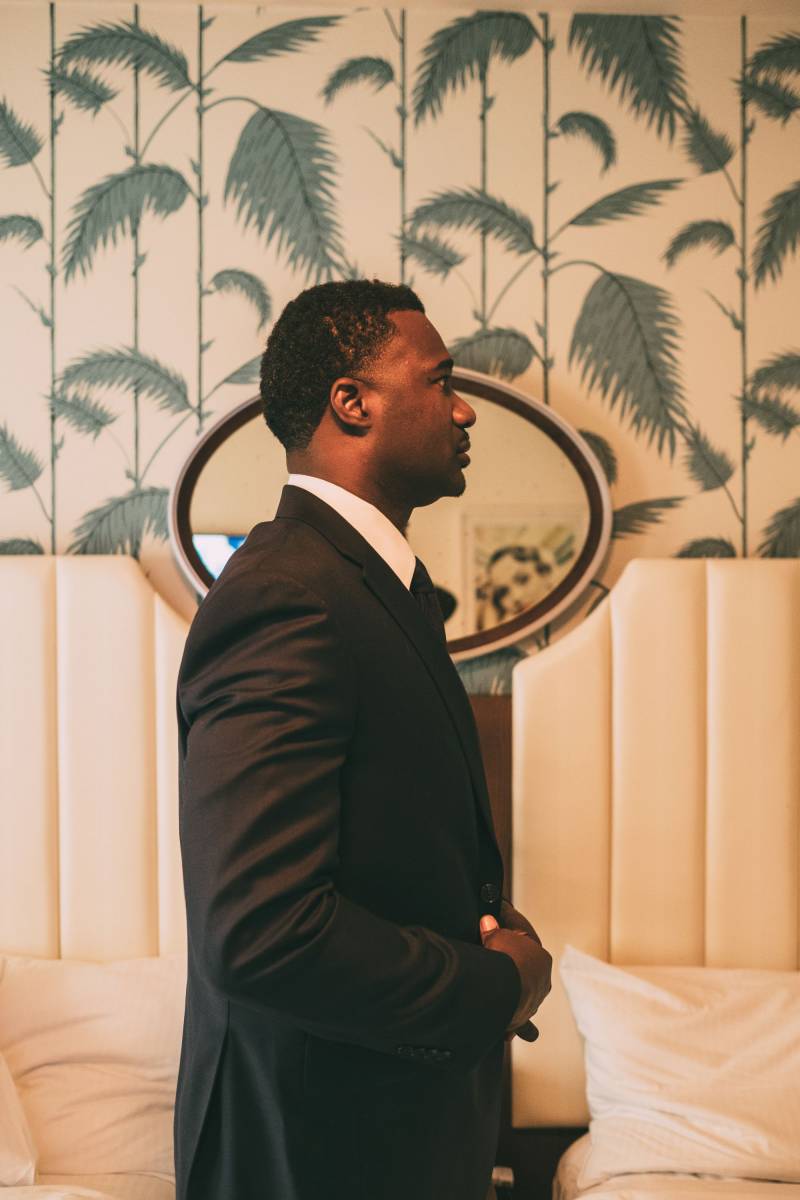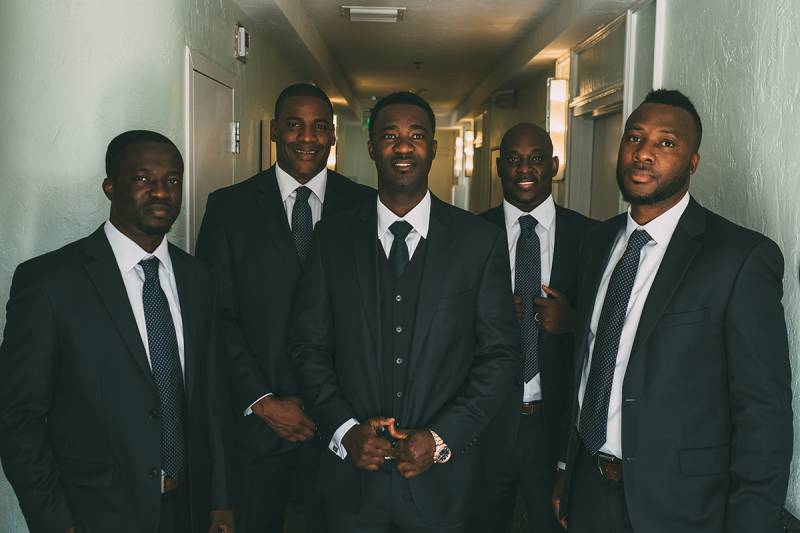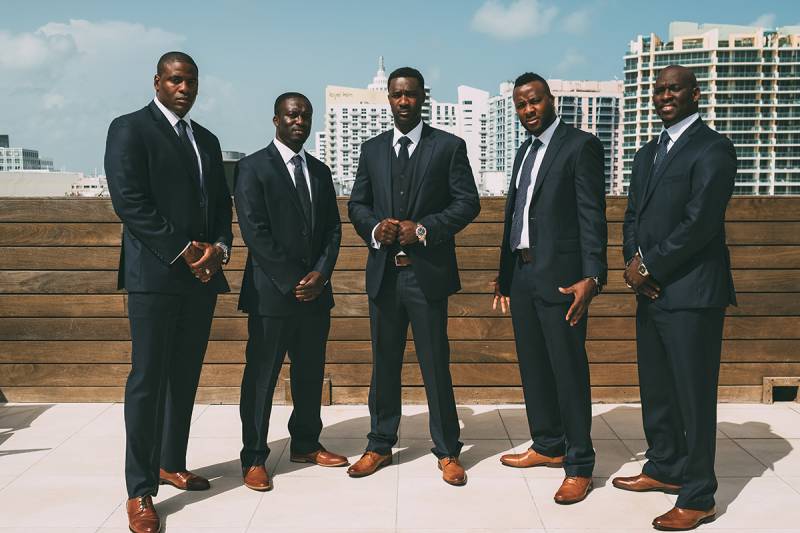 Your most memorable moment:
There are two, the first of which was getting to the venue. I was supposed to go in a black Suburban, but when it got there I couldn't get in. The lift was too high and my dress was so fitted that I couldn't climb in. We were already running late and I started panicking. One of my bridesmaids called an Uber, my best friend told the other bridesmaids and flower girls to go and she would stay behind with me. When the Uber got there, it was an older model Toyota Camry, not at all how I pictured arriving at my wedding. I was still having trouble getting into the car so my best friend, who is extremely petite, gets in the car and pulls me in from the other side and shoves my train inside. I'm hot, running late and even more annoyed by the car situation and at that point she takes out her cellphone and says, "Boo, let's take a selfie because years from now you're going to be mad we didn't capture this." She was right and I love that we'll always have that car ride to my wedding story.
JP's dad and uncle are pastors and officiated our wedding ceremony as they've done for all their children. At one point during our ceremony, all the pastors in attendance stood around us and prayed for us, our future and our marriage. It served as a reminder that there were so many people that believed in us and our commitment to each other.
Wedding song:
Our reception entrance was Method Man and Mary J. Blige's, "You're All I Need to Get By." The first dance was to Sade's, "By Your Side." Our relationship was a long-distance one that was really rooted in friendship. On that day, I married my best friend and knew that whatever life threw at us, we would weather together, side-by-side, and both songs really spoke to that.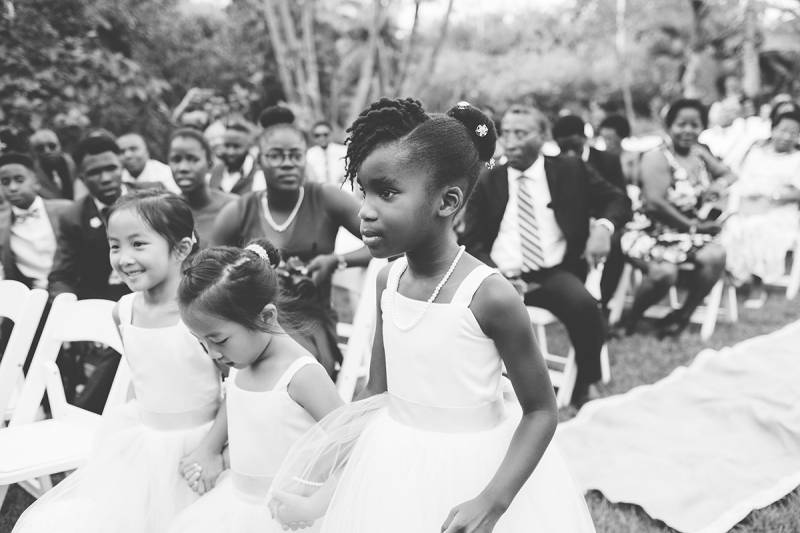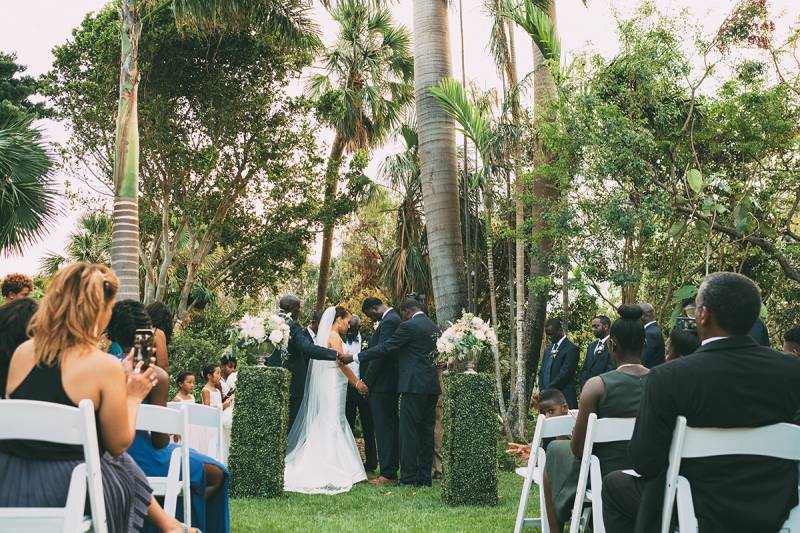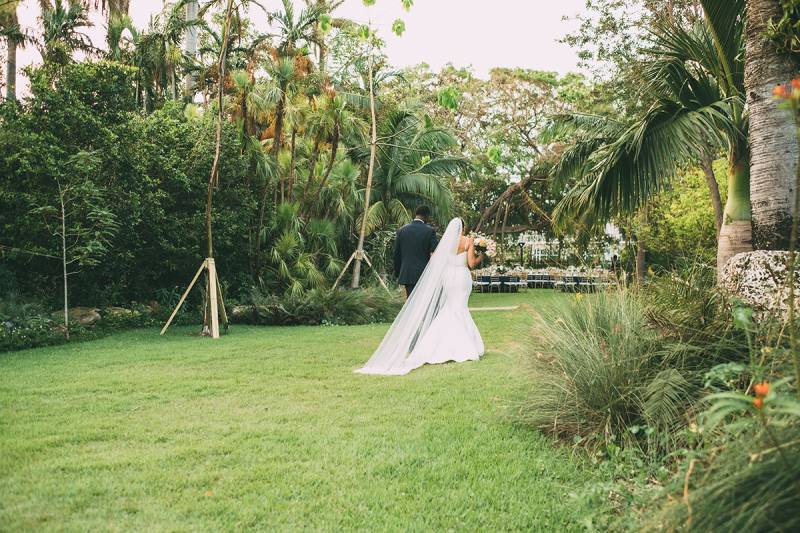 From the Bride:
I am a perfectionist and had a very specific vision for what I wanted our wedding to be. I planned most of the details myself, down to the rosemary sprigs on the place settings--so to see it all come together was amazing.
My best friend told me this was one of the few days in my life that was all about us and I remember being so overwhelmed by that. We had 190 guests, some we hadn't seen in years, and to know that some traveled from so far away to celebrate us was a feeling I'll never forget. The genuine happiness and excitement was tangible.
From the Groom:
My most favorable experience from the wedding was the ceremony. The questions I heard throughout the day were, "How are you feeling? Are you nervous? There's still time to run if you need to? I'll be in the back with the car running if you need to run." My answer to all those questions remained the same, "No, I'm not nervous, just happy and ready to experience everything new in life."
Coming from a big family, the expectation of a turn-up during the reception was present. However, my favorite part of the wedding was having my father and uncle officiate the wedding. My father and uncle are best friends so growing up I spent some time living with my uncle who I consider my second dad. I was blessed not only to have my father officiate the wedding but my uncle as well (talk about a 2-for-1). Overall, I was filled with nothing but love and I am thankful and blessed that god favored me to experience it.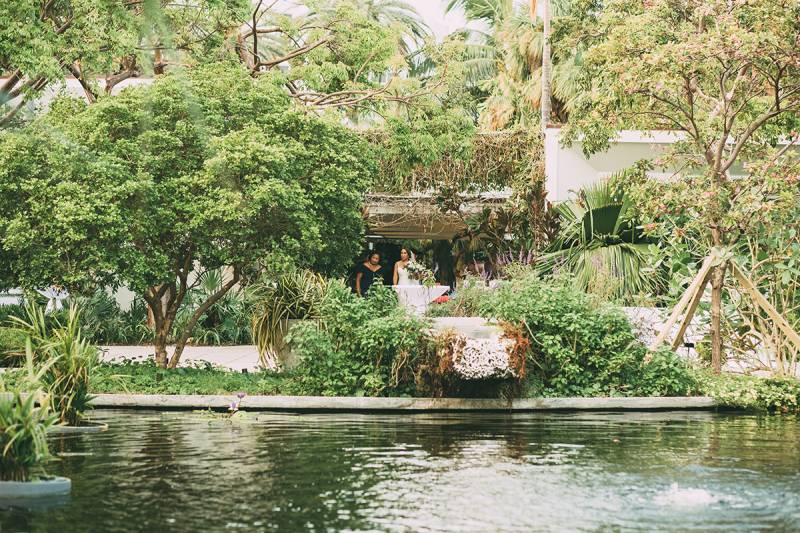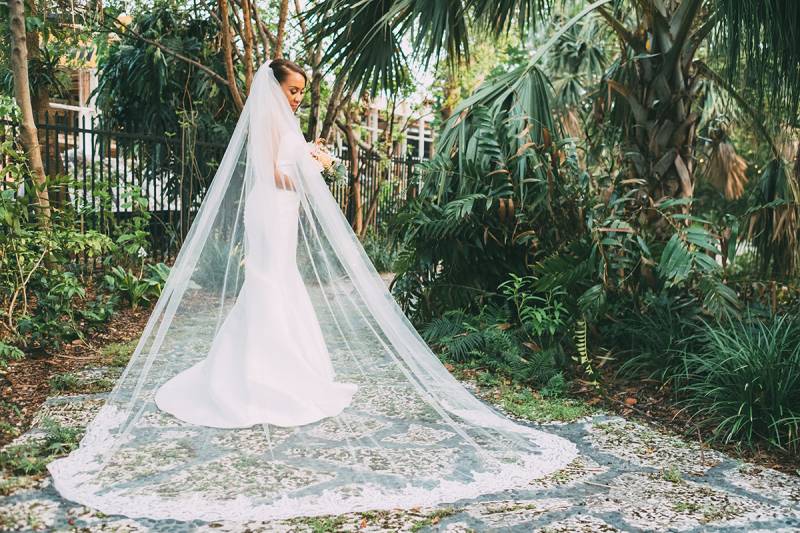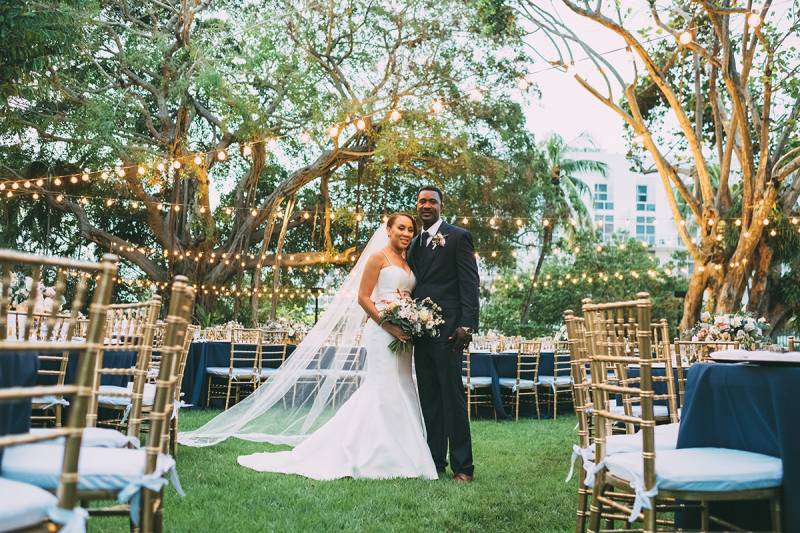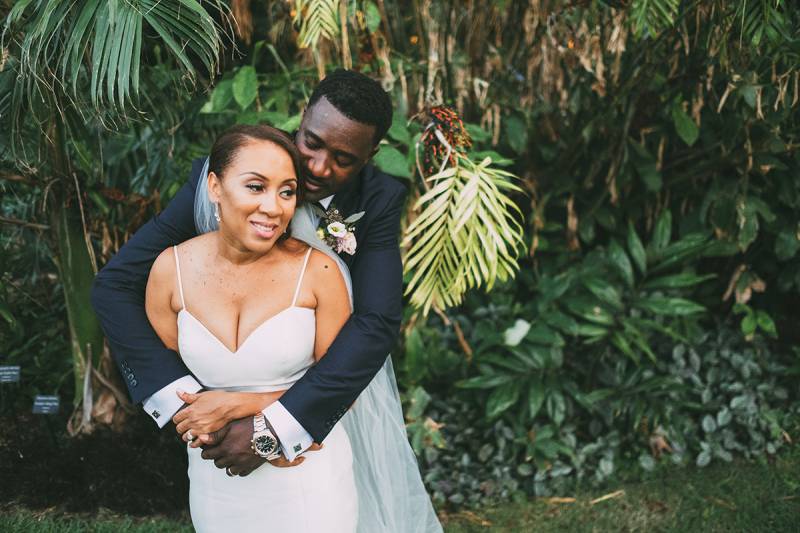 Favorite wedding detail:
Definitely my veil! I had found a veil that I really loved but was slightly out of my budget. A family friend designs couture gowns and I texted her a picture of the veil that I loved but let her know it was out of my budget. She sent me pictures of various patterns of lace, we worked together to pick one, we decided on what the length should be, and after that I let her do her thing. About six weeks later she sent me a picture of my veil, hand sewn by her and grandma and I was speechless. It was stunning! And to know the time and love that went into creating it makes it even more special.
Four days before our wedding, we made the decision to have additional lighting brought in and it was probably one of the best decisions we made. We had bistro lights strung across the back lawn of the garden, over the dinner tables and when we saw it for the first time we were completely blown away. It looked like something out of a magazine and really enhanced the look that we were going for.
What are you most looking forward to as a married couple?
We're looking forward to our life together! Starting a family and creating amazing, ever-lasting memories.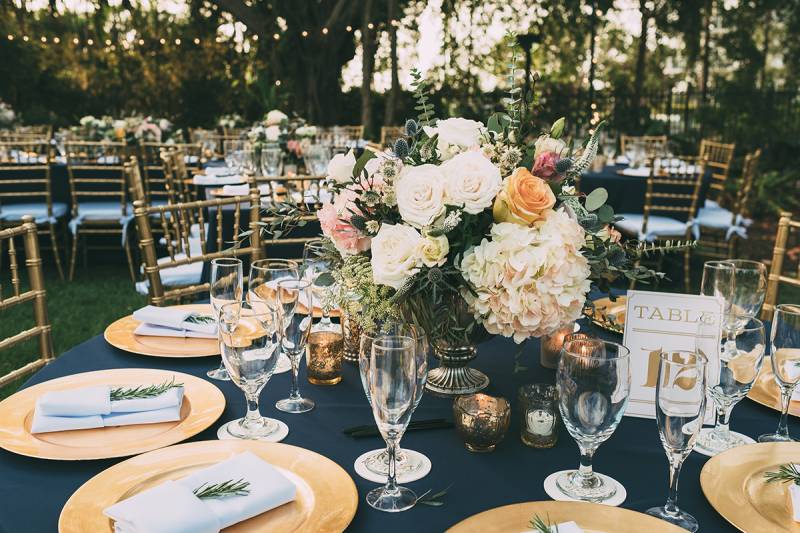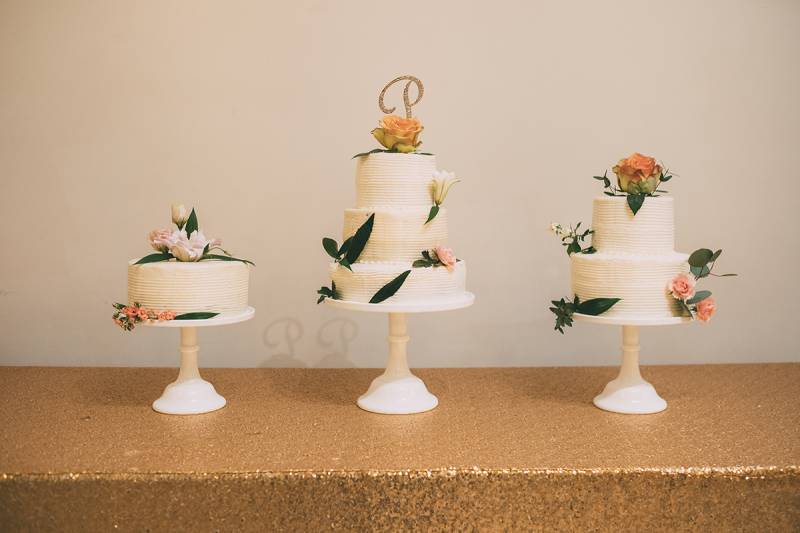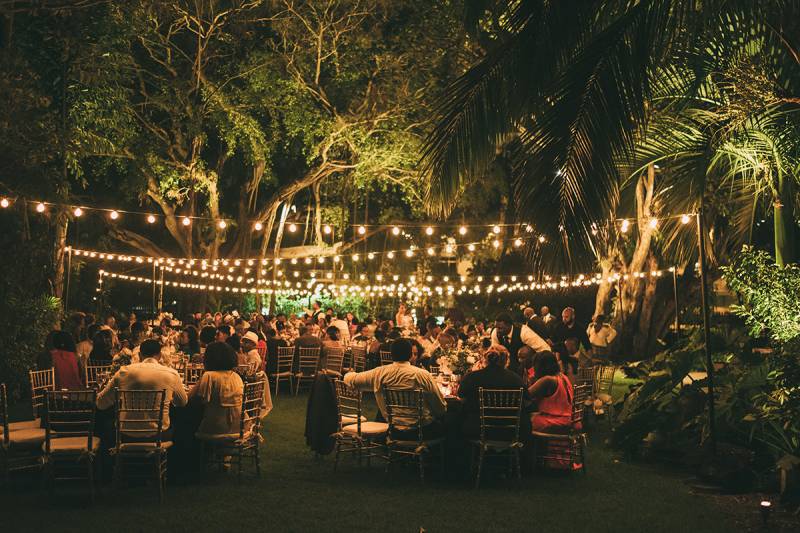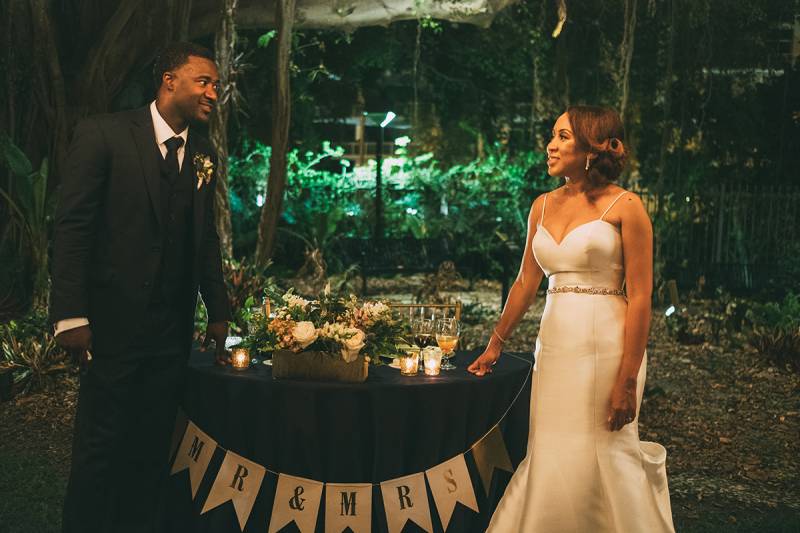 Advice for a bride and groom on their wedding day:
Don't sweat it. A wedding is like a reunion of sorts and everyone is there to celebrate you, your life and your love. The small details that you may notice aren't quite right, you're the only one that's noticing. In hindsight, I wish I had taken more time to really appreciate the little moments instead of stressing over what I felt wasn't going the way it should.
Please feel free to include any other interesting anecdotes from your big day:
This isn't for the big day, but budget the time and money to take your dream honeymoon. Planning a wedding can be stressful and the honeymoon is the only part of the process that's just about the two of you. No parents, no friends, no bridal party, just the two of you on your first of many adventures.
Congratulations to the happy couple! We wish you many years of wedded bliss!