Oreoluwa and David would often see each other at social and church events. However, they officially met in the fall of 2010 through a mutual friend at an African Student Organization event held at Baylor University in Waco, Texas. After several months of getting to know each other, they began dating on January 11, 2011. Oreoluwa and David connected through their shared love and passion for god, family, traveling, music, dance, sports, and food. Over the past seven years, they have been through several life experiences together; highs and lows -- but through it all and with the help of god, they came out with an even stronger love and deeper dedication to each other. They cannot wait to begin this next chapter in their lives, and pray that god continues to bless and flourish their union. Now, this devoted couple is ready to take the next step in their relationship as husband and wife. Check out Oreluwa and David's culturally chic engagement session in Dallas, Texas, captured by Harbor Grace Photography.
Bride's full name, age and occupation: Oreoluwa Adebanke Otubanjo, 25, Site EHS Manager
Groom's full name, age and occupation: David Niyi Andrews, 30, Assistant General Manager
Place of residence: Plano, Texas
Engagement Shoot Location: Dallas, Texas
Wedding date: Nigerian Traditional Wedding 09/06/2018 & Wedding Ceremony-Reception 09/08/2018
Engagement story:
We got engaged on Saturday, July 21 at Savor Gastro Pup in Dallas, Texas in front of our closest friends and family. David planned the perfect surprise for our special day. He got my best friend to ask me to participate in her sorority sister's event for her new makeup line. She needed models for a photoshoot. Of course, I said yes! Fast Forward to me coming home on July 20 to prep for the photoshoot the next day, my best friend picked me up and we headed to Hyatt Regency in Downtown Dallas. I remember looking at my best friend saying "Ooooh, your line sister is fancy... I am so glad I came home for this photoshoot." Then we got upstairs to a real fancy hotel room with a beautiful view of the Dallas Skyline and a makeup artist waiting to do our makeup. I was first in the makeup chair and I just kept thinking that this makeup artist is quick, but her work was beyond amazing. The makeup artist who was my best friend's "line sister" then told us to hurry up and get dressed and that the driver was downstairs. I was like wow there is a driver too... This is the best photoshoot ever. We hurried up, got dressed, and then proceeded downstairs. We got into a Limo SUV and I was just feeling like a celebrity the whole time and kept taking selfies. We pulled up to this nice restaurant called Savor in Downtown Dallas.
A waiter brought us a menu and told us to order a meal. While all this was happening, my bestie was busy trying to get me to watch a video on her phone. It was a video of David; he was talking about something I couldn't quite make out because It was so loud at the restaurant. I didn't think anything of the video, and assumed that David was just assisting our friends with a video shoot. I was so oblivious to what was happening around me. Anyways, I kept attempting to watch the video, my bestie gave me no choice but to keep watching, which I later found out David recorded months ago (in March); the first time I was supposed to come home. All of a sudden, I see our friends Lauren and Tim pop out of nowhere with their cameras, and then I see my mom, brother (my other brother, who lives in Boston was on a video call), and so many of our loved ones came out of different areas of the restaurant. I then yelled, "What are y'all doing here? Oh my god!" I turned around and there goes David looking handsome with a huge smile on his face. He gets down on one knee and pulls out a beautiful ring. He said basically everything he was trying to tell me on the video and more. I was shocked, impressed, shy, and overjoyed all at once. Majority of the guests in the restaurant and our guests were clapping, crying, and staring at me. After the proposal, the owners of Savor brought us all champagne, a cake and plenty of food.
This was the moment I had been waiting for and it all felt so surreal. I loved that my family and those closest to me were there to witness that moment. Our love for each other grew even more in that moment, and I can't wait to get married to this wonderful man.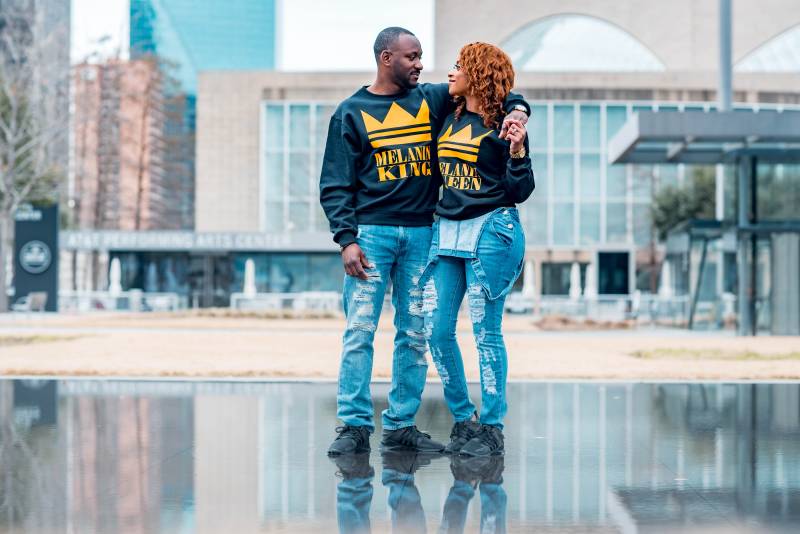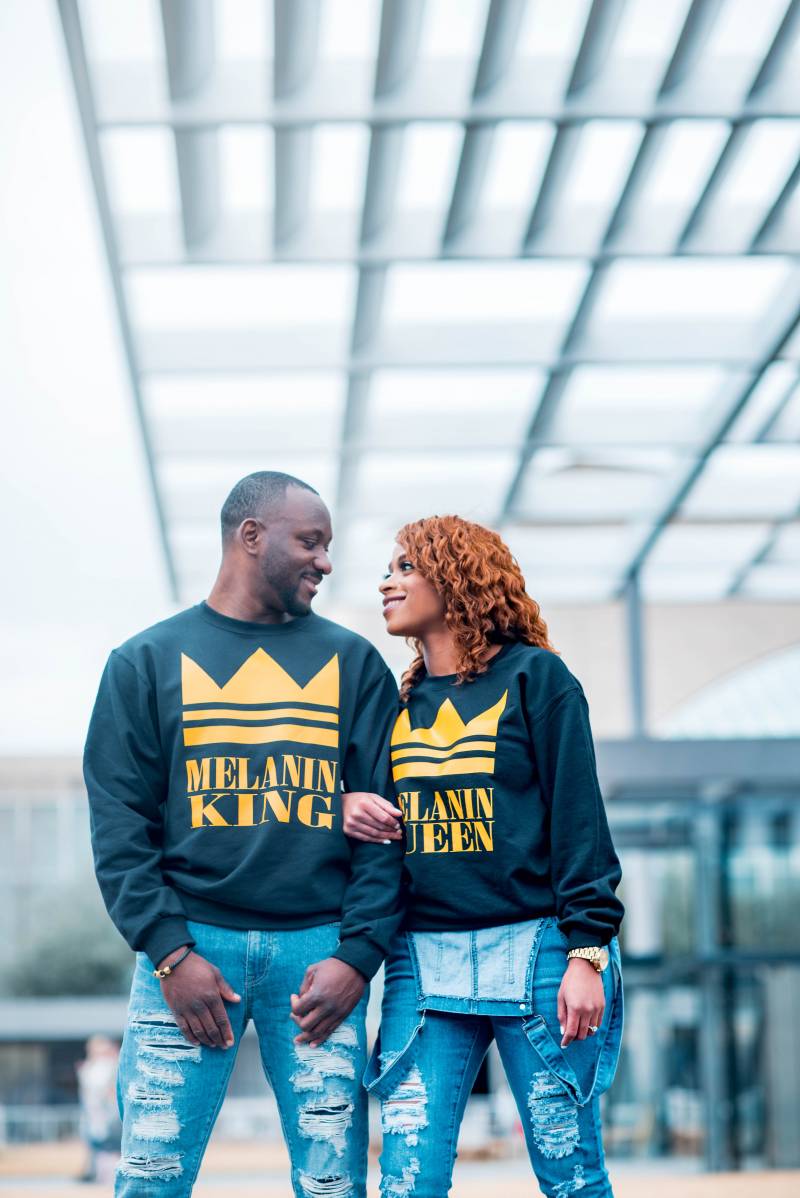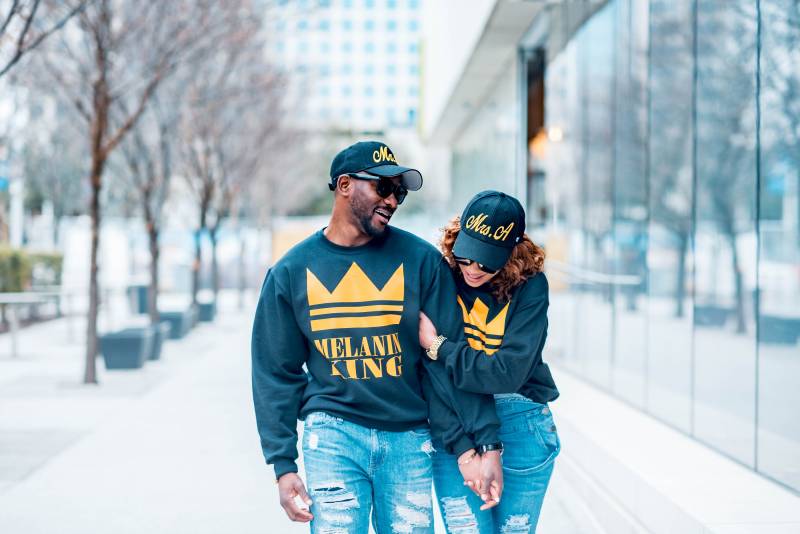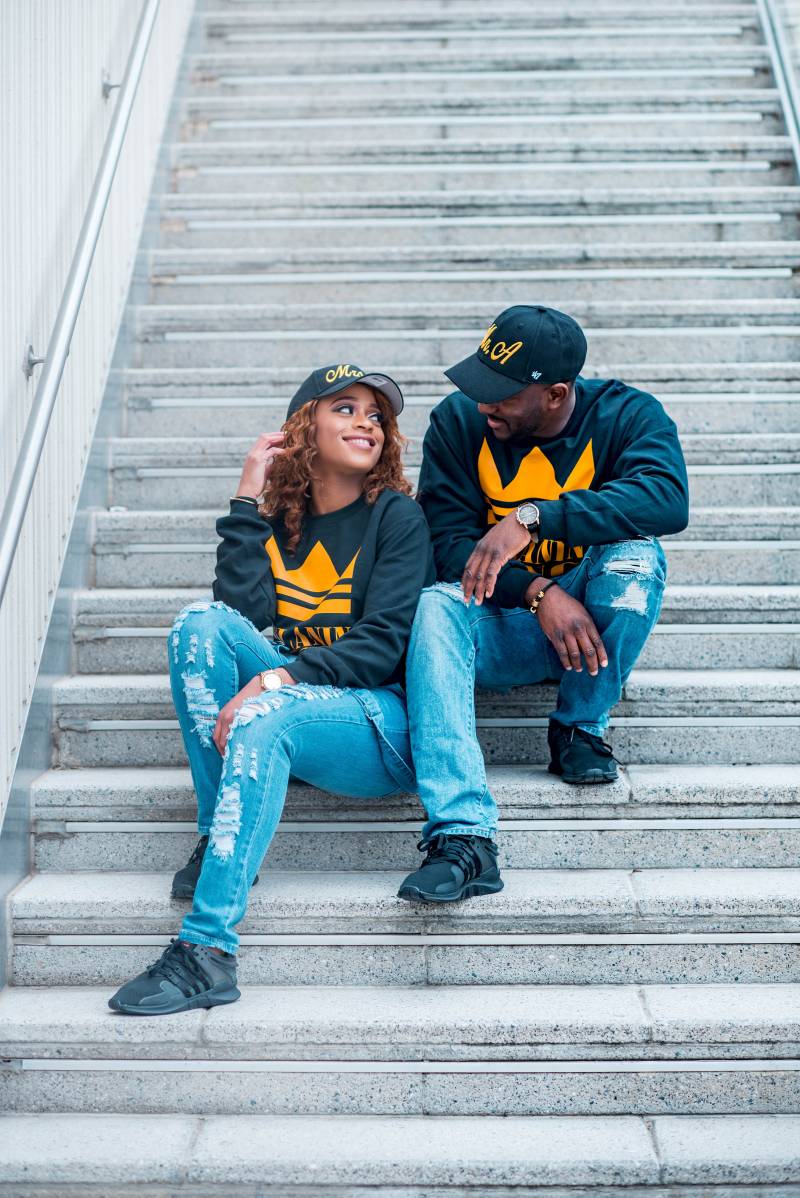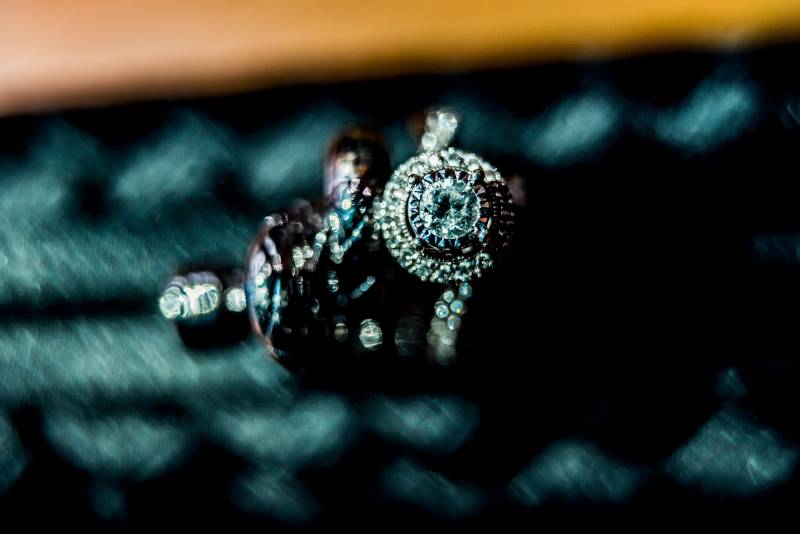 For the Groom: Walk us through the behind the scenes of creating this special day.
When I first started dating Ore, I knew in my heart that what we had was deeper than just a mere relationship. Looking at it in retrospect, I can without a doubt say that it was god ordained. She was definitely the "one" for me. She meant so much to me that it took me about six years to think of the perfect proposal. At the beginning of 2017, I got a nudge from god, showing me signs that it was time for me to take that next step. I started thinking of different scenarios and what would really work since Ore had relocated to San Marcos, Texas for work. I knew how much she valued her family and friends, so of course they had to be part of it. I got in touch with her best friend in early March on ways to get her back in Dallas without her suspecting anything... That was a fail. I started to think, "maybe I'll just wait until her birthday in September and do it then." My good friend Tim told me to just get it done with, and that there was no need to push it that far back as I'd already shot a little video for her telling her how much she meant to me. So, I connected with her best friend again and we set a date for July 21. We'd already come up with a plan on how to get her here completely oblivious to what was going to happen.
When July 21 finally got here, you'd think I'd be totally ready to do this; after all, we dated for over 6 years. On the contrary, I was a nervous wreck of emotions. I went to the hotel I had booked to get ready and just sat there, staring at the skyline and back at the ring sitting on the window ledge. I eventually got myself together and headed to the place I'd picked to ask her to be my wife. Our families and friends were all there waiting to surprise her. As the moment drew nearer, I could literally feel my heart beat through my chest. Finally, Ore arrived with her best friend and they got seated. It was go-time and the nerves vanished. I was ready to ask her to be my wife... And I did with a huge grin on my face, especially after she yes... (phew!). I'm blessed to have found the rib of my rib and I can't wait to live the rest of my life with her. I couldn't have asked for a better life partner.
What makes your love special?
Our love is centered around our relationship with god. We have been together for seven years and through all the ups and downs, god has always remained our center and he always will be. We have the same beliefs and share most of the same interests. We each bring 100 percent of our best to complete each other as one.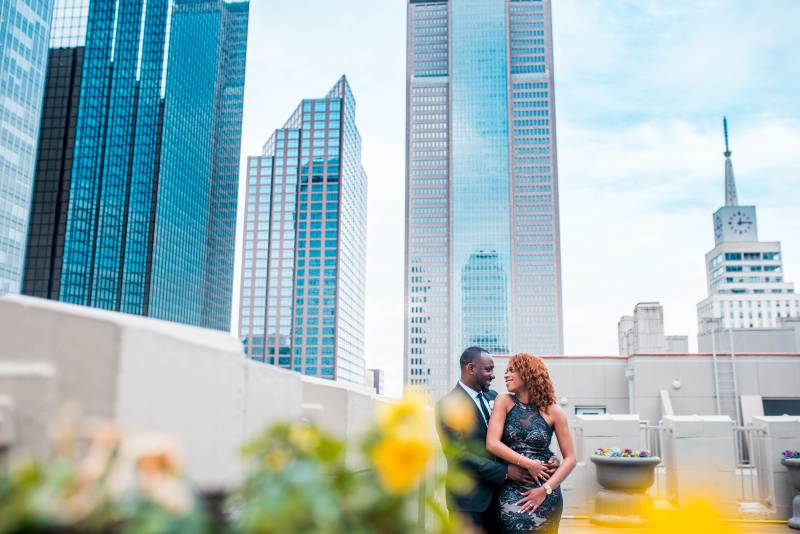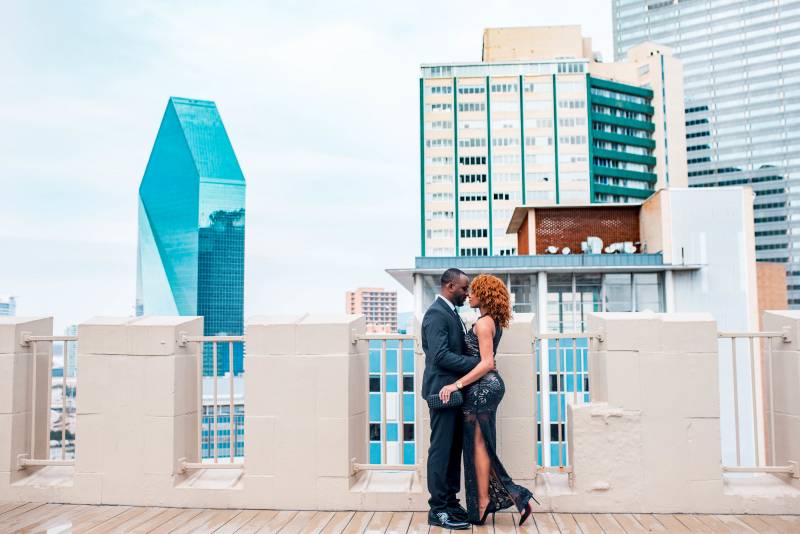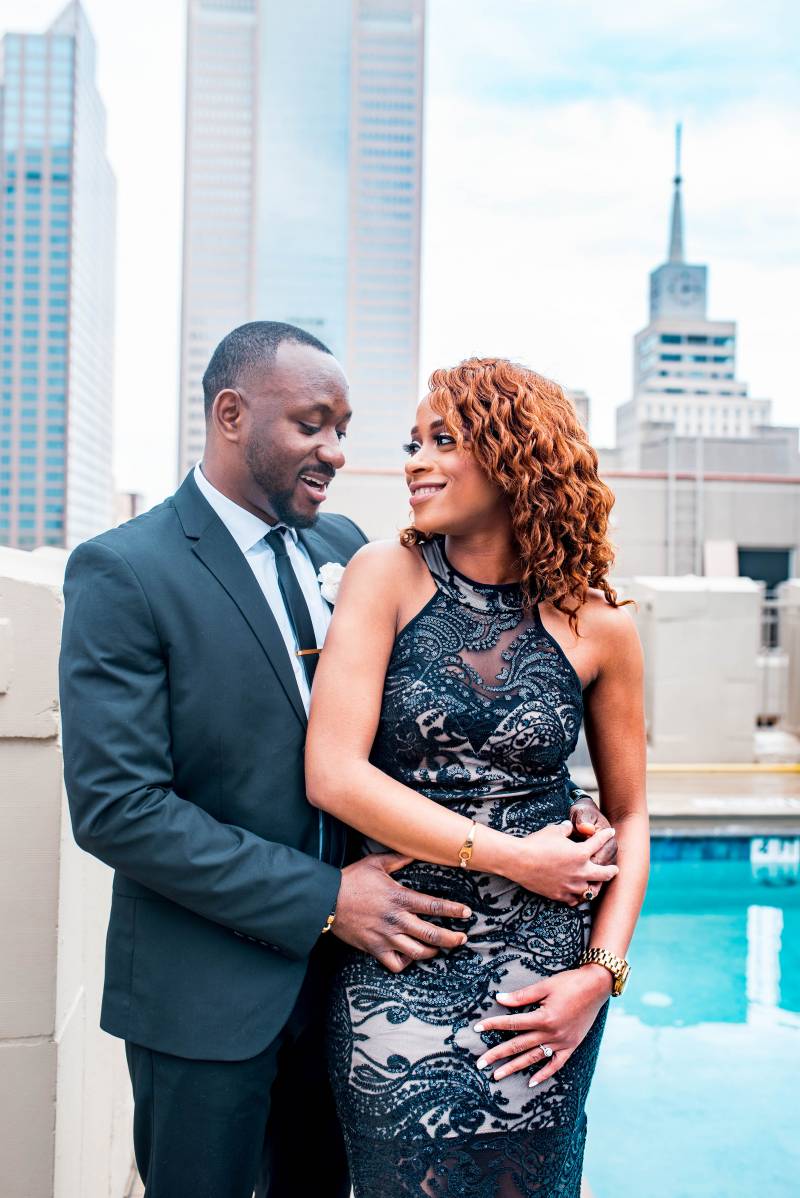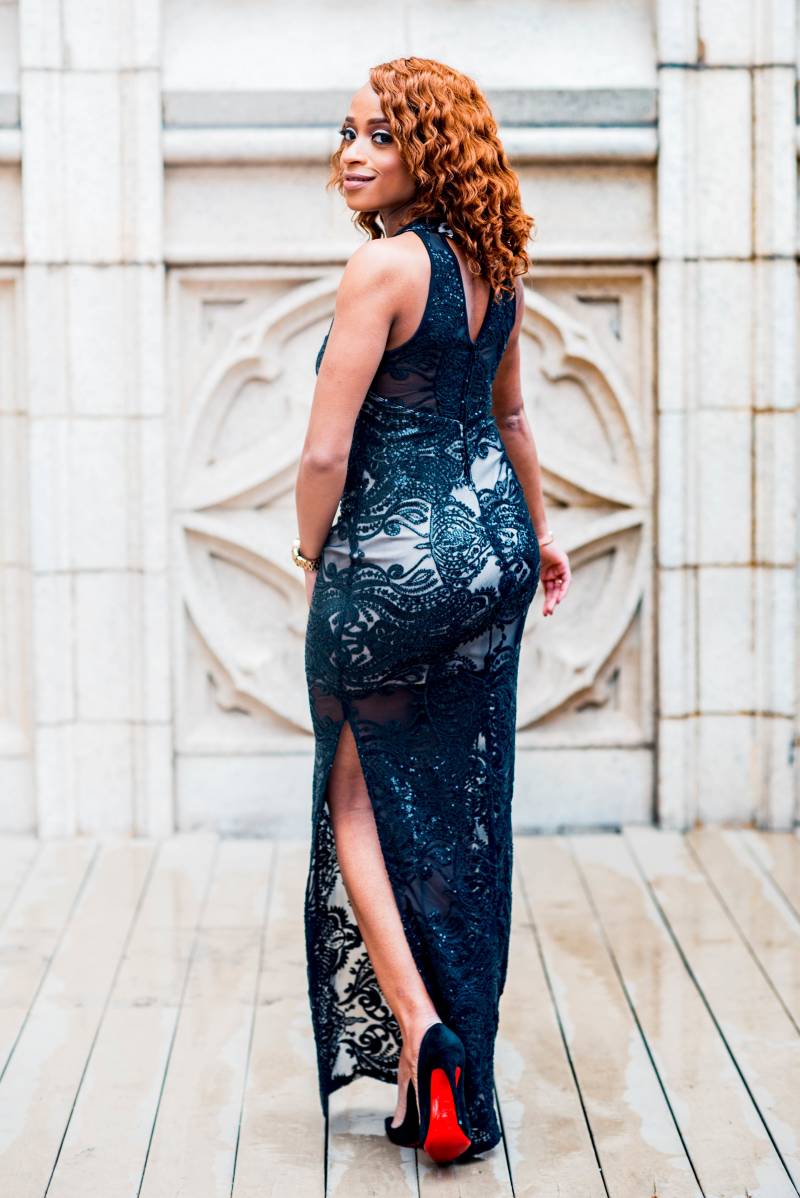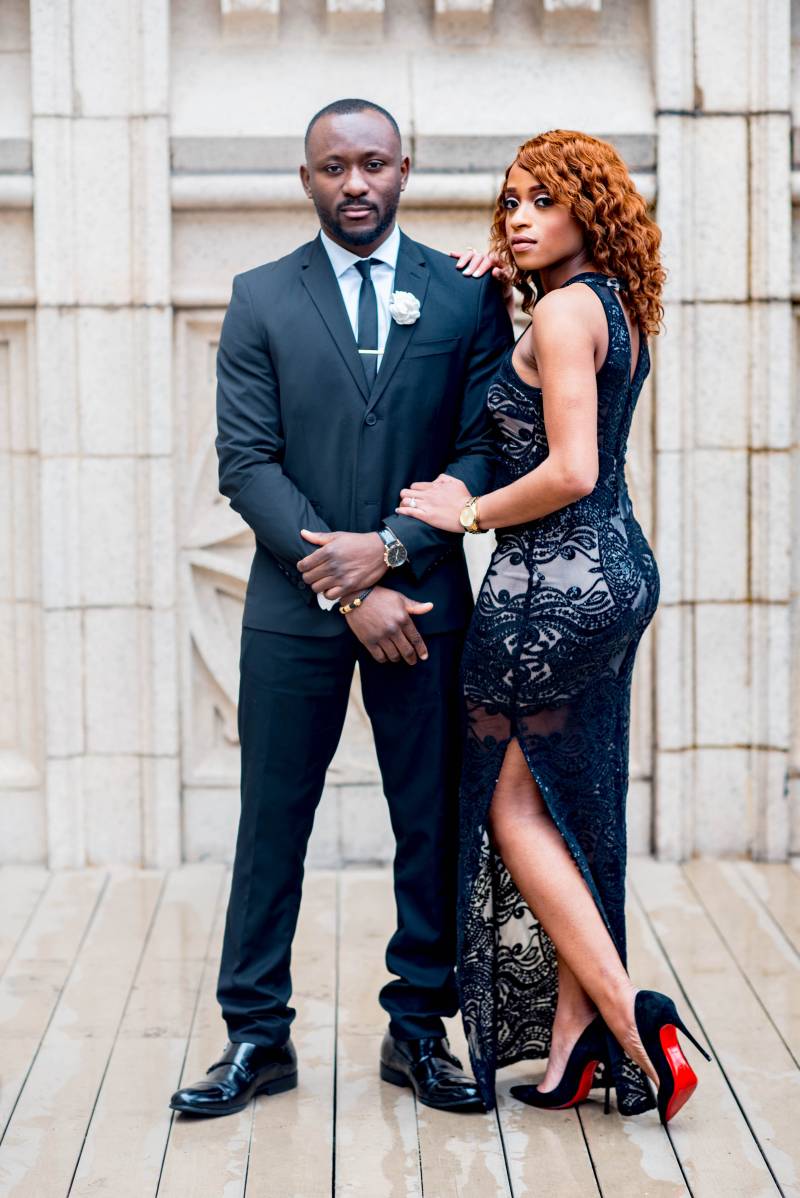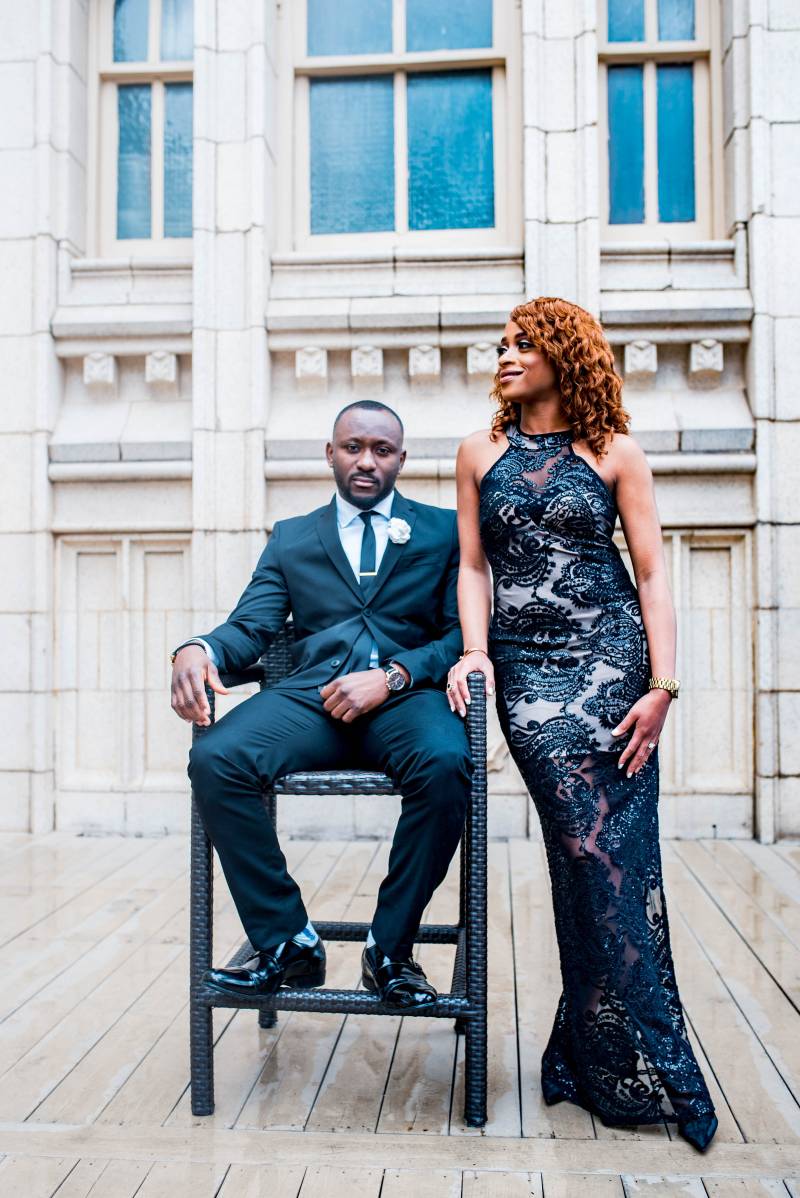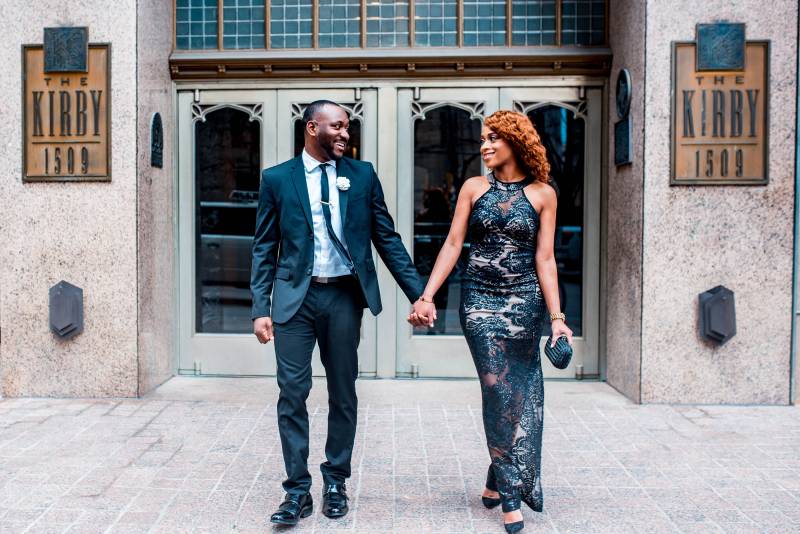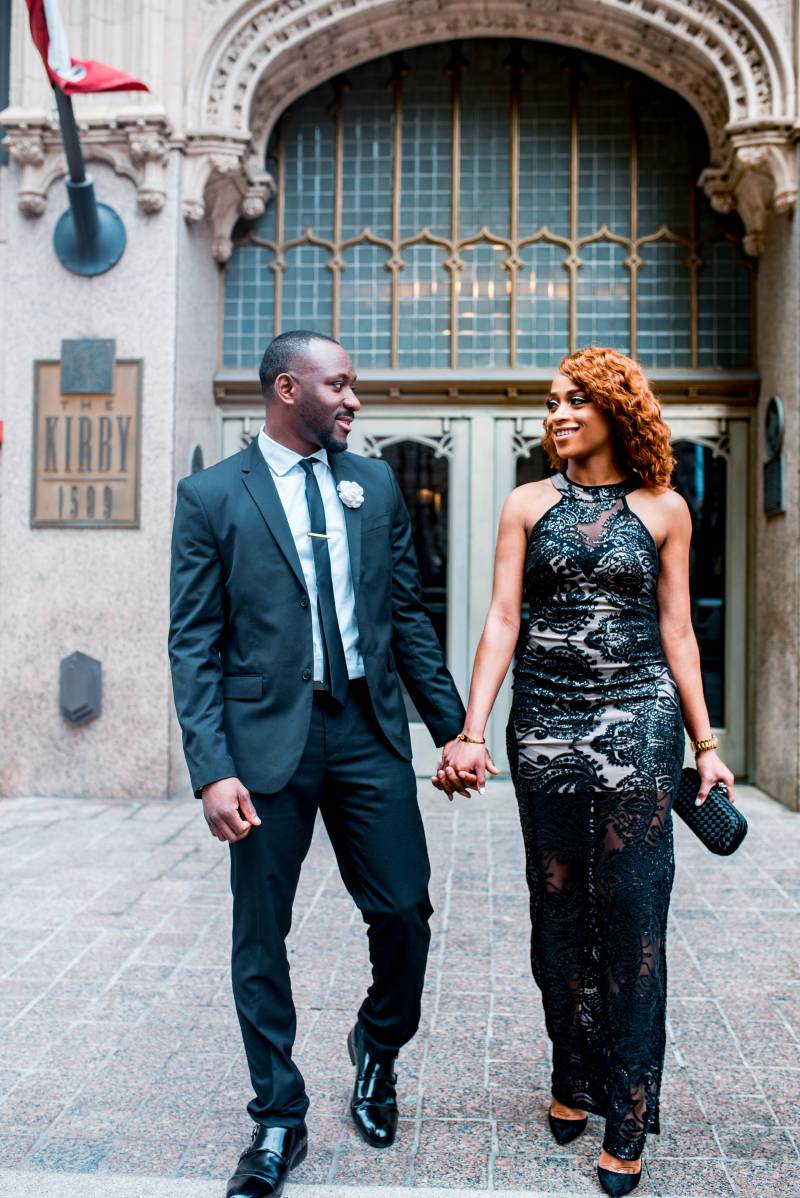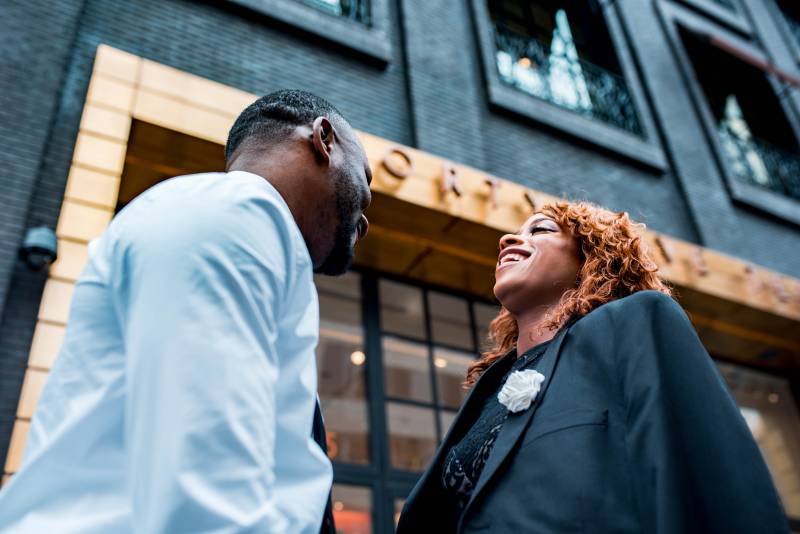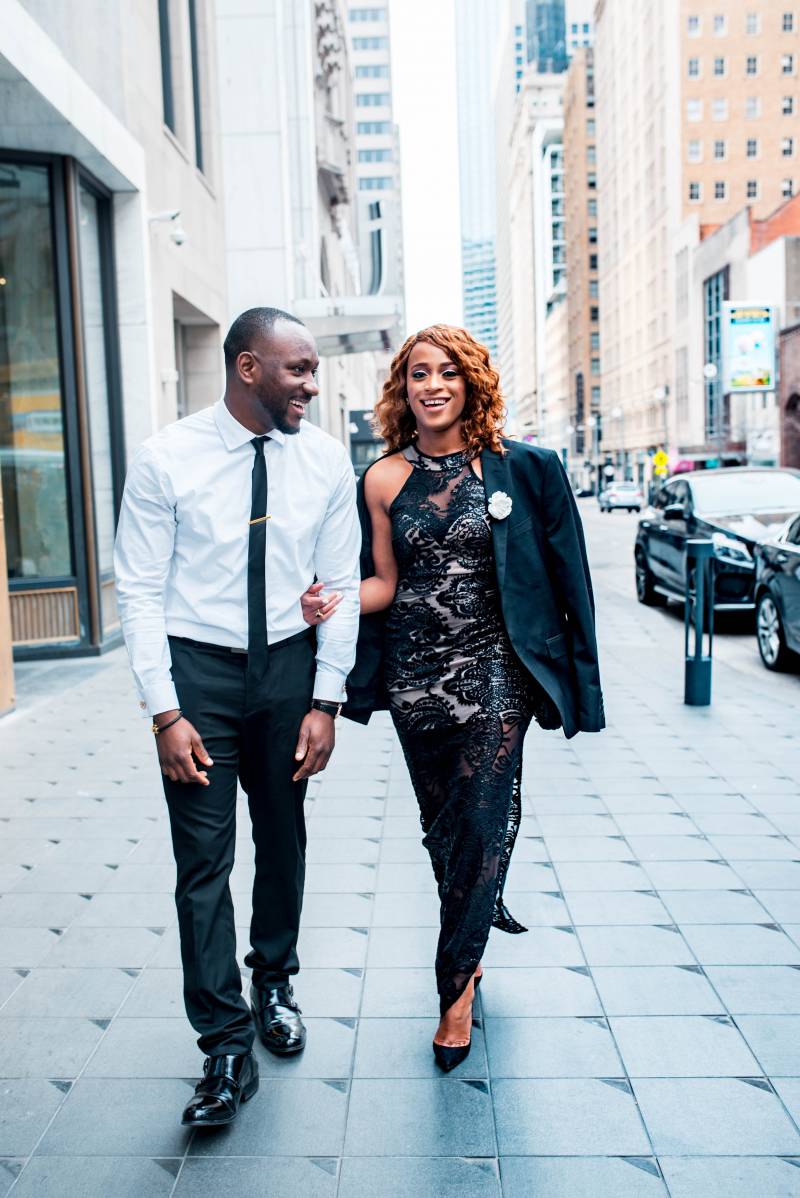 What was the theme of your shoot?
Cultured in the City/Culturally Chic
Were there any memorable moments during the shoot?
All the locations for our engagement shoot were amazing and memorable (Dallas Arts District, Thanksgiving Square, and Downtown Dallas - The Kirby).
The Kirby: this was our most memorable location because we got blessed with an unexpected view. We were shooting in front of this beautiful building, and a manager came out of the building and asked us to follow her. At first, we thought we were in trouble for shooting there without asking for permission. However, she was extremely sweet, showed us around the complex, and took us up to rooftop lounge, which was overlooking the Dallas Skyline. She told us to be free and explained that we will get the best shots up there. She was definitely right! We got several breathtaking engagement shots from this distinguished historical location and the scenery was beautiful. Shoutout to the wonderful manager who helped us make our engagement shoot memorable.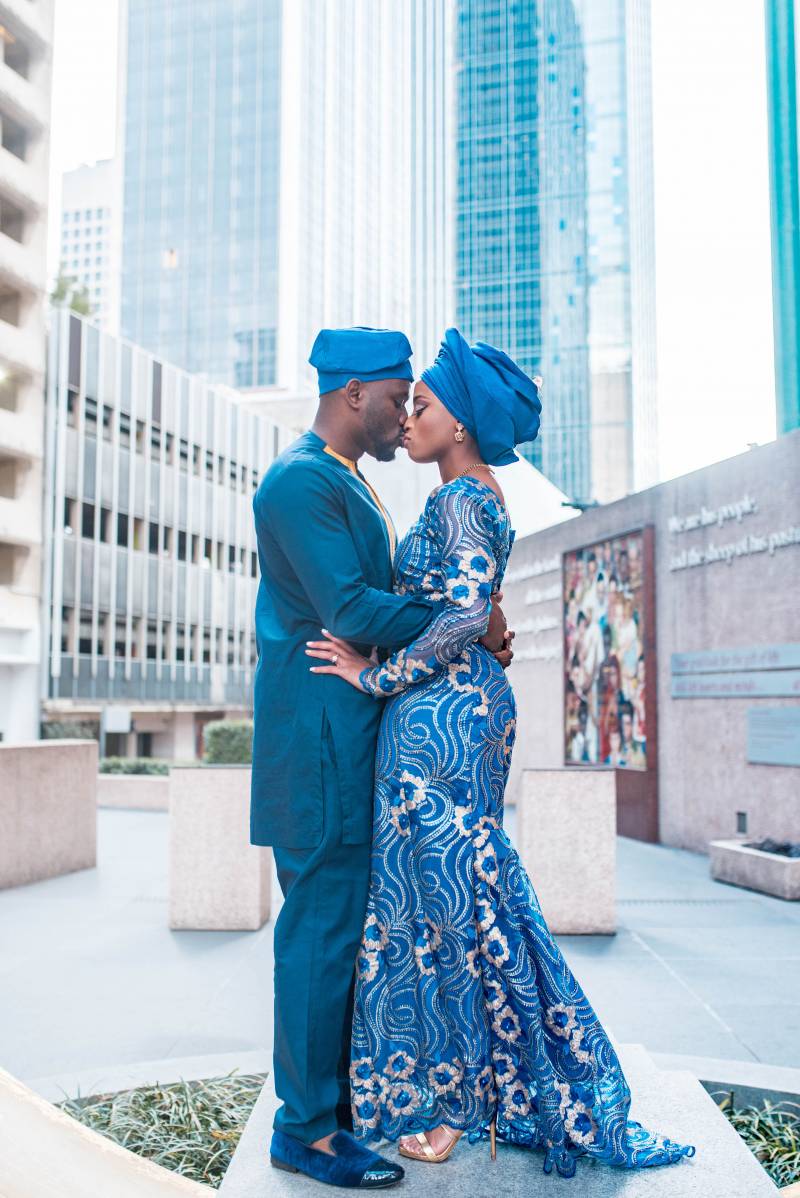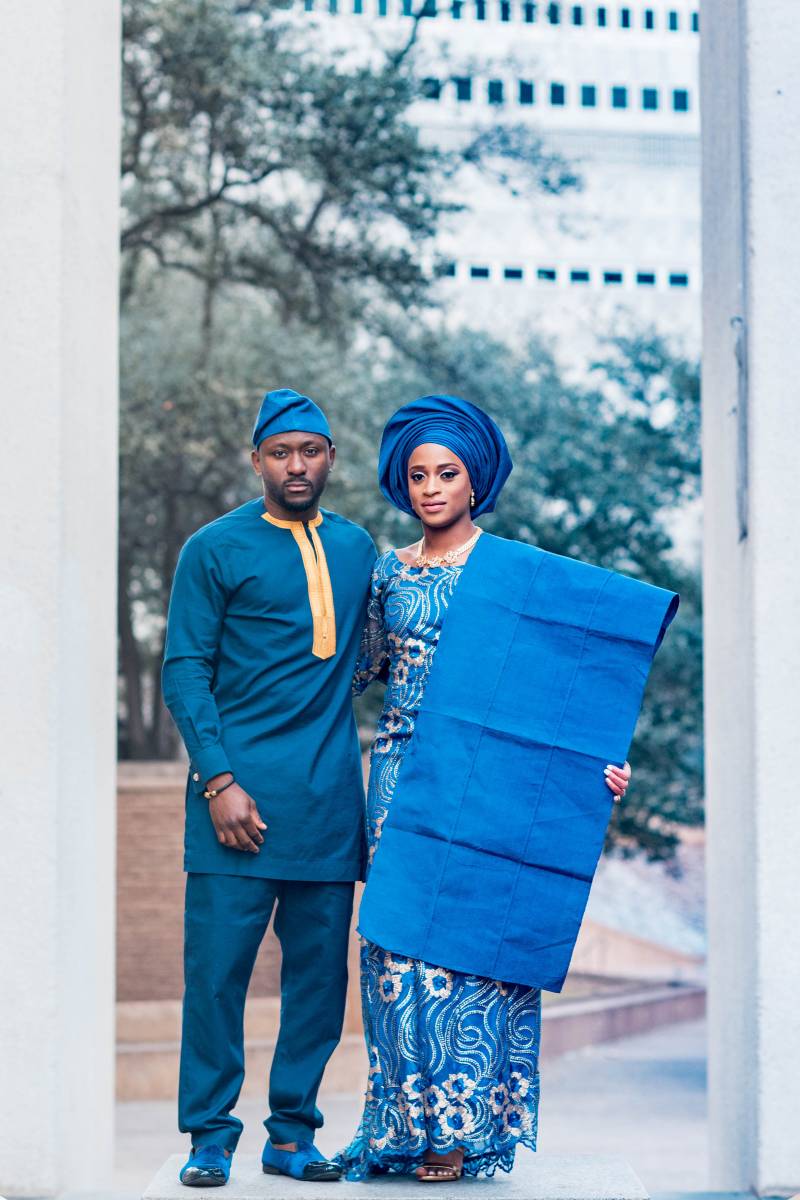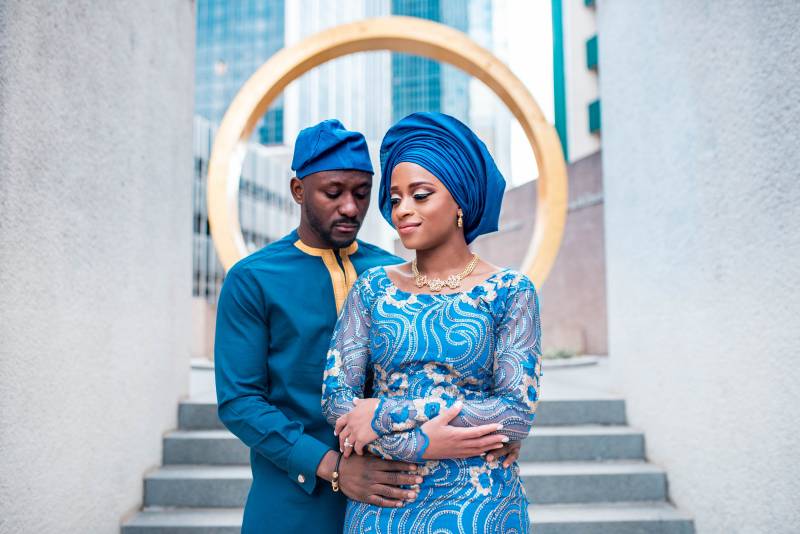 What are you most looking forward to about your wedding?
We are looking forward to celebrating our love with our family and friends. As well as the culture, the music, the food, and dancing. We are so excited to become one and start our lives together!
Have you started planning your wedding?
Yes, we started planning our wedding last September. We have a lot accomplished so far, and we are thrilled to see it all come together.
Congratulations to the happy couple! We wish you a fruitful wedding and marriage.