Jazzmine and Osei met in 2014 at Trader Joes in Queens, New York. It was the most impromptu perfect meeting ever. After taking a few glances in Jazzmine's direction, Osei asked if he could help with her bags to the car as they were walking out. He asked for Jazzmine's number and they had their first date that night - which is something Jazzmine's never done before. Osei even said on their date, "If this works out, this would be a dope story." The rest was history! And now they have a dope story to tell after spending a glorious four years together. Eventually, this pair decided it was time they got hitched, and they did so with a classic wedding in The Bellevue Conference and Event Center in Chantilly, Virginia. Check out Jazzmine and Osei's special day, captured by Kanayo Adibe.
Bride's full name, age, and occupation: Jazzmine Weekes, 32, Senior Facilities Manager
Groom's full name, age, and occupation: Osei Weekes, 39, Electrician
Place of residence: New Rochelle, New York
Wedding date: October 14, 2017
Wedding location: The Bellevue Conference and Event Center, Chantilly, Virginia
Wedding theme: Classy & Full of Love
Honeymoon Destination: St. Lucia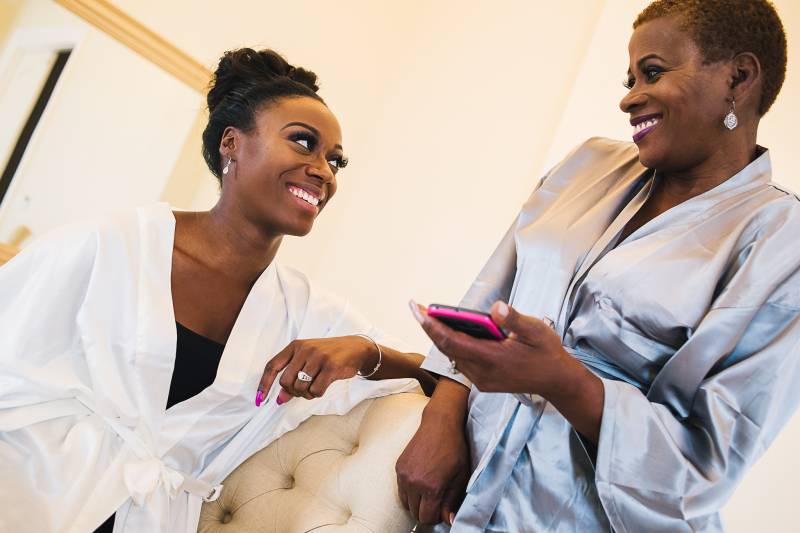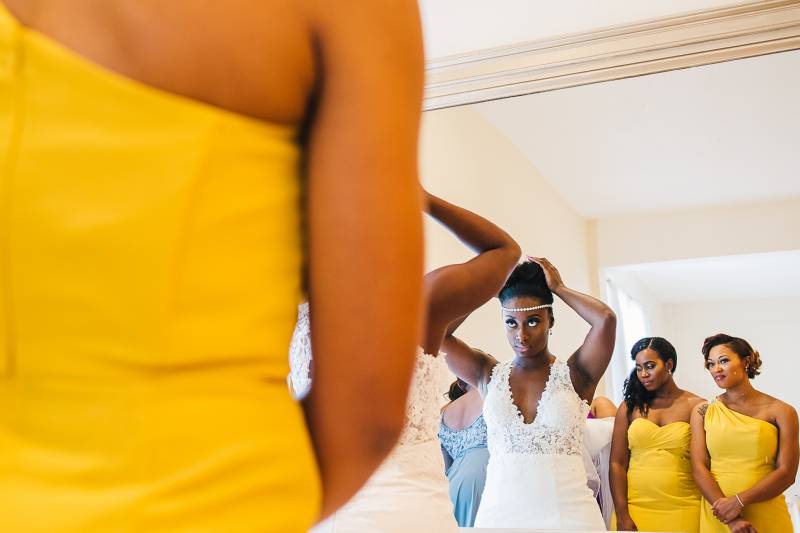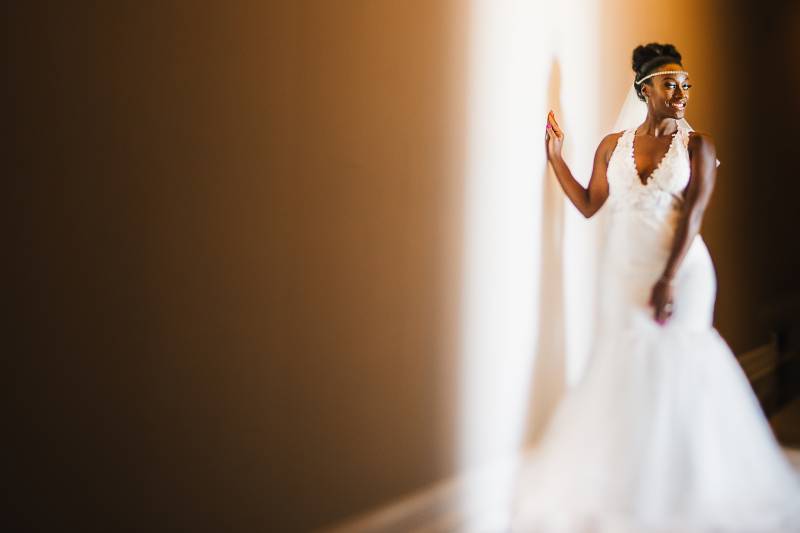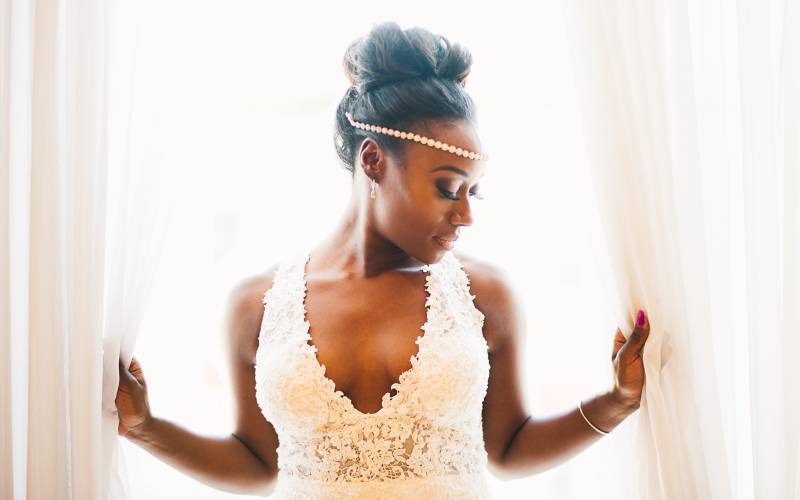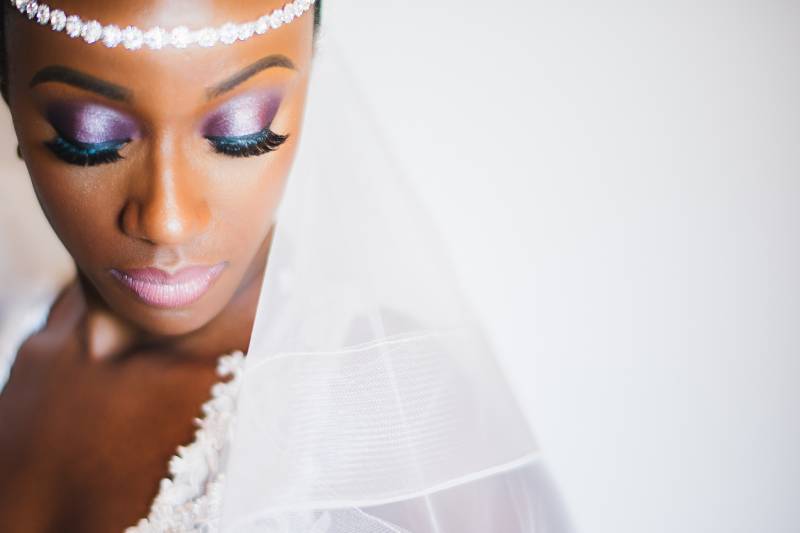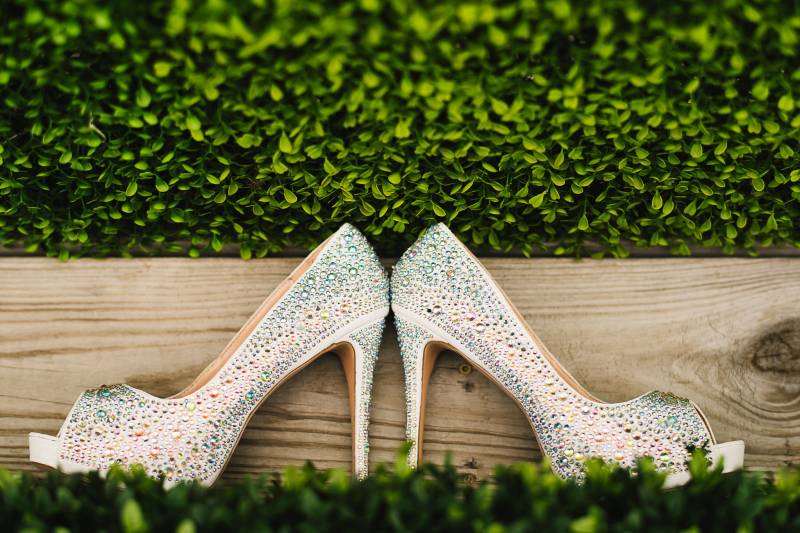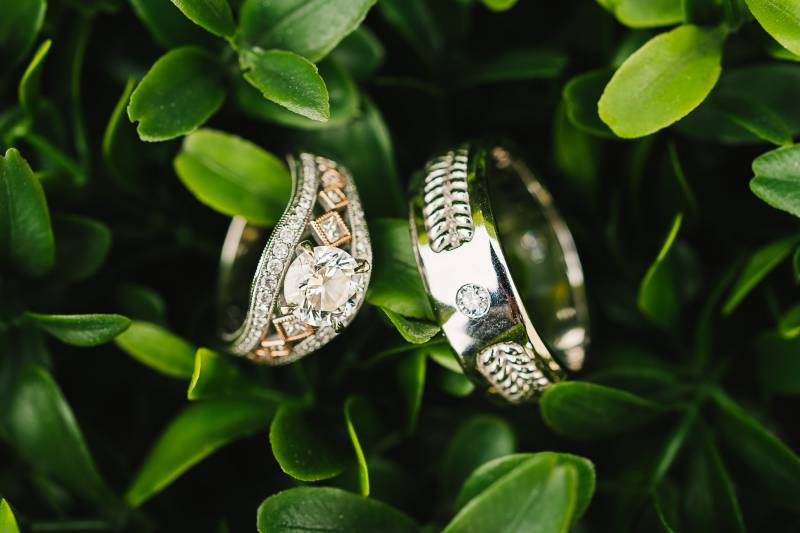 Engagement story:
It was perfect! We had decided to go to St. Maarten for a vacation in 2016. On day one of our adventure of being tourists, we came across a jewelry store. We went in and looked, tried on some rings and had a great time; very casually, had a few drinks and left. A few days later Osei brought up the last ring that I tried on randomly and I told him that I loved it, but thought nothing of it. The next day he didn't sleep at all (he's a thinker). The last day, we were there and hung out on the beach after we came back from sightseeing. Osei went to go to the room for something and then came back suggesting we go inside and have our dinner on the balcony. So we did, as the sun was setting with music playing in the background and we were just enjoying the scenery and reflecting on life. It was great! Osei takes the dishes inside and then comes back out as I'm now standing on the balcony and gazing at the stars. He begins to hold me from behind, telling me how lucky he is and how amazing I am. He then spun me around as he got on one knee! I thought he was joking and asked what he was doing in his pocket! He pulled out this ring box, declared his adoration, opened it and asked me to be his wife.
I died! Literally, I couldn't breathe! Or speak! I believe I nodded a yes. He slipped the ring on my finger and all I could do was cry in pure disbelief and shock. I knew it was a big deal for him when I stared at him and there was this look of calm and ease. Osei is a sweater, naturally, and there wasn't a drop of moisture on his bald head. He was ready! When he went to the room before dinner, it was to receive the ring from the jewelry store that we went to. He had them deliver it to the resort, and he had called my dad and asked for my hand and put some champagne in the freezer to chill. After about 20 minutes of non-stop crying, I realized he went back and purchased the very ring that I had fallen in love with at the store. He said my eyes sparkled when I tried it on. And that was without a center stone. He knew it was the one. It was a night I'll never forget!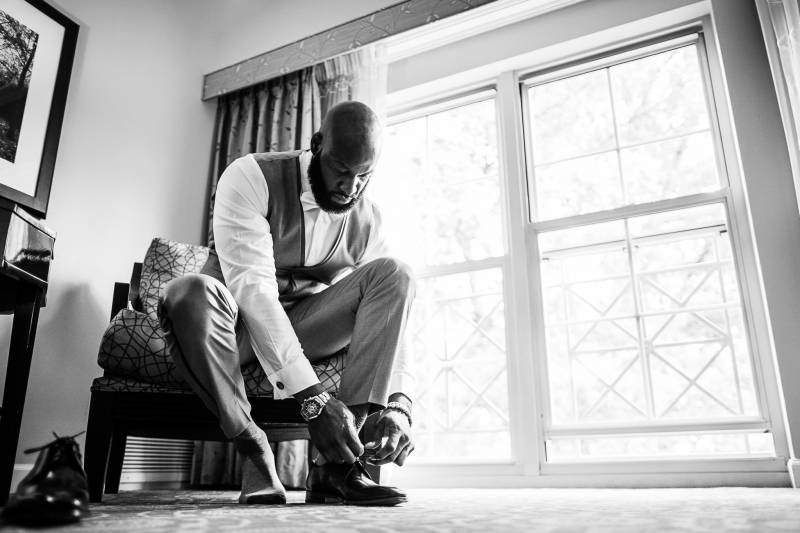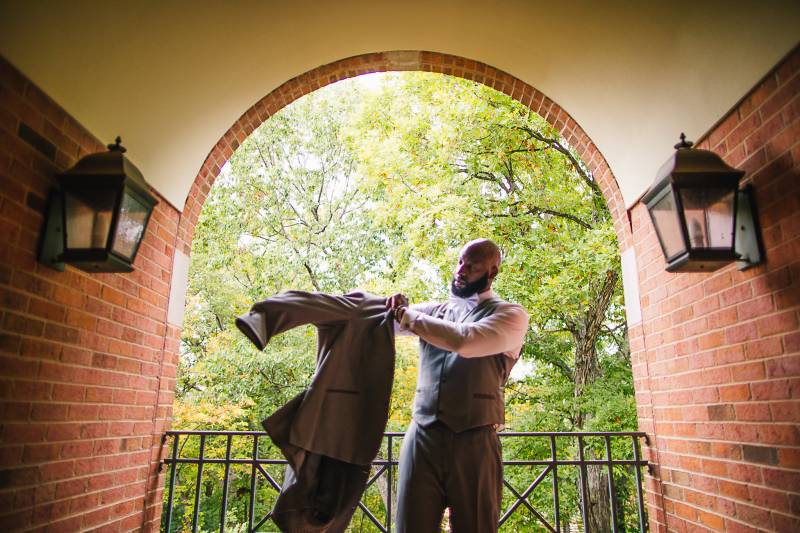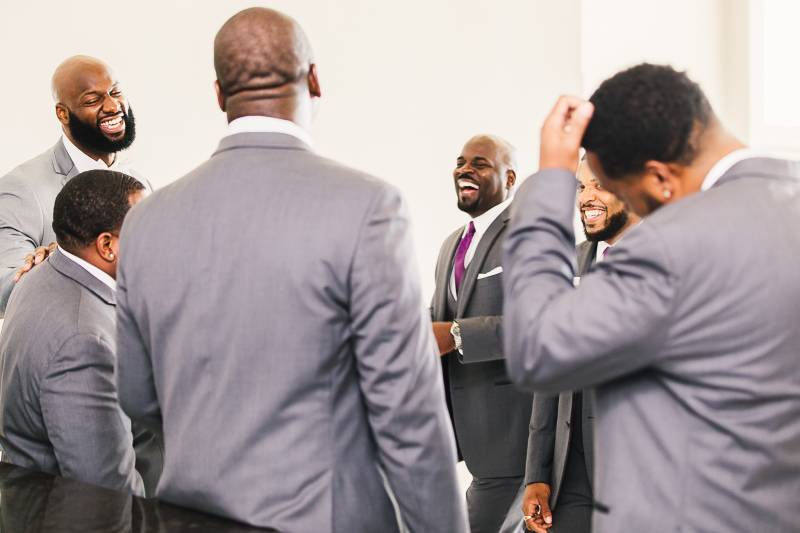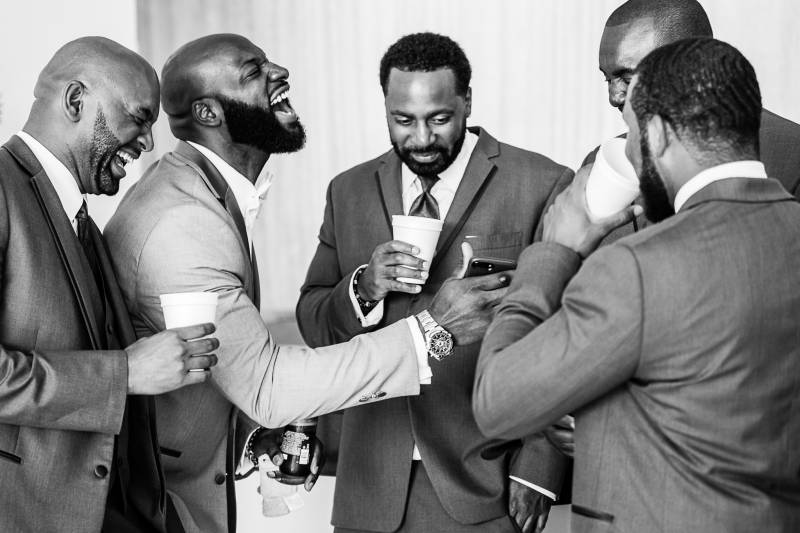 What makes your love special?
Our love is organic. We didn't force it. We weren't looking for each other, yet we found each other. We are best friends. We don't sweat the small stuff and we laugh at everything together. We have the most fun and we appreciate each other for exactly who we are.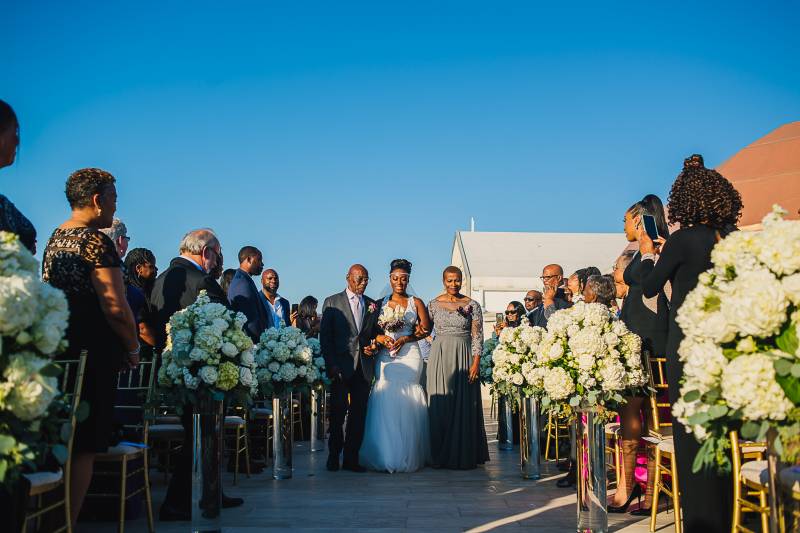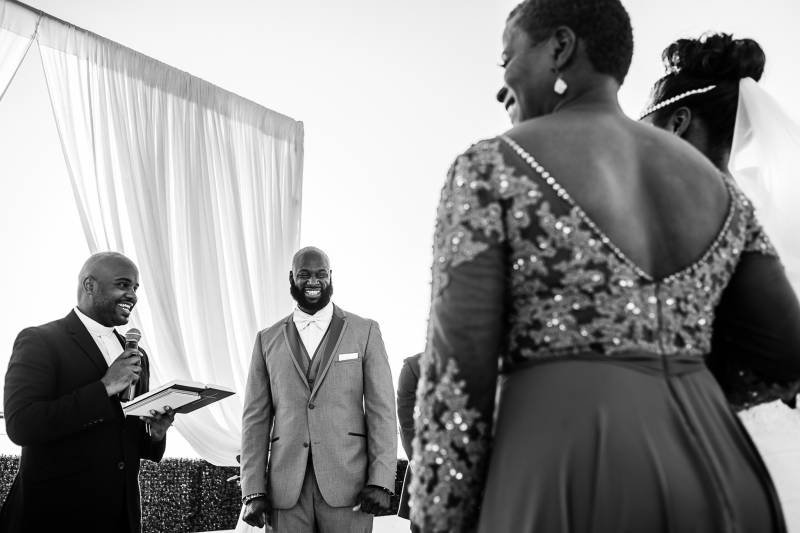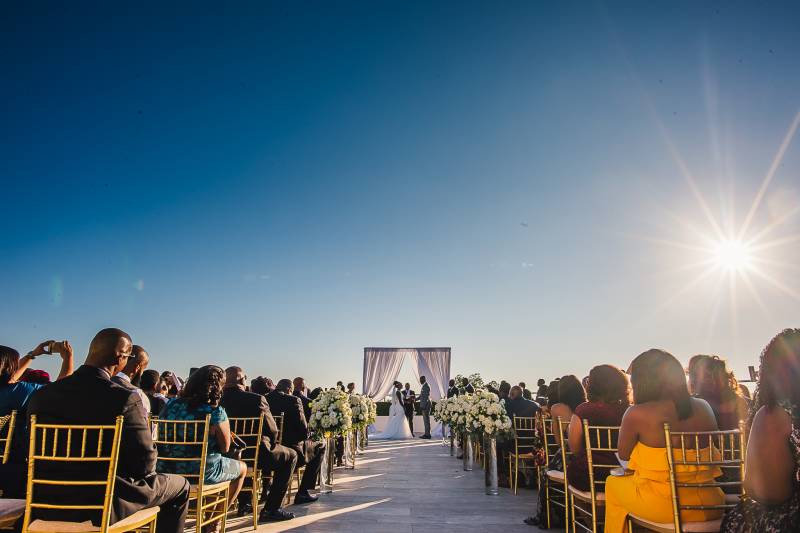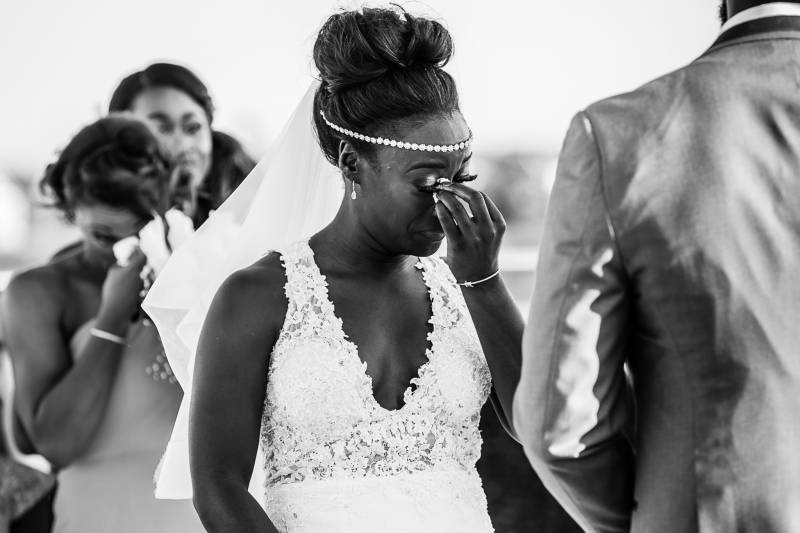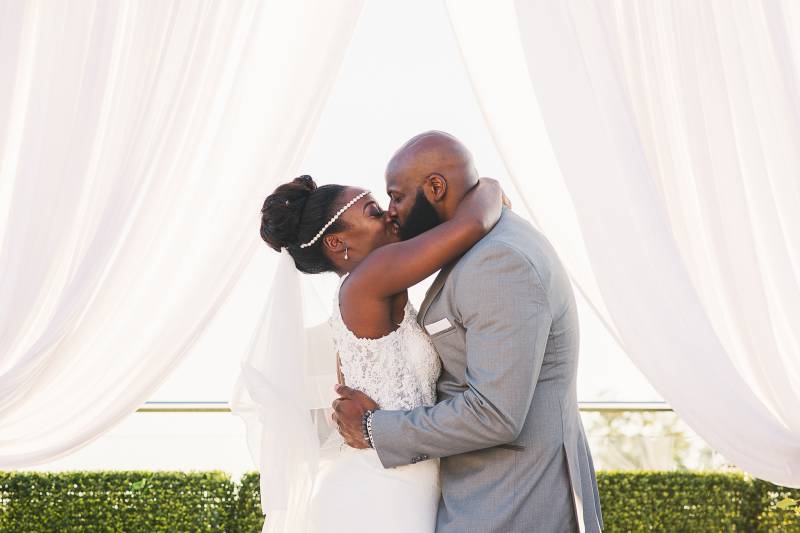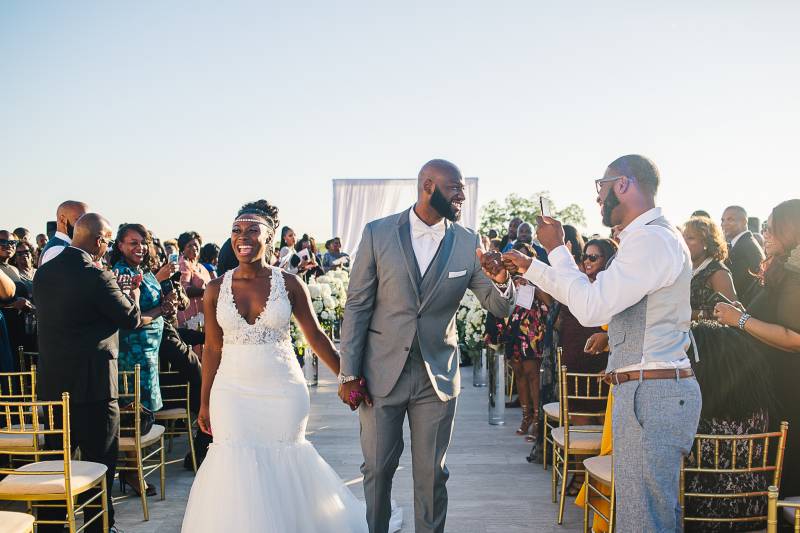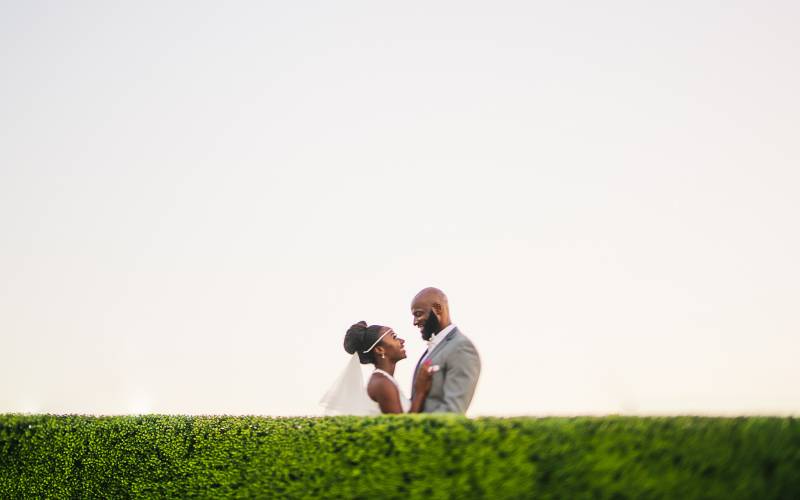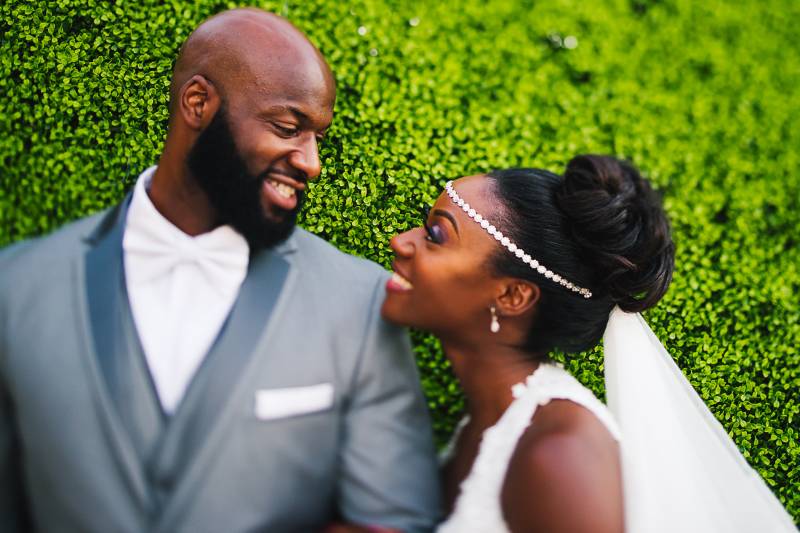 From the Bride:
My experience the day of the wedding was amazing. It was super chill. There were no accidents, real mishaps, and craziness... Nothing. At least that was until it was time for us to walk out and the music didn't play right away. But my god brother jumped on his saxophone and saved the day. It was odd yet perfect. The only thing I was praying for was sunshine and warm weather because the ceremony was on a rooftop. All week it had been gloomy and chilly in Virginia. Nothing over 65 degrees along with plenty of rainy and misty days. The wedding was at 4:30 p.m., and at noon the sun came through out of nowhere and it was a bright, whopping 75 degrees! I was amazed. That wasn't anybody but god!
The nerves kicked in the last two steps before revealing myself on the rooftop, my father had to grab my arm and tell me it was OK. I think he felt my heart drop when I realized that this was it. All the planning and prep and then I was fine! I felt like a queen, as well as every bit of love from my husband, our family and friends. And boy did we dance! It was literally the best day of my life!
From the Groom:
I had been ready for the day all day! The entire weekend was one for the books and so us! The rehearsal dinner after party, the laughs, the dance battles. But nothing compared to watching Jazzmine walk down that aisle! She was stunning! She'll say I cried, but the sun was just in my eyes. It was literally a perfect day. I wish we could redo it!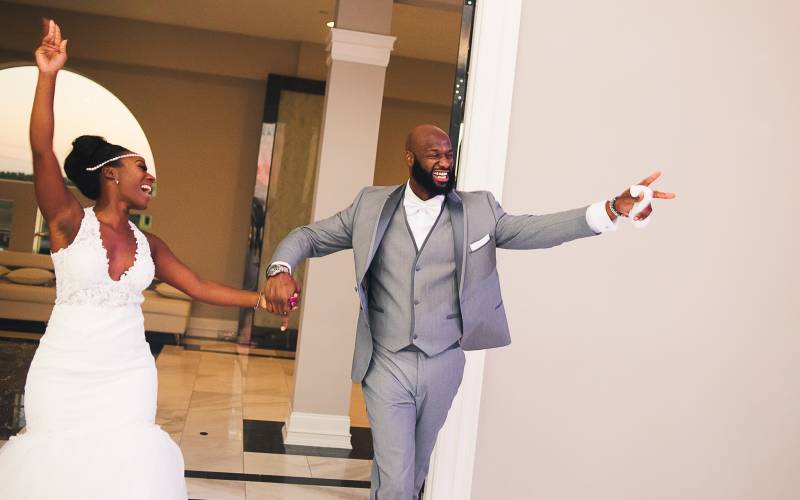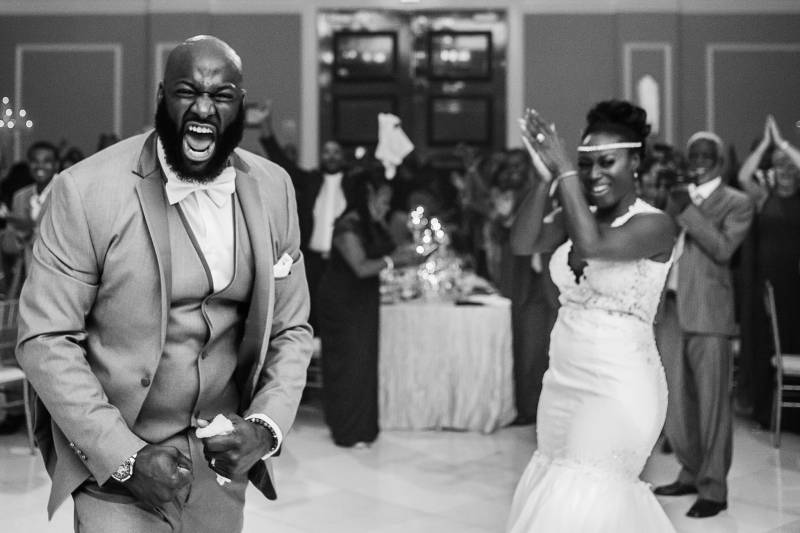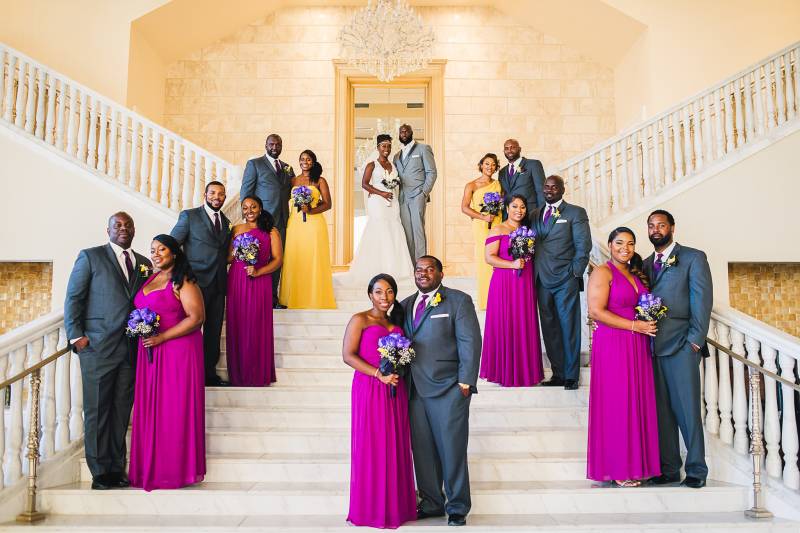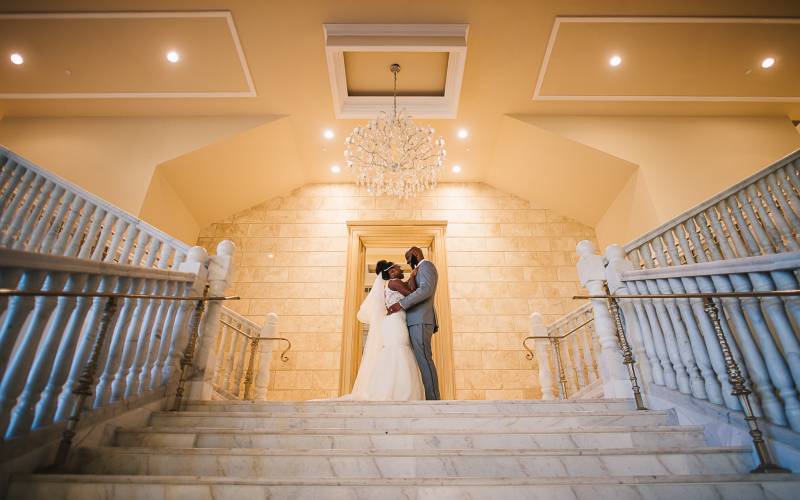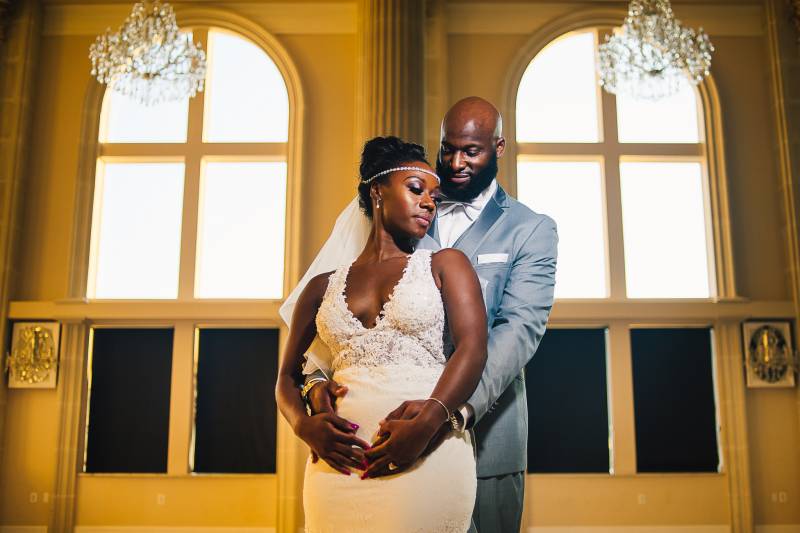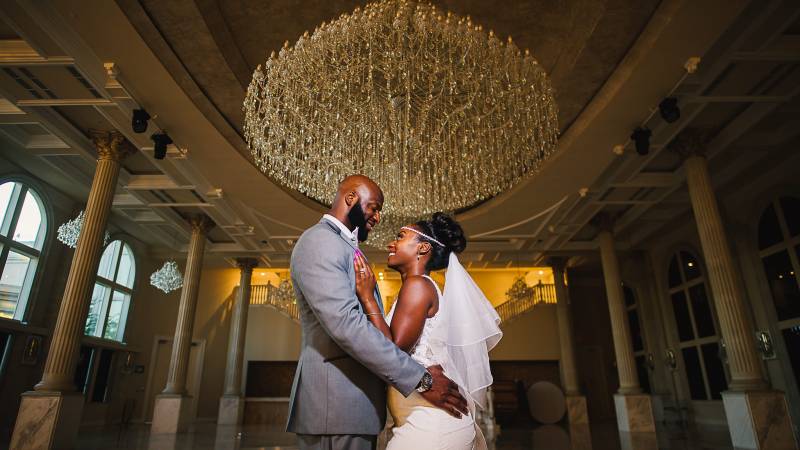 Your best/most memorable moment:
Jazzmine: Hugging my father when he gave me away, Osei's vow's to me and our 1st dance. Osei: When she became my wife. Our entrance and our 1st dance.
Wedding song, explain choice for song:
1 + 1- Beyonce. It describes us to a T. The entire song speaks to both of us and our love and fight for each other. I sang it to him as we danced so he knew it was real.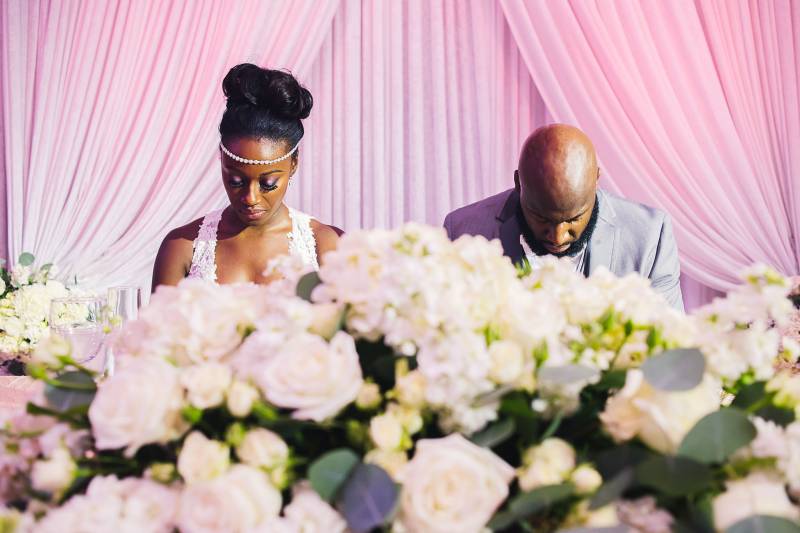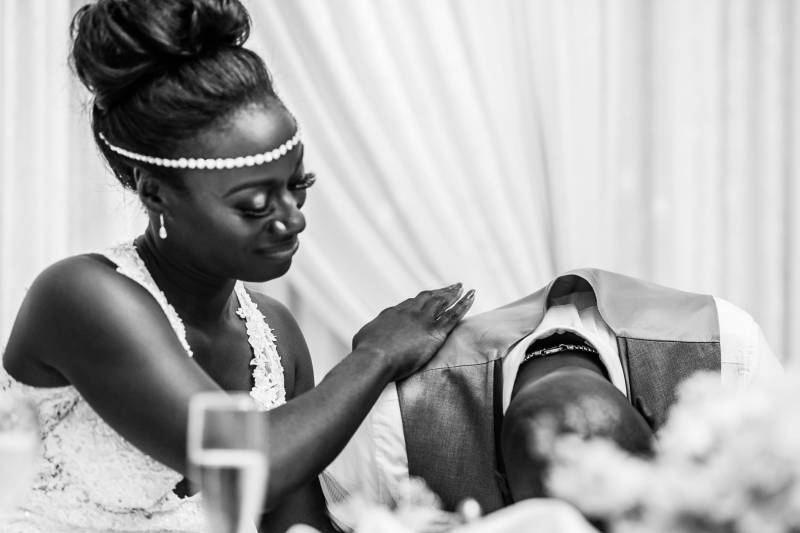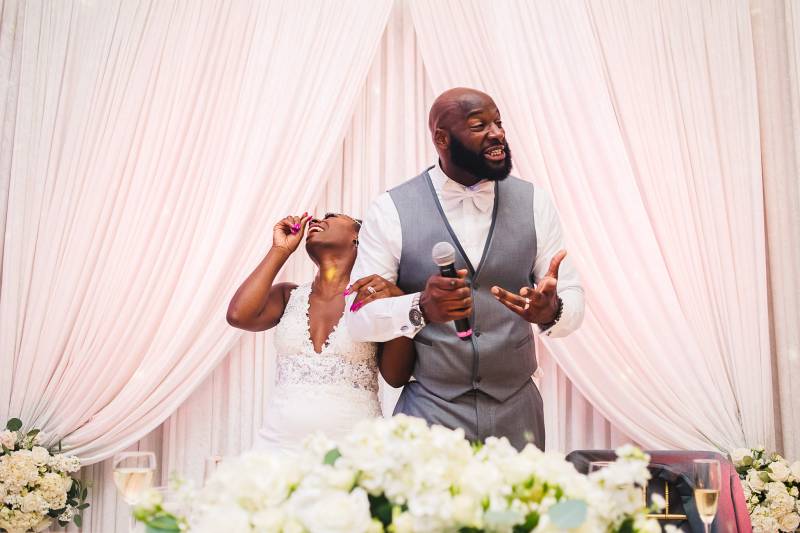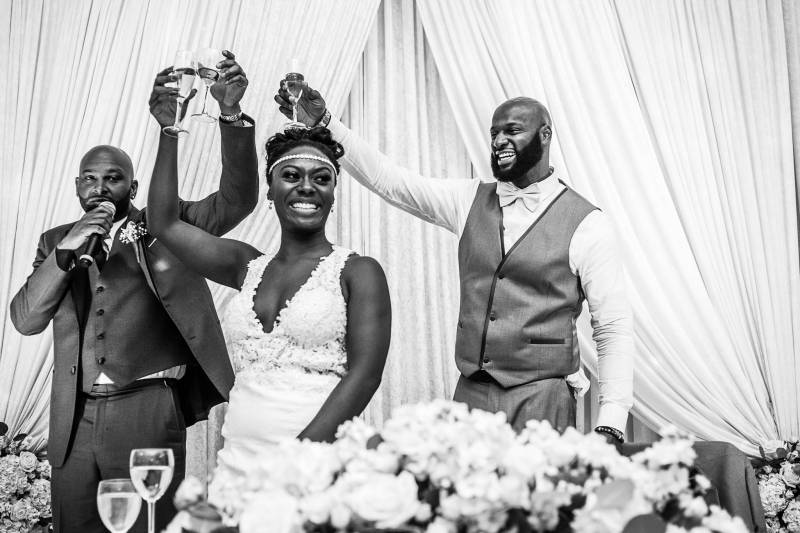 Favorite wedding detail:
The cake and the music. The cake was stunning! As well as my father-daughter dance and the moment when we walked into the reception! The DJ was on point and totally delivered the 90s theme music that we were going for! People partied! Our wedding was just everything!
What are you most looking forward to as a married couple?
Waking up to my best friend every day. Knowing that he has my back at all cost. Knowing that we are partners in everything that we do and we are always on the same page! Just living a dope life with a dope person.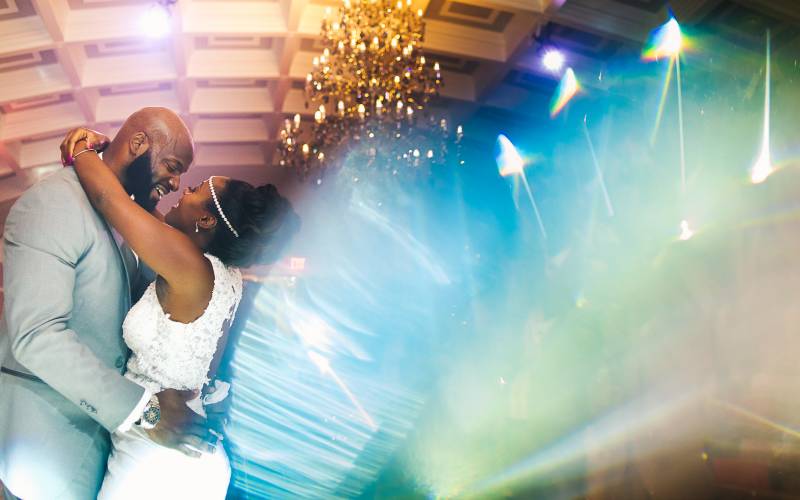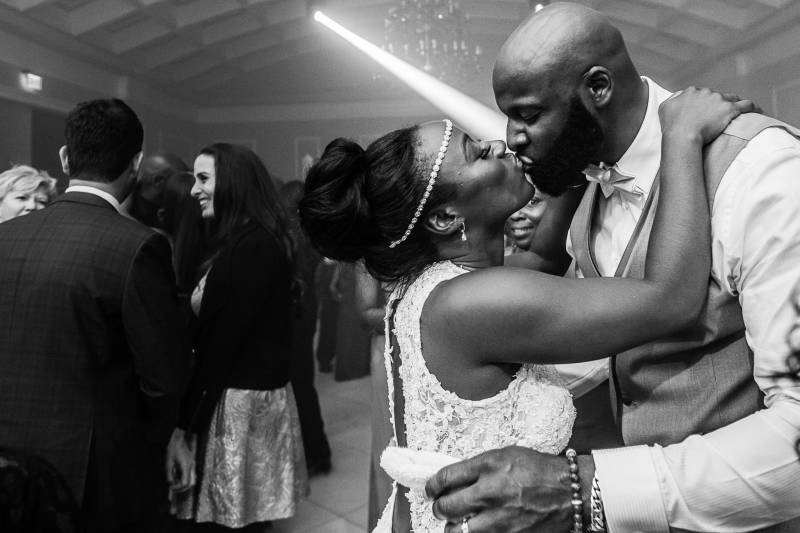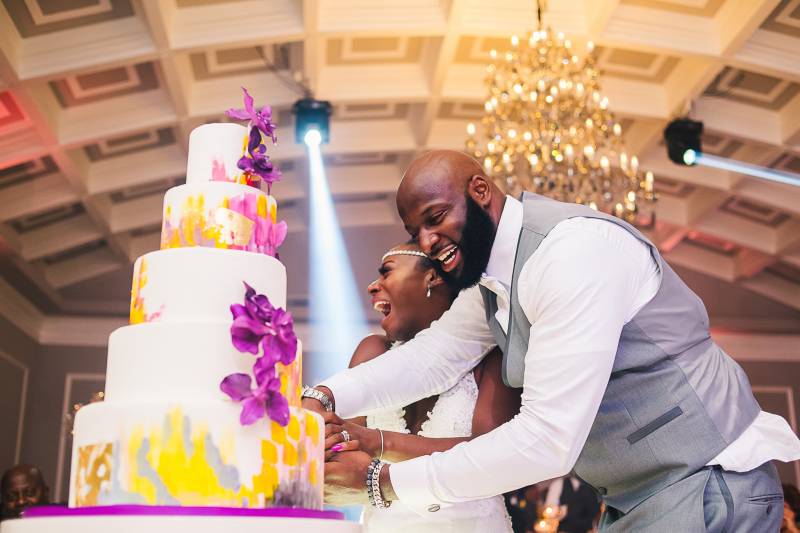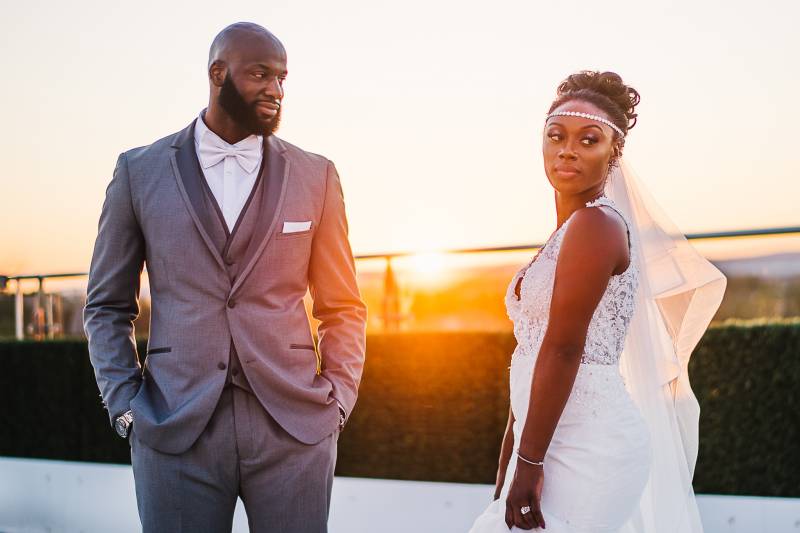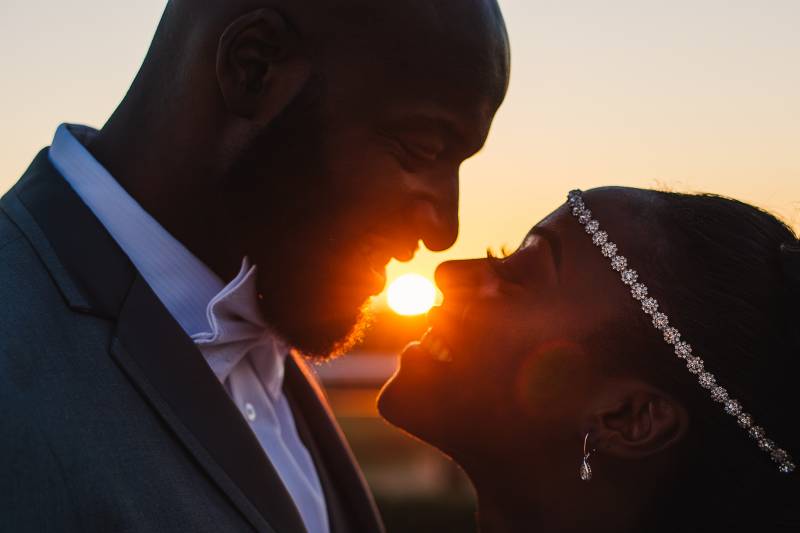 Advice for a Bride and Groom on their wedding day:
Don't sweat the small stuff. Something will not go as planned. But it doesn't matter. You're getting married! Enjoy the day. Take it all in, it goes fast! Remember to eat and enjoy yourself!
Please feel free to include any other interesting anecdotes from your bid day:
Location, location, location! It was everything to us and I wouldn't rest until we found the perfect place. The DJ and photographer are the most important vendors you'll hire. Take your time with it and make sure you're getting what you want. Your pictures are forever and the DJ could make or break the reception!
Congratulations to the happy couple! We wish you many years of wedded bliss!