It was the summer of 2017 when Chine attended a summer internship in D.C. Chine met Anthony her second week in the D.C. area and they went out on their first date. The two made it official in June of that same year before Chine moved back to Boston in August once her internship ended. Chine describes the transition to making their relationship long-distance as being very tough: "It definitely was not easy with him in medical school and having military commitments and me trying to get into medical school, but we made it through and we got engaged in December 2019! That D.C. internship definitely changed my life."
Read more of their love story and check out their stunning engagement session with a nod to their Igbo culture captured by Christian Nwosu photography.
Bride: Chine Chime, 25, Medical Student
Groom: Anthony Eze, 28, Medical Student
Place of residence: Maryland
Engagement Shoot Location: Washington, D.C.
Wedding date: June 2021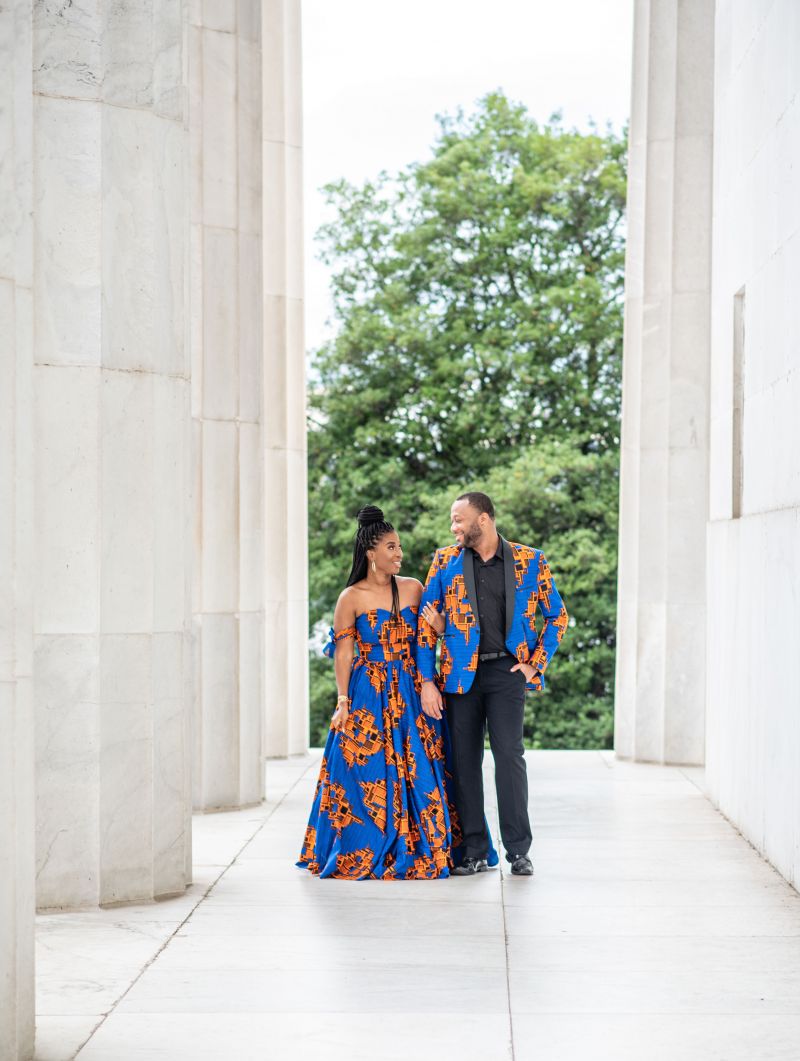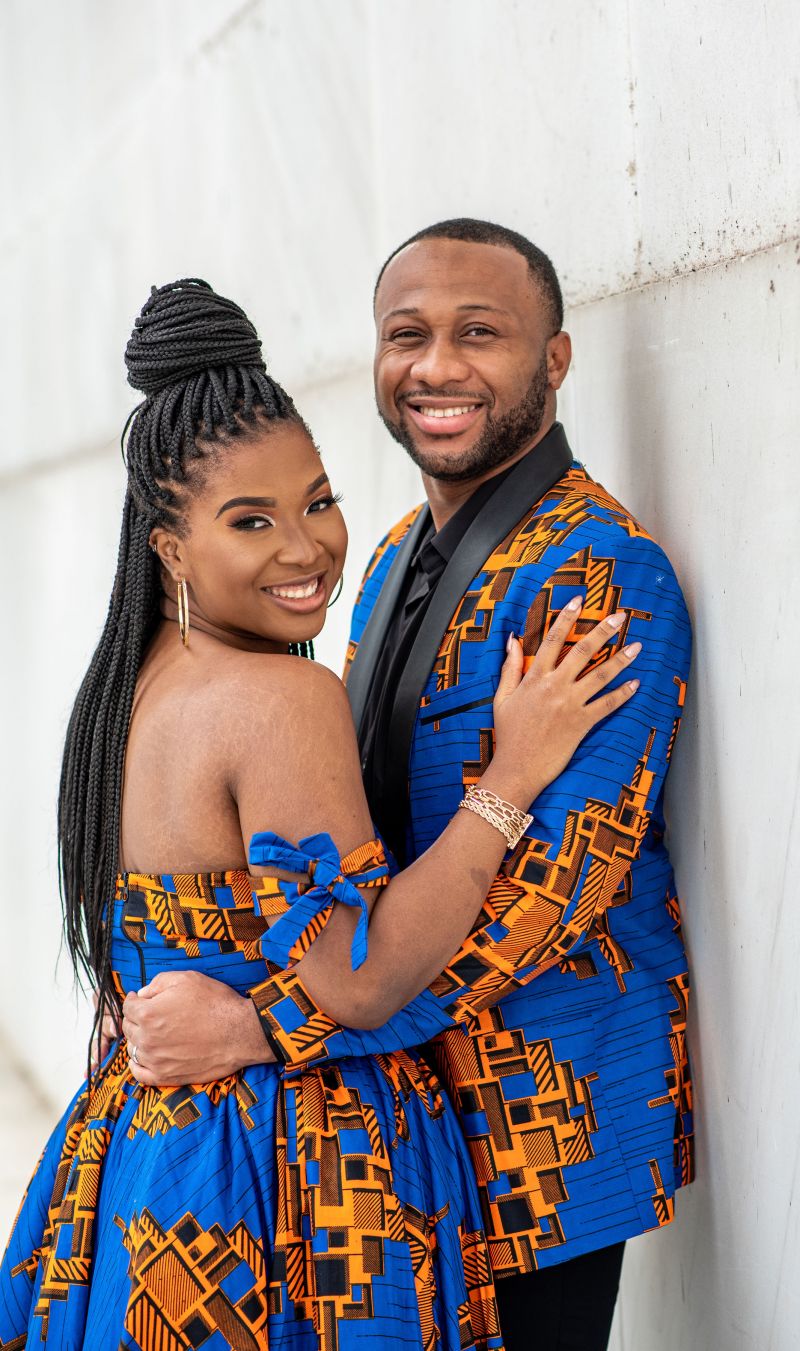 Engagement story:
In November of 2019, Anthony asked me to attend his brother's college graduation with him in Arkansas. It was going to be my first time being with all the family at once and I was a little nervous but my mom encouraged me to go. A few days before the graduation, I was on a trip with my best friend and we had him on Facetime. She jokingly asked if he would be proposing and he promised he wouldn't and that I should look forward to getting engaged in June 2020. We all laughed.
After the graduation ceremony, Anthony kept trying to leave me with his parents to spend time with his brothers and I wondered why. Later that evening, he asked me to go take a walk with him at his alma mater which had the most beautiful Christmas display. I remember thinking this would be a romantic proposal spot but shook the thought out of my head. We sat down on a bench that had a story written on it - if you swung on it three times you would get a ring by spring. Of course, I swung on it and we continued to walk. All of a sudden I heard a Nigerian gospel song that I previously mentioned I wanted to walk down the aisle to. I looked back at Anthony and he was down on one knee! After I said yes, the family members we had left at the dinner table all came out and I cried for the next few hours. Anthony had already told my parents and siblings who do not live in the U.S. that he was proposing and I got to share the news with them.
For the Groom: Walk us through the behind the scenes of creating this special day
I was able to create this special day with the help of Chine's siblings, my siblings, and my best friend. I knew the song she loved, all I needed was to select a location she would love. I chose the Christmas lights display at my undergraduate campus Harding University in Arkansas, which she had never visited. My brother was graduating from college and we were coming to celebrate with him. Chine flew in early the day before while I drove in late the night before. My youngest brother helped me get a photographer and the rest of the family was in charge of taking videos from various angles. After the graduation, I took her to see the Christmas lights while everyone went to man their posts. We walked around the campus for a while as we marveled at the Christmas lights. During our walk, I told her about the Harding tale of "three swings and a ring" and we immediately went for our first swing on one of the famous Harding swings. I had no intention of waiting for the second and third swings. She was my dream come true and I was not wasting anymore time to start forever with her. When we reached the designated spot, she was surprised to suddenly hear a Nigerian song loudly playing in rural Arkansas. Before she could realize what was going on I was already on my knees to secure this sweet deal.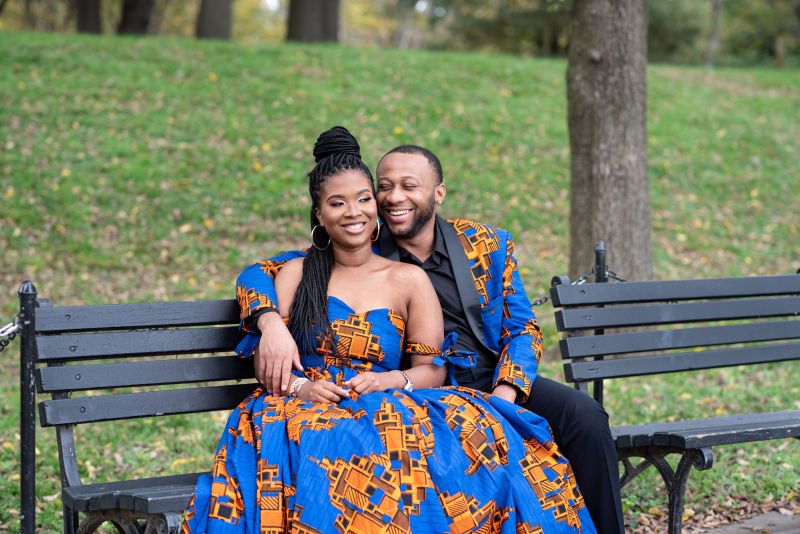 What makes your love special?
From the start we have given all of ourselves to making our relationship work. We knew that if we didn't see the relationship as being worth trying long distance, it would not work. This meant investing a lot. We push each other to be better in all aspects of our lives. I also love how strong our bond with each other's families are. At the bedrock of our relationship most importantly is God.
What was the theme of your shoot? Royalty. We wanted to showcase the Igbo culture we share as well as our strength as a couple. Our photographer captured this beautifully while highlighting our personalities.
Were there any memorable moments during the shoot?
There were a few ! The big Ankara dress definitely made a statement in the middle of DC. A little girl called me a princess and an older woman told Anthony he was lucky. It was a fun experience to share our happiness with others. We probably said thank you to about 60 people. We definitely felt like superstars! However, working with Christian was the highlight of this experience, she made everything so easy and somehow made models out of us! We felt like she was a cousin we just met by the end of the shoot.
What was the theme of your shoot?
Our theme was royalty. We wanted to showcase the Igbo culture we share as well as our strength as a couple. Our photographer captured this beautifully while highlighting our personalities.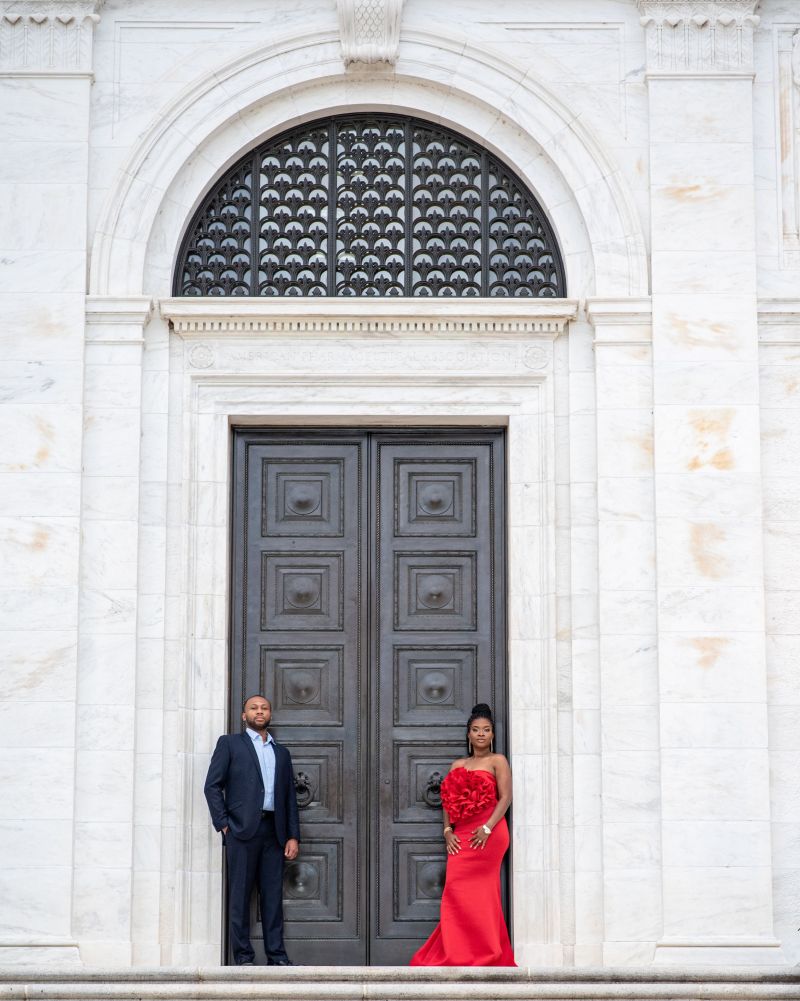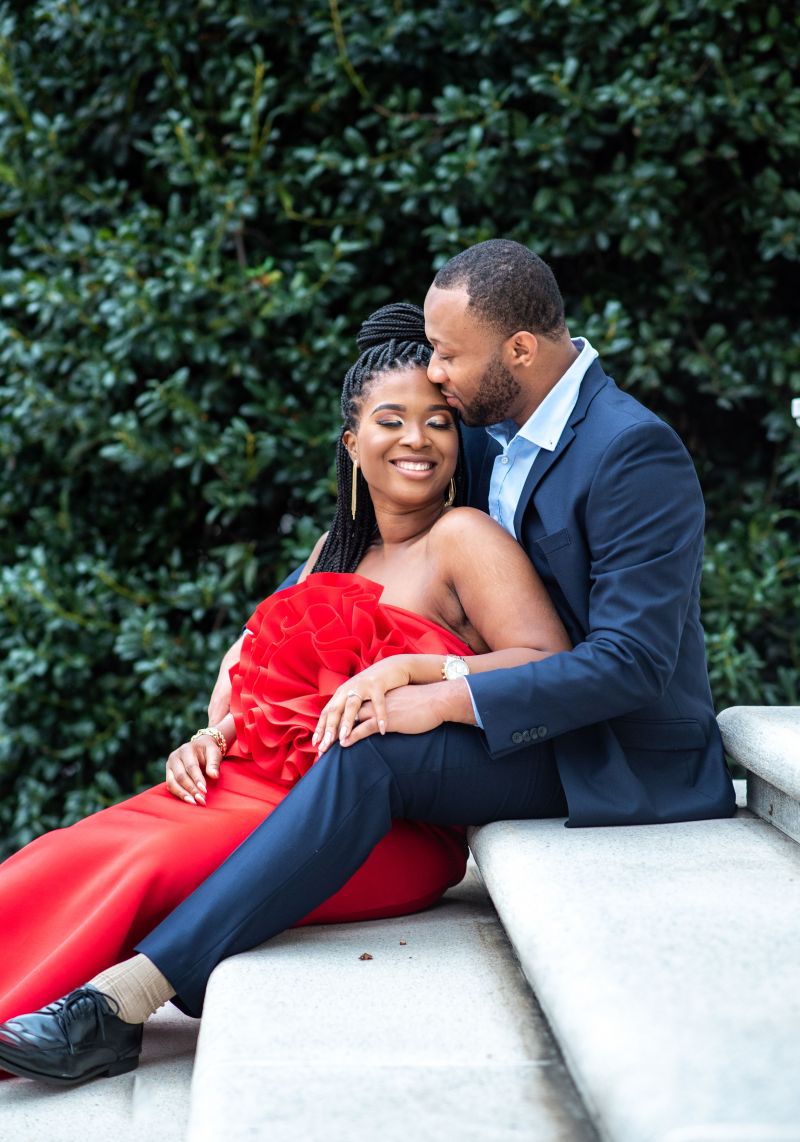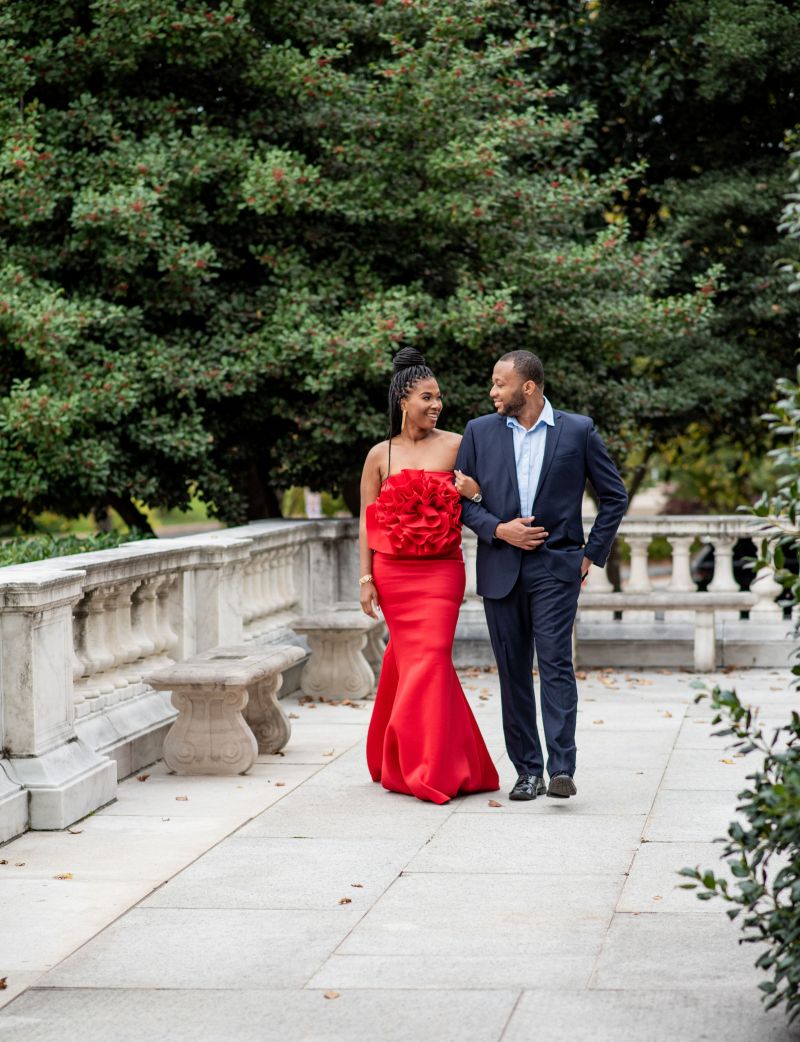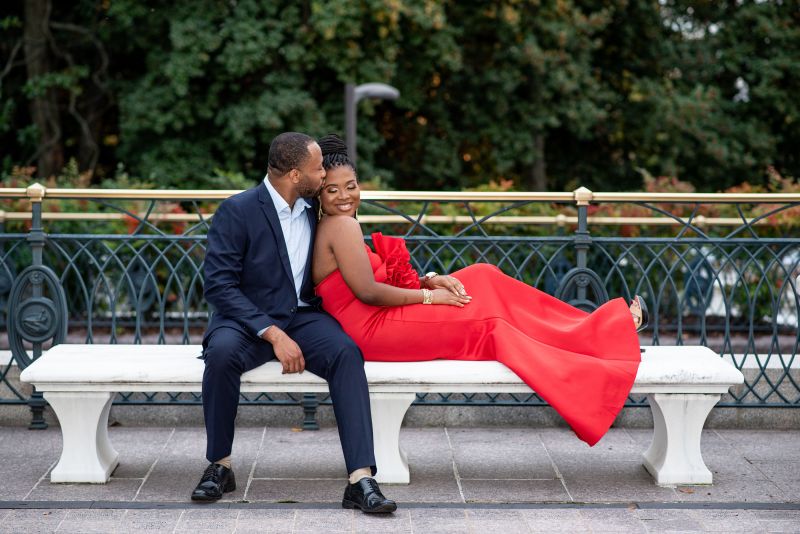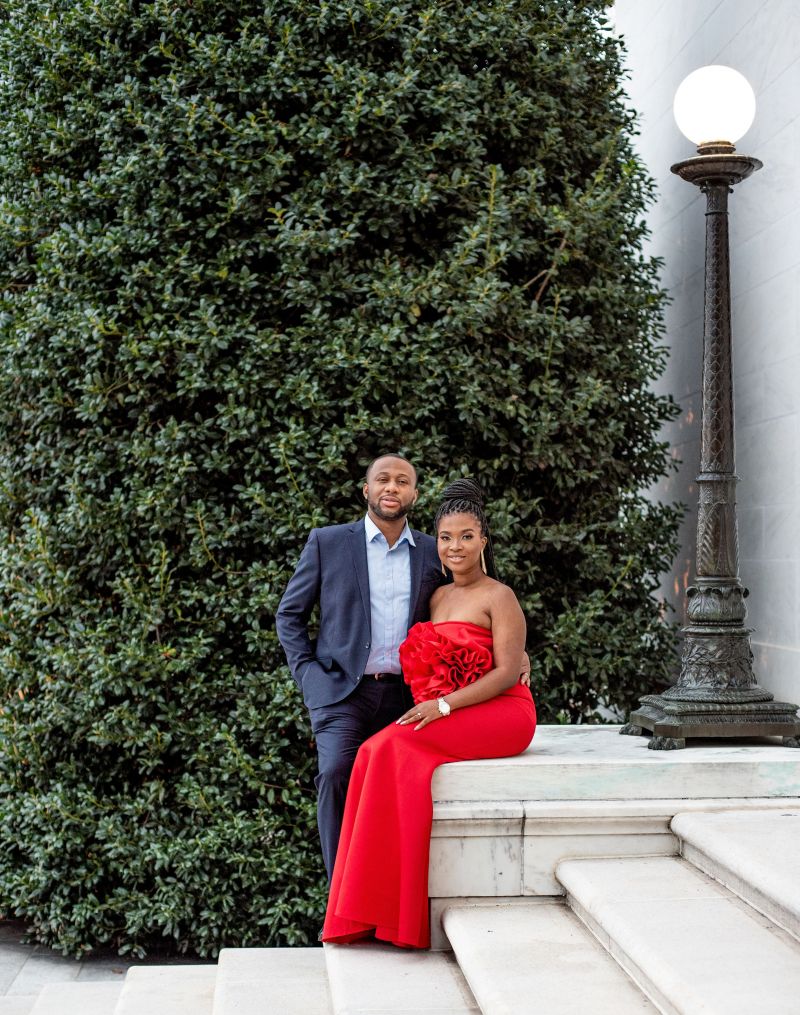 What are you most looking forward to about your wedding?
We are most looking forward to spending time with our families and having them meet. They get along so well already and we are excited to unite our families.
Have you started planning your wedding?
Yes, we have. Planning a Nigerian wedding is a whole process because it is basically two weddings, but we have our major vendors and are slowly figuring out the finer details.
Congratulations to the happy couple! We wish them a fruitful marriage and many years of wedded bliss!