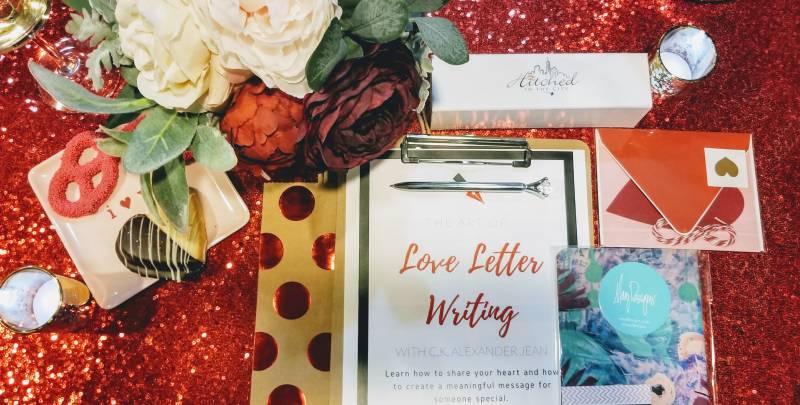 February is almost over but love is still in the air! We recently attended The Love Ink: Art of Love Letter Writing Workshop," on Feb. 12th in Brooklyn and had a great time learning about the lost art of writing the perfect love letter. C.K. Alexander Jean, writing coach and owner of Love Ink, a special occasion writing and coaching service based in New York, led a fun and interactive workshop for couples, singles and friends. Best of all when you walked into the writing studio, you were immediately transported into a romantic atmosphere with romantic tunes playing, decadent desserts on display, valentine's day themed decor with gorgeous premium silk flowers from Something Borrowed Blooms and a wine bar! Each guest went home with a Love Ink V-Day Love Letter Writing Kit, with gorgeous To Have & To Hold dual pen sets from Hitched In the City and beautiful Rise Art Floral journals from May Designs, the perfect combination to help everyone continue to write love letters all year long!
You don't have to wait for a special occasion to craft beautiful words for someone you love. Love letter writing is not only a great way to share your heart, but it's also a great gift that the recipient will cherish forever. Check out some of the highlights from this awesome event as well as tips for writing your very own love letter.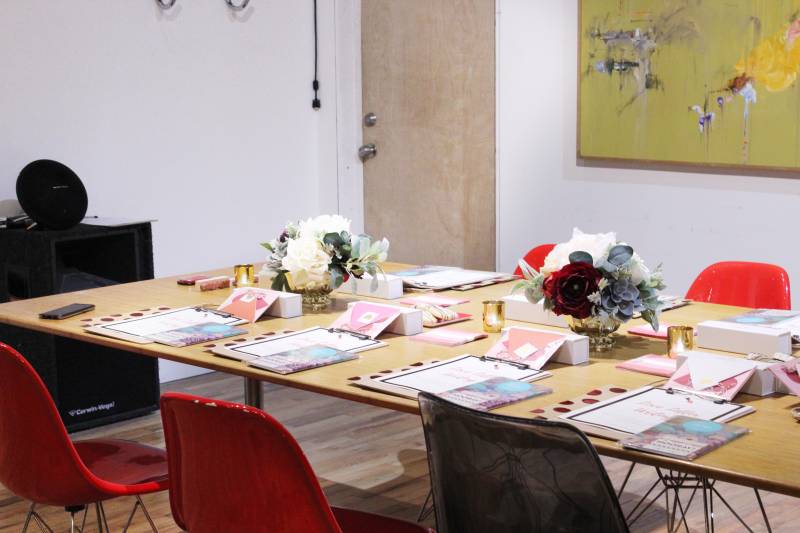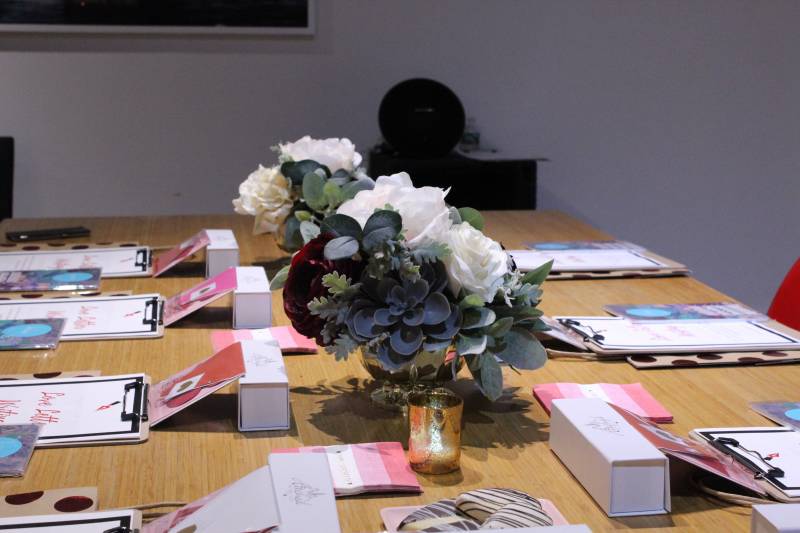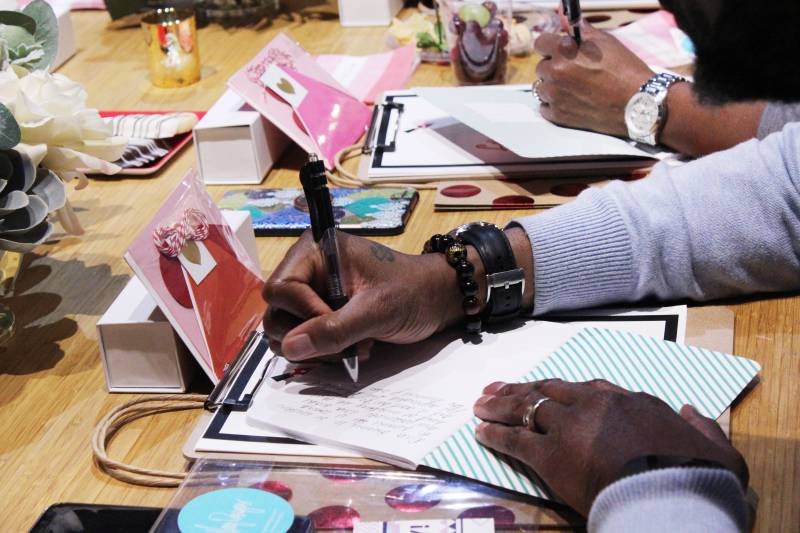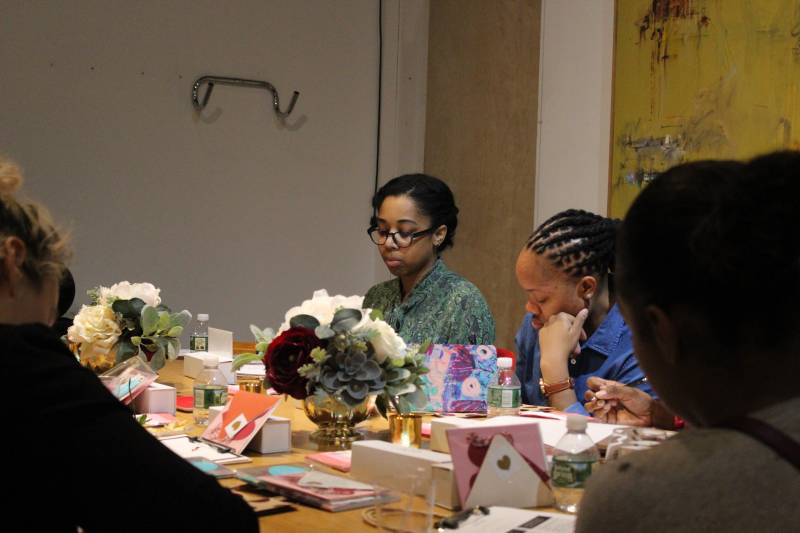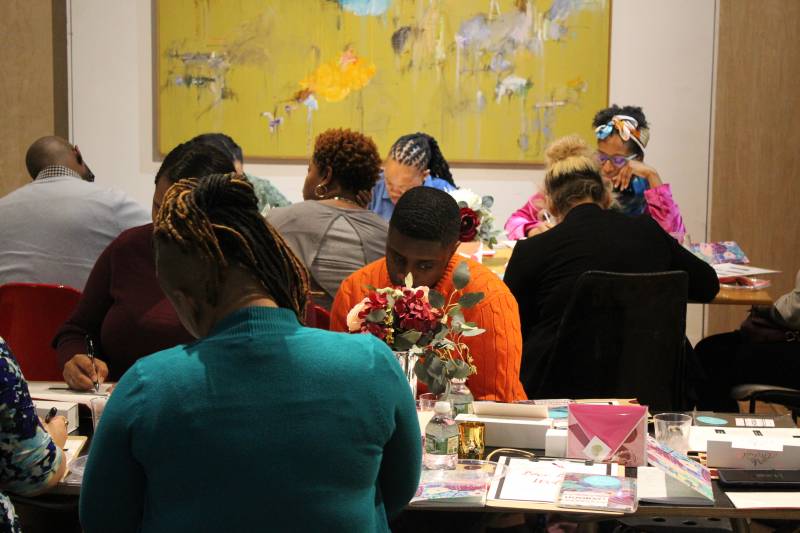 Here are a few love letter writing tips from C.K. to help you get started on sharing your heart.
If you find yourself in need of inspiration, turn to your favorite book or love song. It's ok to steal a line or two to help you get in the groove of writing.
Set the mood! If you are having trouble writing, make sure your environment is peaceful and relaxing.
Go beyond I love you. Use descriptive words that evoke an emotion like breathtakingly beautiful, deliriously in love, or enraptured in your essence.
Write a rough draft. Write freely then fine-tune.
Don't seek perfection. Remember as long as you are vulnerable, authentic and intentional, you have everything you need to write the perfect love letter.
Presentation is key. Make sure your love letter is legible and use beautiful paper, or a lovely blank greeting card. Love letters are great gifts, so you can even frame your love letter so that your partner or someone special can have a constant reminder in their home.
Want to learn more about love letter writing or crafting the perfect words for any occasion? Love Ink currently offers workshops nationwide and one-on-one training sessions on various topics, which include Wedding Vow Writing, Love Notes, Love Letters and more. Be sure to visit www.myloveink.com for more information.