We've been itching to give you a glimpse of our recent meet and greet in North Carolina! Tucked away in the prosperous streets of Greensboro, the upscale Proximity Hotel hosted our event with extensive class. The Proximity is a boutique hotel and is the first in America to receive a Leadership in Energy & Environmental Design Platinum Certification from the U. S. Green Building Council. The rooms and suites are updated with the latest technology, beautiful yet comfortable furniture, amazing views of the city and features one-of-a-kind artwork by their famous in-house artist, Chip Holton. Adjacent to the hotel is Print Works Bistro, where comfort food is made daily using fresh ingredients from local farmers.
A warm thanks to the hotel's Events Coordinator, Kirsten Roberts, for embracing our vision and conducting tours of this modern hotel, which boasts several event and banquet spaces for weddings, parties and meetings. And of course, we went into this celebration bearing gifts and prizes, including copies of our latest magazine cover -- the gorgeous Beauty Issue (Vol. 6). Furthermore, our CEO shared her nuggets of knowledge and wisdom with all the wedding professionals and brides-to-be in attendance.
Next door, makeup artist Nicole Webster showcased her skills in preparing our lovely President and CEO, Mary Chatman, for the audience highly anticipating her entrance. Mary's soft look graced us all as as she reflected on what she's most excited to see in the Greensboro, North Carolina wedding industry.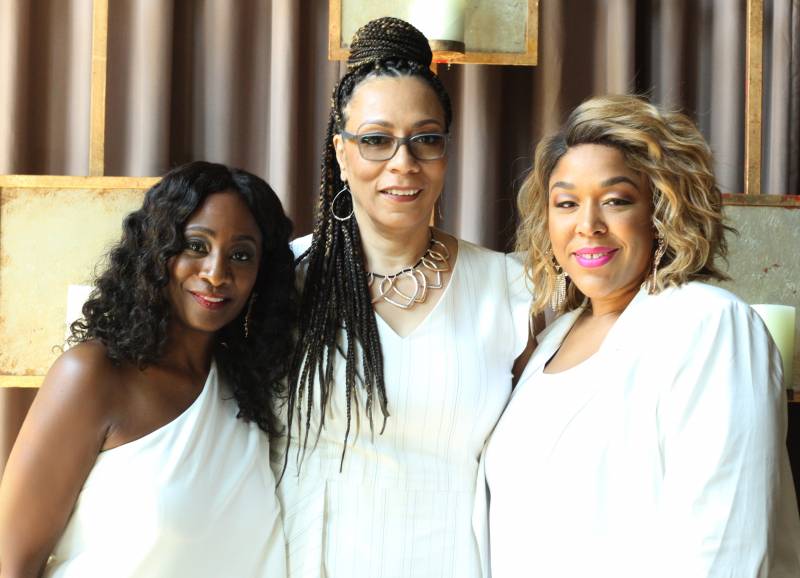 The meet and greet was masterfully planned and executed by our Bridal Suite members Terri Simms, owner and principal planner at Wedding & Events by T. Michelle, and Ashleigh Crawley of Still Shots Photography. This dynamic duo partnered with an amazing team of wedding and event pros, including Custom Styles Sweet Boutique, Something BARowed, UR Invited Custom Wedding Stationary and Oniee's Engagements to bring their vision to life.
The love between everyone in the room was truly palpable. With high spirits and positive auras overtaking the day, it was easy to see that any ideas of competition were exonerated. There were so many questions to ask and notes to take. Not to mention the varied shades of melanin in that venue alongside these collaborative minds gave us life!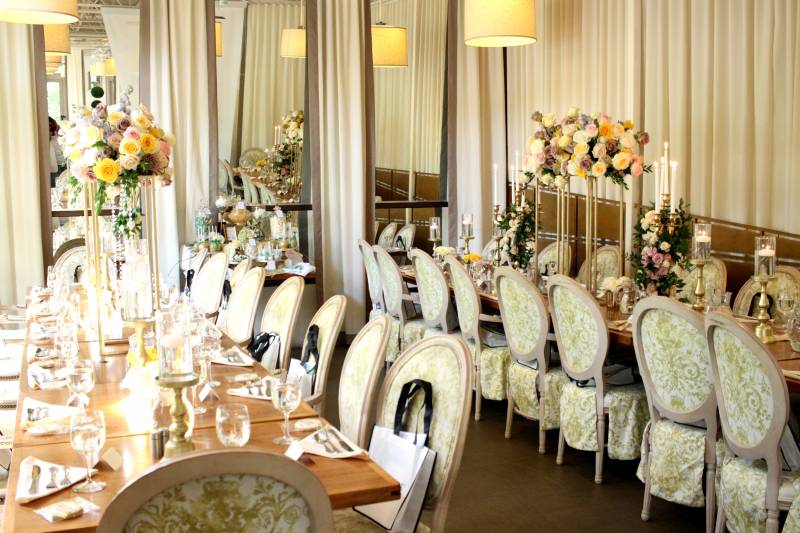 After everyone had the opportunity to tour the hotel, the guests were escorted to the Print Works Bistro for lunch. The meeting area was beautifully set up! Our CEO was whisked ahead of everyone for a first look at the room, which was adorned with flowers and candles to her delight.
"I was overwhelmed with joy in the same way that a bride feels when she first walks into a reception hall ahead of her guests and takes it all in," said Mary regarding her grand entrance.
As the rest of the group became settled within the bistro, our sponsors provided brief introductions and overviews of their businesses, followed by an introduction of the guest of honor, our very own CEO Mary Chatman.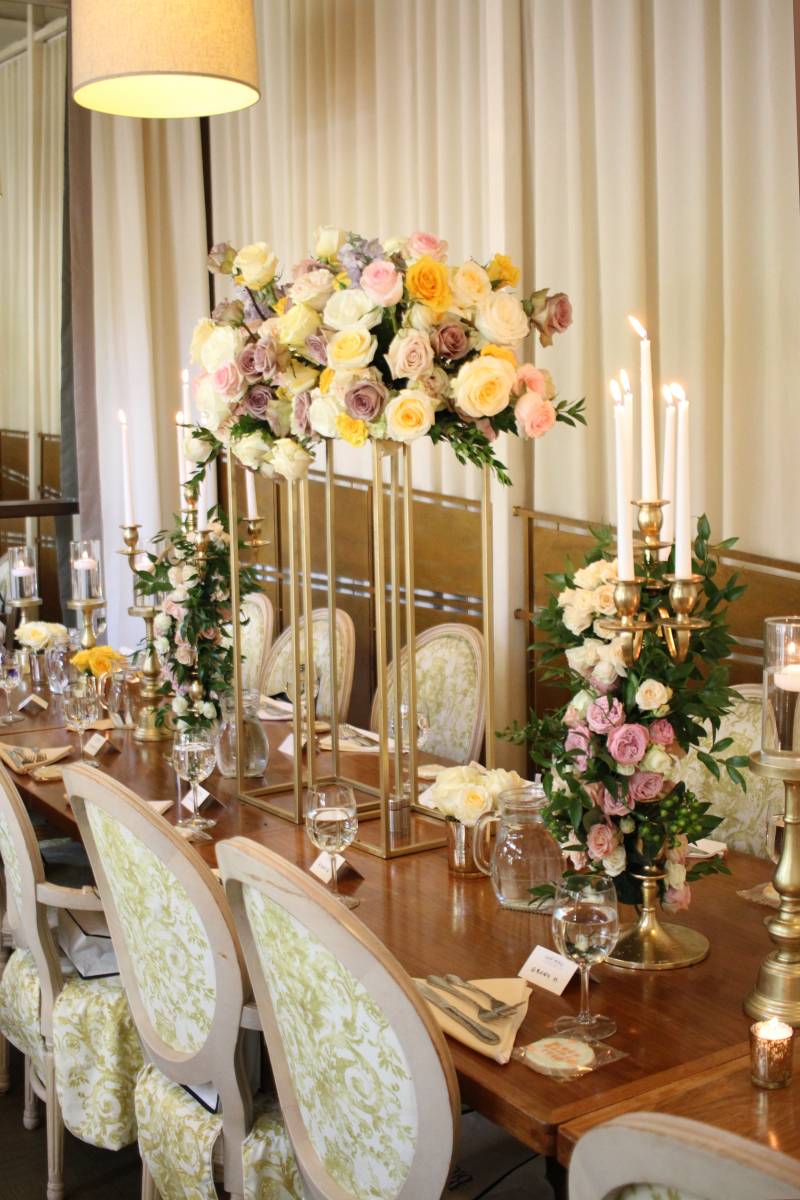 When it's breathtaking and there are no words to say: We were in awe of our room and the hospitality shown to us. It may not have been a wedding, but we had plenty to commemorate.
The sponsors outdid themselves in terms of presentation, and the desserts were no exception. Take a peek at the sinful candy bar display. Thank you to our talented industry friend Lori Poag for all the delicious treats she prepared for us.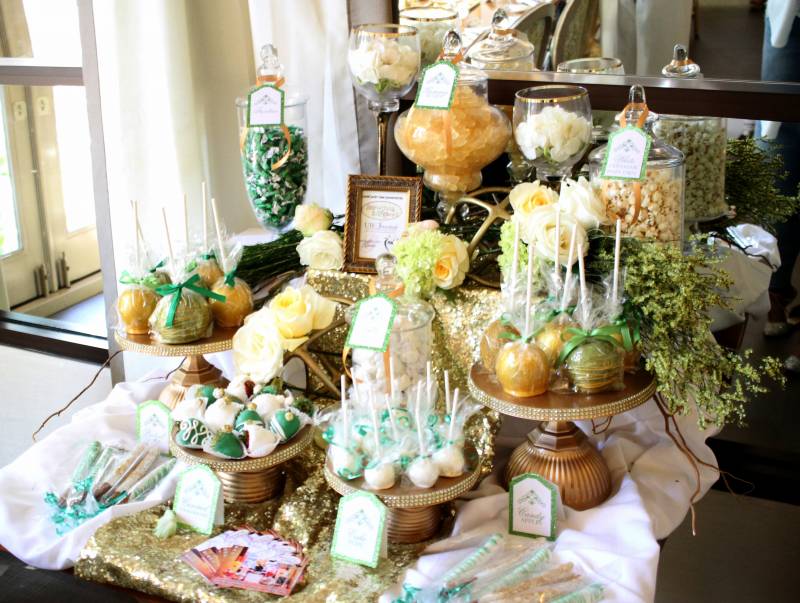 To balance things out in the exchange of pre-nuptial wit and expertise, one must eat! Spectacular meals prepared by a local chef, which featured a choice of roasted herbs de Provence turkey breast, grilled salmon, quinoa salad and a chopped chicken salad panini.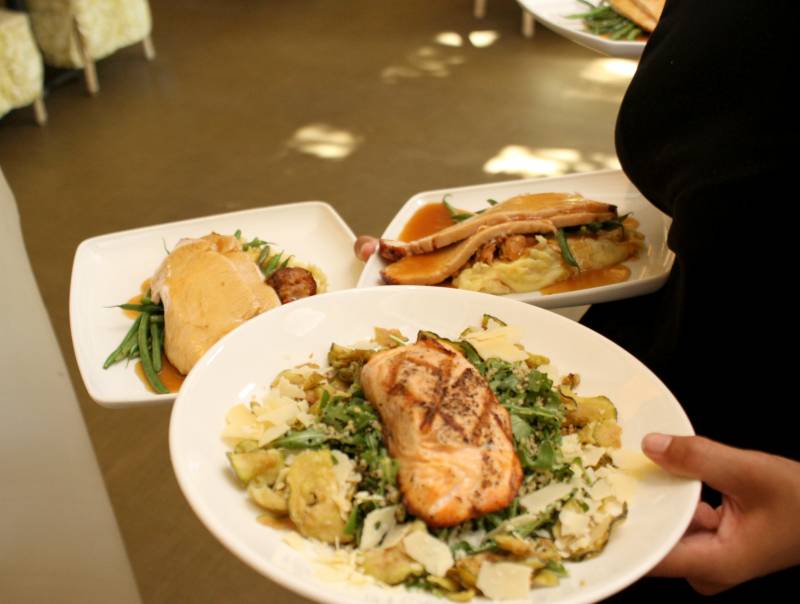 The humbleness and heart of our luncheon lie in these pictures. Addressing and thanking god for all we have accomplished was at the forefront of the day. It was great to get in touch with our guests and the outpour of spirituality, which showed our appreciation and gratitude.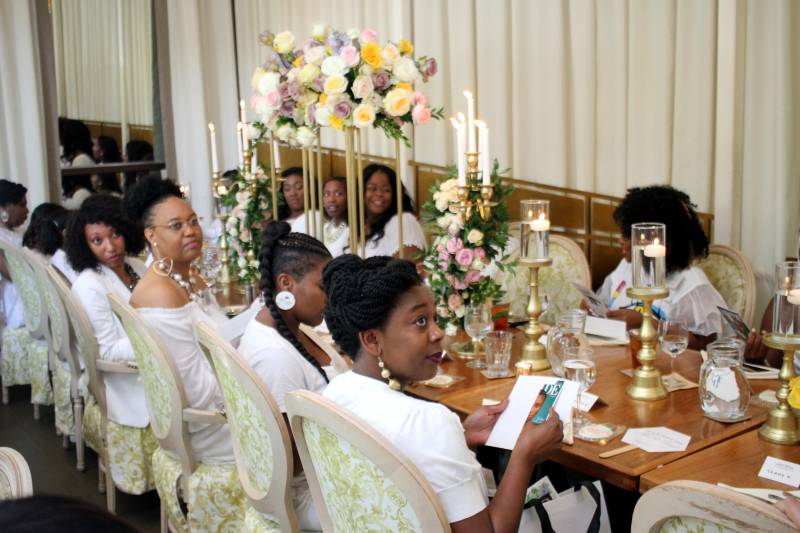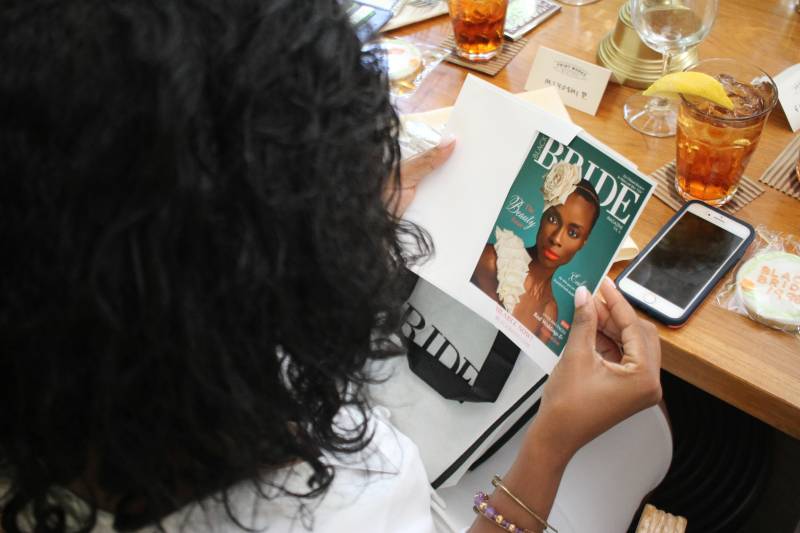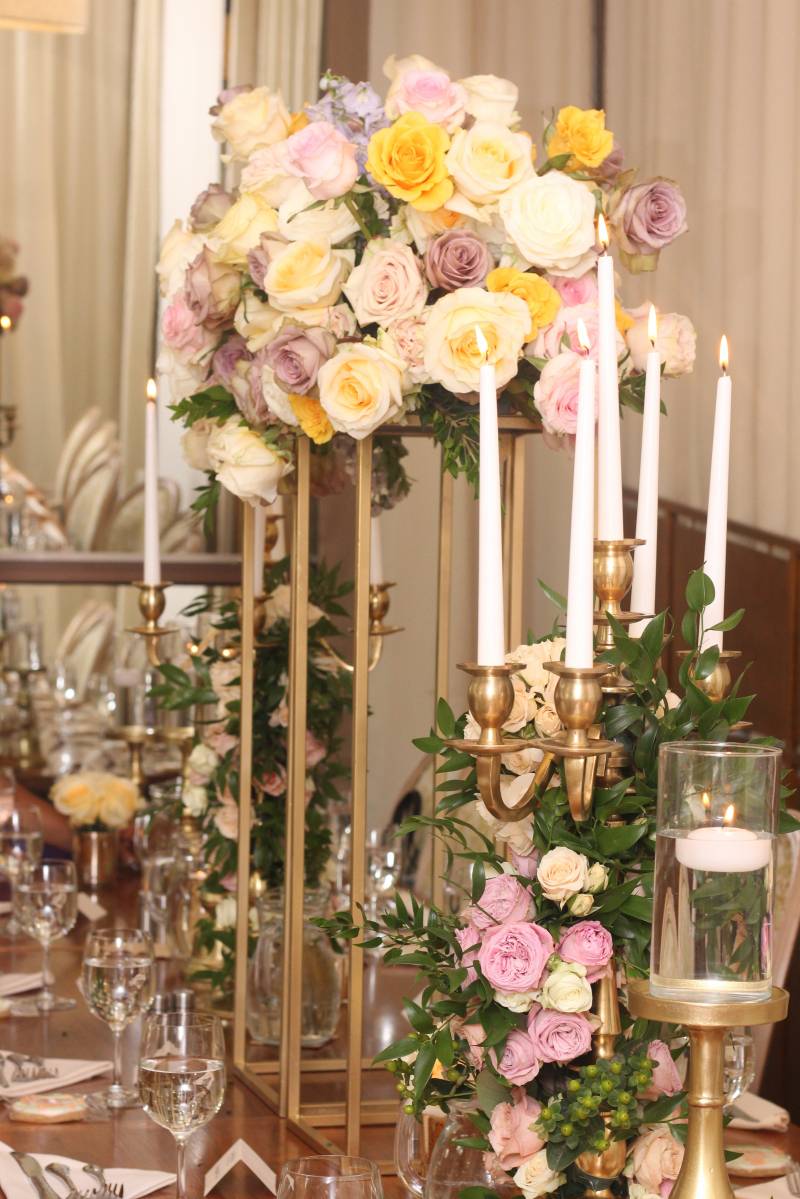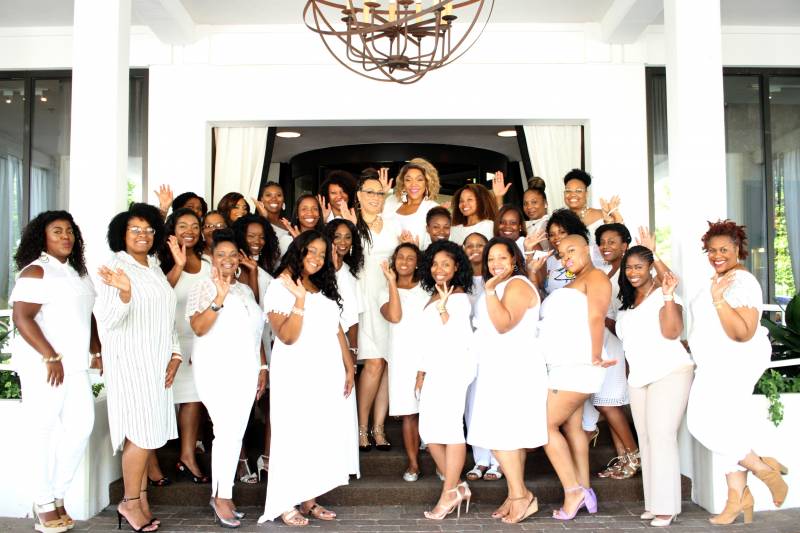 While no one wants to say goodbye, we got lost in the hours of the day appreciating one another and adding value to each other. We walked away with our heads held high, spirits full, and a contagious smile to last us until we unite again. Hopefully one day we can make this a full weekend affair! There are simply so many other entrepreneurs we're amped to meet in this beautiful state.
You showed out, and we showed up! North Carolina, when are we meeting again? Stay tuned our home away from home...
We are so grateful for all of the amazing sponsors, brides and local businesswomen who made this North Carolina meet and greet a huge success. Be sure to connect with our wonderful sponsors. We will see you at the next Black Bride social event.
Our Sponsors:
Event Venue
Proximity Hotel
https://www.proximityhotel.com/
Planning
Weddings and Events by T. Michelle & Still Shots Photography
https://weddingsandeventsbytmichelle.com/
Photography
Still Shots Photography
https://stillshotsphotography.com/
Writer
Nikki Gillis of Innerg Chic
Makeup
Amber Nicole
https://www.instagram.com/ambernicole_studio/
Floral Design
Oniees Engagements
https://www.onieesengagements.com/
Stationery
UR Invited
Desserts
Custom Styles Sweet Boutique