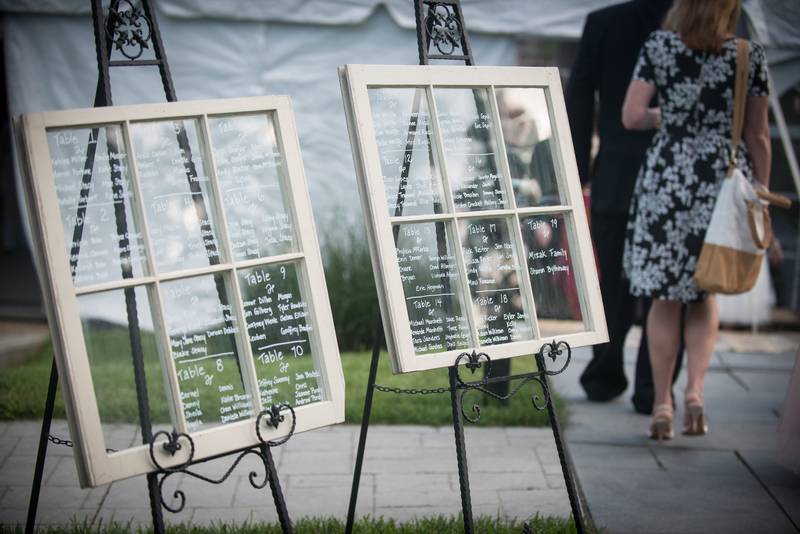 Kyle and Diane Ogden's favorite neighbor Mr. Larry Miller, AKA "The Mayor of Northwood" located in a quaint Virginia neighborhood; replaced his original windows with newer storm proof windows. He thought they might want to do something fun with his old windows. They decided to re-purpose some of the old frames for their wedding. Sadly, Mr. Miller recently passed away, but his contribution to their wedding day was a sentimental and meaningful touch to their special day. The idea to use the window panes as a table seating chart was inspired partly from seeing vintage windows re-purposed and resold as artwork, mirrors, and message boards at the Eastern Market in downtown DC area.
Kyle and Diane's crafty friends, Danielle & Chan Williams (affectionately named "Chanielle"), offered to help with the behind the scenes wedding set up. Kyle and Diane supplied them with a couple of white marker/grease pens from Michaels craft store and the two window panes. The wedding venue, Rust Manor House supplied the two rod iron easels. The windows were literally worked on and finished as Diane was getting into her wedding dress.
Here is what you will need and 10 easy steps on how to turn an old windowpane into a chic and rustic piece for your wedding.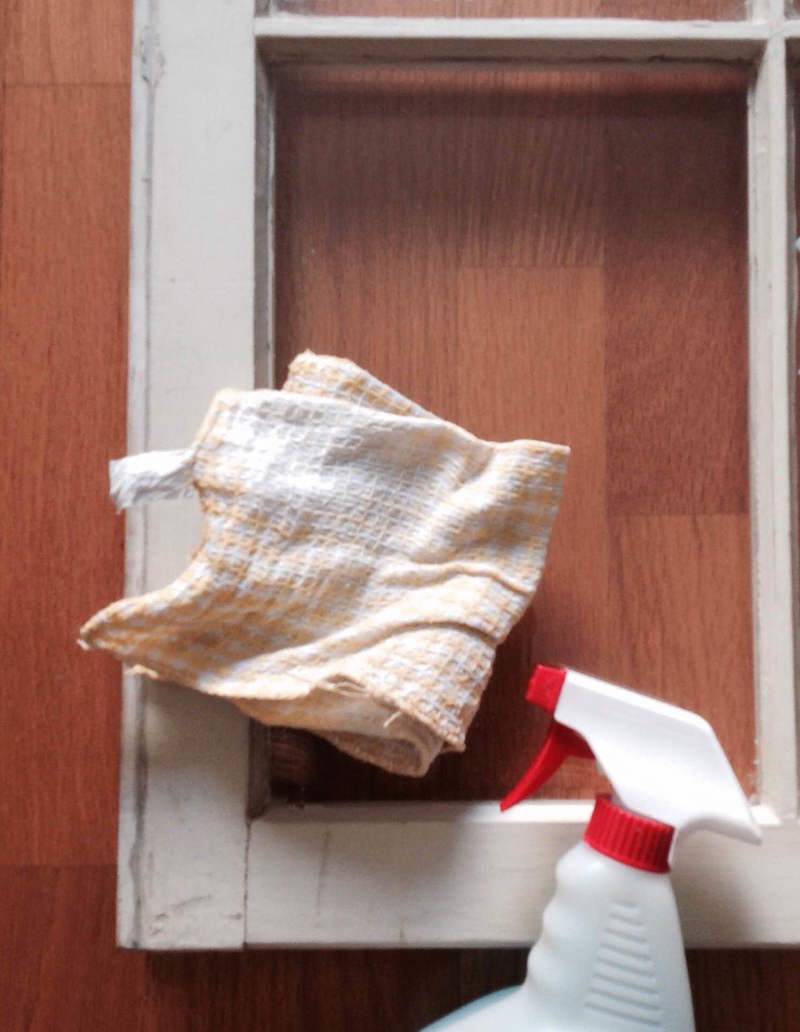 What you will need:
An old window pane
Plexi-glass
Grease marker or anything oil based
Sealant
Spray Paint
Sand Paper
Font Decals/ Handwriting
Alcohol Wipes
Write the table numbers followed by the names of the guests to be seated at that table on each windowpane. To do this you can use your best handwriting, or print out what you want each window pane to say in the font you want and tape it to the back of the glass. You can then trace over the words with your paint marker. And in a few easy steps, you'll have your fabulously, chic wedding reception seating chart.
Step 1: Find the window, it can be any kind. But if you have a theme try to stick find windows that match.
Step 2: If the glass is too thin, it can be replaced with thicker glass or plexi-glass. The cost is approximately $7 and can be sourced from your local Walmart.
Step 3: Remove all the old glass and replace with plexi-glass.
Step 4: Play with fonts! Use dry erase or paper decals to choose the perfect font.
Step 5: Use grease markers or an oil based sharpie and get to writing your seating chart. Allow 24 to 48 hours for drying time. Tip: (Use alcohol wipes and start over if you mess up).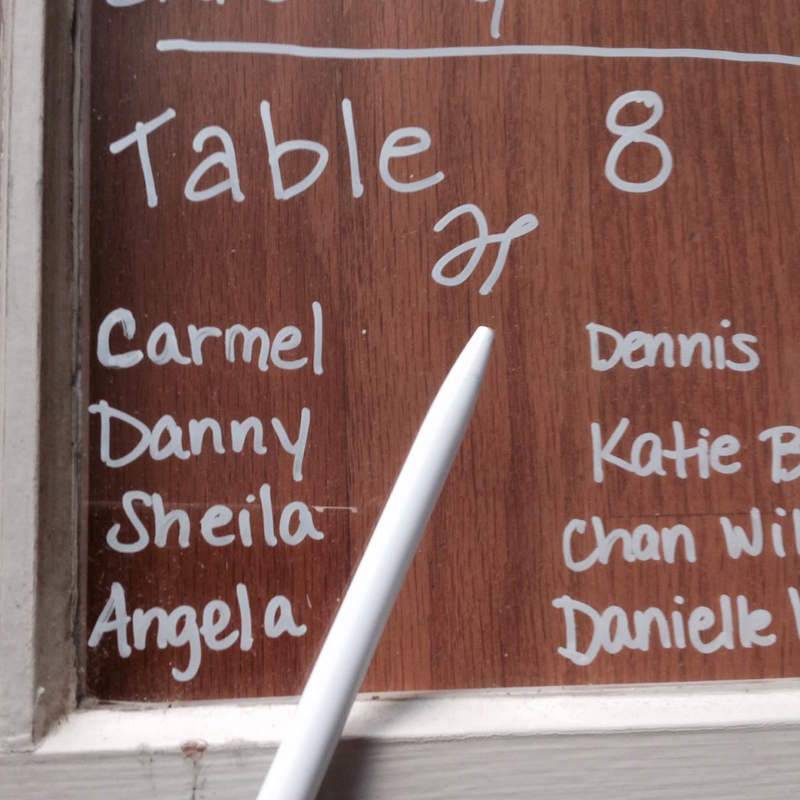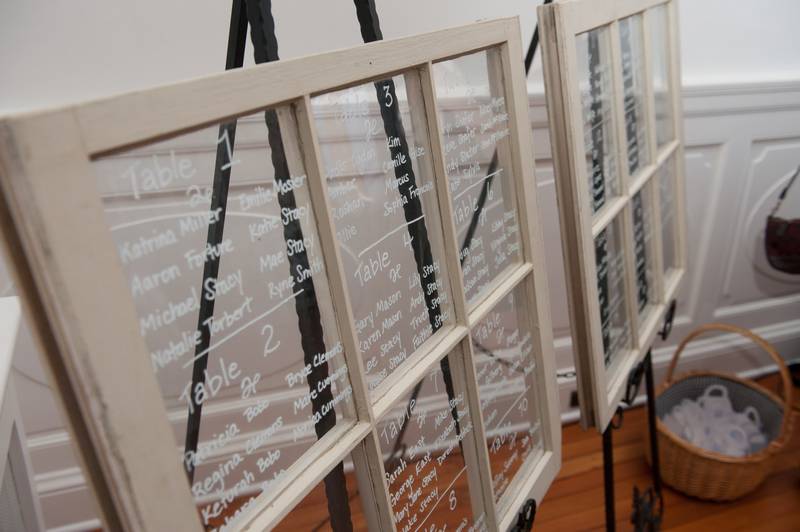 Step 6: Sand the entire frame and pay special attention to the edges. You can use a light to medium grade sand paper to give the texture of a shabby chic, vintage look.
Step 7: Time to paint the frames! Spray paint is the fastest and easiest method.
Step 8: Apply the sealant based on the manufacturer's instructions. It's okay to get messy. Use your fingers to spread the sealant.
Step 9: Let the windowpane dry for 24 hours. Tip: Windows can air dry in less time, just set them up and don't touch.
Step 10: Display them at your wedding!