Mistletoe and Eggnog everybody, it's Christmas!
We are in the homestretch with only three more days to go, and by the grace snowflakes and presents under the tree, we have all but made it across the Christmas finish line! There is just one more gift to pick up, hopefully there are still some left in stock – it was a super popular toy this year. Also, don't forget to set the turkey out to defrost, you need at least one hour for each pound. And the paper plates and napkins to drop off at the church so they can feed the homeless on Christmas Eve; you promised the Reverend that you would do that since you couldn't volunteer because you had already promised your sister you would pick up the cousins from the airport, so that she could help your mom bake the pies. And…And? There is something else? What is it?
Presents, and school plays, and family gatherings – this isn't fair! You need a helper! Santa has elves, and you are twice as good as Santa! You and the endless coffee break room conversations with Linda, all so you could spend three month's worth of salary and overtime pay on gifts that the guy in the cherry, crushed velvet suit gets to take credit for (seriously - someone get Santa Clause to a Brooks Brothers, ASAP. It's 2016).
No, you deserve a helper. A sweet, smooth, creamy, warm, chocolatey, 80 proof helper; and we at Cocktail Corner wouldn't love you as much as we do, if we were to let you go through this holiday season without it.
Presenting: Santa's Little Helper! This deliciously adult take on hot chocolate brings together the pairings of steaming hot chocolate, Stolichnaya Salted Caramel vodka, Godiva White Chocolate liqueur, and Bailey's Irish Cream, to make the perfect winter escape in a mug!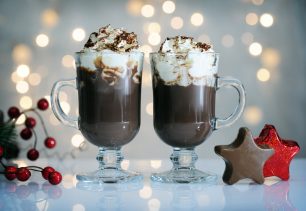 For the Santa's Little Helper recipe, you will need the following:
Your favorite coffee/tea/cocoa mug
1 Serving of hot chocolate (now it should be noted, that I am no hot chocolate expert. I do the alcohol. So just make sure that you have enough hot chocolate so that you aren't literally making this recipe with straight alcohol. Or do make it with just straight alcohol. Cocktail Corner is a safe space. Embrace your true self.)
1 Measure of Stolichnaya ™ Salted Caramel Vodka
1 Measure of Godiva™ White Chocolate Liqueur
1 Measure of Bailey's™ Irish Cream
Whipped Cream for topping (optional)
Chocolate Shavings (optional)
Directions:
Heat your hot chocolate into a nice steaming cup of sweet, pleasant escape.
Slowly, so as to savor this moment you have to yourself where no one is asking you for anything, pour in the measure of Stolichnaya ™ Salted Caramel Vodka.
Next, add the single measure (or double at this point – depending on your stress level) of Godiva White Chocolate Liqueur ™
Lastly, pour in the single measure of Bailey's Irish Crème ™
Top off Santa's Little Helper with a healthy dollop of whipped cream, sip, enjoy; and pretend that you don't hear your cellphone alerting you to another text message to run another errand.
Merry Christmas from us at Black Bride and Cocktail Corner! May this holiday season be your best one yet!
Save
Save
Save