Hello Loves! Congratulations, we made it! We are mere days away from ushering in a brand new year, and have been favored to bid farewell to 2016 and welcome 2017. It is truly a blessing. And like all blessings, this occasion should be marked by something as unique and sweet as all of our hopes and dreams for the coming 12 months!
Now, we here at Cocktail Corner never need an excuse to celebrate, and we are approaching the most celebratory day of the year. So it's time to get to mixing, and shaking, and drinking! After all, we are celebrating not only a new year, but we are celebrating YOU! We are celebrating all of the amazing accomplishments that you have achieved in 2016, and the new heights that you are destined to reach in 2017!
Excitedly and jubilantly presenting: Champagne Fête!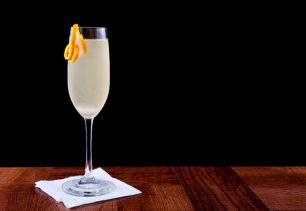 For this sweet, bubbly delight you will need:
1 Bottle of your favorite champagne

I recommend Veuve Cliquot champagne, as it's dry enough to carry the sweetness of this cocktail, and smooth enough not to overpower it

1 Bottle of St. Germain Elderflower Liqueur
1 Bottle of Hendrick's Gin

Now in all honesty, while any gin could do, Hendrick's is the one! Made with cucumber and rose, it is supremely delightful on its own. However, combined with the sweet floral notes of the St. Germain, the crispness of the cucumber, and the additional floral notes from the rose, Hendrick's takes the Champagne Fête over the top!

Orange twist to garnish (optional)
Directions:
The fun thing about this cocktail is that adjusting your portions gives you an entirely different experience each time. Perhaps you are in the mood for something smoother, with just a slight bit of effervescence. If so, then you may want to make the gin your base, instead of the champagne. Or perhaps, all things being equal, you want even parts of everything. It's all up to you! For this recipe we will keep it traditional, and make champagne our base.
Step 1: Pour a glass of Veuve Cliquot Champagne 2/3 of the way full
Step 2: Add a 1/3 measure of Hendrick's Gin
Step 3: Add 1/3 measure of St. Germain Elderflower Liqueur
Step 4: Top off with orange twist to garnish
Step 5: Sip, enjoy, and repeat!
Step 6: Repeat again (and again, and again, and again…)
HAPPY NEW YEAR from all of us at Cocktail Corner and Black Bride! See you in 2017!