Adrienne was in Miami on a girl's trip, so she and her friends decided to sunbathe in the gorgeous Sunny Isles. Mario and a few of his friends were playing football on the very same beach. A few misfires later, the football and Mario ended up in Adrienne's lap! At least that's the story Adrienne likes to tell. She and Mario actually met at a bar, but in her own words, "the other story is just so much better." What isn't made up however, is the love Adrienne and Mario share together. After two year together, this happy couple decided to celebrate their engagement in the beautiful Bahamas. Check out their intimate island session, captured by Eboni Robyn Photography.
Bride: Adrienne Wheat, Business Analyst
Groom: Mario Brown, Engineering Consultant
Wedding date: September 3, 2017
Wedding location: Waterview Loft in Detroit, Michigan
Location of Engagement shoot: Queen's Staircase and Clifton Pier in Nassau, Bahamas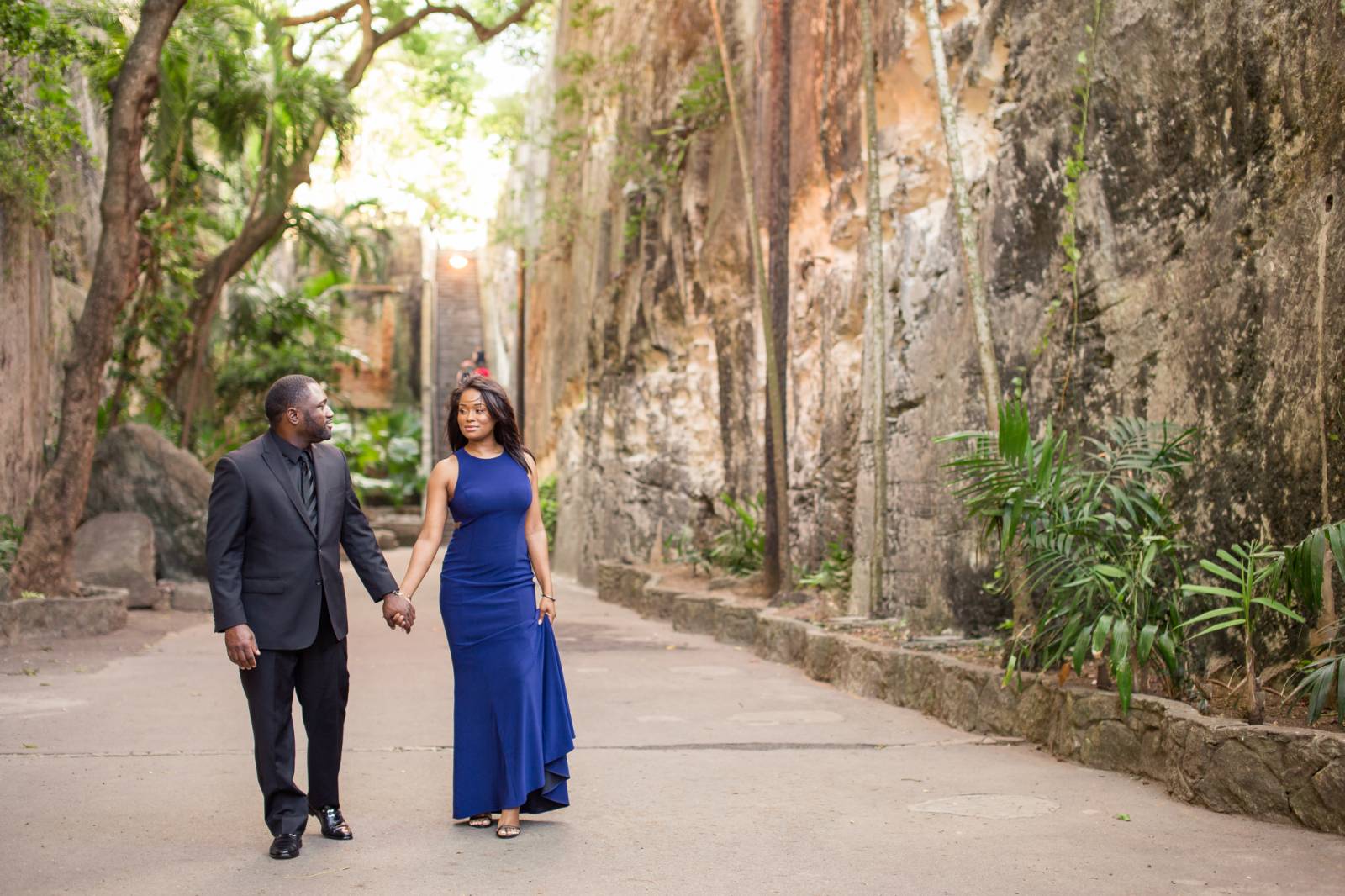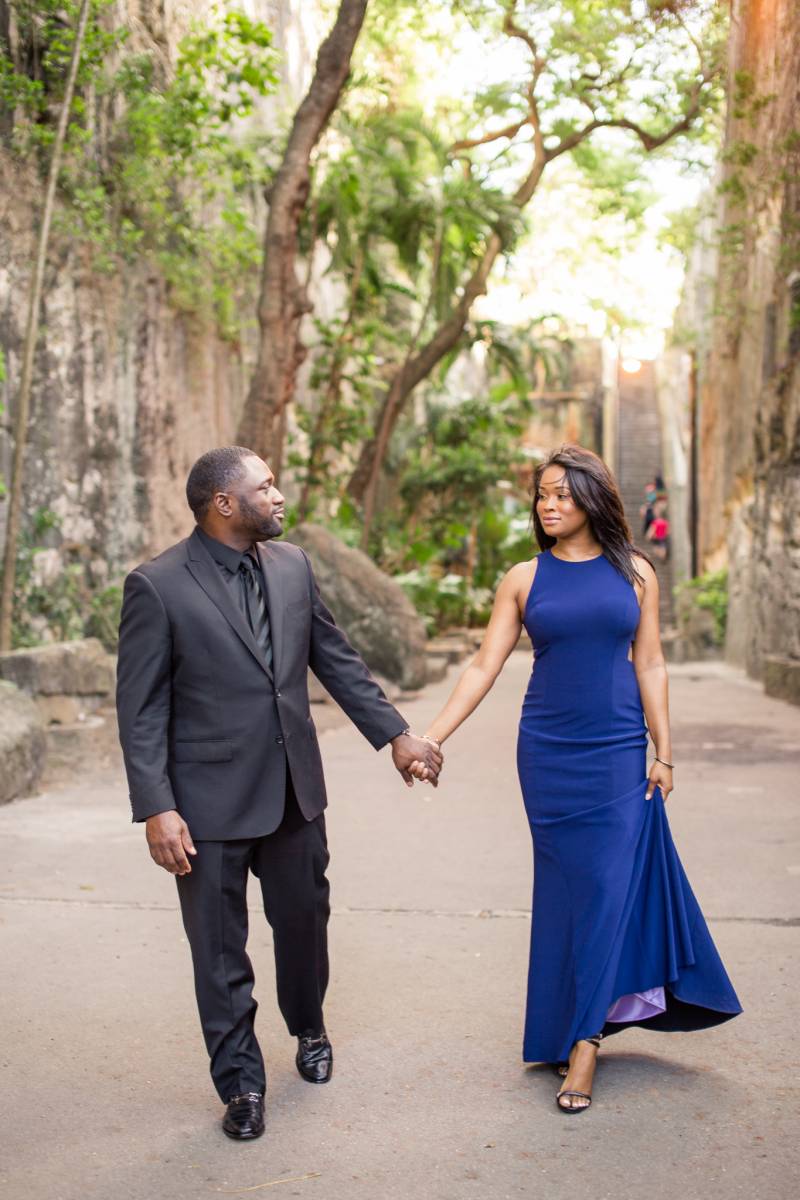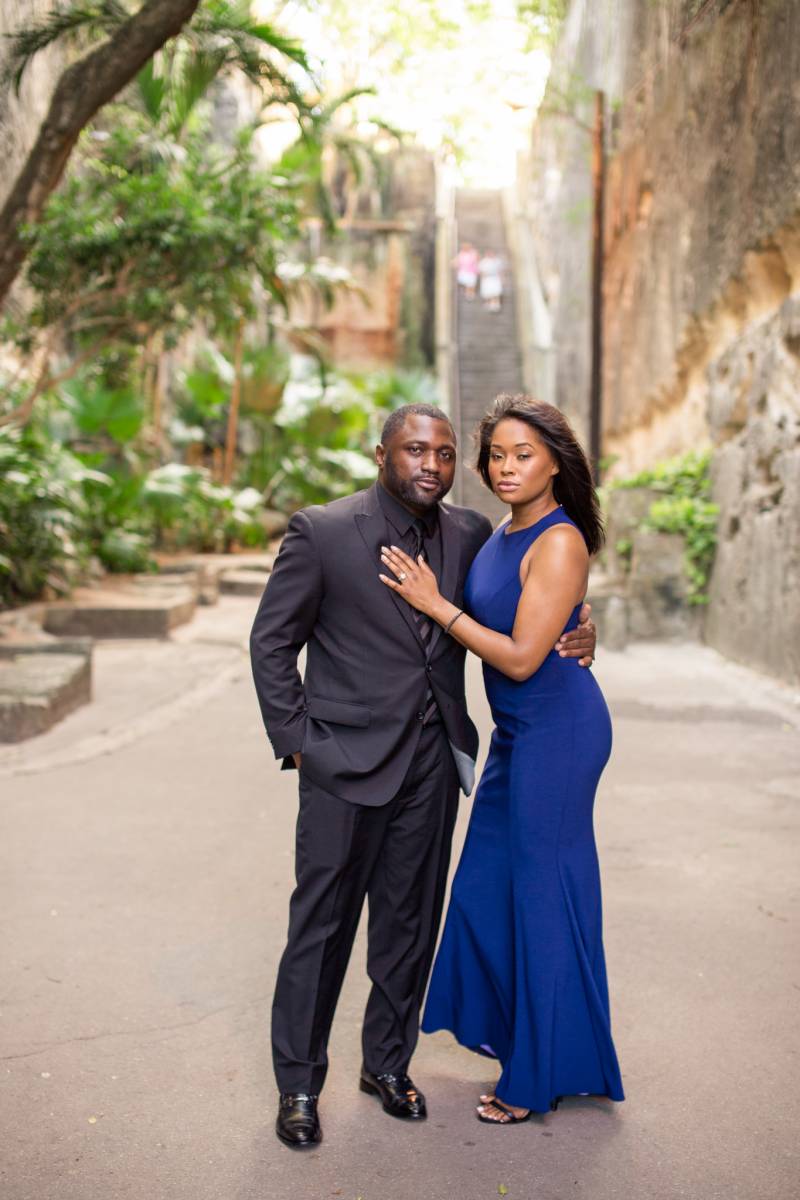 Engagement story:
By the time we made it to Venice, Italy, we had been to at least three other countries in Europe (including a drive through the Alps, which was amazing). I knew I wanted to propose, but I didn't know when, where or how. I told myself that I was going to wait for the right moment, but that evening, while walking along the canal in Venice, I decided that you don't wait for the right moment, you create your moment. When we sat down for dinner, no one knew that I had a ring, let alone that I was going to propose, except me and the waiter whom I told that I may need his help when the time was right. The entire trip, Adrienne and I were at odds because of her use of a selfie stick. I have always had a disdain for selfie sticks because I think they are unnecessary considering "selfies" were around long before the sticks. Adrienne knew this, which is why she concealed it in her luggage until we got to Europe. So while at dinner, to the shock of Adrienne and her family, I agreed to take a selfie with her. This would serve as our one and only selfie to commemorate this once in a lifetime event. Our waiter agreed to take a picture of her taking a picture of us with her selfie stick - which actually was the proposal. The waiter kept the family busy while we had our private moment. While they were posing for a family photo, I was proposing to my future wife.
What did you do on your first date?
Our first date took place in one of the trendiest cities of Metro Detroit. We enjoyed a lunch date together at the Capital Grille, an upscale steak and wine house in Birmingham, Michigan.
Did you have a theme for your engagement session?
We didn't actually have a theme, but I had stalked Eboni and Eli's website for months and was confident that the duo could capture this once and a lifetime opportunity perfectly. With Eboni's direction, Eli's eye for the magical shot and the enchanting backdrop of the Bahamas, we had the perfect combination.
What's your favorite thing to do as a couple?
One word: Travel. In the two short years of our courtship, we have globe trotted throughout Europe, wined and dined in the states and kicked back in the Caribbean. For our honeymoon, we will be island hopping in the Greek Isles.
How has wedding planning been so far?
Wedding planning has been quite painless. I think the key to successful, stress-free planning is open communication with your partner and creating a pact to not sweat the small stuff. Keeping the process fun has only brought us closer.
Tell us what you're looking forward to most on the wedding day.
Celebrating love and life with our closest friends and family. And of course, more pictures to commemorate the occasion!
Congratulations to the happy couple! We wish you many years of wedded bliss.