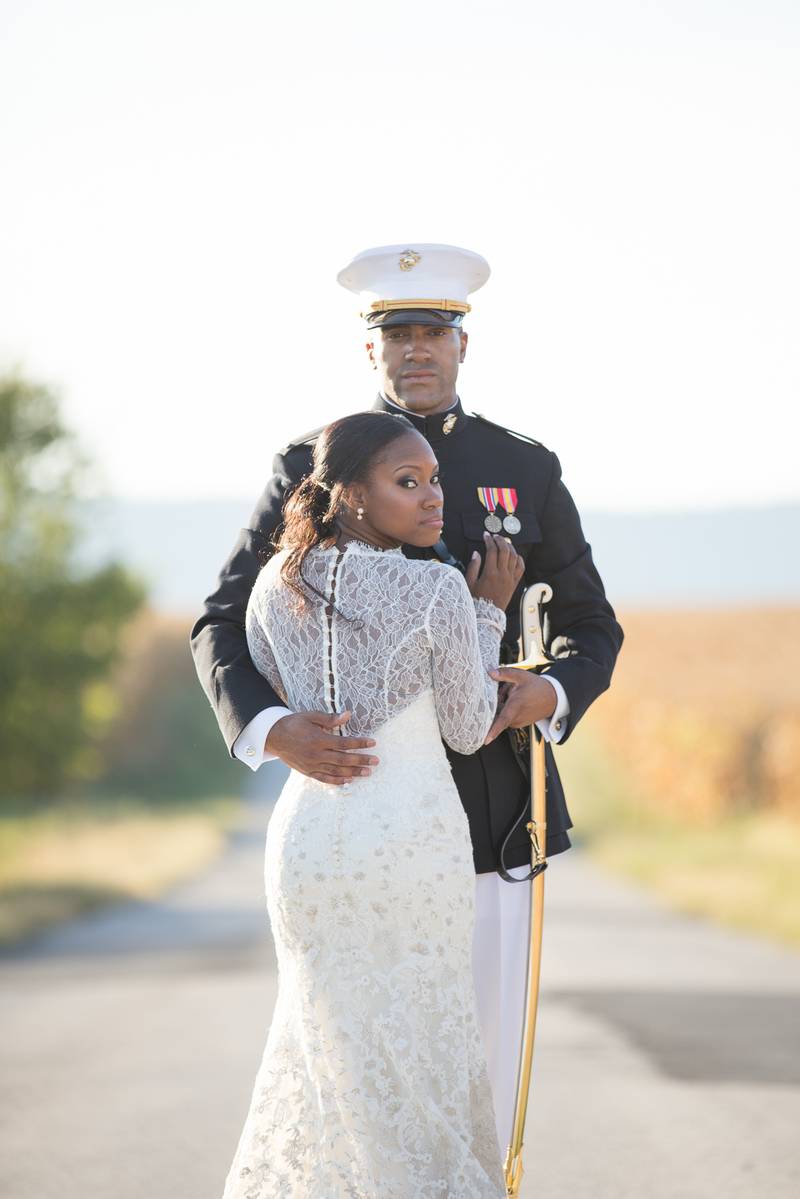 Madison and Carlin, who have been together for eight years, met on May 11, 2008, in Washington, D.C. "Carlin was home for the summer from North Carolina A&T and I was attending Howard University at the time, and decided to stay in the DC area for the summer. I was complaining about a boy to my best friend/ linesister Ashley Blaine Featherson and she recommended that I stop complaining and go on a date with her childhood friend, Carlin," said Madison. Madison needed a little more encouragement to go on the blind date, so she decided to check out Carlin's Facebook page to see what he looked like and find out what he was interested in. While Madison was checking out Carlin's Facebook page, her friend Ashley decided to take matters into her own hands and called Carlin to tell him about Madison. Madison was pleased with what she saw and told Ashley to tell Carlin to call her if he wanted to go out. "Carlin called me that night and we talked for six hours. Through our conversation, we discovered that we both enjoyed breakfast at night, and decided to go to The Diner in the Adams Morgan for our first date," recalled Madison. The happy couple has been together ever since and recently celebrated their union with a garden themed wedding. Check out their special day, captured by Stephen Miller!
Bride: Madison Savannah Myrick, 29, Social Worker / Therapist
Groom: Carlin Pierre Myrick, 29, Artillery Officer with the United Stated Marine Corps
Place of residence: Kailia, Hawaii
Wedding date: 9/25/16
Wedding location : Stone Manor Country Club, Middletown, MD
Wedding theme: Garden chic
Honey Moon: Sint Maarten, Kingdom of the Netherlands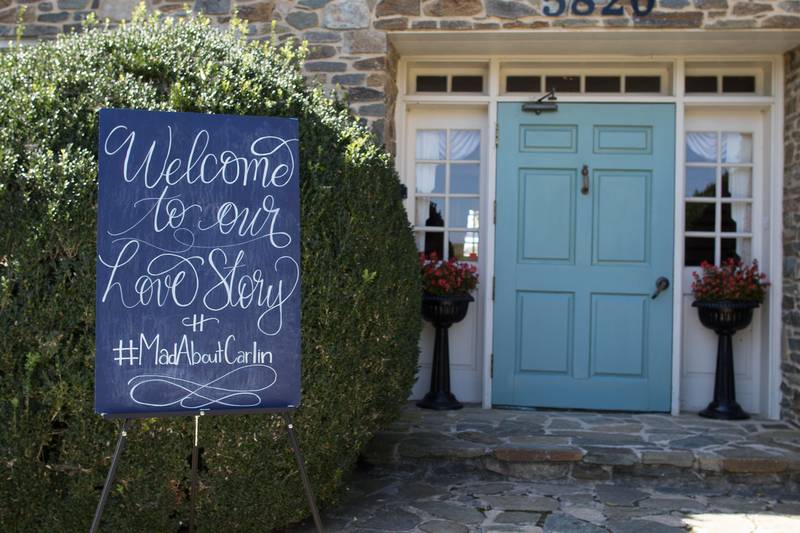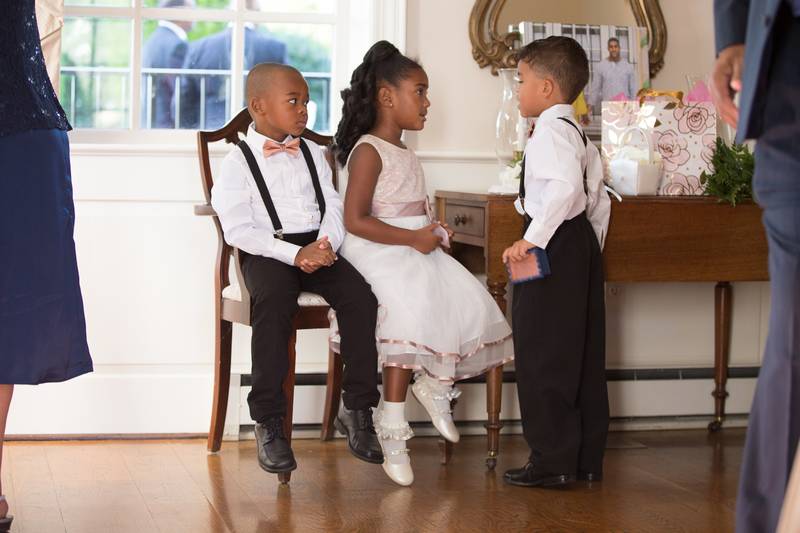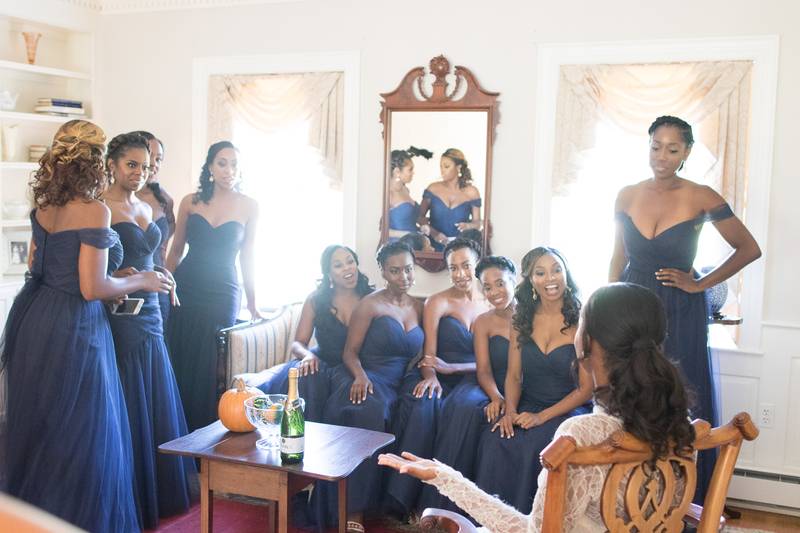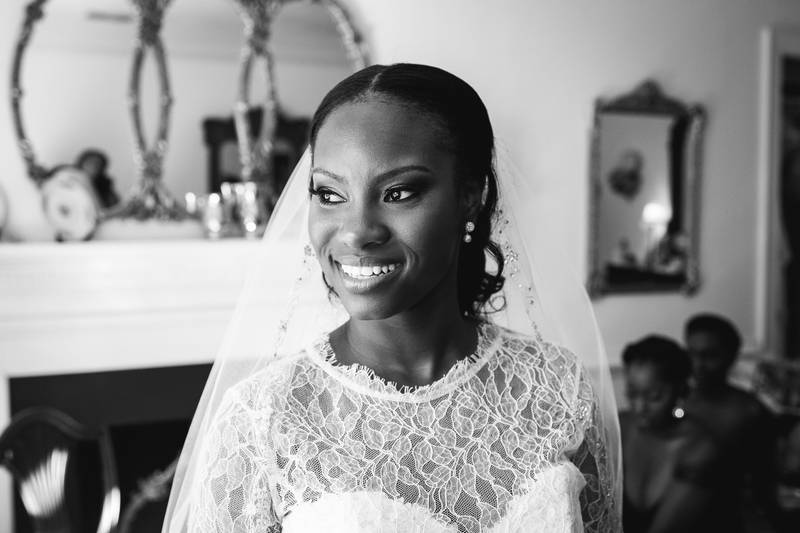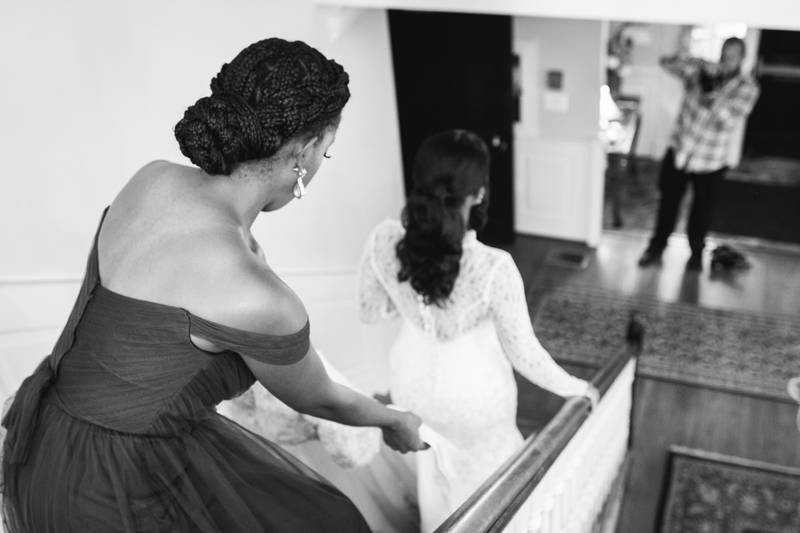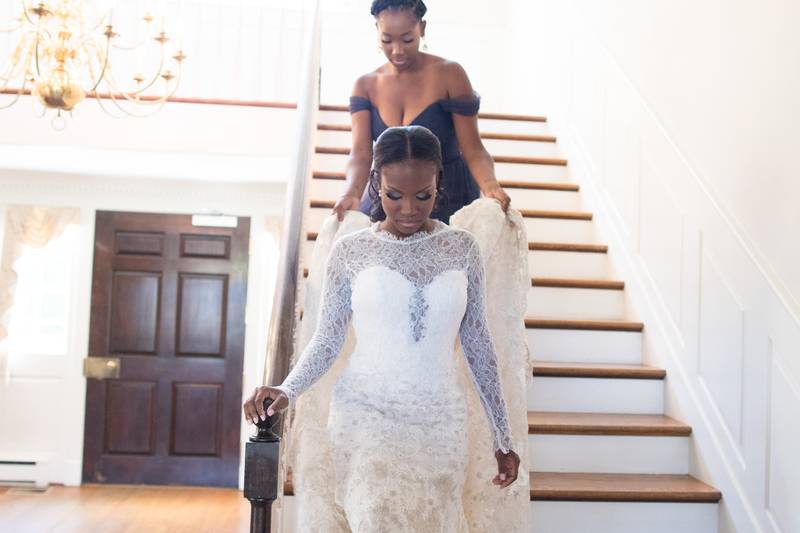 Engagement story:
Carlin proposed to me by pranking me. My best friend Ashley Blaine Featherson called me and said she would be in a movie soon. I was super excited and not surprised at her success since she filmed a movie the year before. She said the movie premise was based on HBCU (Historically Black College and University) life, therefore BET invited her to come to Washington, D.C. to film her behind the scenes with her college friends. Ashley requested that I not tell anyone until she sent out an email to our linesisters. She also requested that I tell Carlin the good news and to ask him to invite his friends because she wanted to have guys there as well. Ashley sends an email and included specific instructions and the location for "behind the scenes" brunch. Ashley advised me to be super cute because BET would want to interview me as her best friend and that Michael B. Jordan, could be in attendance. So of course, I made sure I looked phenomenal this day. The day finally comes. Ashley arrived and I am very excited because this movie appears to be the next big thing for her. We arrived at Zengo Restaurant for the brunch. When everyone arrived, Ashley announced that the film crew would be coming soon and she thanked everyone for supporting her career and coming to share this moment with her. Carlin then requested to speak on Ashley's accomplishments. Throughout his speech he then transitioned into how Ashley was the reason we met and thanked her for the introduction. He continues to talk about how we met and how special our relationship has been to him. I started to think, "This is sweet, but what does this have to do with Ashley's movie?" He then proceeds to ask me to stand up and he proposes! There was never a movie, BET never came, and the entire occasion was set up for him to propose!
Click here to see their Real Engagement feature!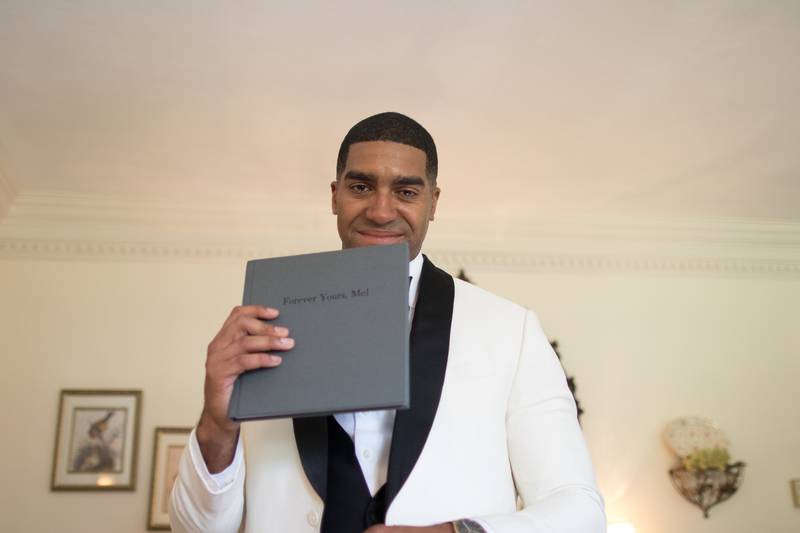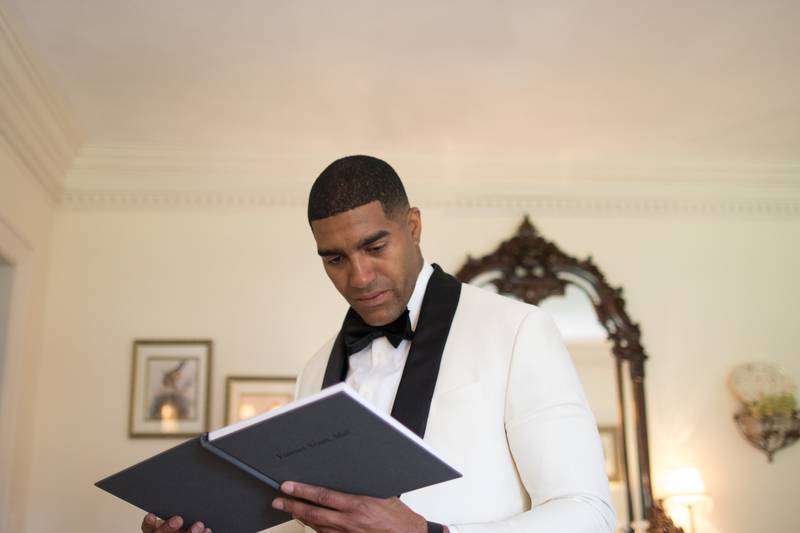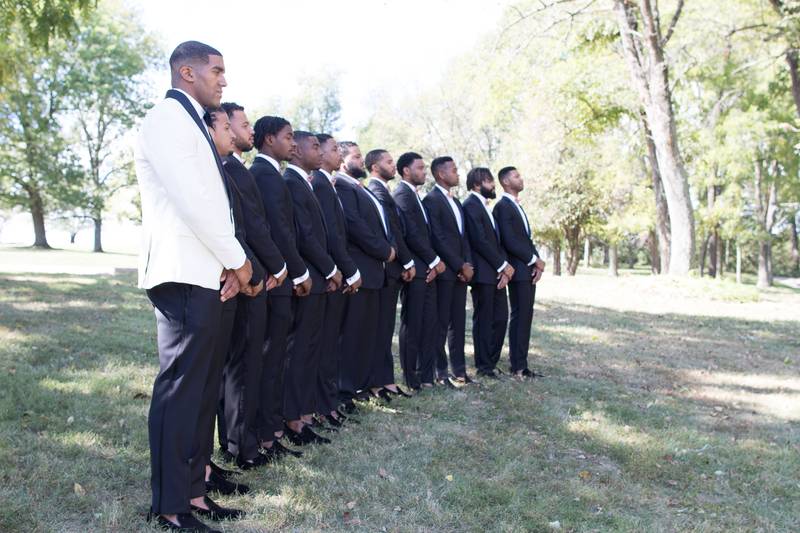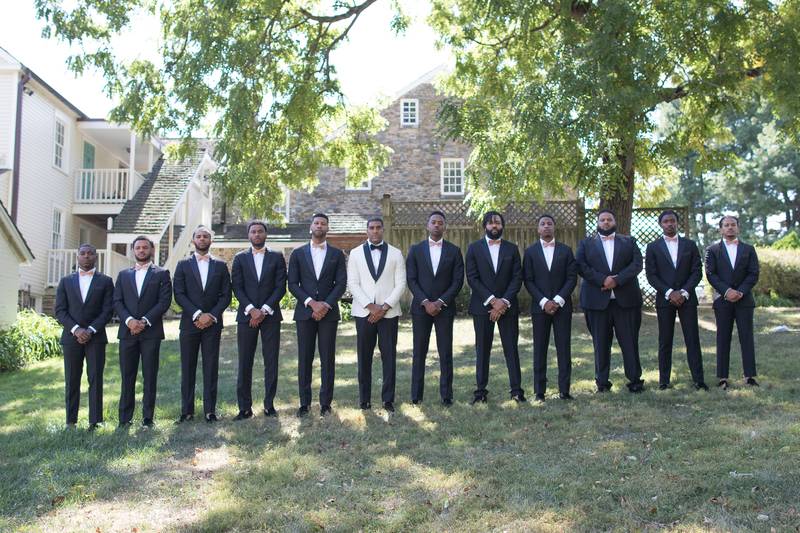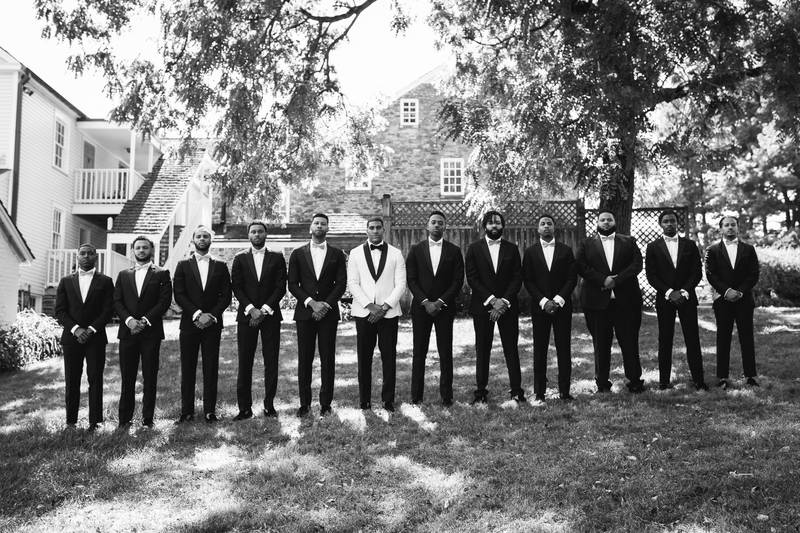 From the Groom:
I felt Proud! We did a first look so the usual "tears of joy" moment happened before. Looking into her eyes I felt proud of both of us for making it to this point. We are usually goofy with each other so I know it's typically a serious moment, I would try to make stupid faces at her when people were distracted to keep her from crying. (Myself included)
As a groom, I think of myself as a very laid back groom. I wanted everything to be the way she wanted it, so I didn't put too much of a fight on things. My family & friends mean the world to me, so as long as there was good music & drinks, the good times would take care of itself. As predicted, that's exactly what happened.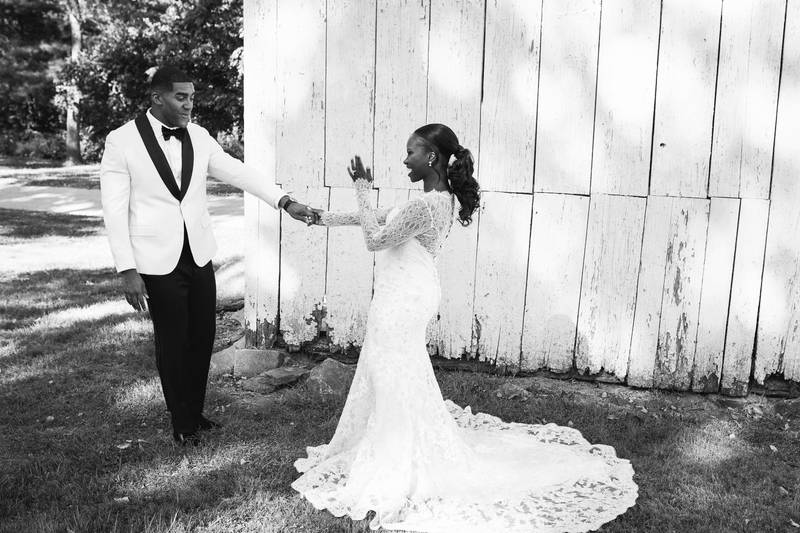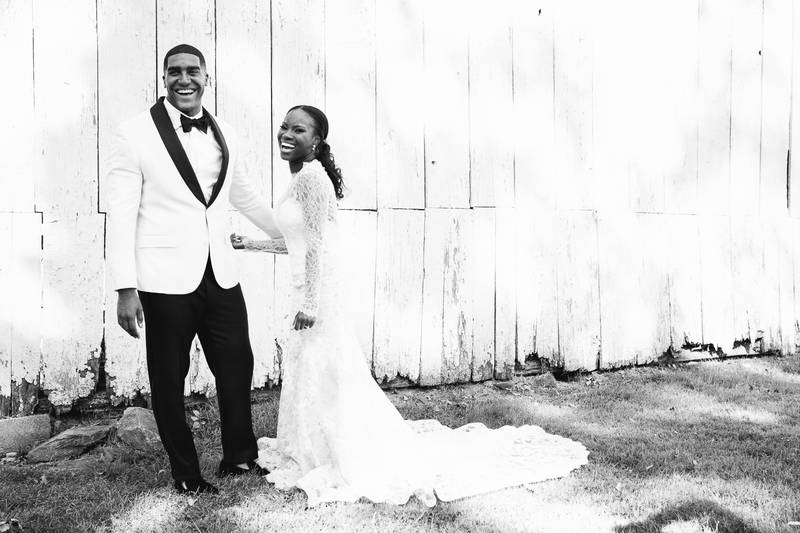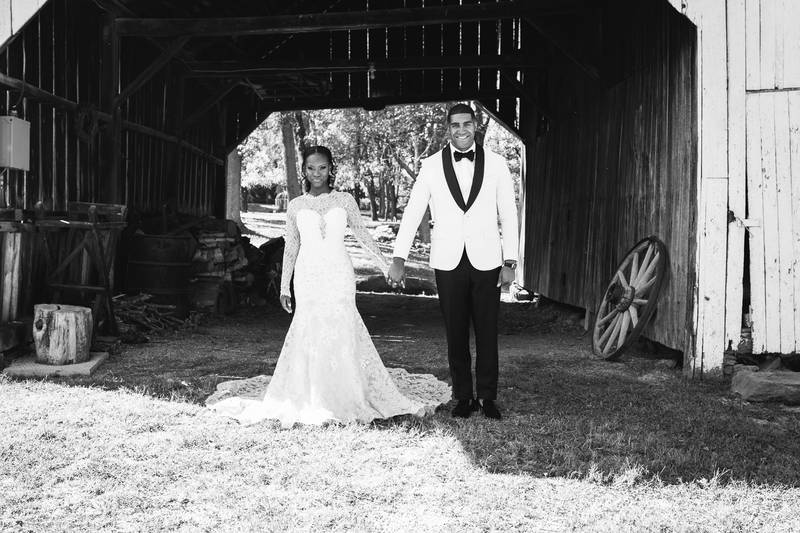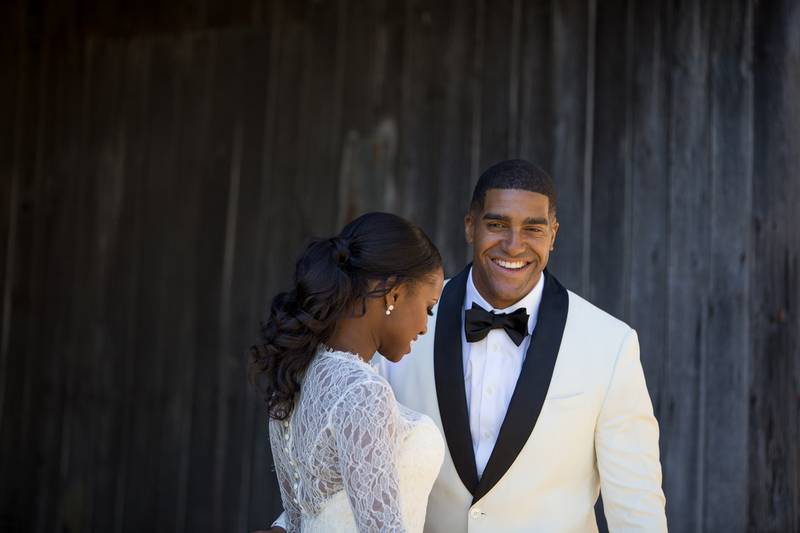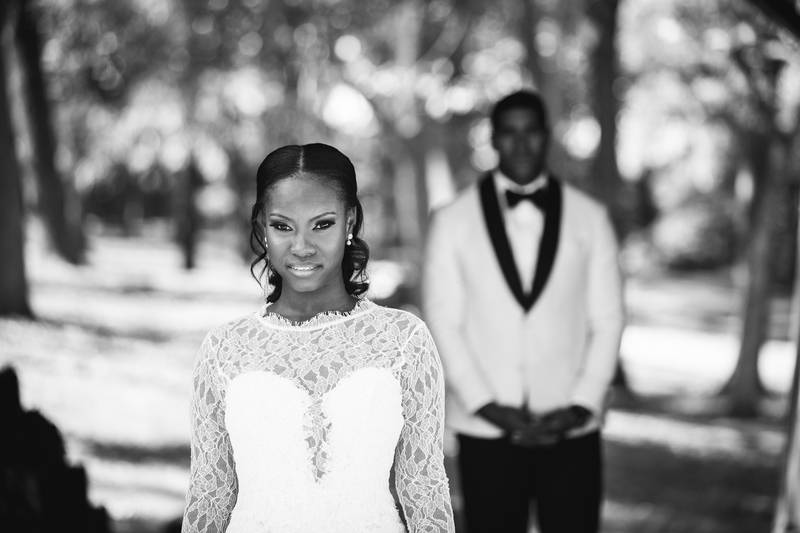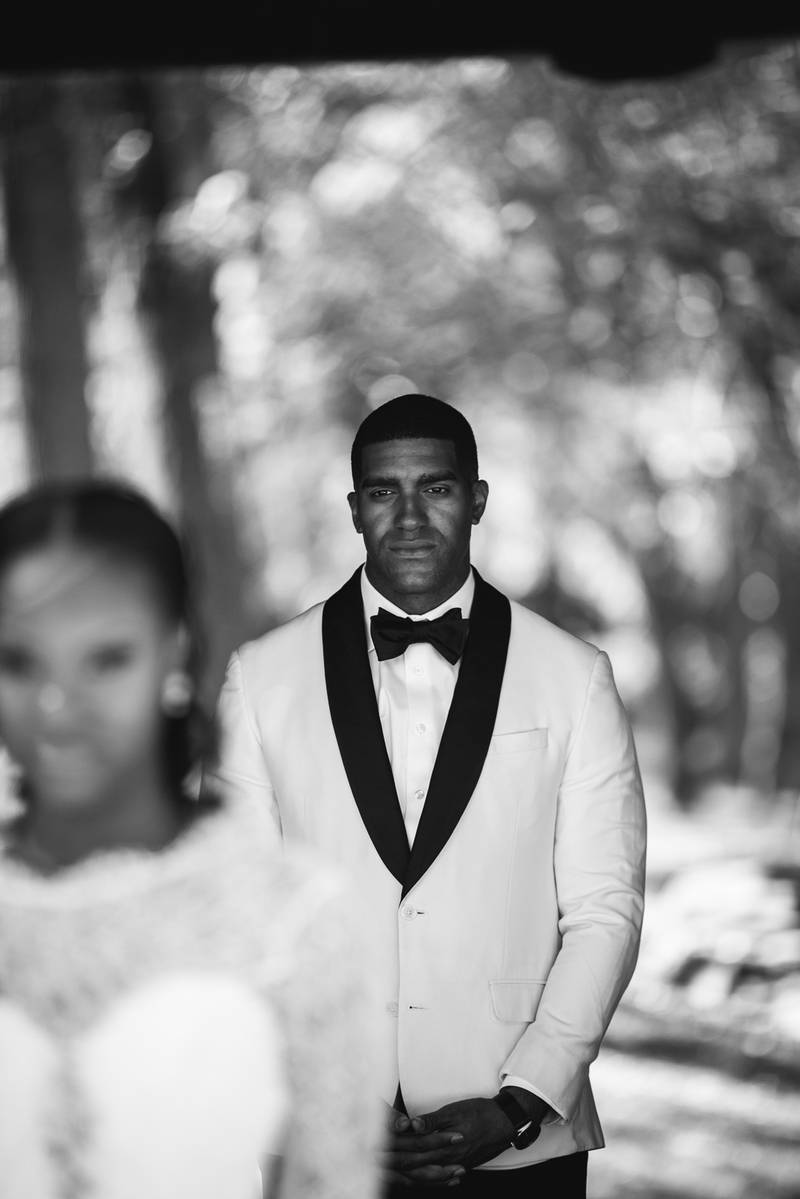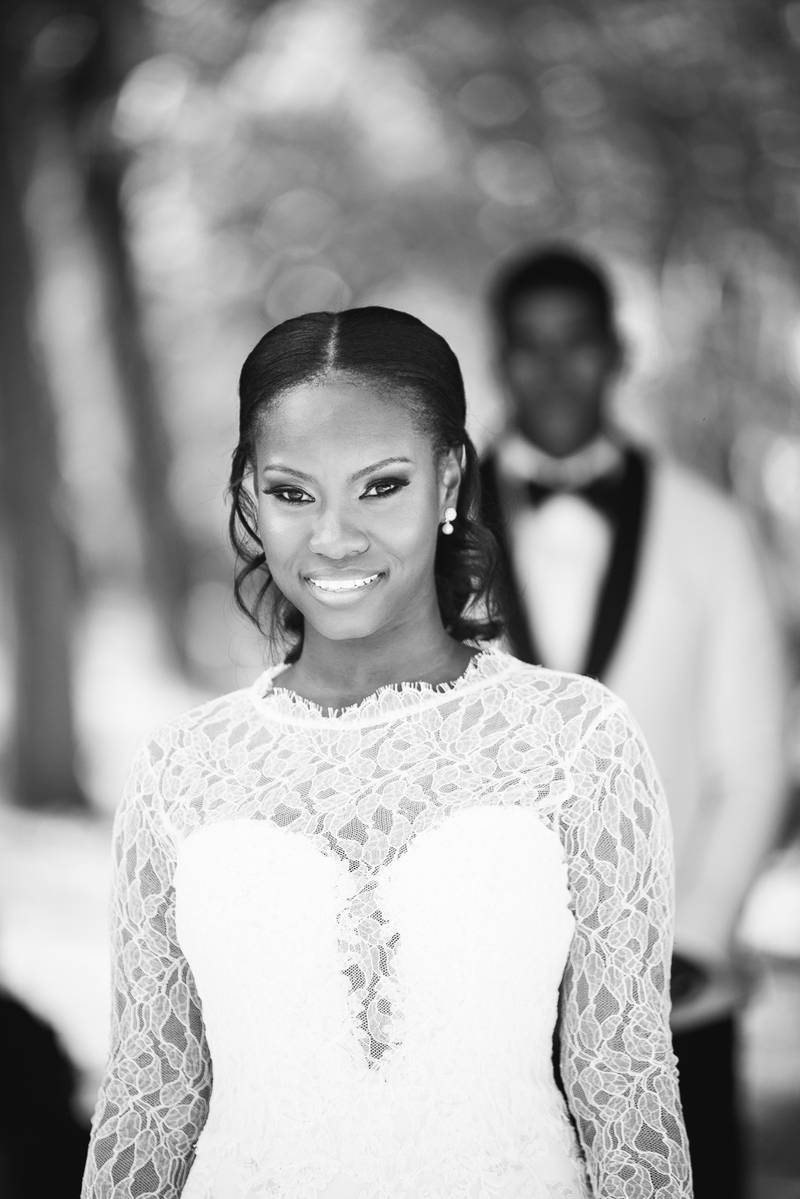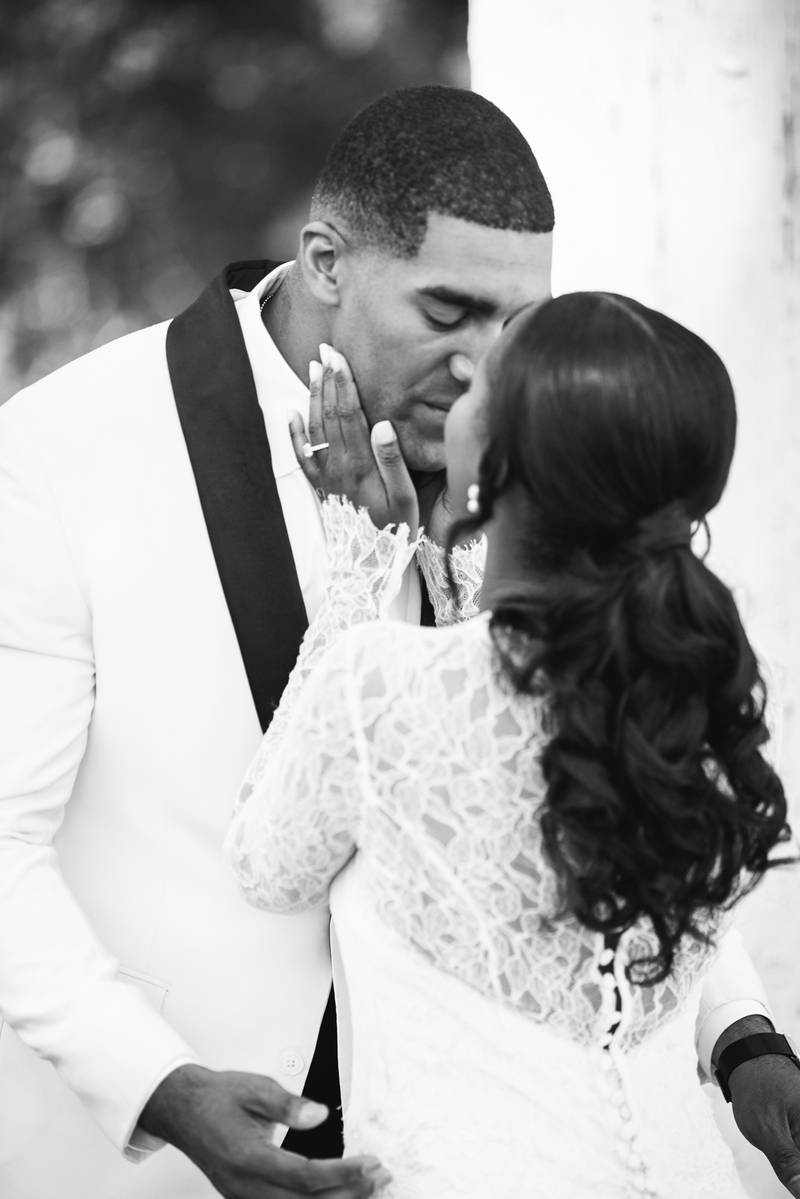 From the Bride:
I was extremely happy. I took everything in, because I knew this moment would never come again. I also felt God's presence. He brought us through so many things to get us to this point to become one. Needless to say, I felt very thankful.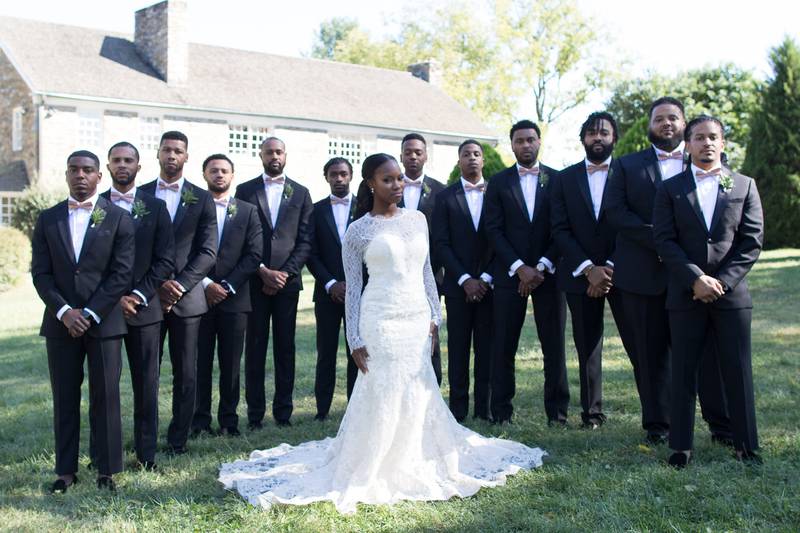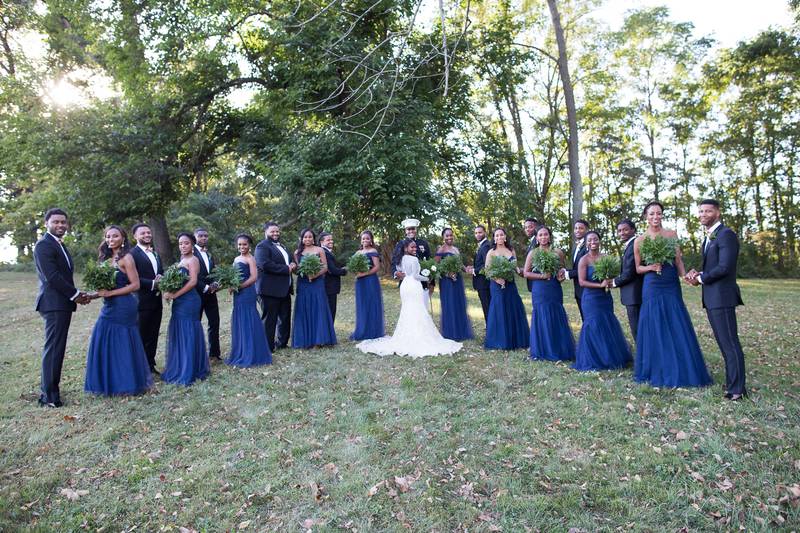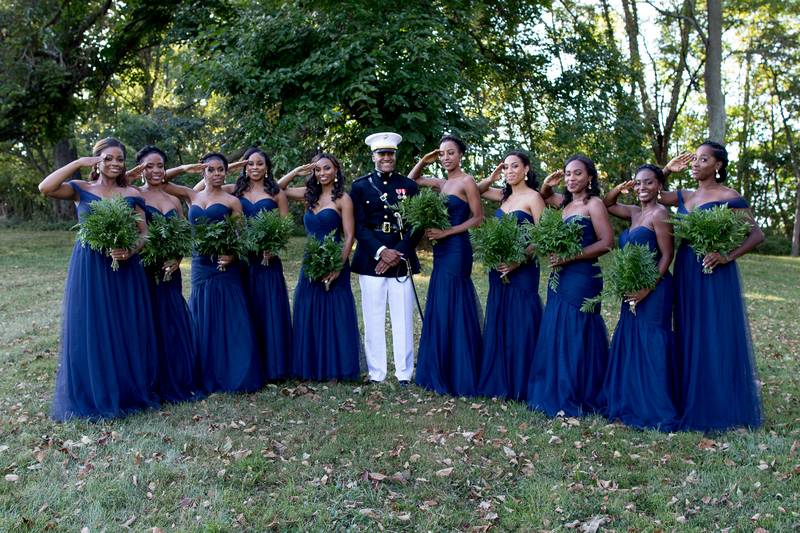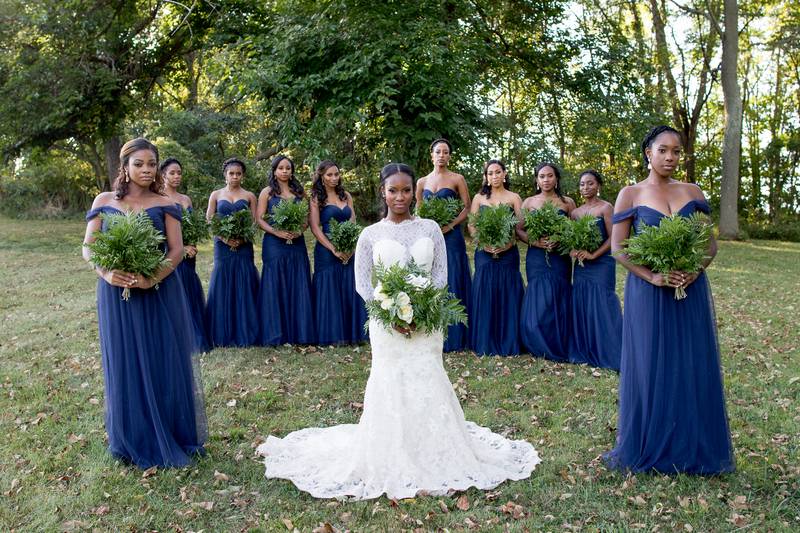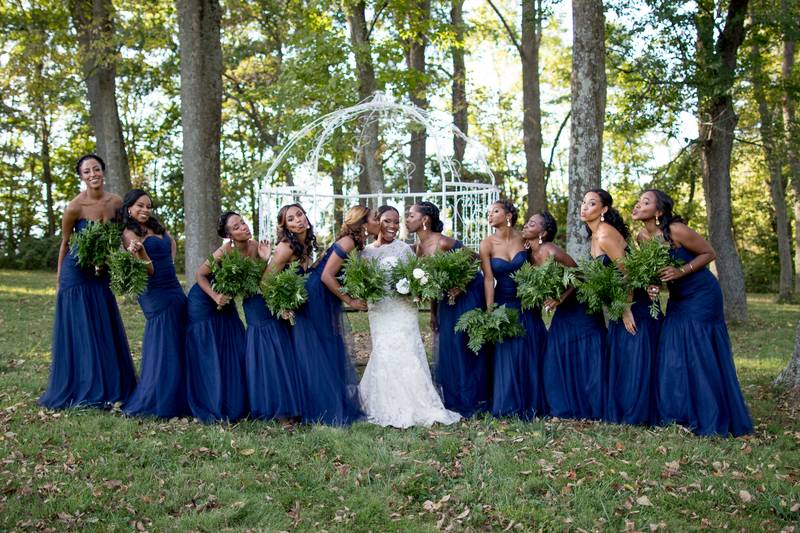 What makes your love special?
The chain of events of how we met. Our friend Ashley, knew all along we were right for each other. We both have worked very hard individually and together in our relationship. I think that is what makes us so unique. We have truly grown together.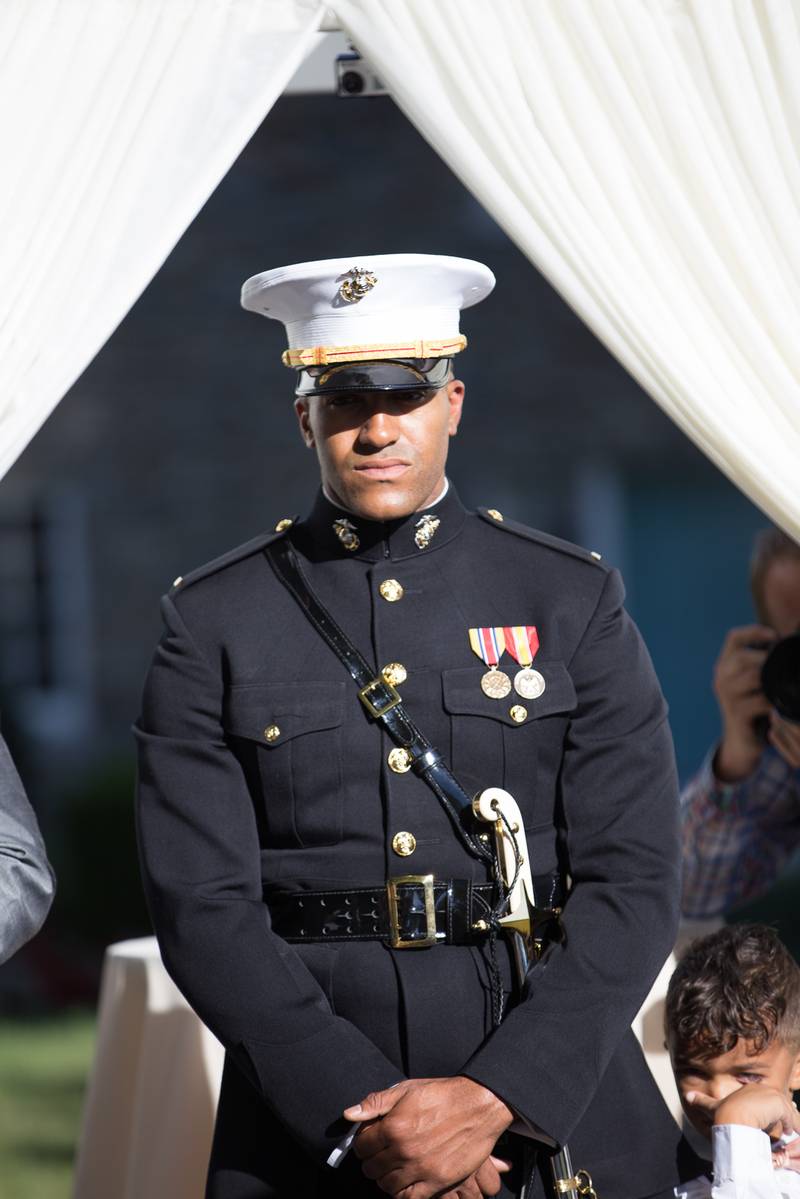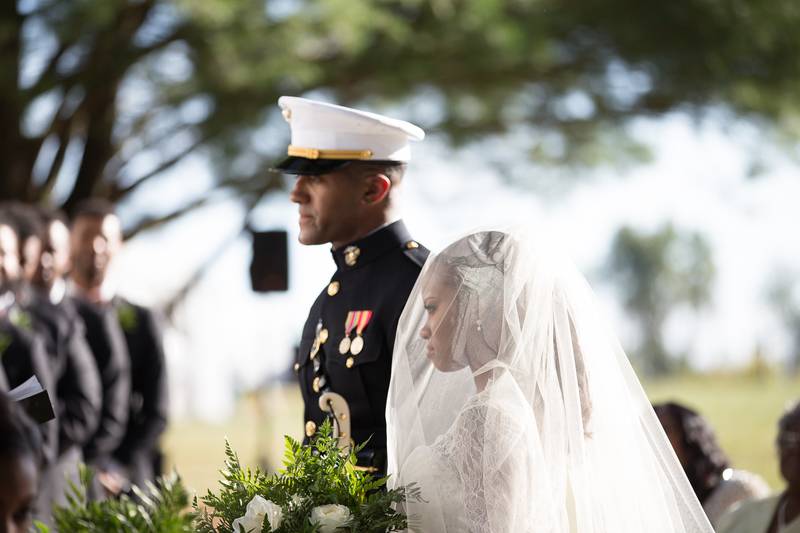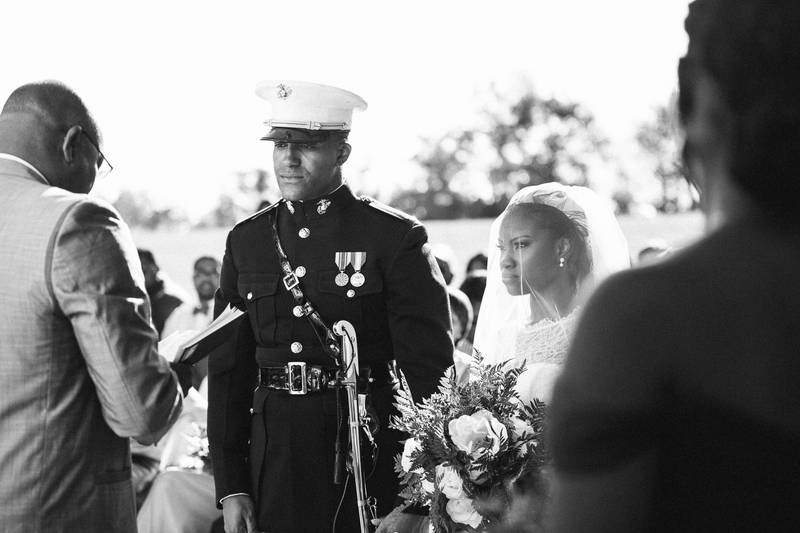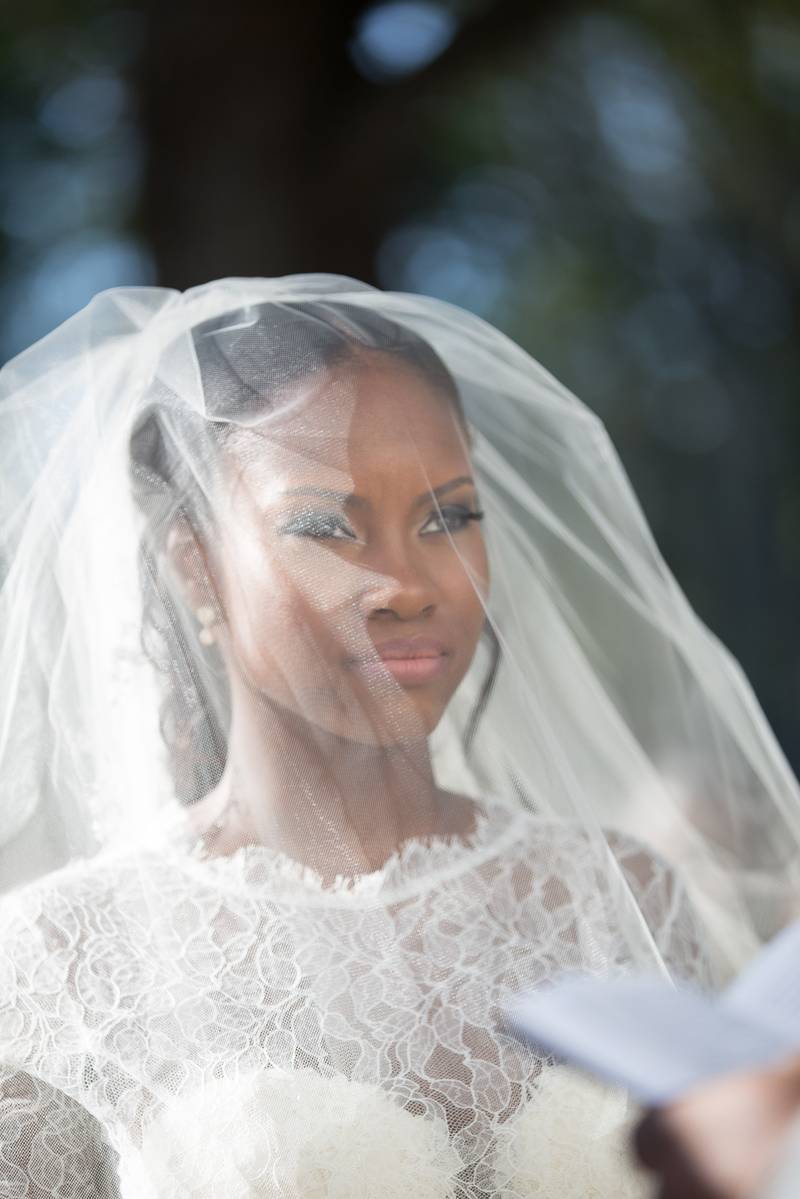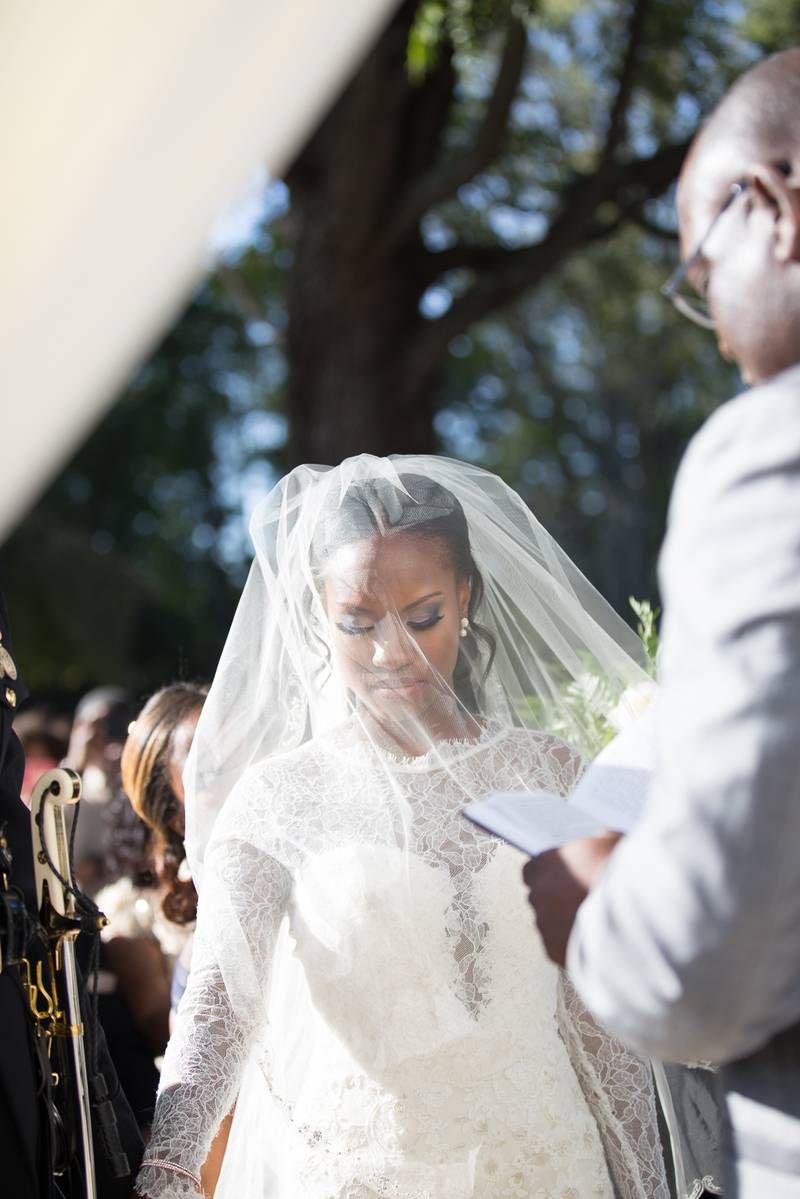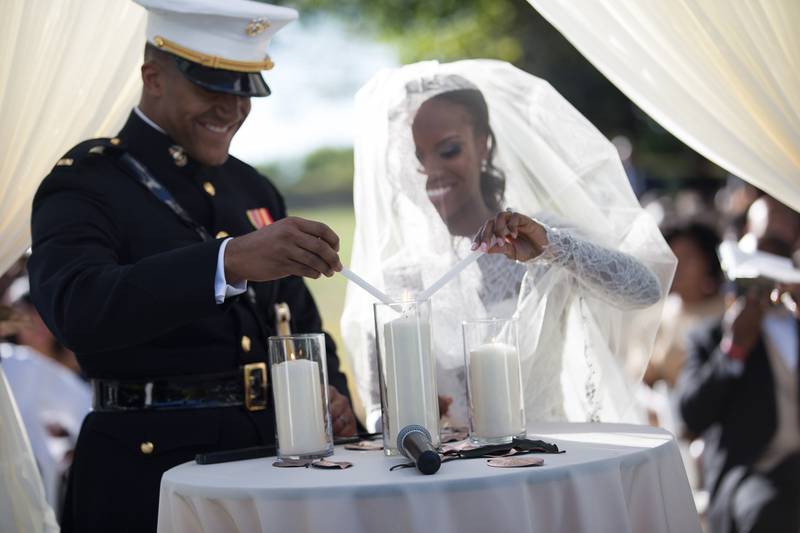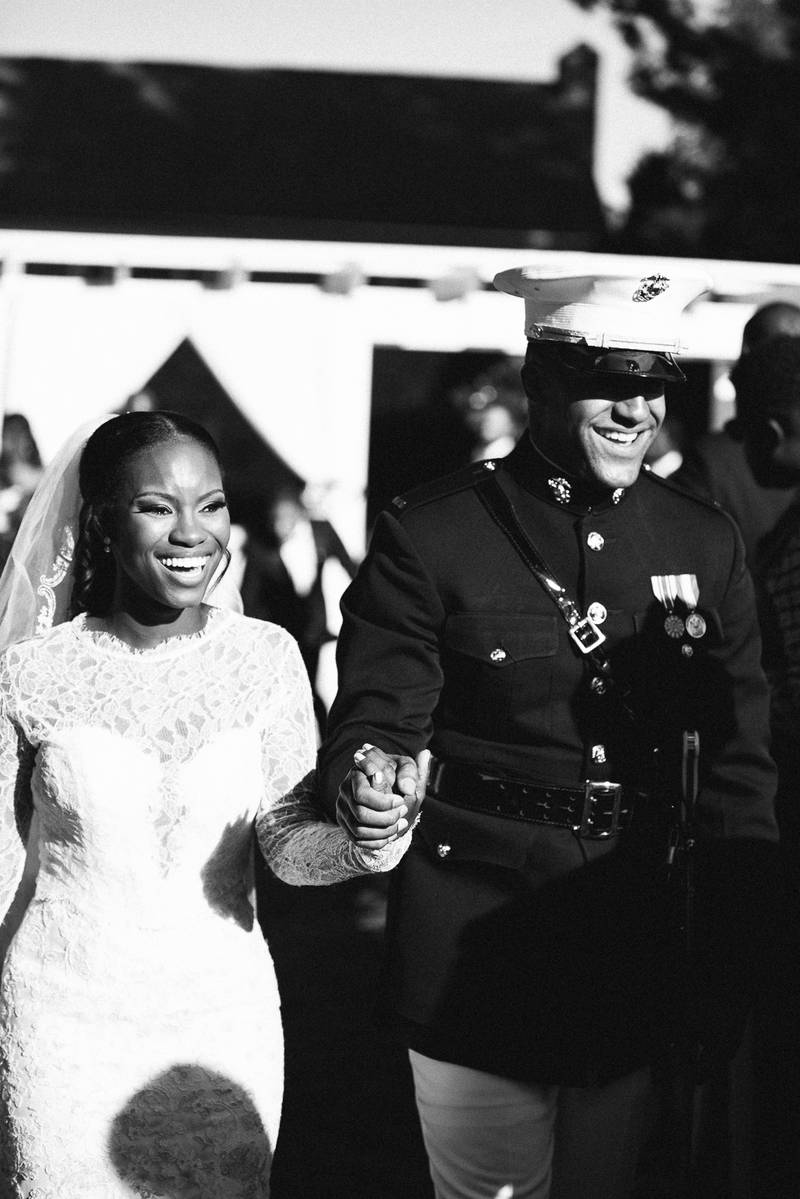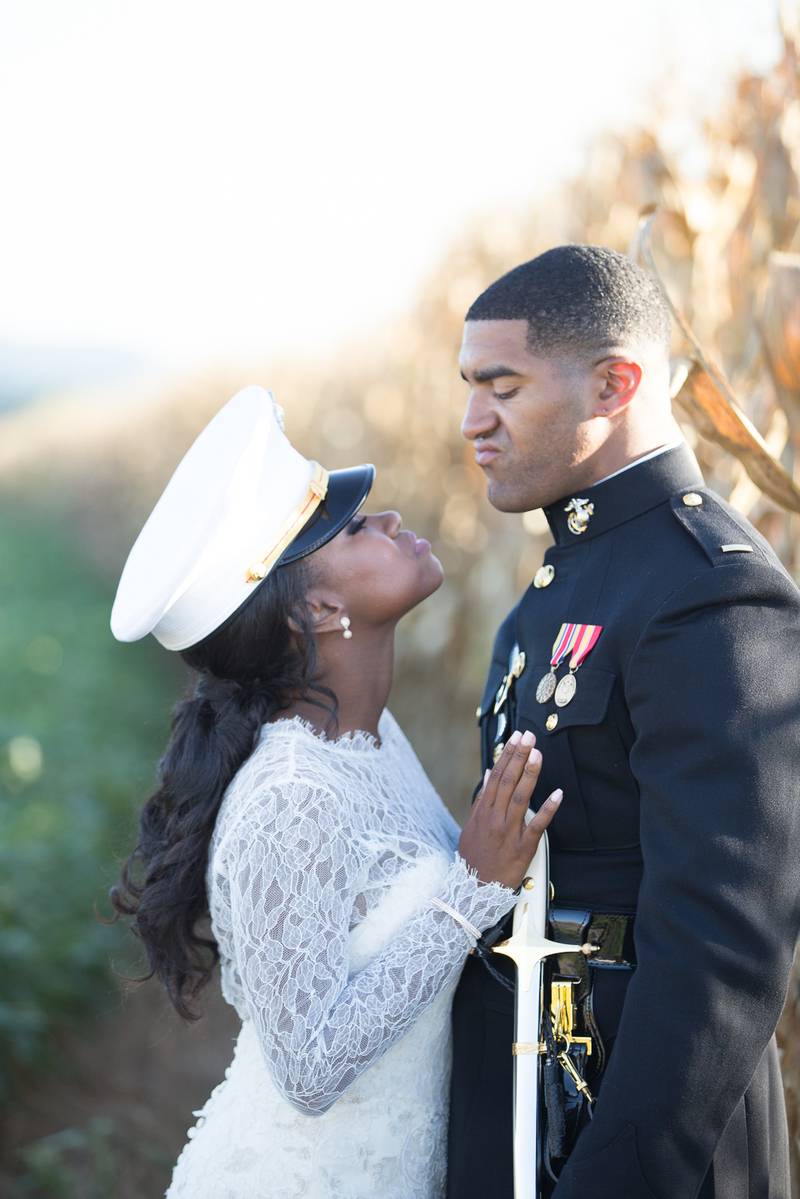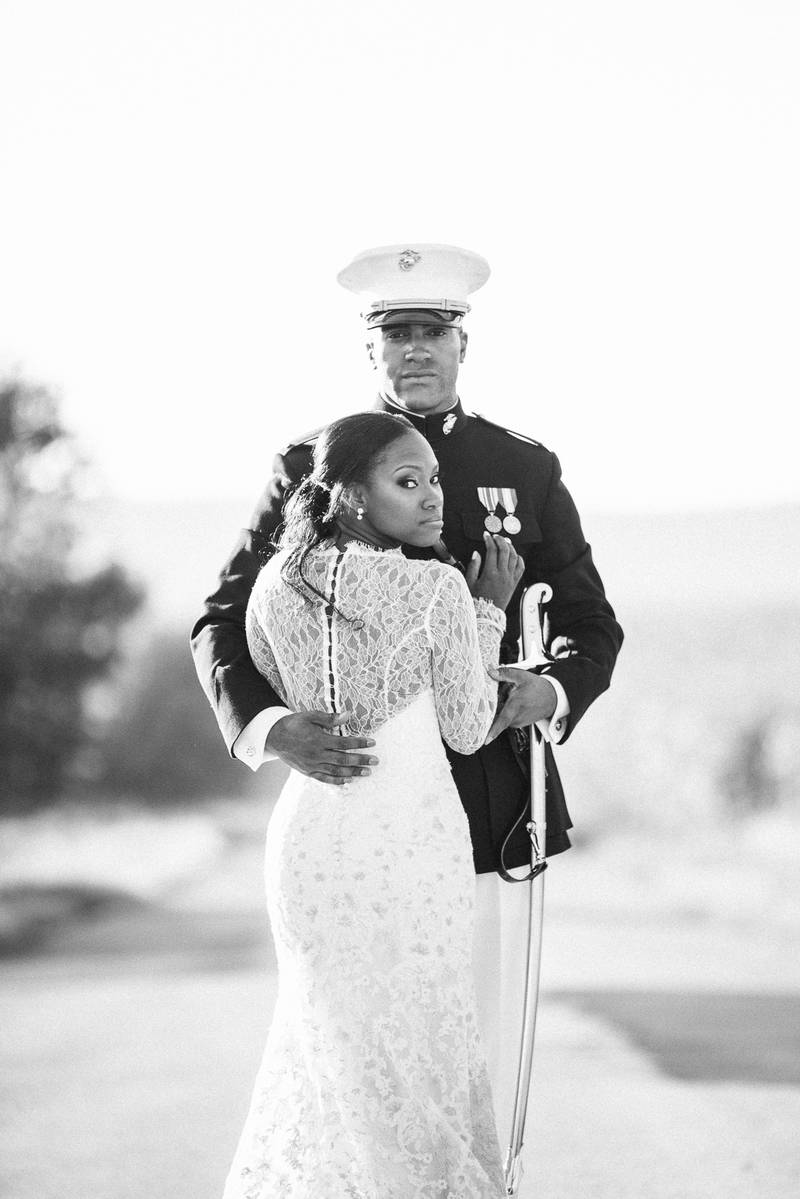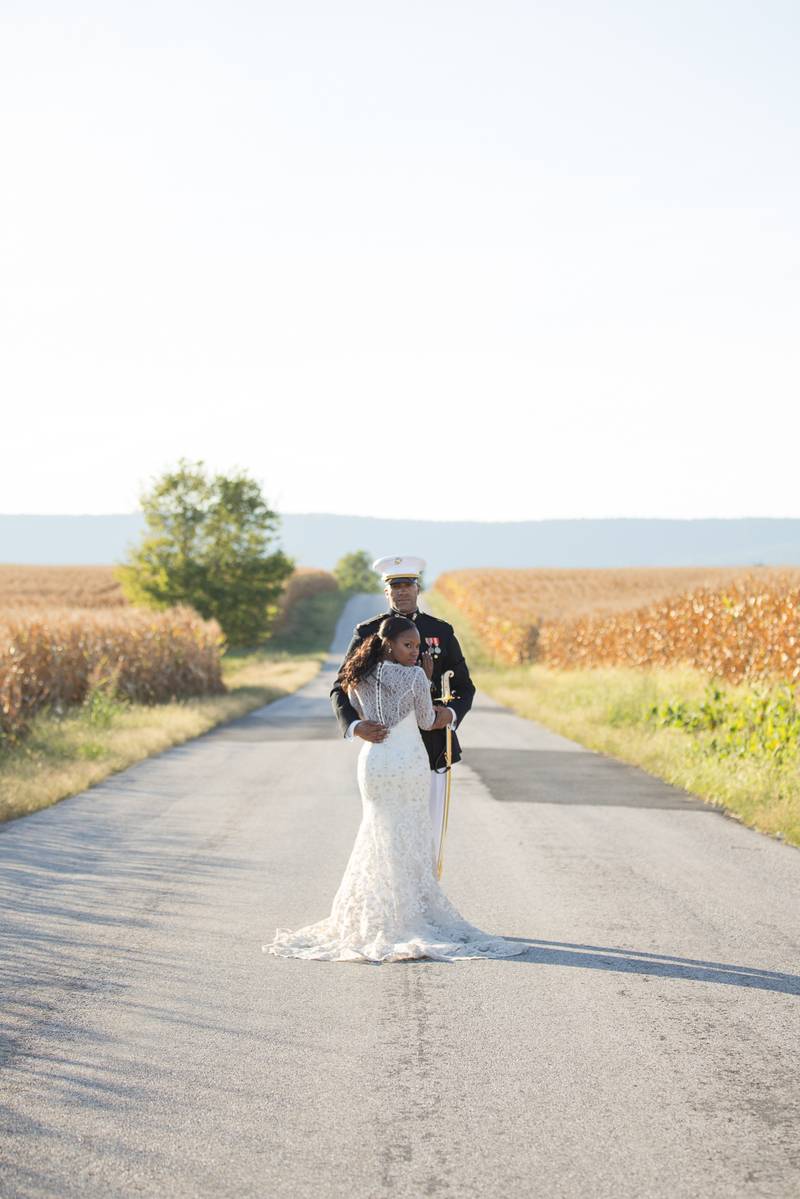 Most memorable moment:
Every single moment was memorable! We loved our photo booth! We loved our first dance. The toasts from the Maid of Honor, Matron of Honor, Best Man, and our parents were amazing! So many tears! We did a second introduction when we changed, that was a lot of fun. The DJ had everyone out of their seat and on the dance floor. For me, dancing with my father and my sorority sisters serenading my husband and me. Lastly, my bridesmaid Deivory prayed for me before the ceremony with my mother, and the bridal party. God was in the room. I have two friends, whose mothers have passed away. When I grabbed my mother's hand, one friend broke down - but not because she was hurting, but because she was overjoyed and overwhelmed by her mother's presence. My other friend, was so strong and able to console her. It was the most exhilarating feeling I ever felt. I felt both of their mother's presence that day. The feeling was truly beyond words. For Carlin, I know he really enjoyed the bonding moment he had with the guys the Saturday before the wedding ( Cigar Pow Wow). It appears that they really addressed keys components of manhood and marriage. The entire weekend was filled with love.
Wedding song:
Our wedding song was "Hey" by King. This song is so romantic and describes exactly how we feel about each other.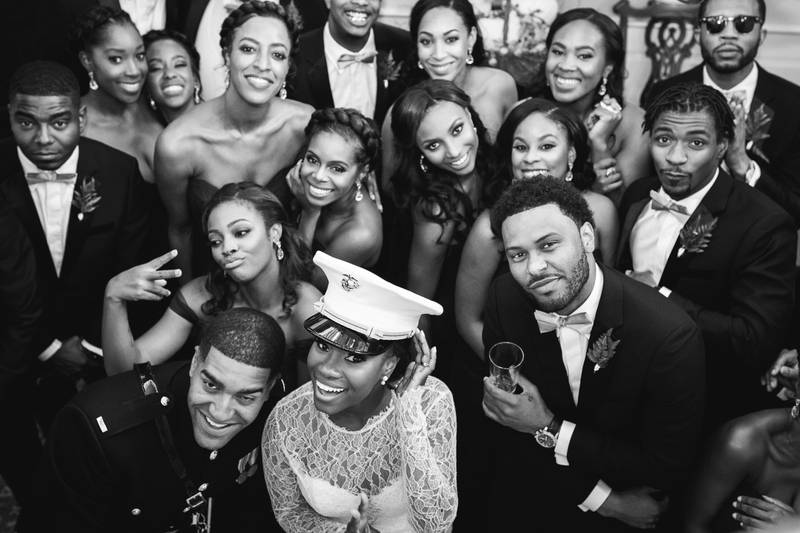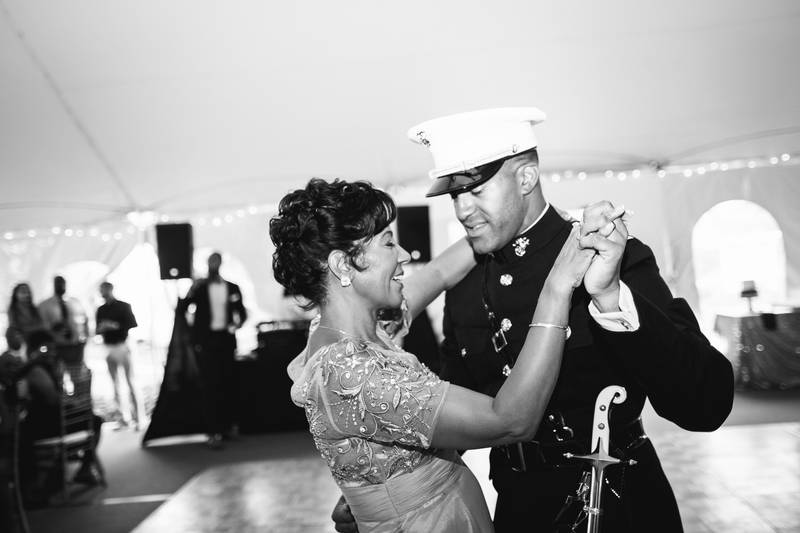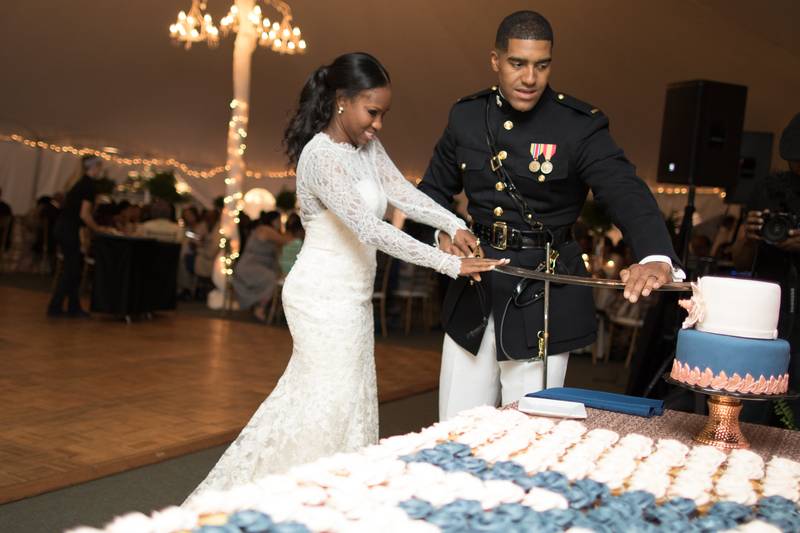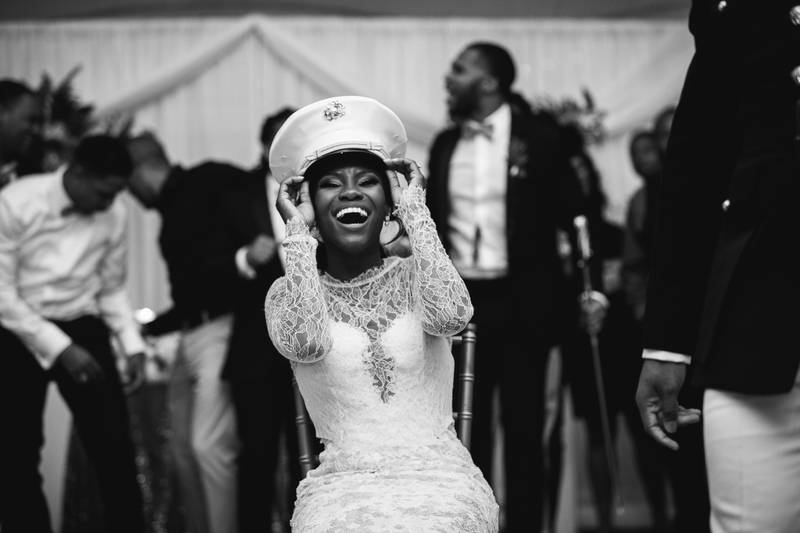 Favorite wedding details:
The food was catered by Carriage House Inn Catering. The food was simply amazing. The entrees were Chef Carved Turkey Breast and Sugar Cured Ham, NY strip Loin with Mushroom Bordeaux Demi Glaze and Vegetarian options as well. Our cake was provided by DivineD'Zine Gourmet Cupcakes n' Sweets.
We had a small two tier cake that was Navy blue at the bottom and ivory at the top, lined in rose gold and one magnolia flower. Then we provided cupcakes for our guests. The flavors were red velvet, cookies and cream and vanilla. The cupcakes were navy and white and they navy cupcakes made a shape of the letter " M. "
The DJ was also so amazing , DJ Premonition kept everyone on their feet. Lastly, the photobooth was the best!
What are you most looking forward to as a married couple?
We recently relocated to Hawaii due to Carlin's new duty station. We are looking forward to living here, exploring and traveling!
Advice for a Bride/Groom on their wedding day:
Save, save, save! If you want to have a wedding, save now. Don't break the bank! People want to have an experience, they want to have a good time and share this moment with you. They never remember the flowers, drapes, or small details. They remember the food, drinks, music, and interactions! Do what works best for you and your pockets. You still have to live after this wedding. It is only one day, but it is one day you'll remember forever.
Congrats to the newlyweds Madison and Carlin! We wish you many more years of wedded bliss!
Vendors:
Photographer: Stephen Miller
Ceremony & reception location: Stone Manor Country Club
Bridal gown: Maggie Sottero from Grace Bridal Atelier
Alterations: Soliloquy Bridal Couture
Bridal party attire: Bari Jay from Bella Bridesmaids
Groom's tux: USMC uniform and Tux from SuitSupply
Cake: DivineD'Zine Gourmet Cupcakes n' Sweets
Favors: Jars of Honey
Day of Planner : Aundraya Boone
Decorator : A Beautiful Space Inc. - Donna Savage
Other event decor & details: Virginia Hall
Music: DJ Premonition
Hair - Cyndi LaJuan
Makeup for Bridesmaids: Chasity Evans & Kelly O. Allen
Makeup for Bride: Vivian Wynter
Flowers: Flower by Tedi
Stationery: Wedding Paper Divas
Videographer: Philip Page
Pre Marital Therapist - Comfort Zone Christian Counseling,
Inc., Dr. Betty Williams