Brandon and Mia have been in the same place at the same time over the last 10 years. On December 11, 2014, Brandon and Mia would officially have a meeting that would change the course of both of their lives. They both found themselves at the annual Booz Allen Hamilton holiday party. While Brandon was working the crowd, Mia was catching up with old coworkers. She was supposed to attend a different holiday party with her new team the following week, but something told her to come out that night. Christie, Mia's friend and Brandon's teammate, invited her to the "after party" around the corner. An hour later, Christie introduced Brandon to Mia. It started with a handshake. The typical length of a handshake is about 5 seconds, but Brandon wouldn't let go. He pulled up a stool and made himself comfortable. Mia wasn't prepared to give Brandon any time that night. He was too nice, too talkative, and too happy - plus he knew everybody there which meant he was also too popular. Despite her reservations, Mia and Brandon engaged in small talk for about 30 minutes, until Brandon asked Mia if she would take a selfie of them. Shocked that a man was asking to take a selfie, she gave him the ultimate side-eye but obliged. After she took the pic, he asked her to send it to his phone since his was dead. As she prepared the text message with the pic, in true Mia fashion she included a sarcastic message that said, "Get a new phone." When Brandon saw she had sent it, he stated "Now I have your number so I can hit you up." Almost three years later, Mia and Brandon will be celebrating their union with a fall wedding. Check out their romantic Washington, D.C. engagement session, captured by Ken Pak Photography
Bride: Mia Rayette Hampton, 33, Organizational Change Consultant
Groom: Brandon Kyle Dickerson, 33, System Engineer Consultant
Place of residence: Northern Virginia
Engagement Shoot Location: Washington, D.C.
Wedding date: September 15, 2017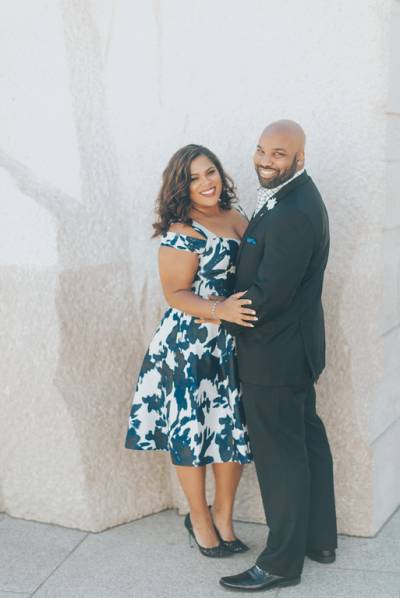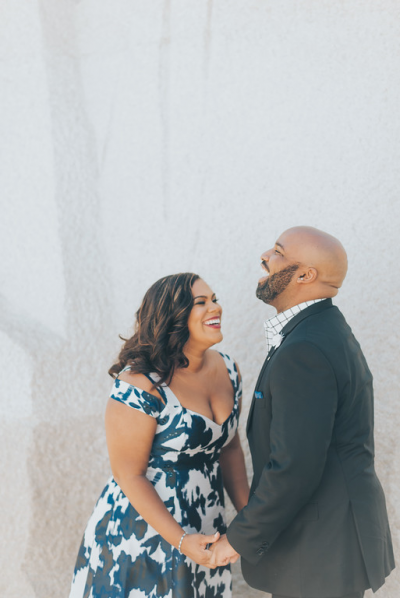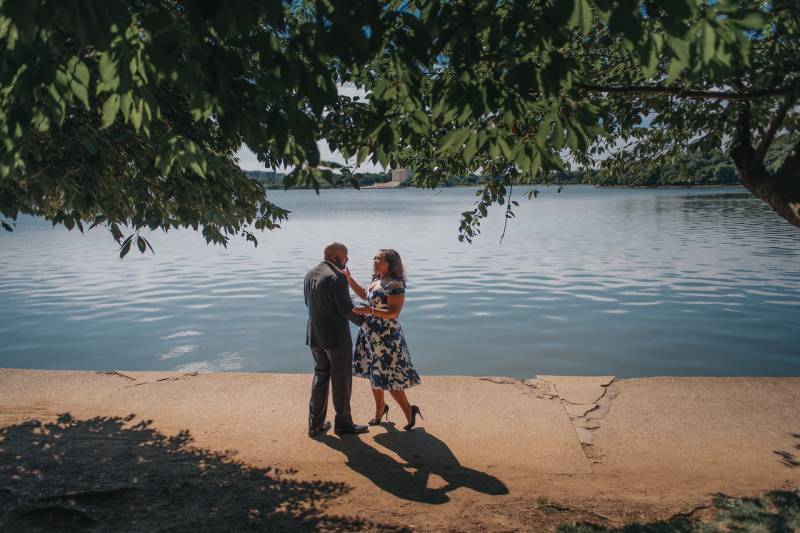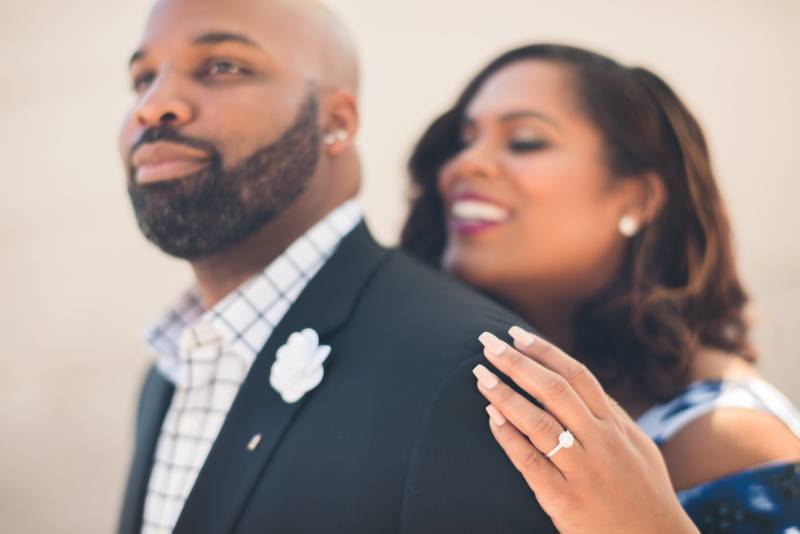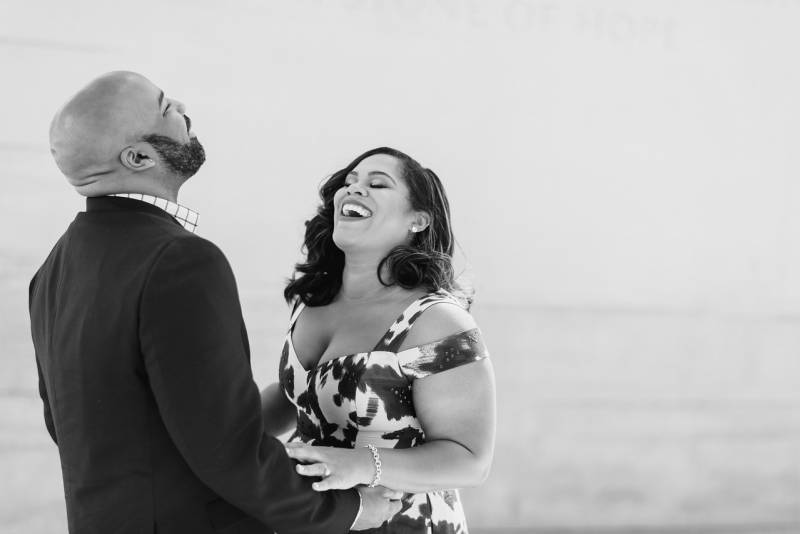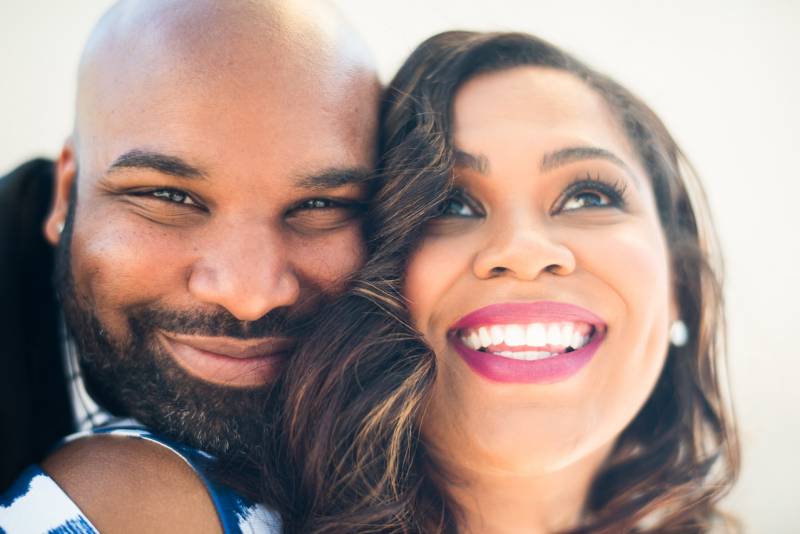 The Proposal Story:
It was May 29, 2016 and I was pretty tired from a late night of partying with Brandon at his friend's wedding. Nonetheless, I got it together (barely) and made it to church on time. Brandon's Mom, Aunt and Grandma would be meeting my Dad and Stepmom for the first time. After church, I planned to run some errands and have lunch with my best friend. Later, I would meet back up with Brandon and his family for a dinner with my family. My friend showed up early to my folk's house and when I proceeded to change into very casual (errand running) clothes, she warned me pretty assertively to keep on my church dress. She proclaimed that since she was wearing a dress, then I should. Made sense to me! We've been best friends since 10 years old - I didn't think anything of her comment. We ate lunch and then headed to Target. In between the locations, she asked if I wanted to stop by the winery since she had to drop something off to her friend. She also stated that she had a wine tasting Groupon. Now, that was weird, because she doesn't like wine. As we arrive to the winery, she is walking pretty fast in front of me. I tell her I'm going to run into the building for the restroom. But, she didn't seem to hear me or chose to ignore me. As we walk up, her friends (who I also knew) said hello and starting taking pictures as I see Brandon walk up from behind the "ruins" brick wall with red roses in his hand. He was nervous and couldn't stop smiling. All I could think was "wait, is this really happening?" Why am I wearing this? My hair is crazy (it started raining too), and oh my goodness by sandals don't go with my dress." He proceeded to remind me of conversations we had about our future. He then got down on one knee and asked me to be his wife. The crowd at the winery cheered, including the man recording from the tree. Afterwards, he set up a photoshoot around the winery with the photographer. I was a little bratty and complained about my hair and lack of heels but everything was absolutely beautiful and perfect. After the photoshoot, we shared a moment taking selfies in the car and reflecting on what just happened. We called my dad and stepmom to tell them the good news and then headed back to his house to pick up his family for dinner. But wait, there's more... We arrived at Belmont Country Club in Ashburn, Virginia for dinner. As I followed my family down the hall to the restaurant, I noticed we weren't going in the direction of the restaurant. Gladys (my stepmom) told me she booked a private table just for this special dinner. When we walked in the private room, the table wasn't set and the room was dim. Gladys acted upset and asked Brandon to check the next room in case we were in the wrong room. As he opened the door, it was silent, followed by a camera flash, and then a hesitant scream of "SURPRISE!" from 60 of my closest friends and family. After the shock, more tears and numerous hugs, we were escorted to the center of the room for a dance. Serenaded by my friend, the lovely and talented songstress, Nina - we laughed, cried and embraced each other even more. The night was filled with more dancing, laughter, food, drinks and a live painting - a gift from some of the guests. It was a beautiful day and one that I will remember for a lifetime.
Click here to view this emotional proposal.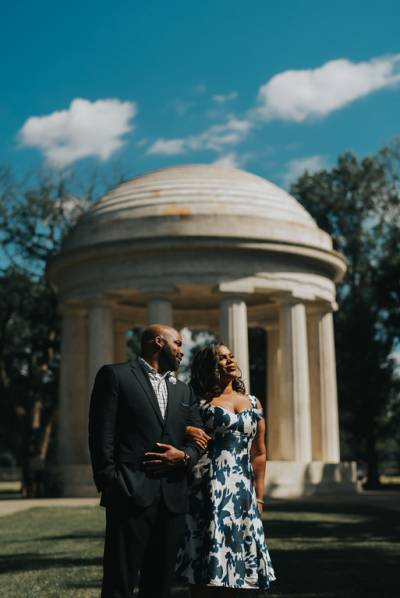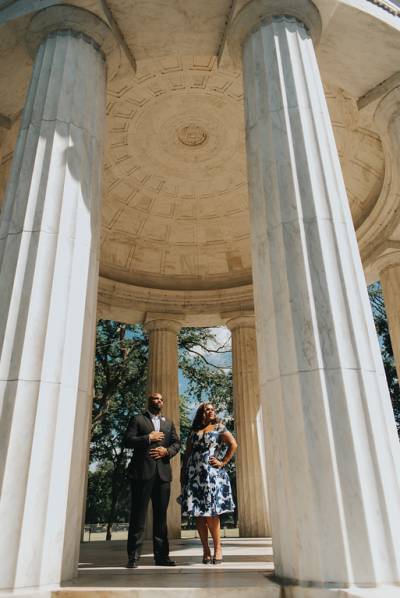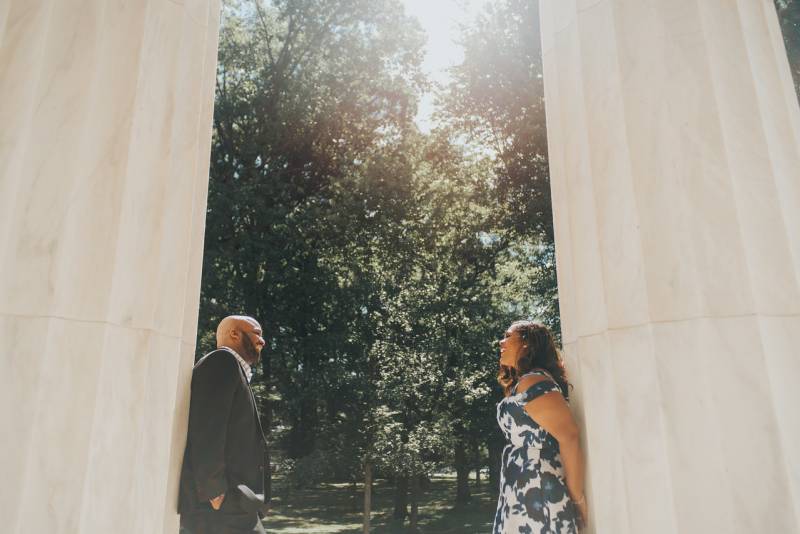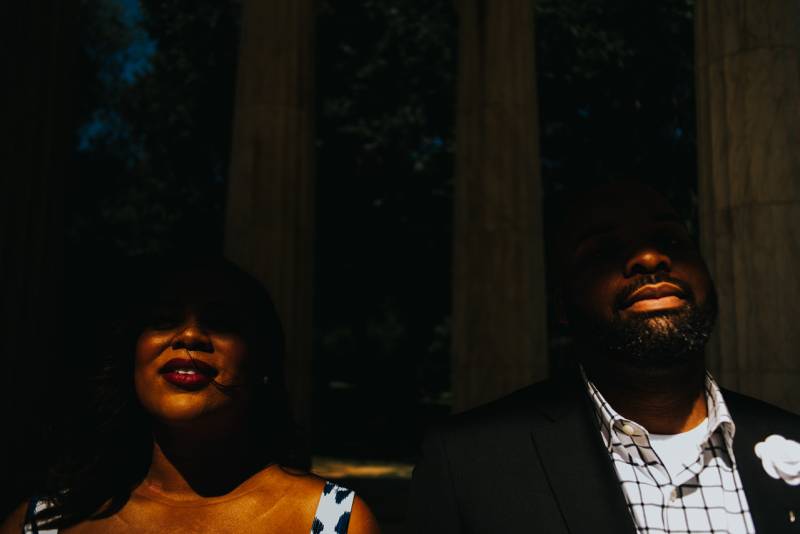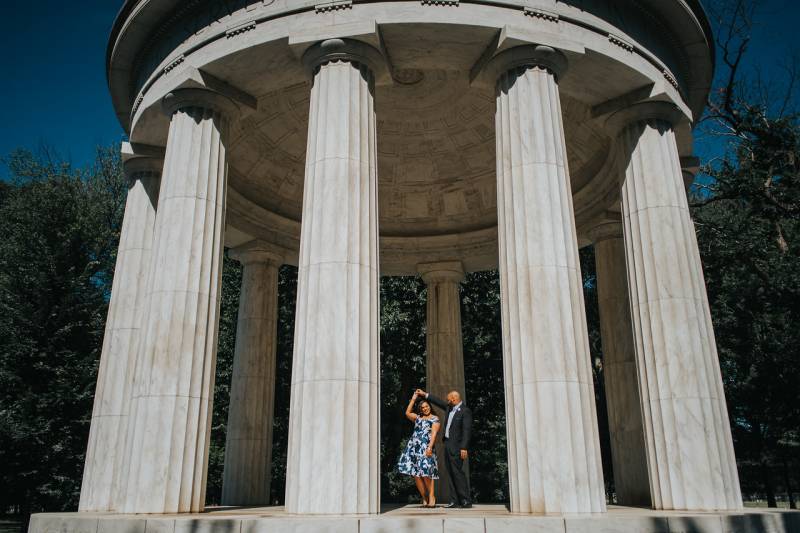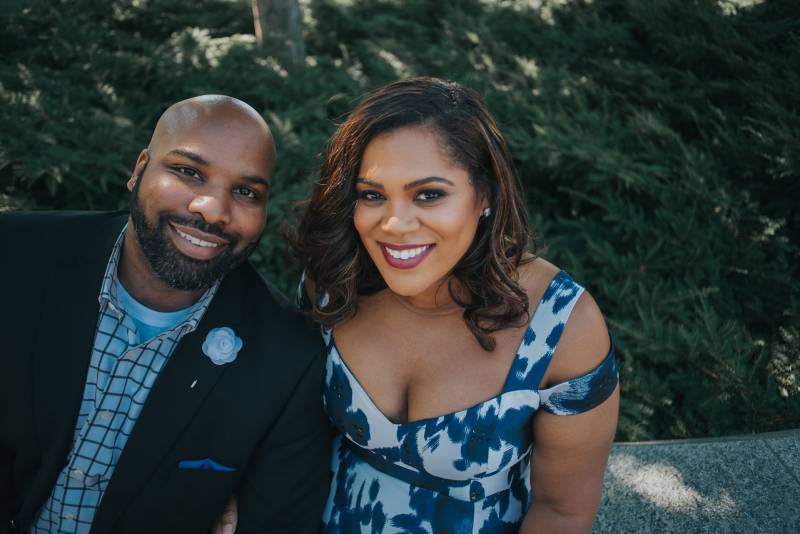 For the Groom: Walk us through the behind the scenes of creating this special day:

I knew I wanted to do something special and memorable for the proposal. In the couple months leading up to the proposal, we had grown close and our relationship was at the point that we both knew the proposal was imminent. I recall Mia asking me playfully on multiple occasions, "when are you going to do it?" My usual response was "you'll never know." However, there was one time we had a conversation about it. I told Mia that the wedding was going to be her show and our marriage is going to be ours. The one thing I could solely control was the way I proposed to her. I told her we will have a life time of memories, and I wanted to create that memory for us. That was my mindset in planning the engagement, I wanted to create memories that will last a lifetime. Once I asked her father for his blessing, I put the plan in motion. I knew I wanted to surprise her. Knowing Mia and the level of anticipation that goes on in her head, I knew I needed multiple levels of deception. I immediately called her best friend to start planning. I knew I wanted to do the actual proposal privately, with just the two of us. Even though I wanted the proposal to happen privately, I knew I wanted to capture the moment. So, I hired a photographer and staged her so that she could get pictures the moment I got on my knee. I used my voice recorder on my phone to capture my words. To keep the surprise, Danni drove Mia to Winery at Bull Run, where the proposal took place. Since Danni was going to be there, we decided she would collect a video of the proposal. I also knew I wanted her to celebrate with her friends and family that's always supported both her and us. I worked with Danni and Mia's father and step-mom to work on the surprise party after the engagement to ensure we got the right people there.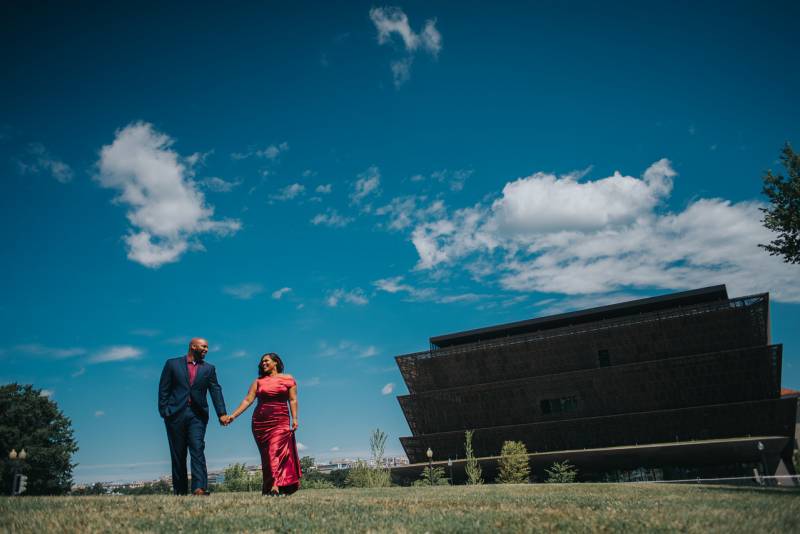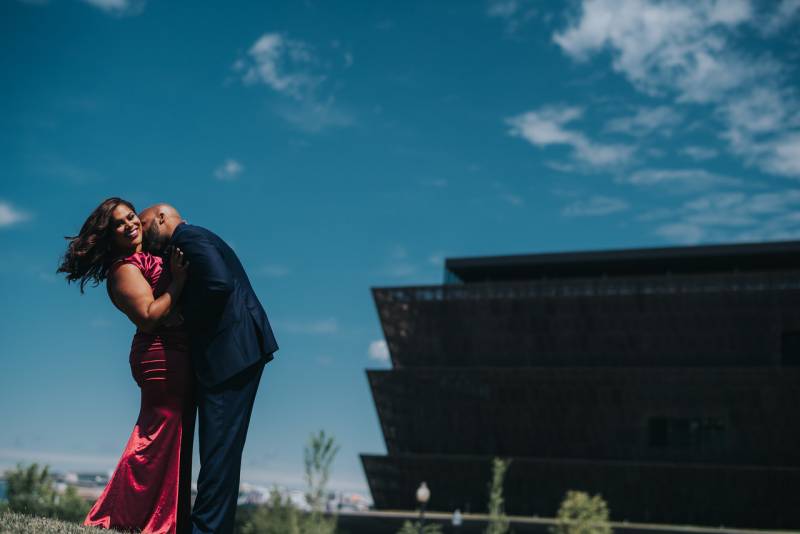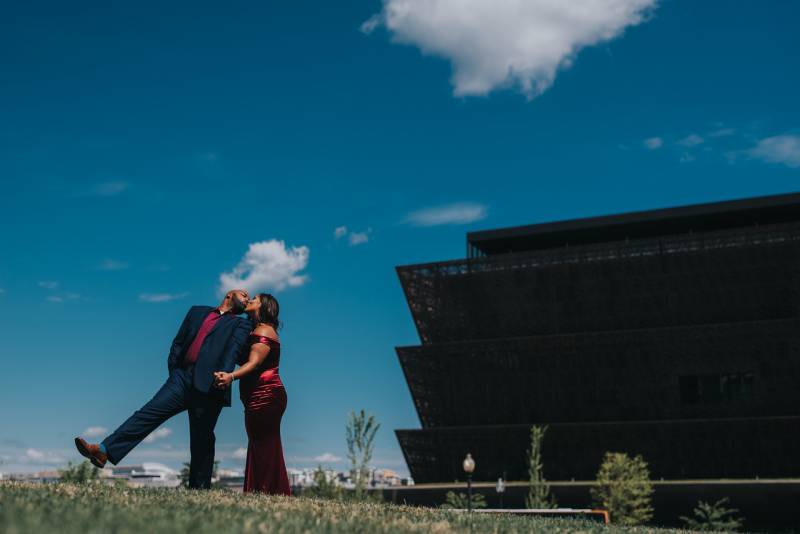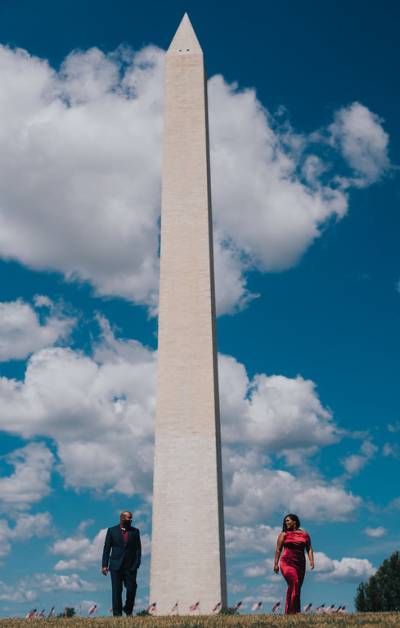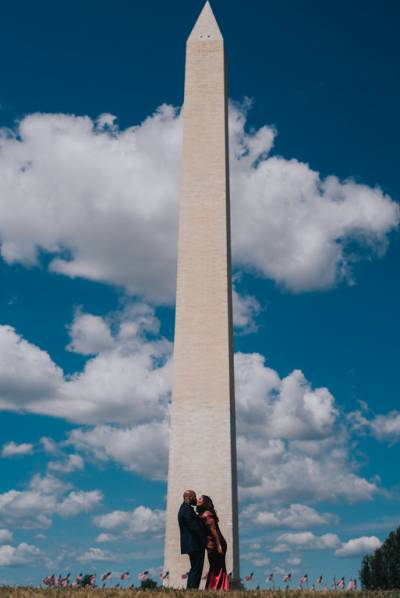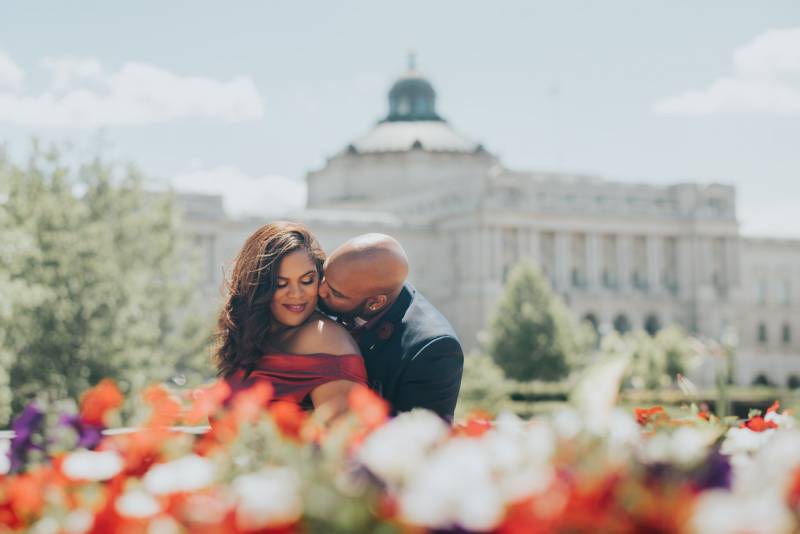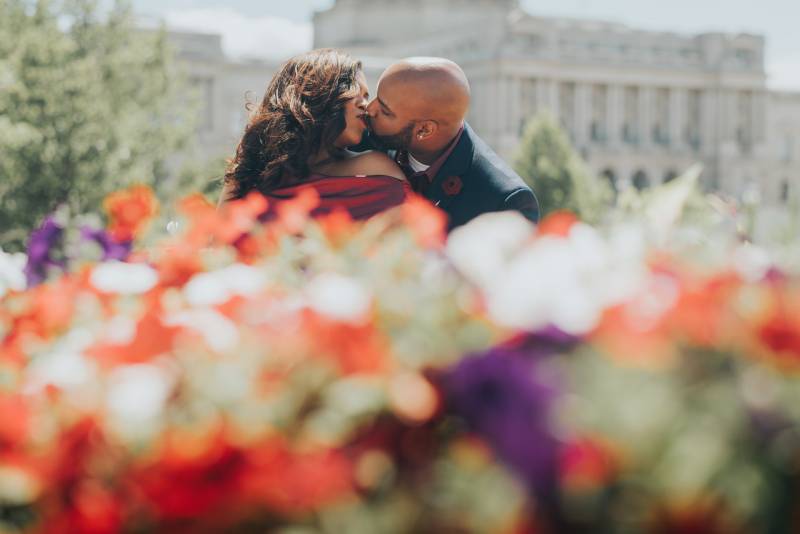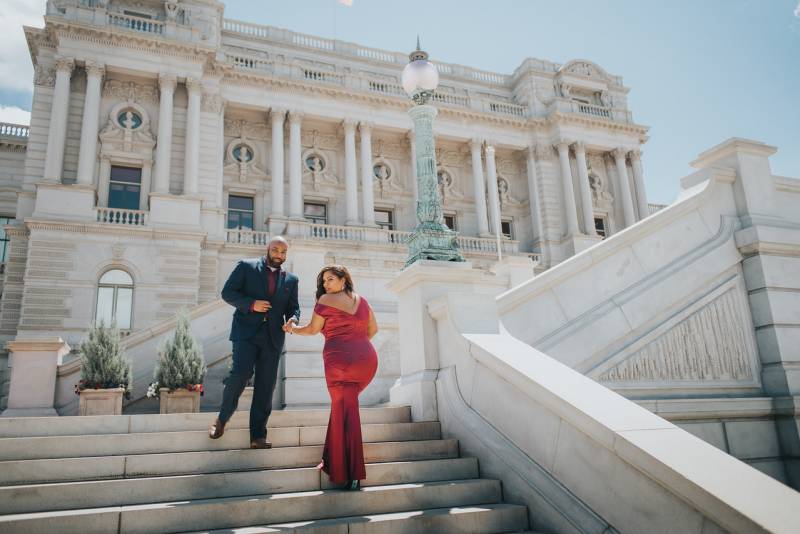 What makes your love special?
We know that this was in God's plan. Knowing that fact, makes all the experiences we've shared and plan to share (the good, bad and ugly) all for a bigger purpose. We also just get each other so well. It's always been easy to love one another.
What was the theme of your shoot?
Oneness. Love. Unity.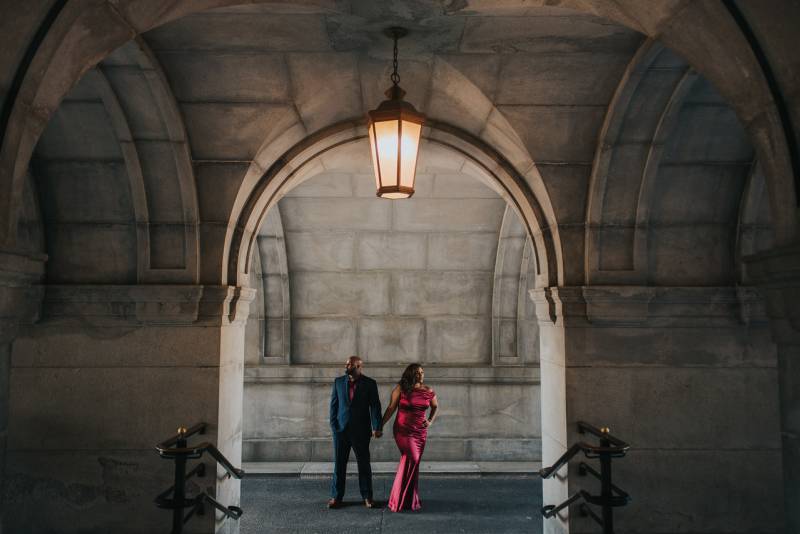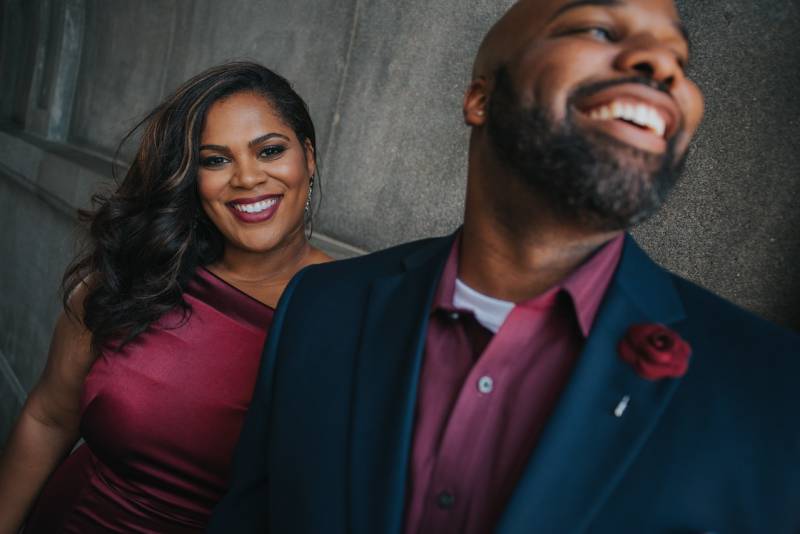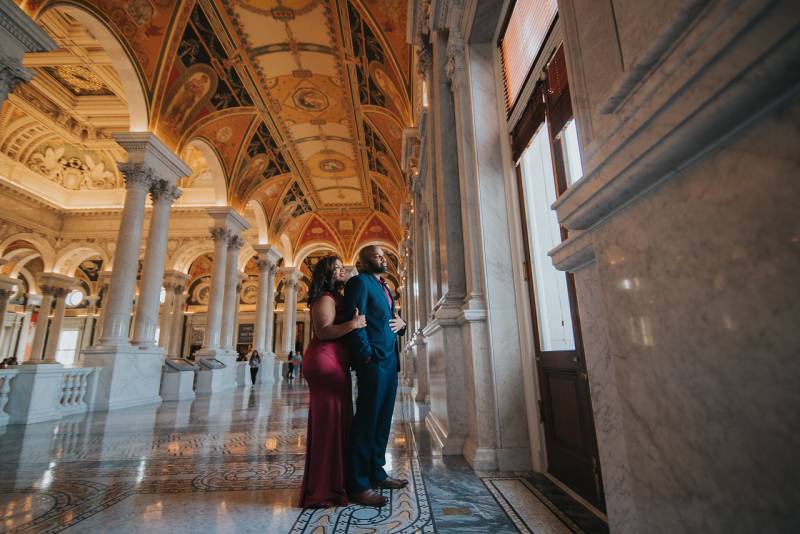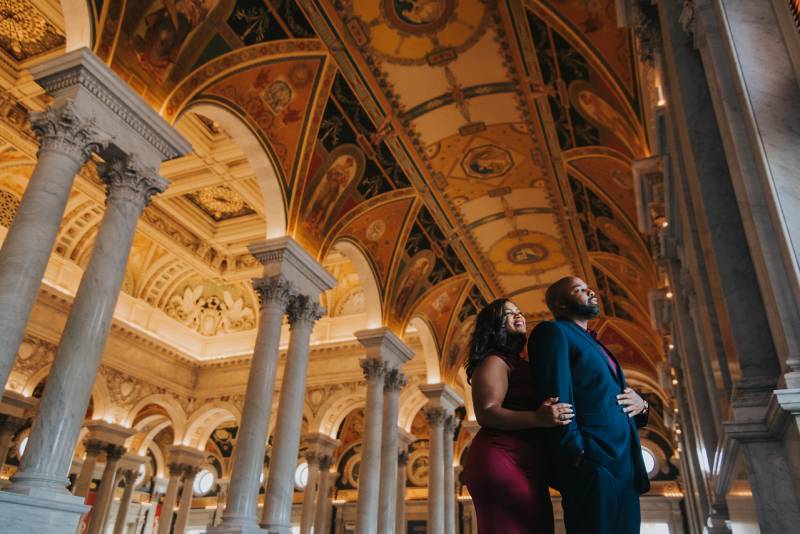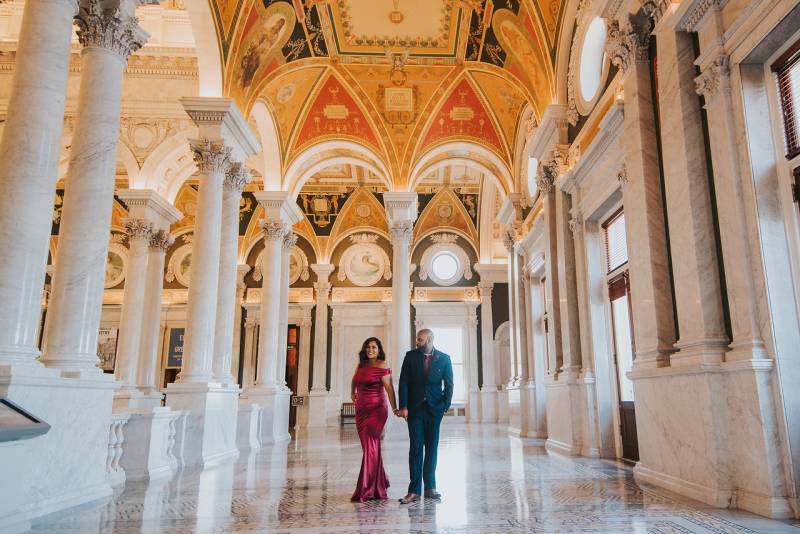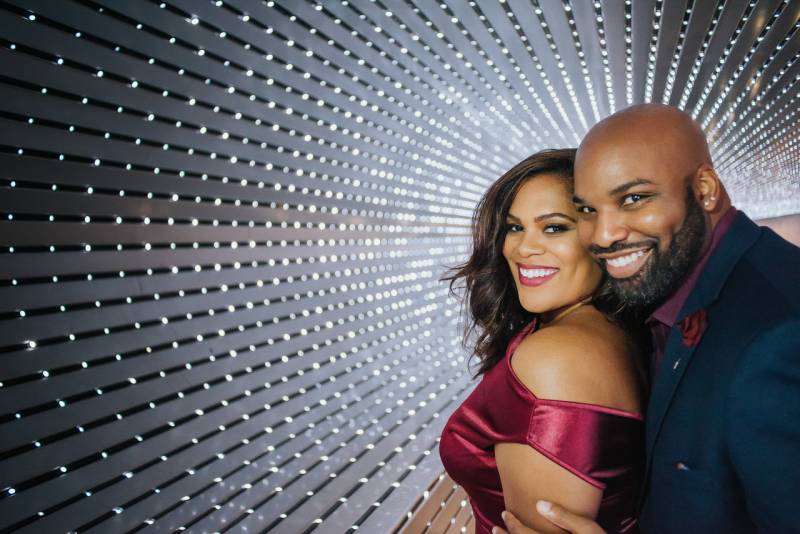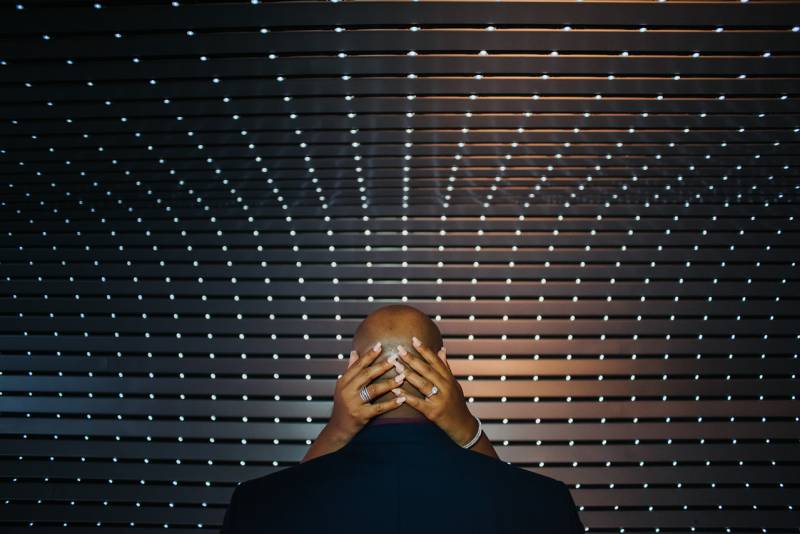 Were there any memorable moments during the shoot?
We knew it would be a long day, so we wanted to keep the energy high and the smiles authentic. The night before we thought of key words and phrases that would make us smile. We promised that when we needed a little boost during the photoshoot that we would say something to make us react. Luckily our photographer wasn't annoyed because we were laughing the entire time.
What are you most looking forward to about your wedding?
Brandon seeing me for the first time and the announcing of "Mr. and Mrs. Brandon Dickerson."
Congratulations to the happy couple! We wish you a wonderful wedding and marriage.