Shadae and Avery met in September 2014 at a local bar in Atlanta through mutual friends. Shadae's best friend and now Maid of Honor, Mimi, was celebrating her birthday; and Avery was invited because he went and Mimi attended Georgia Southern University. The party was a hit, and it gave Shadae and Avery the opportunity to speak candidly. Since that first chance encounter, Shadae and Avery have been joined at the hip and have loved every moment of it. A little over three years and they're now ready to take the leap of faith to join hands together as husband and wife! To celebrate the occasion, Shadae and Avery scheduled their glam engagement session at the Millenium Gate Museum in Atlanta, Georgia. Check out their special day, captured by Sima Photography Studio.
Bride's full name, age and occupation: Shadae Diaz, 26, Hairstylist
Groom's full name, age and occupation: Avery Green, 26, Professional Freight Relocator
Place of residence: Atlanta, Georgia
Engagement Shoot Location: Millennium Gate Museum
Wedding date: August 11, 2018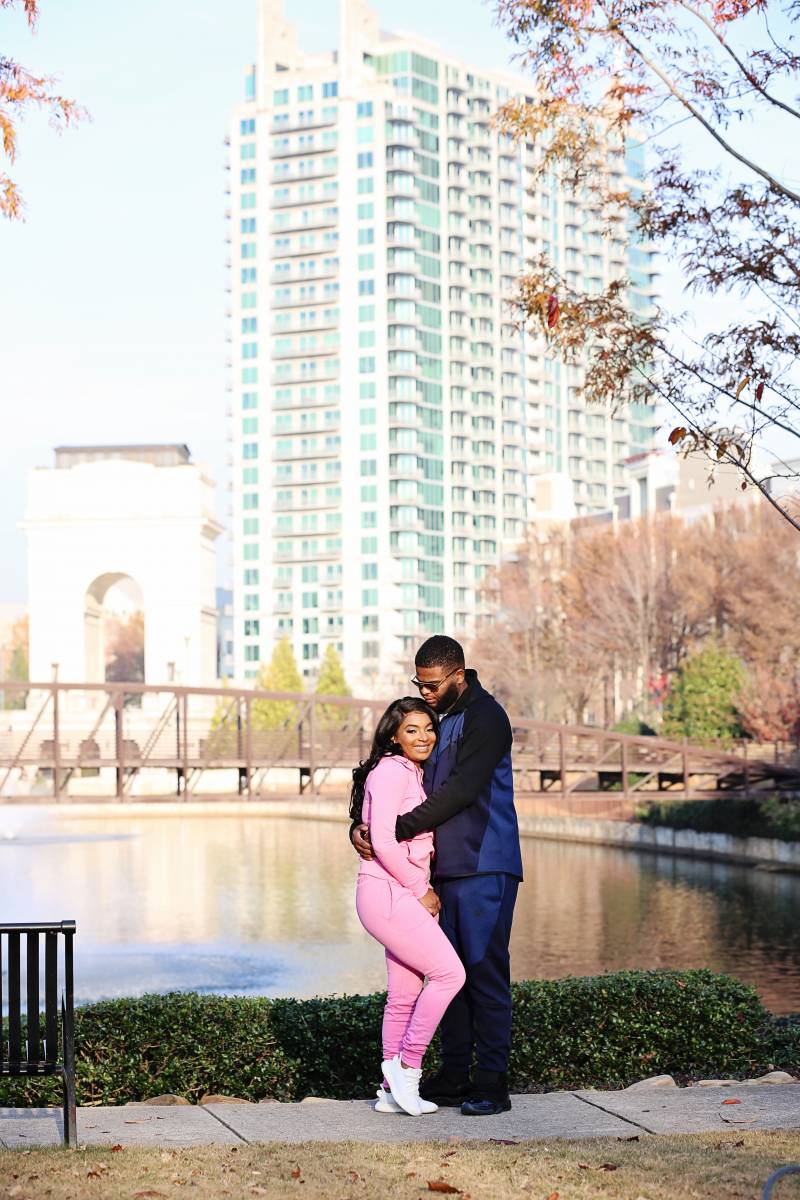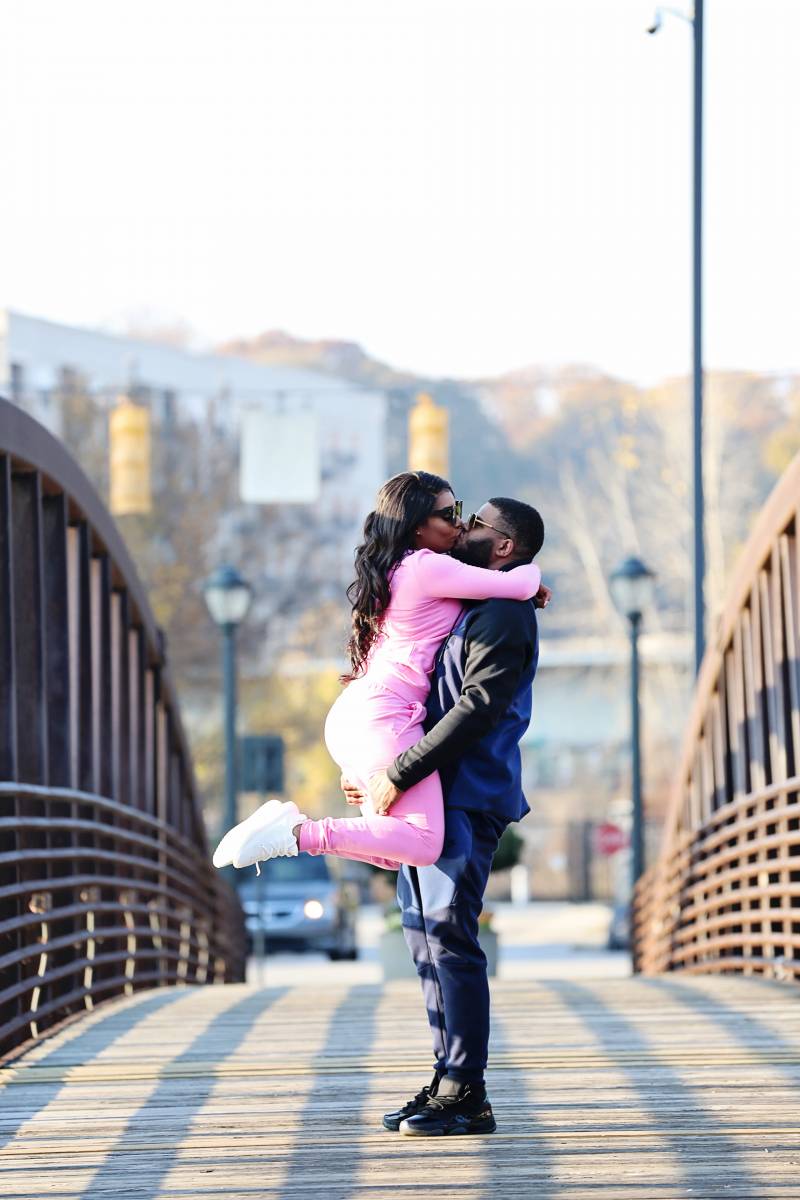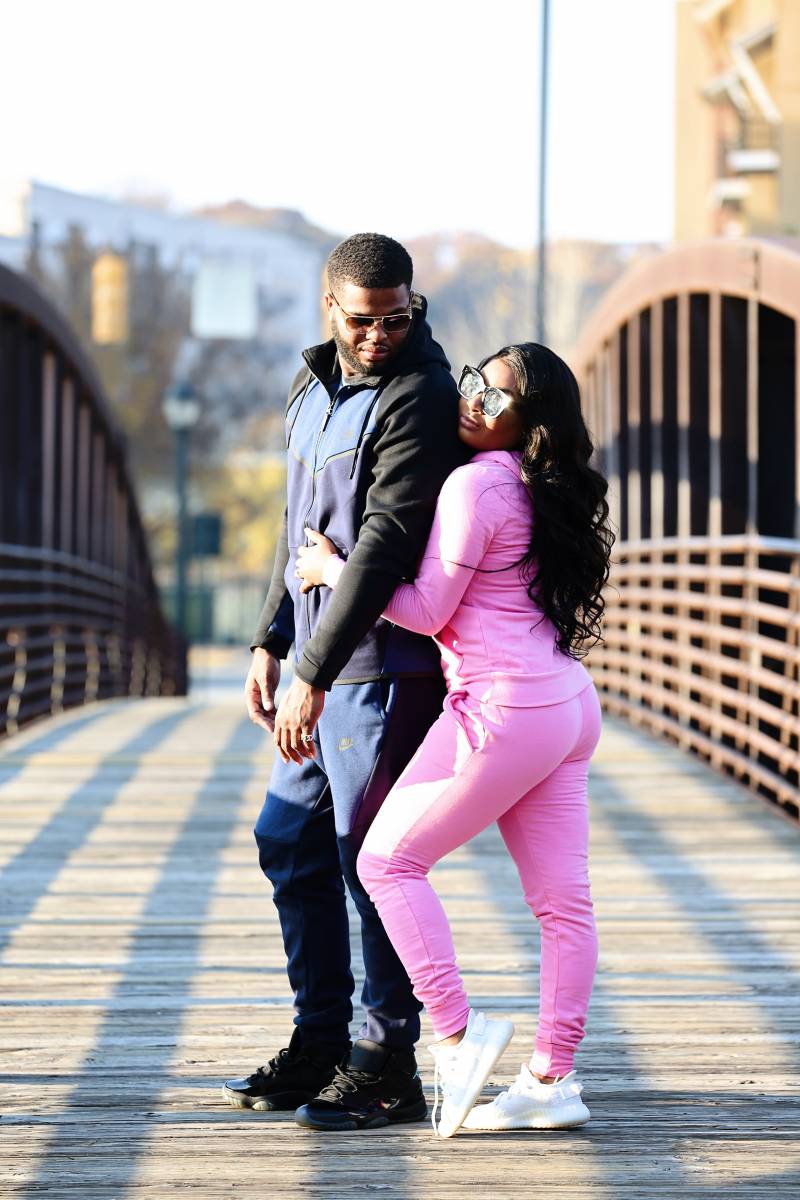 Engagement story:
My Fiance and I were in the Dominican Republic celebrating our two-year anniversary, and every time we go out of the country, we schedule a candlelight dinner on the beach. So per usual for our anniversary night, we got dressed for dinner at 8 p.m. on the beach. This was at a different resort so we decided to head out at around 7:30 to make sure we arrived on time. It had rained earlier but was not raining when we were
scheduled to eat and we had not heard of the dinner being rescheduled, so we
figured everything was going to be alright.
We arrived at the beach and it was night time so it was pitch black. It seemed darker and scarier than normal since we were not familiar with this resort. We walked up and down the beach with no site of a candlelight dinner. I had heels on so immediately I got frustrated. We noticed some locals hanging around but no hotel security or anything so we decided to head back to the room and call. The resort was pretty big and the concierge at the front of the hotel was very far away. On the way back, I
decided to call the front desk and ask what was going on with our reservation. I was told to meet at the restaurant by the beach and they would explain. Avery got so very upset (he hardly ever gets mad) and I was not sure why he was reacting this way.
Long story short, the restaurant scheduled us for dinner inside that evening because of the rain that happened earlier and no one told us. We met our family at
the French restaurant in the resort and just decided to eat with them. It was amazing despite all the confusion earlier. Afterwards, I wanted to go to the room and take my heels off to get more comfortable, but everyone insisted we go check out the party going on inside the resort. I agreed and as I overlooked the balcony, all of a sudden the music stops playing the host of the party is calling my name on the microphone. I was looking down and everyone in the party was looking up at me! I turn around and Avery was bent down on one knee asking me to marry him in front of everyone. I was so shocked and very happy! I didn't even get to take my heels off! I cried all over my baby blue dress and the host said congratulations. It was magical.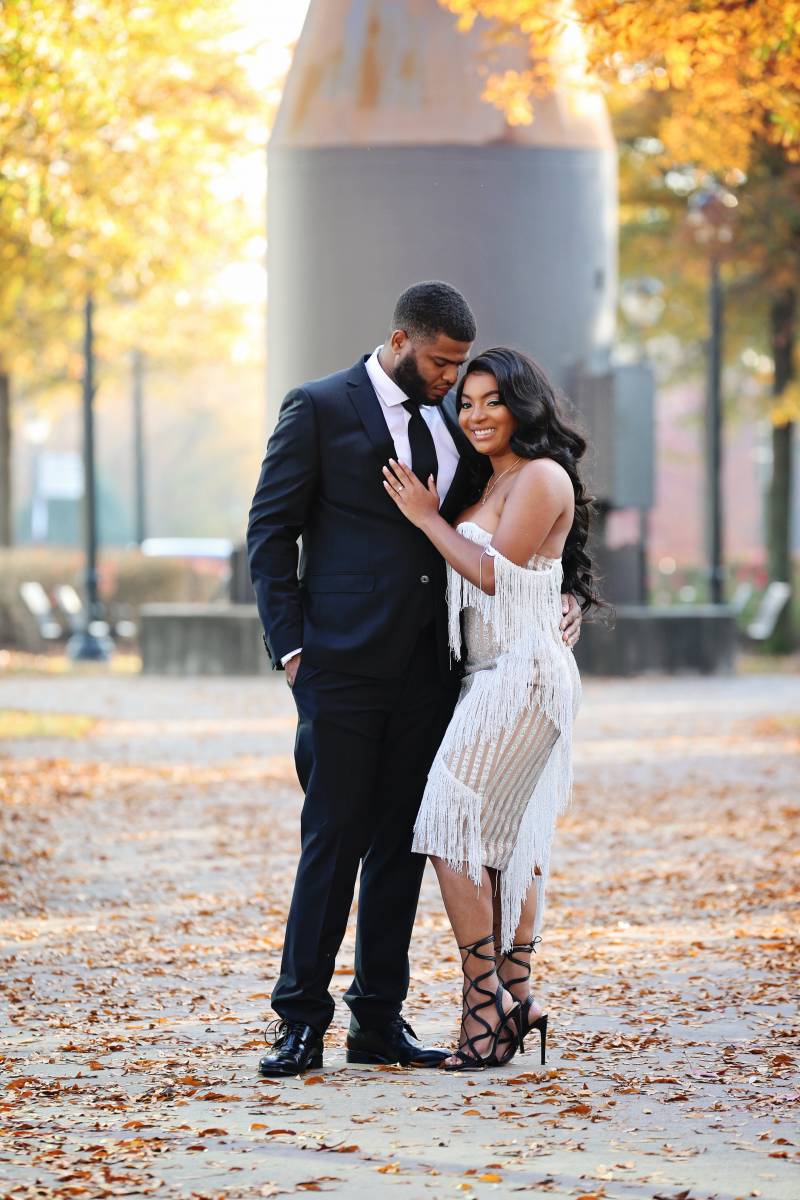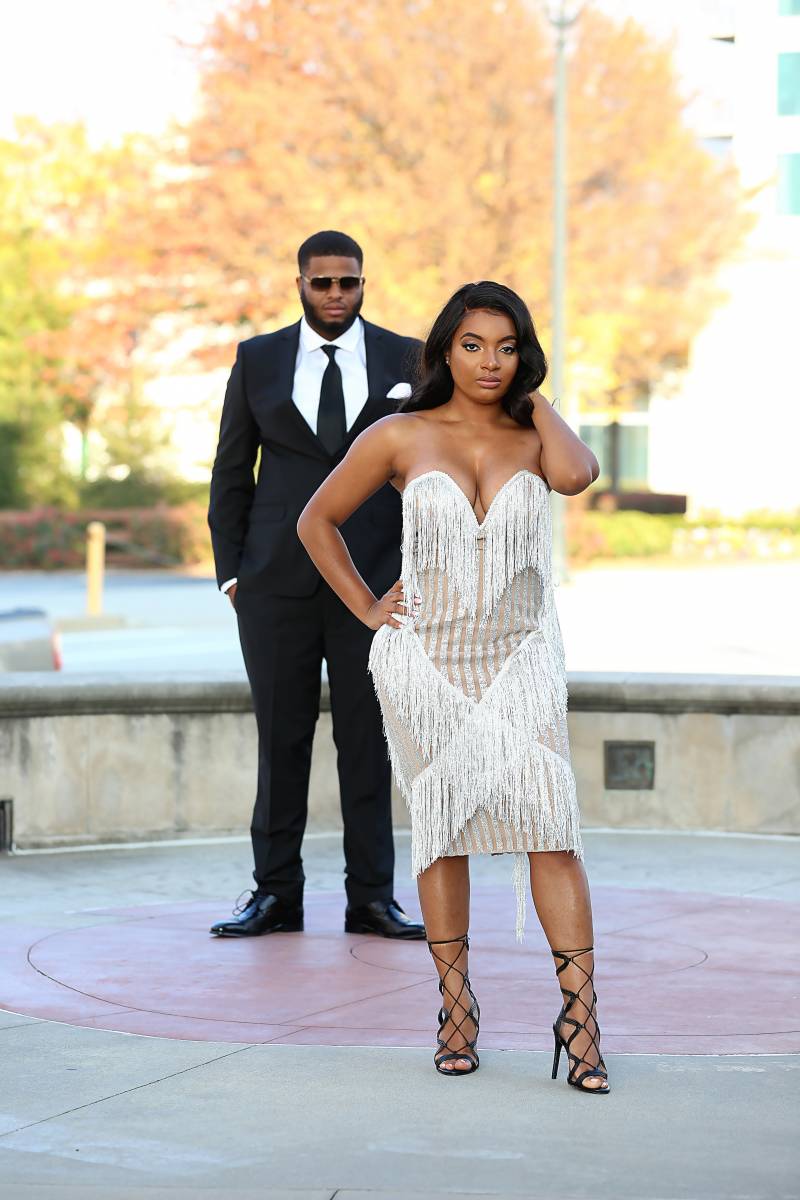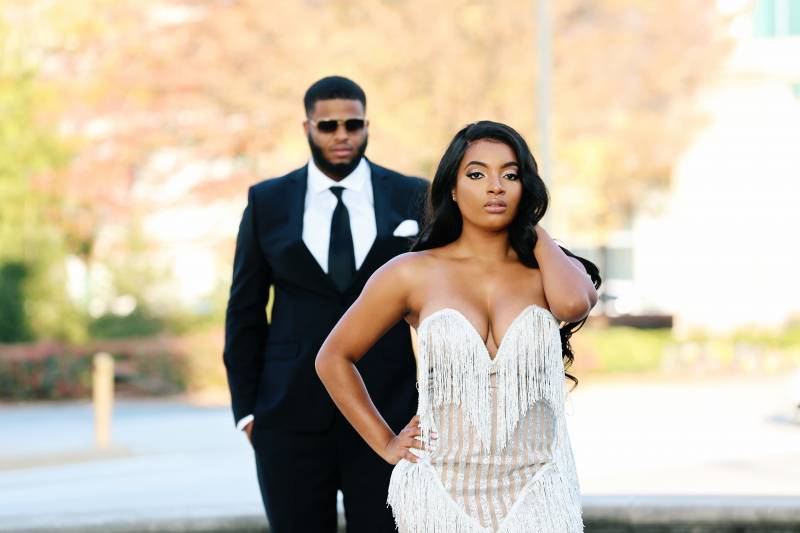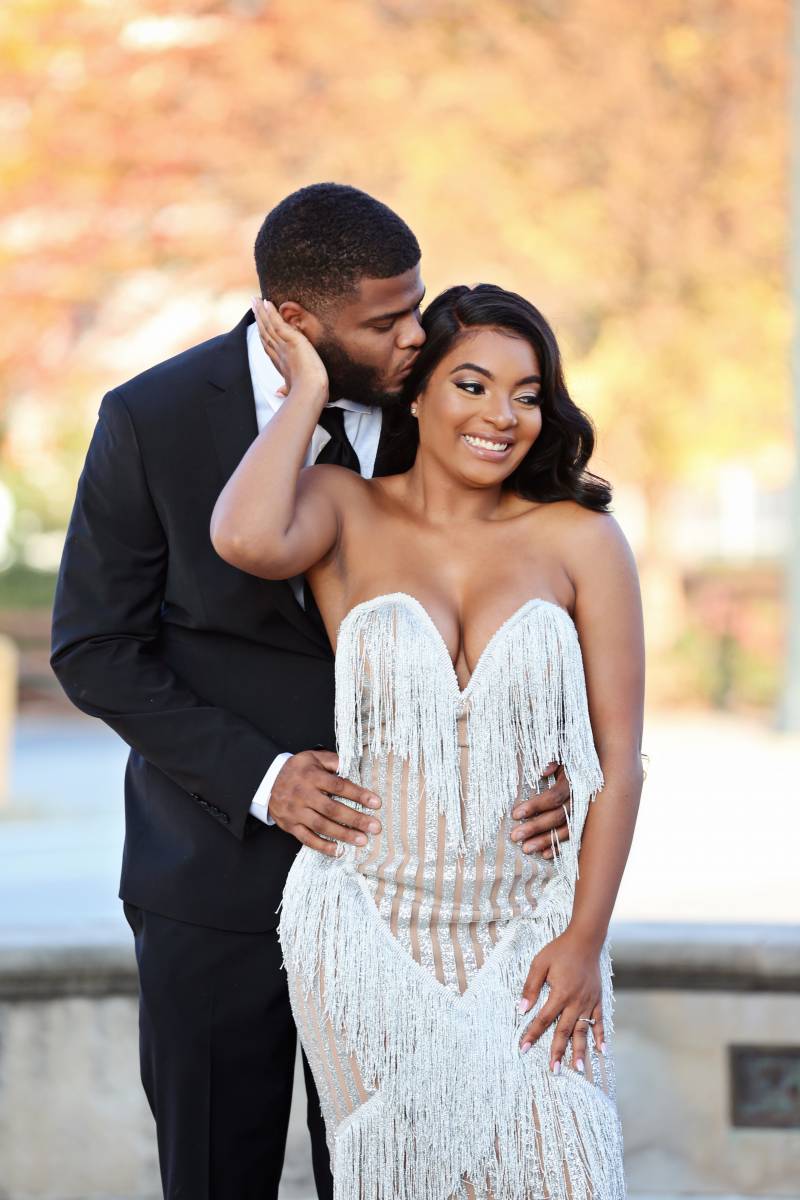 For the Groom: Walk us through the behind the scenes of creating this special day.
I put in extra hours at work to make this special day happen. A lot of blood, sweat and tears went into this special moment, but it was honestly the happiest day of my life. I was upset when things didn't go as planned with our dinner on the beach so I thank god my older brother, Torian, was there to help. I was going to just propose in the room after that. My big brother helped me figure things out by asking the host of the party to get Shadae's attention while I got down on one knee. I am blessed!


What makes your love special?
Our love is so special because it is consistent, encouraging, uplifting and one of a kind. We laugh together, advise each other and check in throughout the day. We both work very hard and can sometimes be too busy to talk, but we always make sure we are straight. Simple things like making sure we both eat and sending food if
we haven't. A healthy lifestyle is very important to our love these days. We have even challenged each other to eat healthier and aim to become fully vegan so we can live a long and happy life together.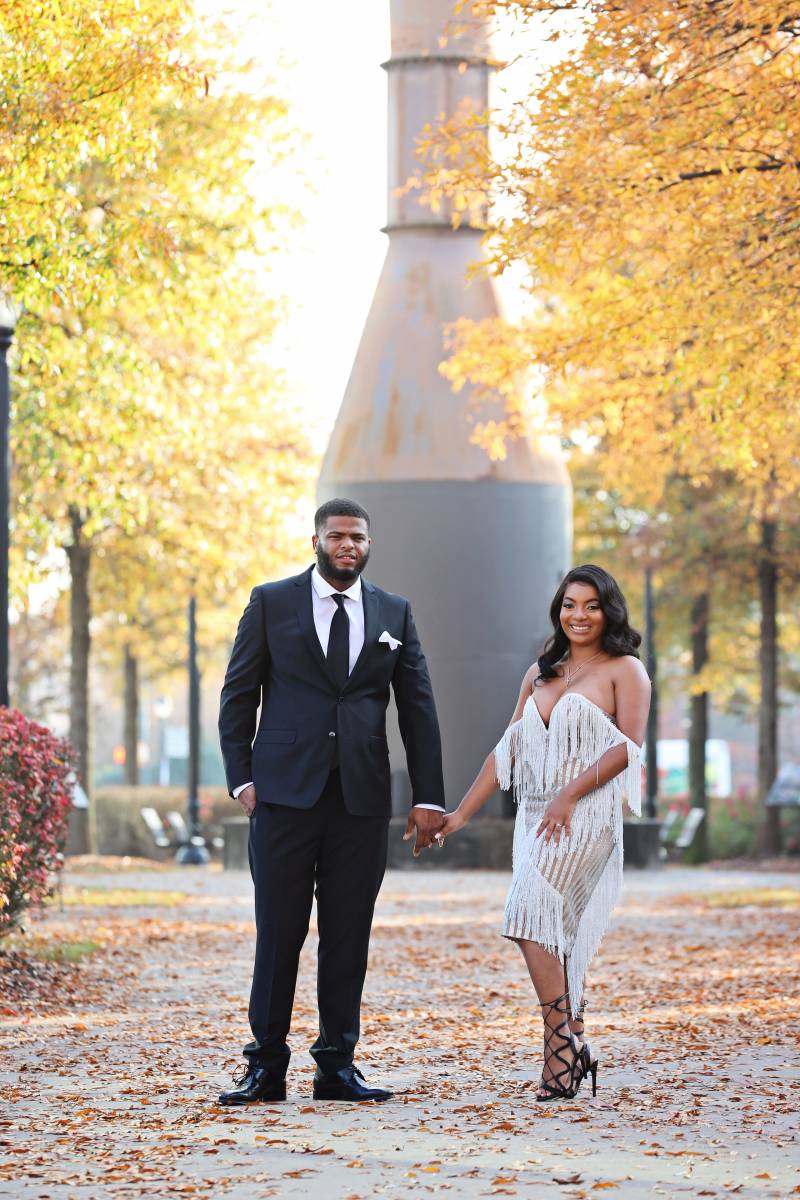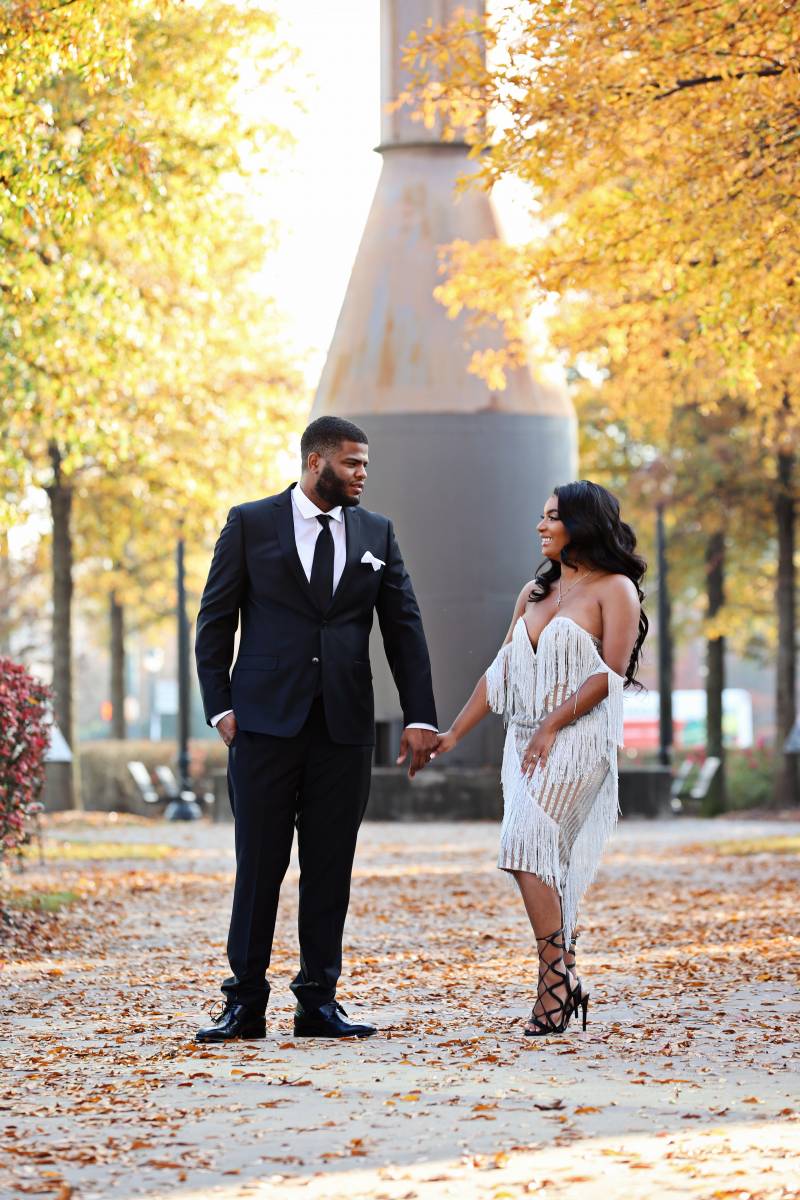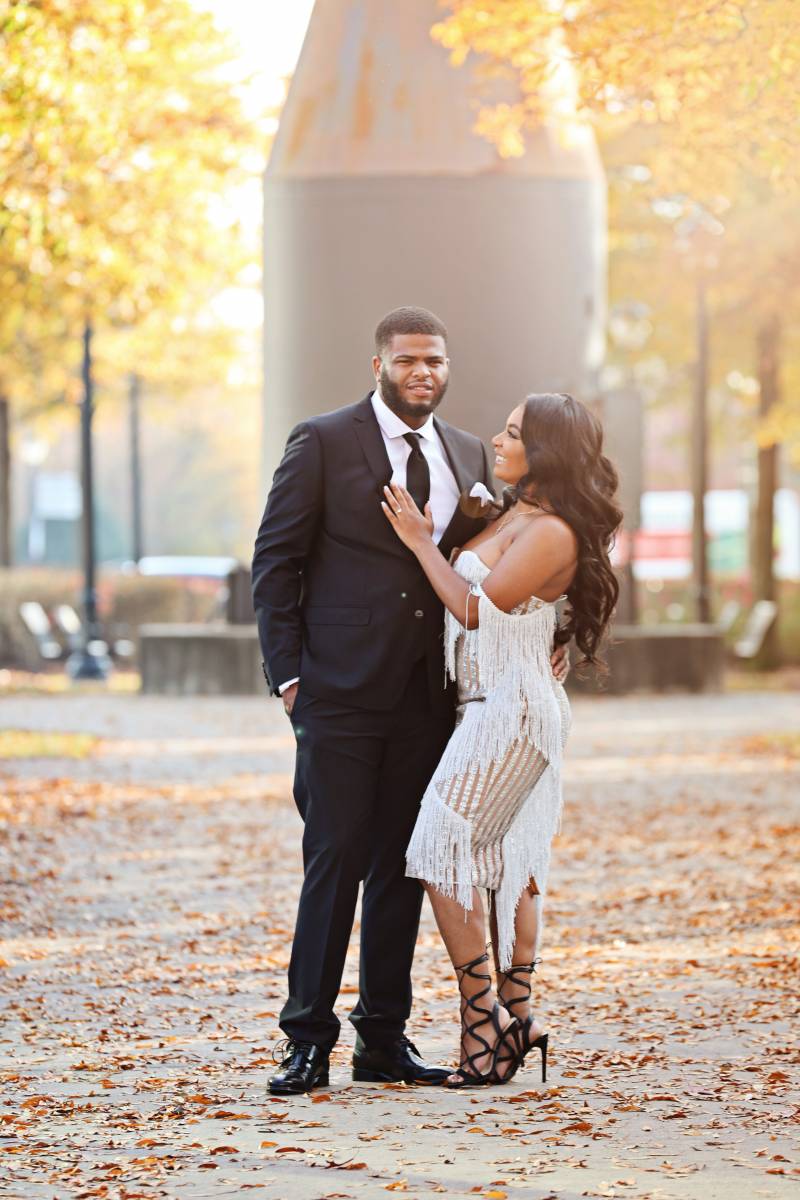 What was the theme of your shoot?
The theme of our shoot was glamour and comfort. We wanted to share photos of us dressed up and us in our normal everyday wear. I wanted to make sure we
showed both to show the real us.
Were there any memorable moments during the shoot?
I tried to get a bridesmaid to come with me to make sure my hair and everything else was in place, but she couldn't make it so I just went home after getting my makeup done. As soon as I got home, I put my dress on and needed help zipping it, so I asked my fiance and he popped my tag and zipped it. The zipper broke! I was devastated and almost cried. The shoot was in 30 minutes and Avery just popped my tag so returning the dress wasn't an option. I didn't know what I was going to do. I found a white thread and needle and asked my fiance if he ever sewed before he said no, and I said: "well you're going to learn today!" We stood in the bathroom, holding the dress together and sewing the entire dress back where the zipper split for 45 minutes. I really needed my bridesmaid to be there for this! Either way, we arrived late to the shoot but the photos turned out amazing. When it was time to change outfits my photographer had to cut my dress off. It sounds funny now but it was very dramatic at the time.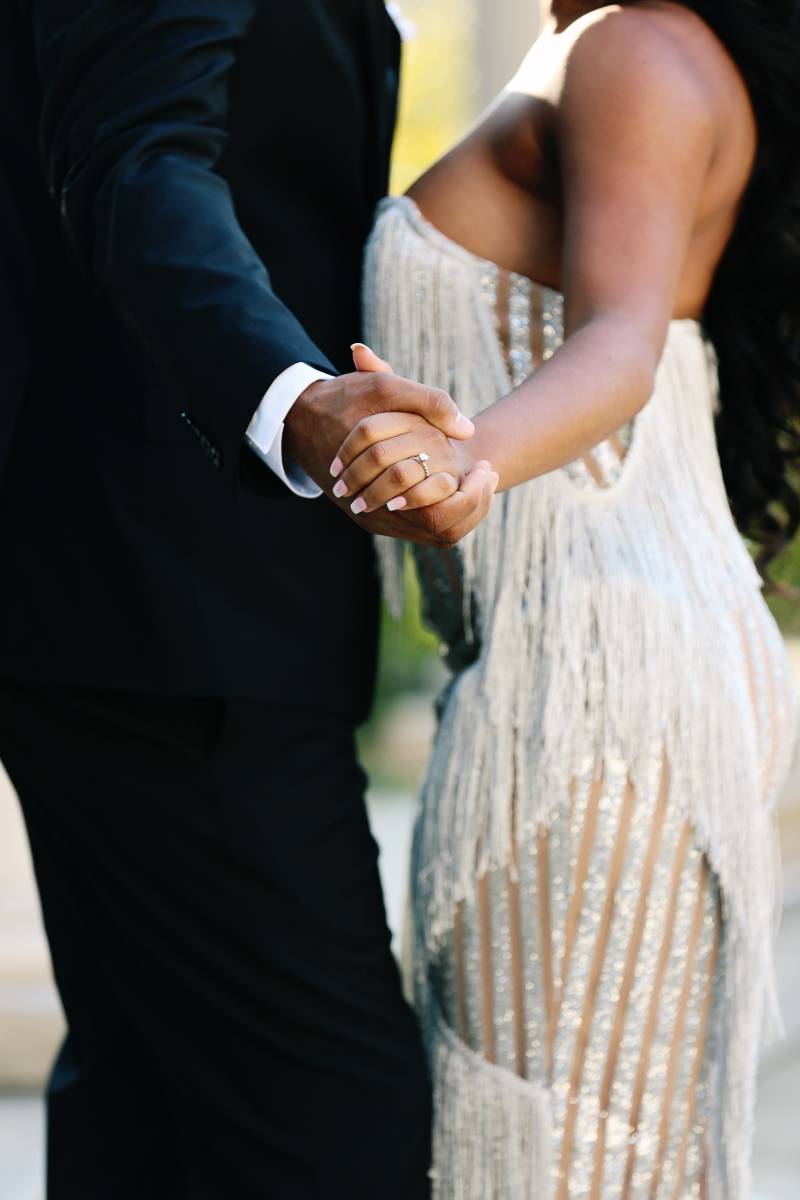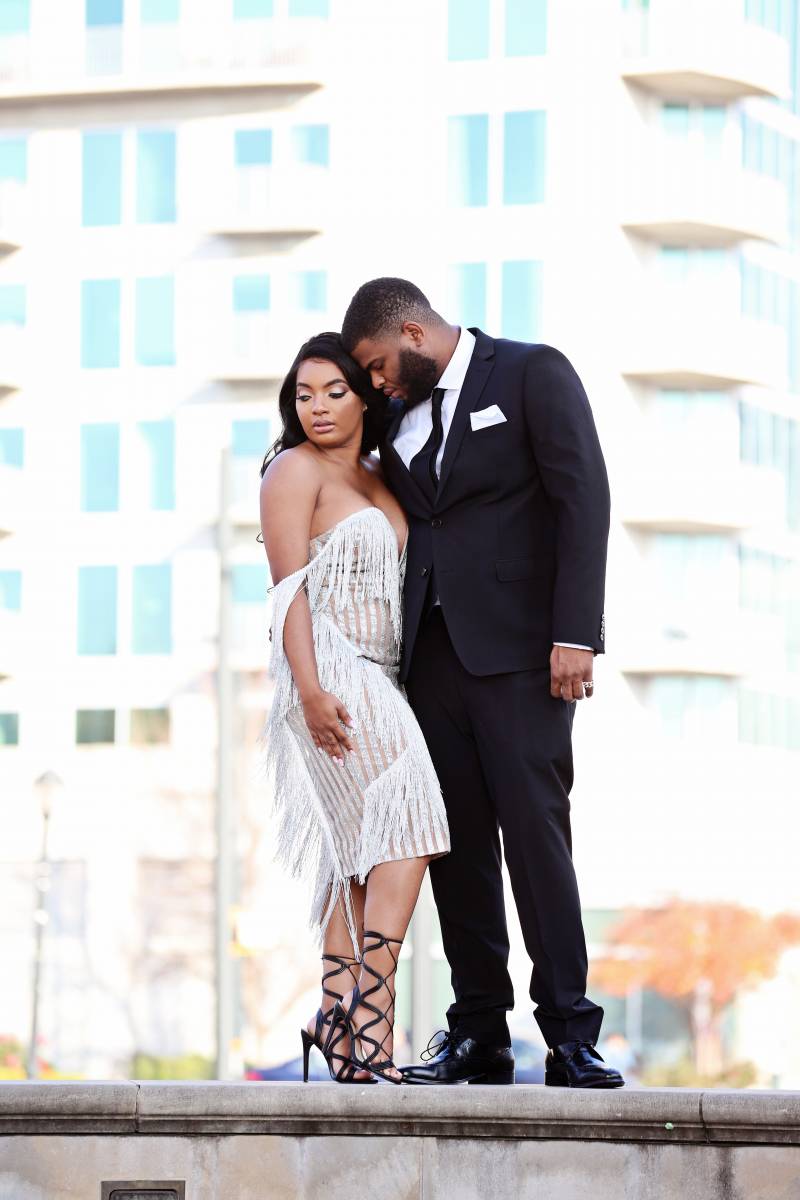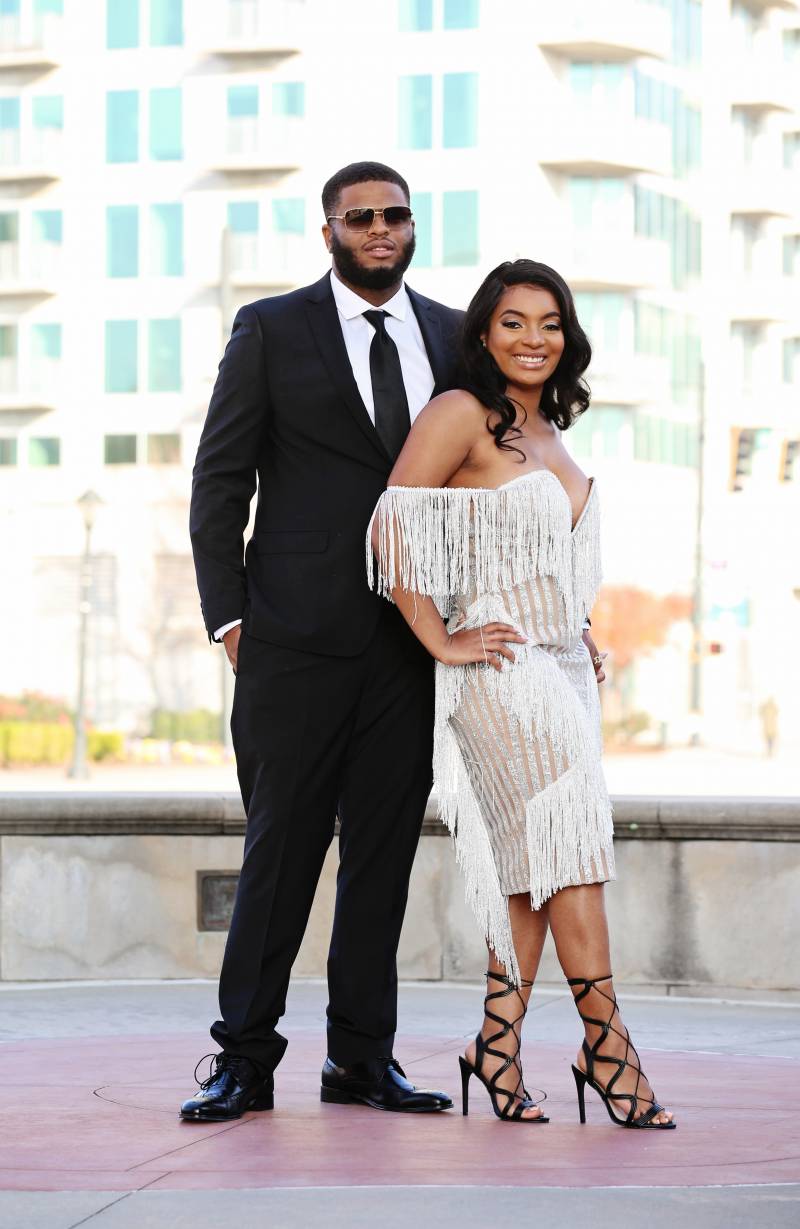 What are you most looking forward to about your wedding?
I am looking forward to seeing all my family and friends. I love family functions and I love to throw a good party! I am looking forward to getting all glam'd up and walking down an aisle full of rose petals to reach my lovely fiance. I want to see his face during the ceremony and give him a long dramatic kiss at the end! I am also looking forward the food and the cake. I already have my caterer and cake and I know it's going to be so yummy!
Have you started planning your wedding?
Yes, I have a wedding planner, her name is Christie, owner of Niq Williams Events. She's keeping me on track and stress-free! Our wedding date is August 11, 2018 in
Atlanta, Georgia.
Congratulations to the happy couple! We wish you a wonderful wedding and marriage.