Friday, December 5, 2014: Delvina was on her way to work on the Manhattan-bound Q train when she opened up her dating app and casually scanned for prospective dates. Suddenly a picture popped up with a smiling man named Chris. Delvina swiped right, and instantly a message came to her account saying, "Hey, I think you're beautiful. Do you have any recommendations for places to eat? I am visiting from Pittsburgh." Delvina welcomed Chris to the city that never sleeps and asked if he wanted to go out that night to a speakeasy called Beauty and Essex, a restaurant disguised as a pawn shop. Chris declined, letting her know that "he had to get up early." (She later found out that Chris Googled Beauty and Essex, and at the time, only an image of a pawn shop showed up, so he thought it was strange that she invited him there for a date so he declined!) Luckily, Delvina and Chris confirmed a date for the next night.Fast forward to Rocco's Tacos, Delvina was so disheveled from the cold rain and horrible winter winds that she almost walked into the glass door! And as she struggled to open the door, she made eye contact with Chris and instantly felt butterflies while at a loss for words. She suddenly shouted, "wow you're tall!" He laughed, and agreed with Delvina, and went to get their table ready. The pair instantly hit it off. Hours later, at the bar, Delvina knew she didn't want the night or their meeting to end. That weekend she decided to give Chris a true NYC experience, and serve as his tour guide. Four years later, and now Delvina and Chris are ready to take on the world as forever partners. Check out their outdoor glam engagement session at the Phipps Conservatory and Botanical Gardens in Schenley Park, Pennsylvania, captured by Omari Souza of Jazzy Mae Photography.
Bride's full name, age and occupation: Delvina Lorraine Smith, 31, Director of Development and Community Engagement at The Pittsburgh Life Sciences Greenhouse
Groom's full name, age and occupation: Christopher Thomas Morrow, 34, Financial Planner
Place of residence: Pittsburgh, Southside
Engagement Shoot Location: Phipps Conservatory and Botanical Gardens
Wedding date: May 27, 2018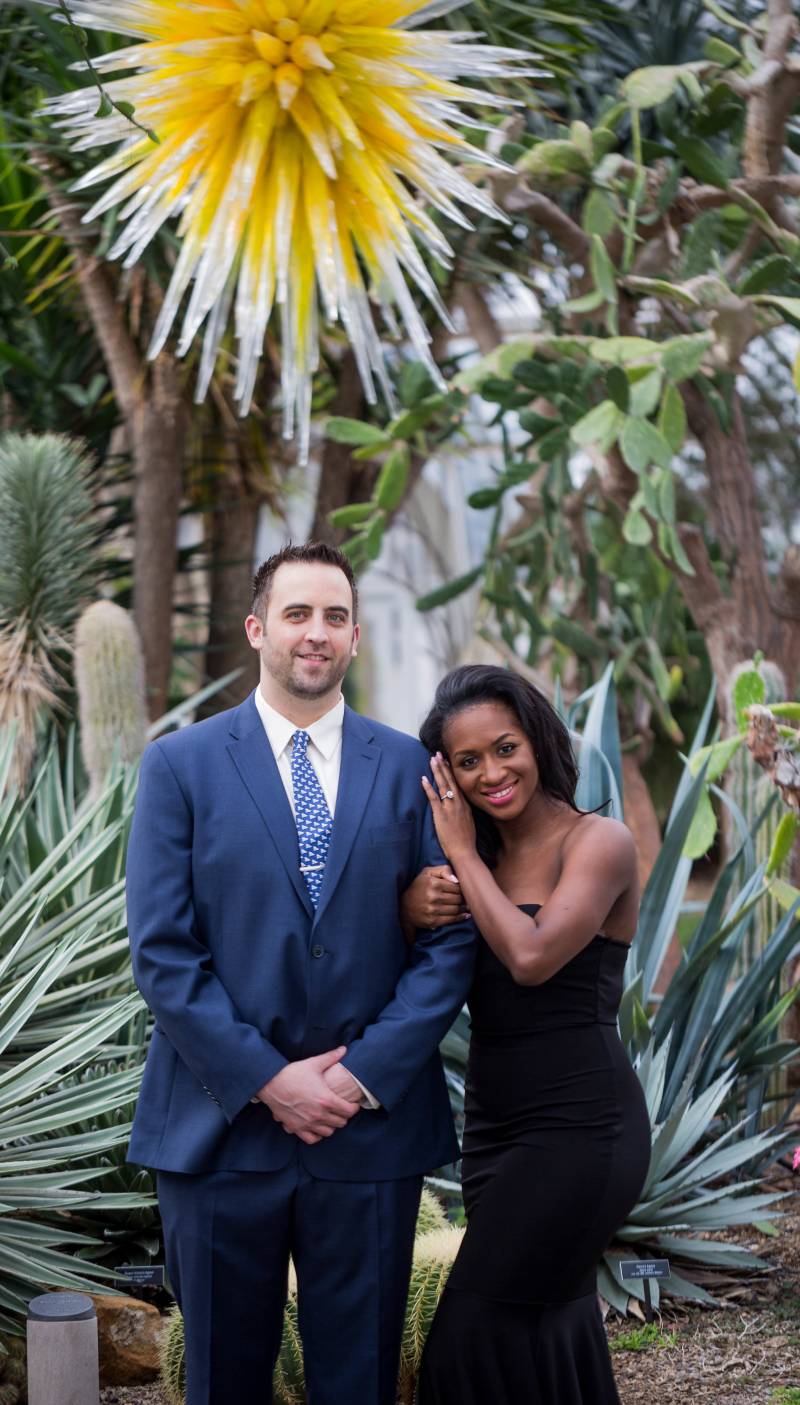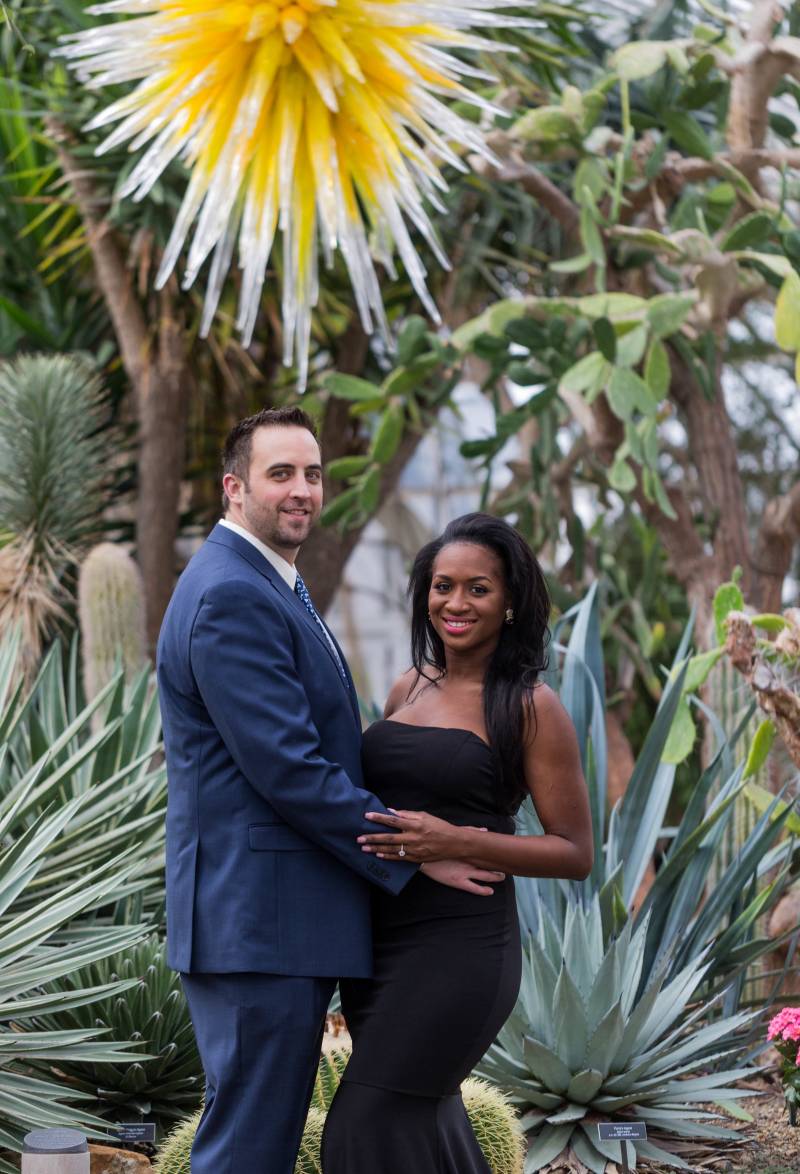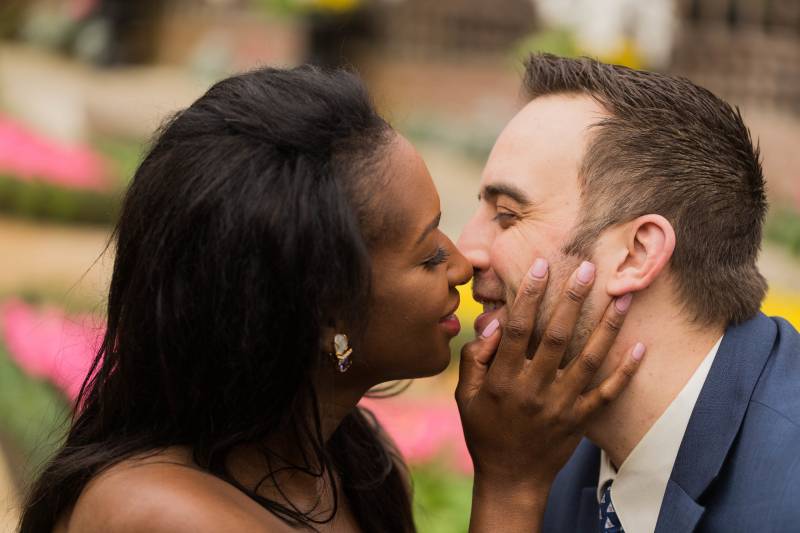 Engagement story:
On July 1, 2016, less than a year after my move, Chris got down on one knee in our apartment, and I knew that my life would never be the same.
Rewind to earlier that day. With it being a holiday weekend, I decided to take the day off to relax at home while Chris went off to work. A few hours into my relaxation, there was a banging on the door. I was really nervous since we had just moved to this apartment and I knew Chris was at work. When I look out the peephole, I was surprised to see Chris, and when I opened the door I was even more surprised to see my best friend and his fiancee with Chris! Chris told me that he wanted to surprise me by bringing my best friend up for the weekend, and I was beyond happy. After going to happy hour, we came back home and we prepared to go out for dinner. My best friend proposed a toast so we popped open a bottle of champagne. Chris said he would make a toast and next thing I knew he was on one knee in our brand new living room with my best friend by my side. I was shocked and burst into happy tears and jumped on top of him, and said yes!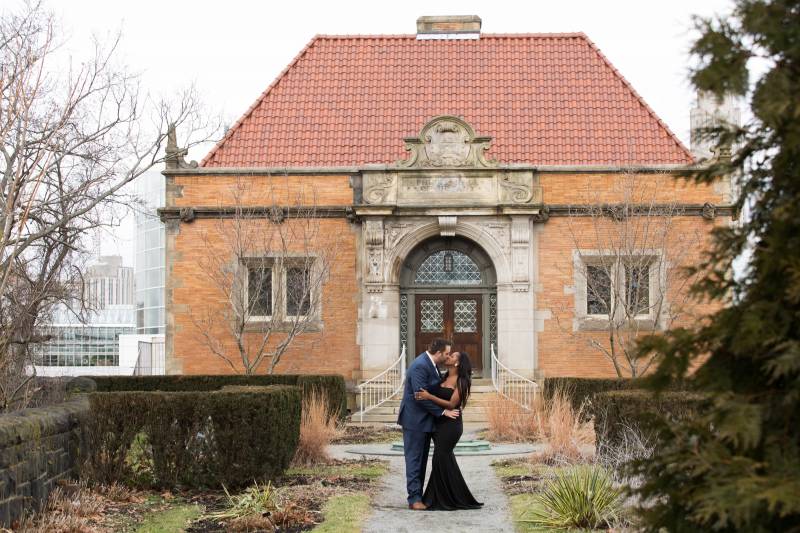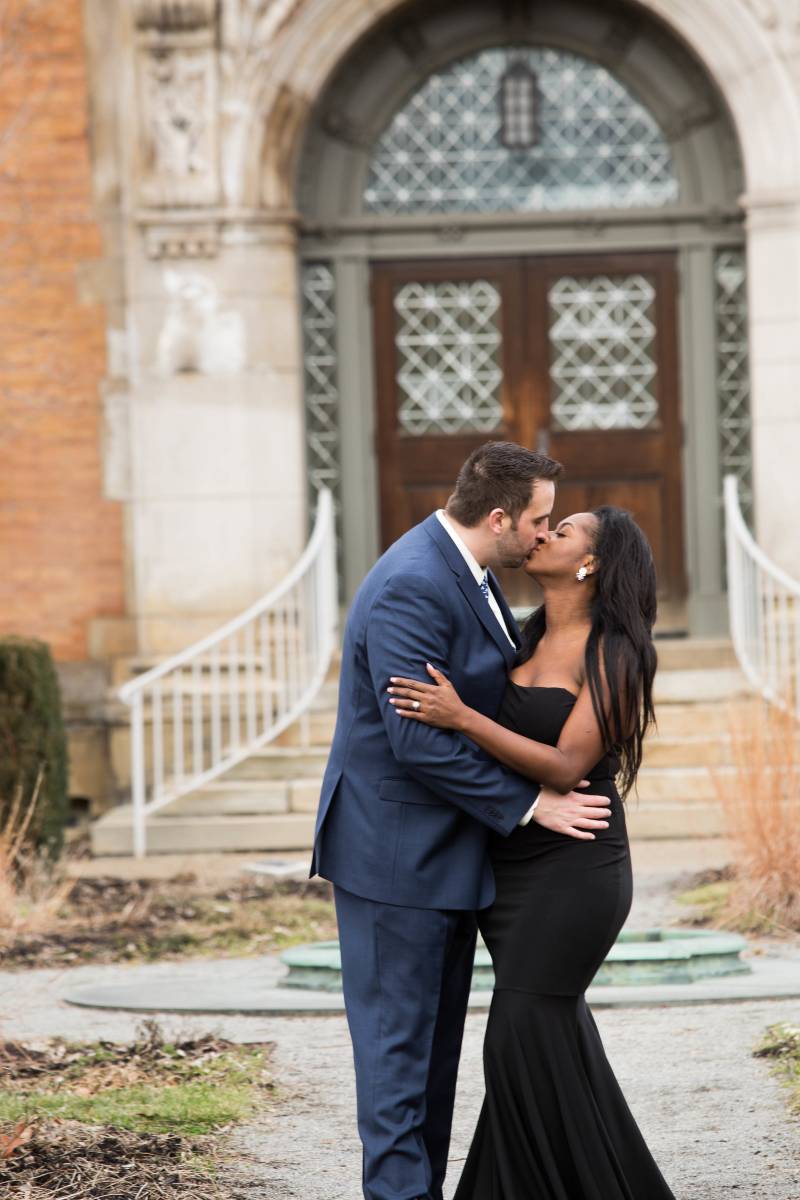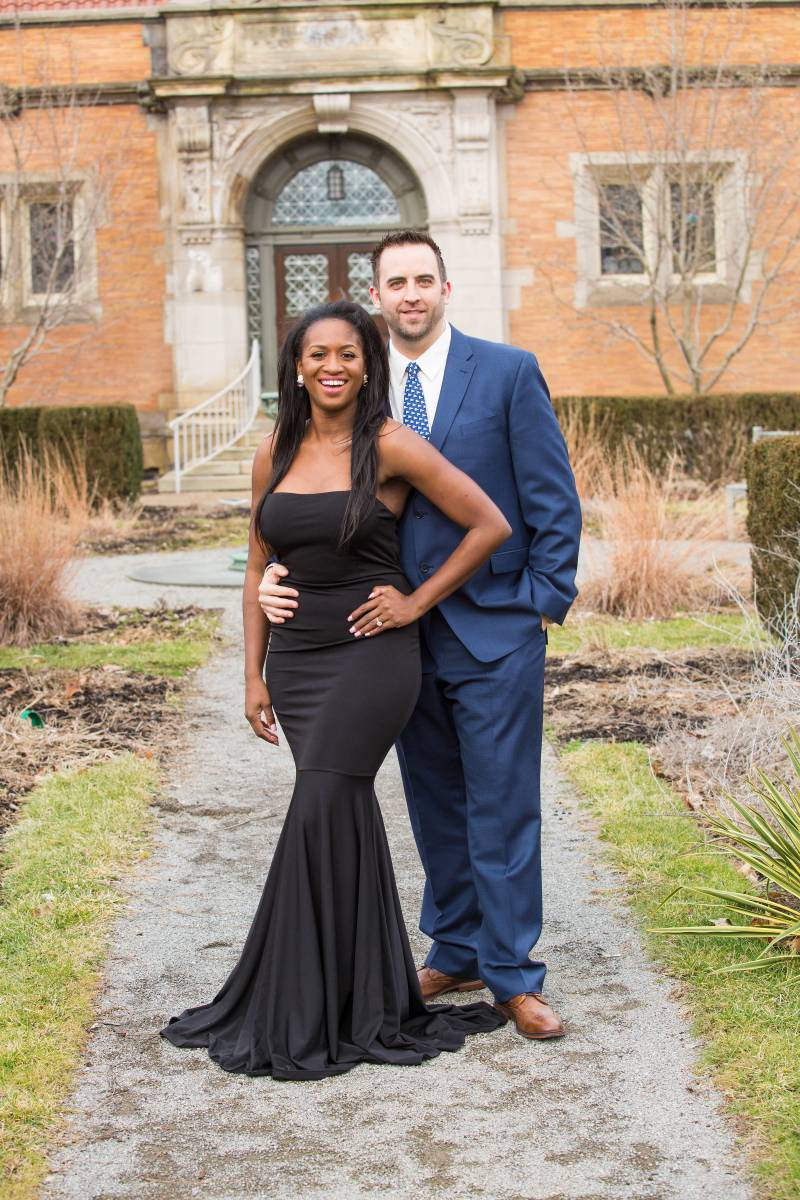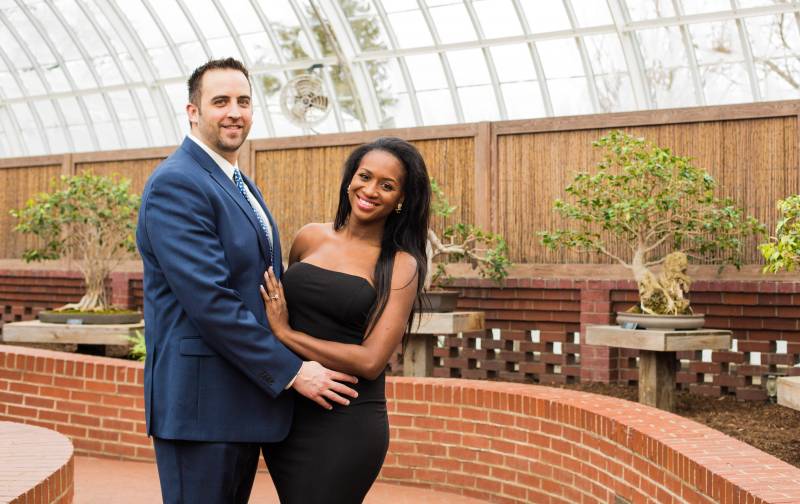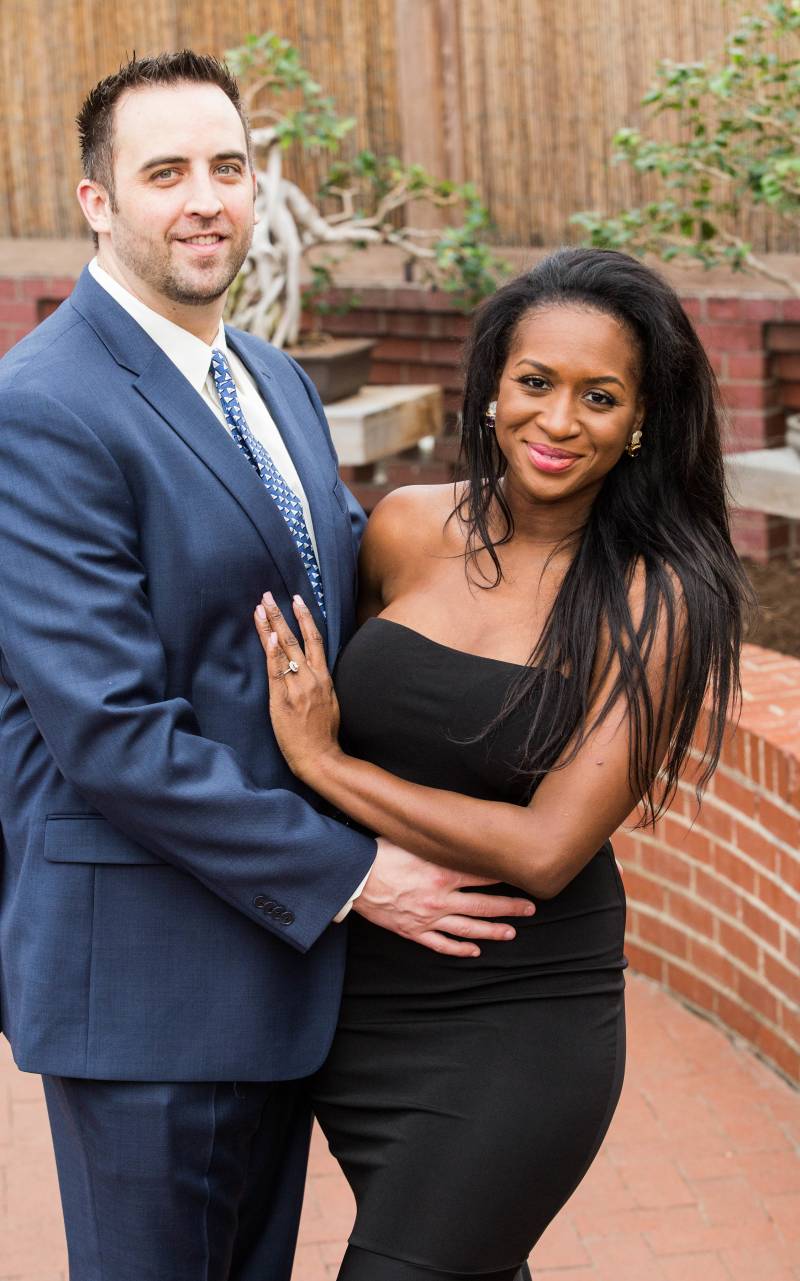 For the Groom: Walk us through the behind the scenes of creating this special day.
Delvina moved from her hometown of NYC so we could be together. I knew that when asking her to marry me, I had to have her best friend there. I made arrangements with Delvina's best friend to come to Pittsburgh to surprise her, and the night they were supposed to catch their bus, they missed it. I spent a majority of the night figuring out how to get her best friend to Pittsburgh. The morning of our engagement, I had plans to surprise Delvina when she got home from work, but that morning she decided to stay home and take the day off.
My plans were ruined! I pretended to leave for work and went to pick up her best friend. She was shocked when she saw him. After we went out for drinks we were getting ready and Delvina was changing and I suggested she dress up a bit. I knew I had to ask soon. So as we were having drinks in the living room, it came my time to make a toast. I got on one knee and lost all of my words. Delvina is at times unpredictable, and what came after I asked her to marry me I could not foresee. She jumped on me knocking me down to the ground, as we kissed and laughed and cried. The day was special because we both knew it would be the start of our forever.
What makes your love special?
Our love was destined to be. There is a word that I love to use: "Kismet," it means your destiny, and that if you want something bad enough, the entire universe will conspire in helping you to achieve it. I truly believe that the universe aligned perfectly on that winter night when Chris and I swiped right, creating a series of events that would forever change our lives.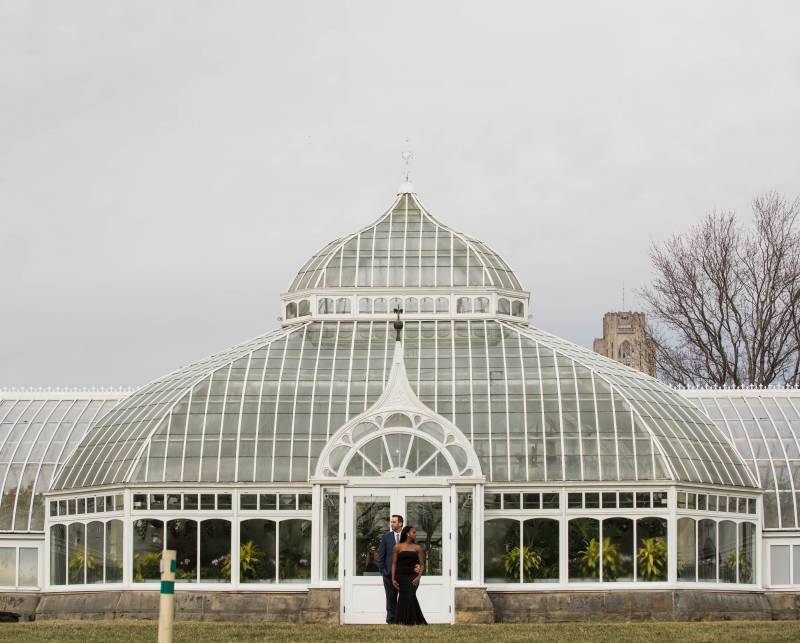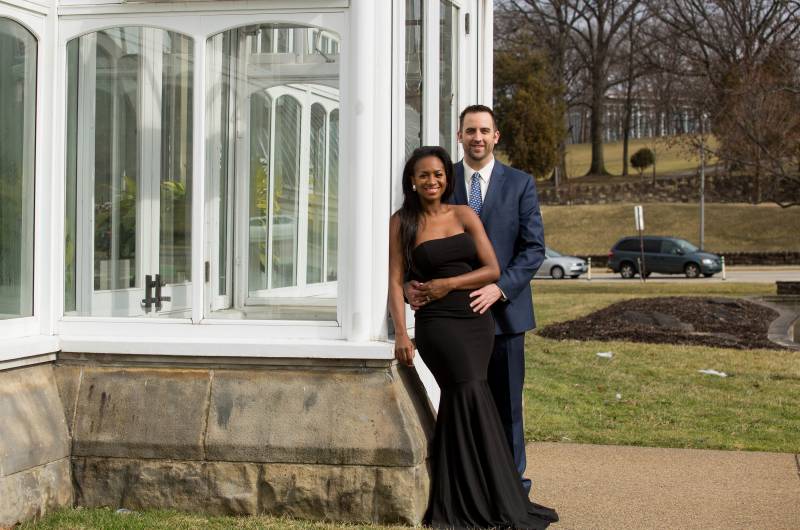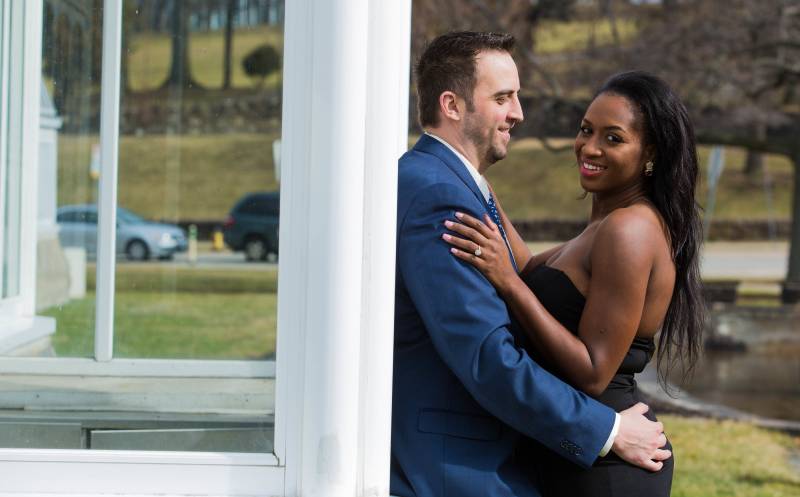 What was the theme of your shoot?
Our engagement session was in the backdrop of the hidden beauty of Phipps. The session was meant to capture not only the beauty that surrounded us, but also the beauty of our love and pre-edding bliss. I felt like we were channeling Charlotte York from Sex and The City; elegance and poise
Were there any memorable moments during the shoot?
For us, we laughed a lot. We tend to joke around, so taking "serious" photos where we weren't smiling was very memorable because we laughed nonstop.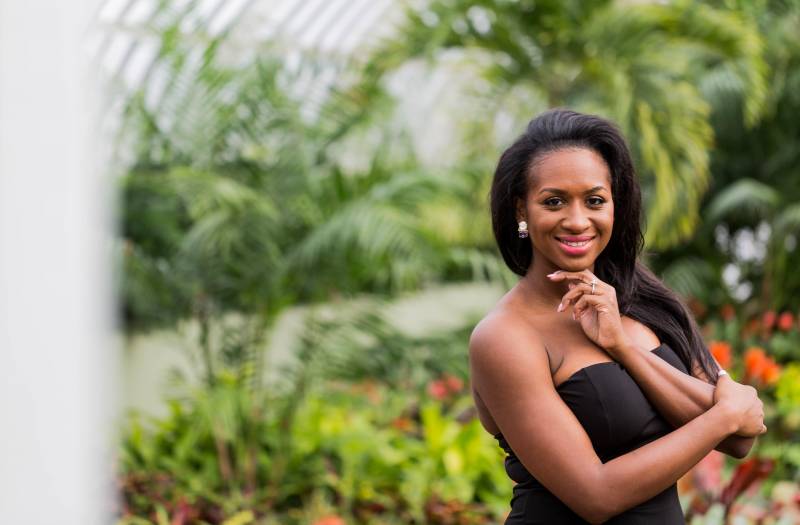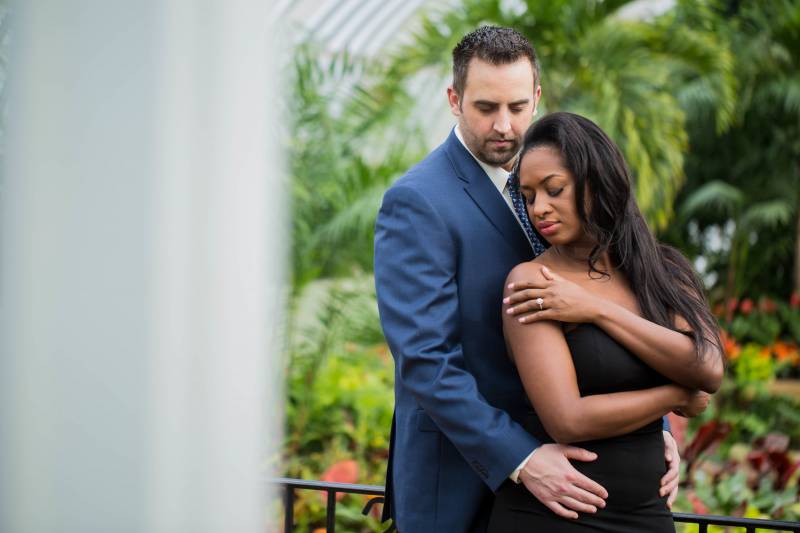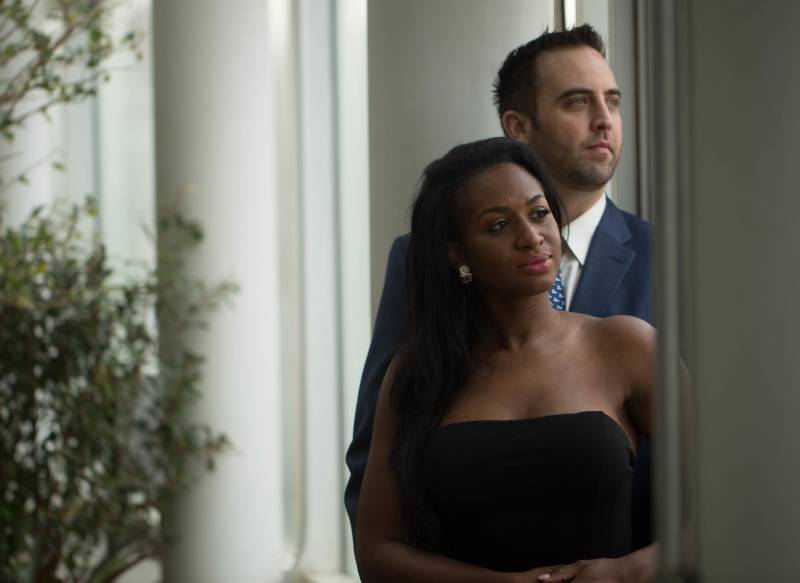 What are you most looking forward to about your wedding?
We are most looking forward to dancing the night away. We want to have the opportunity to dance with each loved one that went out of their way to attend our wedding since they are the pieces that make it so special.
Have you started planning your wedding?
Back when I lived in NY I did event planning, so I have been obsessing over all of the logistics. My fiancé is also a great resource for a plethora of ideas, so each Friday night we try to dedicate a few hours to the process. It's always fun!
Congratulations to the happy couple! We wish you a fruitful wedding and marriage.