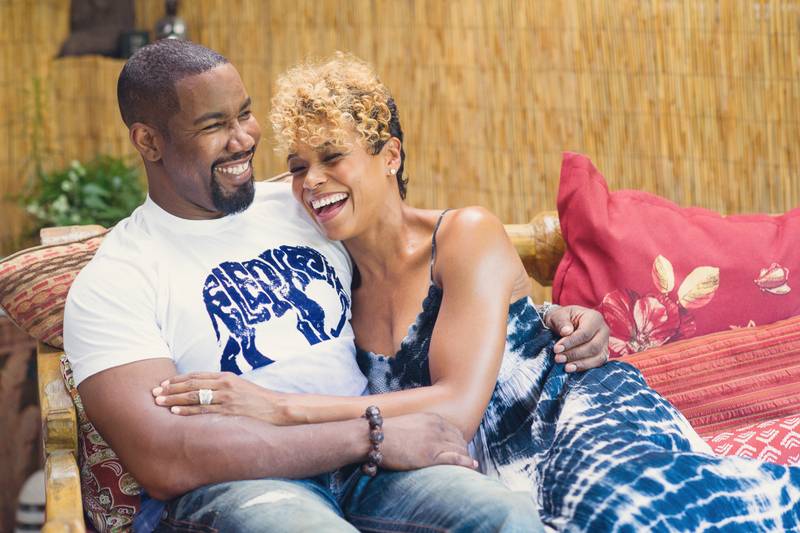 In our Winter Issue of Black Bride Magazine, we wanted to focus on beyond the wedding day and share an inside look at life after "I do" with newlyweds Michael Jai White and Gillian Waters. This Hollywood hot couple gave us an exclusive look into their happy home, and talked about their lavish Thailand wedding, having an "uncommon" love, living argument free, and finally being married to each other's true soul mate. Here is a sneak peek of our exclusive video with Michael Jai White and Gillian Waters, captured by Sun & Sparrow Photography.
BlackBride // Gillian + Michael Jai White from sunandsparrow on Vimeo.
Here is an excerpt from our exclusive interview with Gillian & Michael from the Winter issue of Black Bride Magazine:
CK Alexander: When you first met did you have any idea that this person would later turn out to be your soulmate?
Michael Jai White: I wouldn't date anybody that I didn't have the possibility of marrying. It would be in the back of my mind when we dated back then. She was perfect for me then and she's perfect for me now.
CK: Gillian did you feel the same way when you met Michael that there was something special about him?
Gillian White: We were both kind of nerdy but I always say, like cool nerds. I think we were drawn to each other because we had that connection. And we just started dancing and talking and it casually went from there. I thought he was different from anyone I'd ever met and I knew he was special.
CK: What were the characteristics that you both saw in each other that made you both realize that you wanted this relationship forever?
MJW: Well, I mean, I always feel like intelligence is above all. A sense of humor and someone who doesn't take themselves too seriously, but takes the future seriously. Also on my checklist is someone who really recognizes health is a primary importance. I think your body is the only thing that you truly own and can't be taken away from you. And I think Gillian surpassed my checklist and created a whole category [of] her own.
GW: He's like everything to me. He's incredibly intelligent, which is very attractive to me. And I know he's physically very handsome. He has an amazing body. I know I always embarrass him when I say things like this, but he's very good looking. He's a provider. He's very nurturing. He has all these things. I just feel so lucky. He's honest. Incredibly honest. These are things I looked for and I found all of these things in him. And like he said, the health and fitness. We're both very into taking care of our bodies and what we put in it. Neither one of us drinks nor smokes, that's very important to me. I think the number one thing is how funny he is. People look at him and think he's this tough mean guy, [but] he's one of the funniest people I've ever met in my life. He constantly has me laughing, and I love that.
Photos by: Sun & Sparrow Photography
Be sure to get the Winter issue of Black Bride Magazine to read the rest of this great interview. Sign up for the Black Bride Newsletter to get up to the minute information on the launch of the Winter issue: