"They're creepy and they're kooky,
Mysterious and spooky,
They're altogether ooky,
The Addams Family."
If you read those lines singing this popular Halloween adjacent tune in your head, then you're going to love the styled shoot we have in store. This Addams Family themed shoot takes all the elements we love about the spooktacular couple that is Morticia and Gomez while also adding a melanated twist. Check out how these pop culture icons were captured along with the shoot's overall emotive atmosphere at the Whitby Castle. And if you're wondering who shot these lovely images, you can thank the talented John Branch IV for his lovely work.
Dream Plan-It Events, a New York-based event planning company teamed up with a handful of talented vendors from across the city to make this clandestine and sultry styled shoot a reality. Here is what Terrian Freeman of Dream Plan-It Events had to say about the inspiration behind this fun Halloween styled shoot:
"My Halloween styled shoot was inspired by the movie The Addams Family. I was watching the movie and wondered what a modern-day Morticia and Gomez wedding would look like. I've always been fascinated with their sultry, elegant, dramatic, dark-glam, and daring personas.
Being a Jamaican woman, Halloween is the ultimate taboo holiday for some reason. While on vacation in Mexico a few years ago. I was introduced to the amazing history of The Day Of The Dead. Our hotel was kind enough to educate the guests on its rich and unique history. From that moment on, I had a deep appreciation of the culture and its people. Thus, I took on this newfound inspiration with a mission aimed at showing just how beautiful and chic Halloween can be.
Hopefully, this style shoot inspires more people to think outside the box. What's more intriguing than having a wedding on a holiday that celebrates the afterlife. After all, isn't part of marriage, shedding your old life, and beginning a new one with your life partner?"
Shoot location: Whitby Castle, Rye, New York
Shoot theme: An Addams Family Halloween
Color combinations: Black, Red & Gold
Favorite detail: I honestly can't choose one favorite detail. However, the gold skulls, stationery, and black wedding dress are high on the list.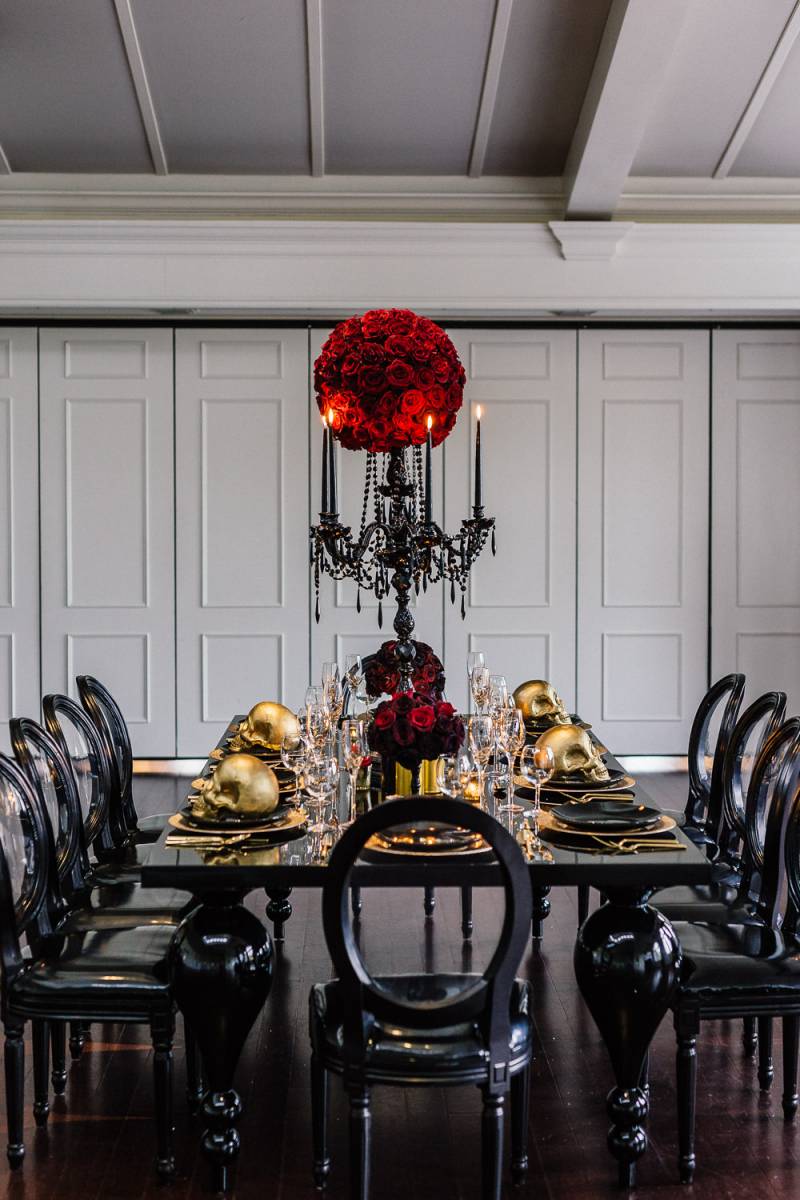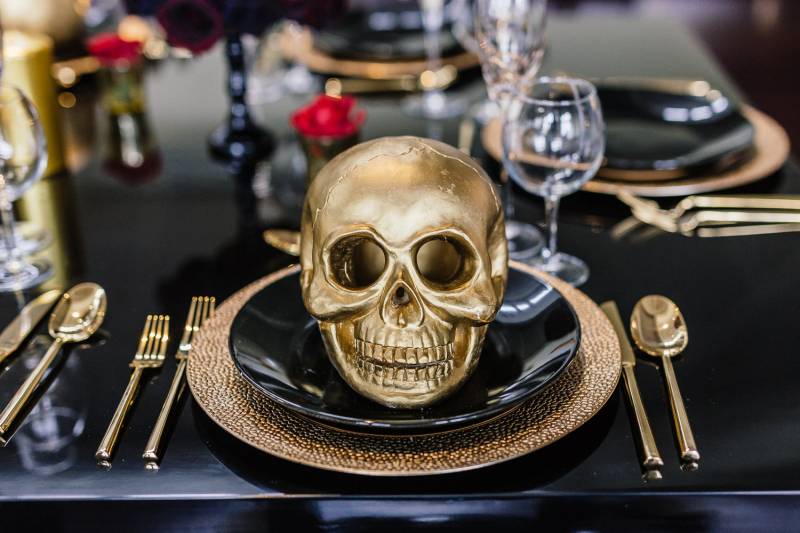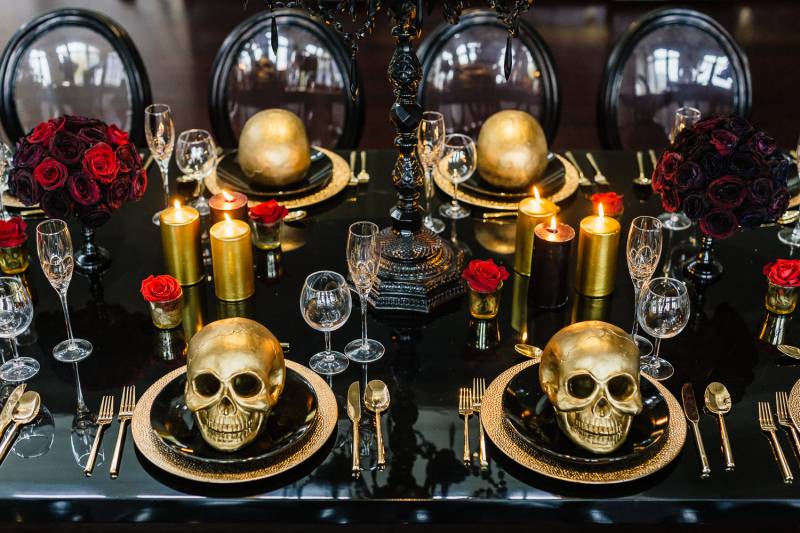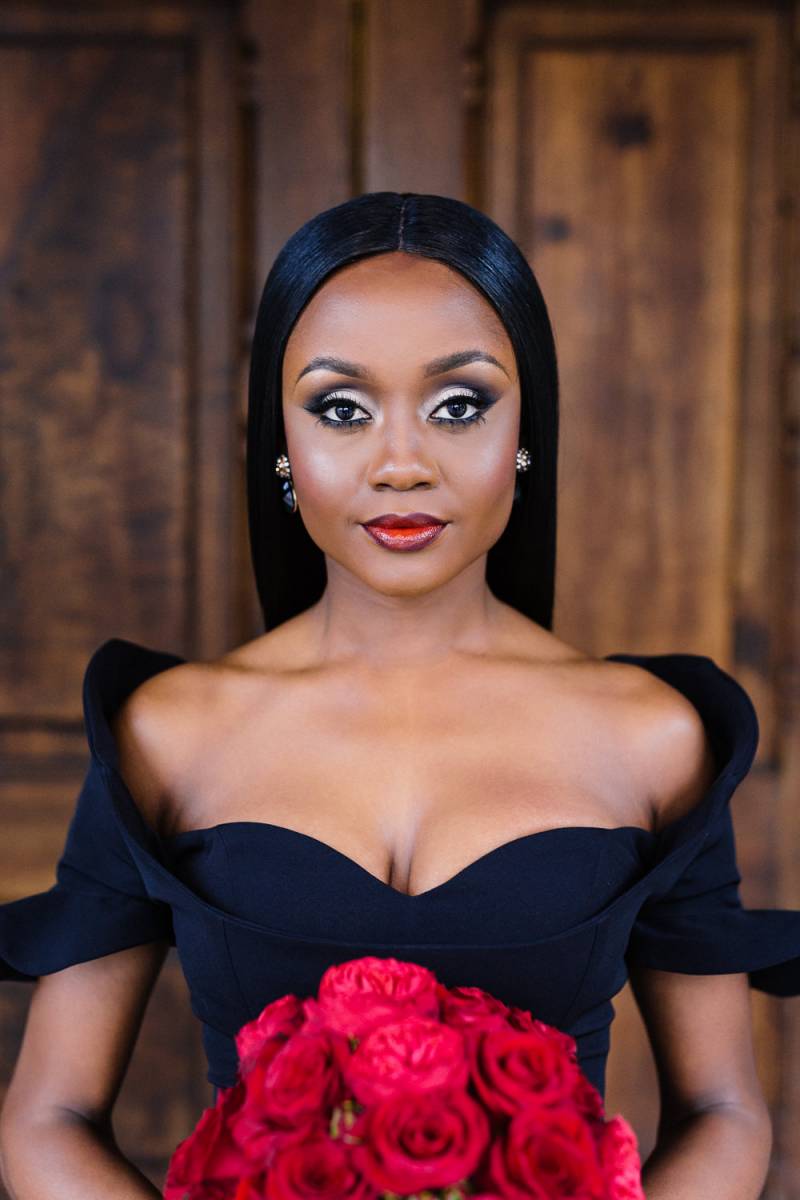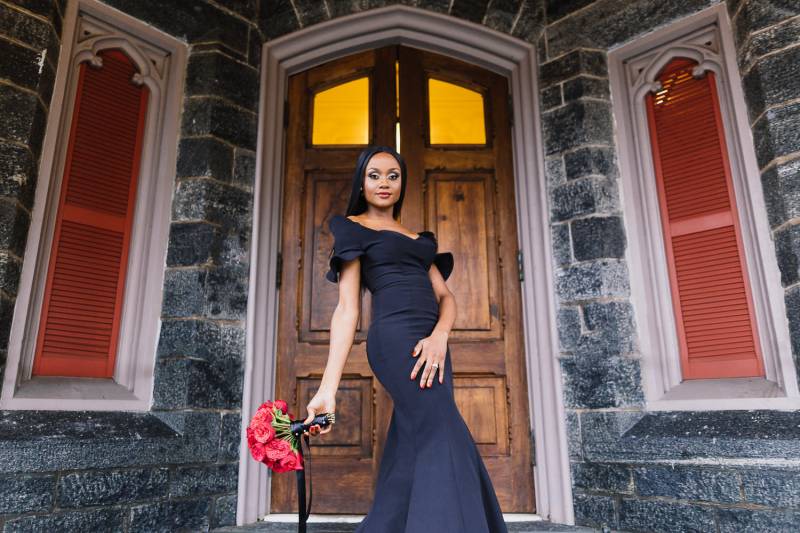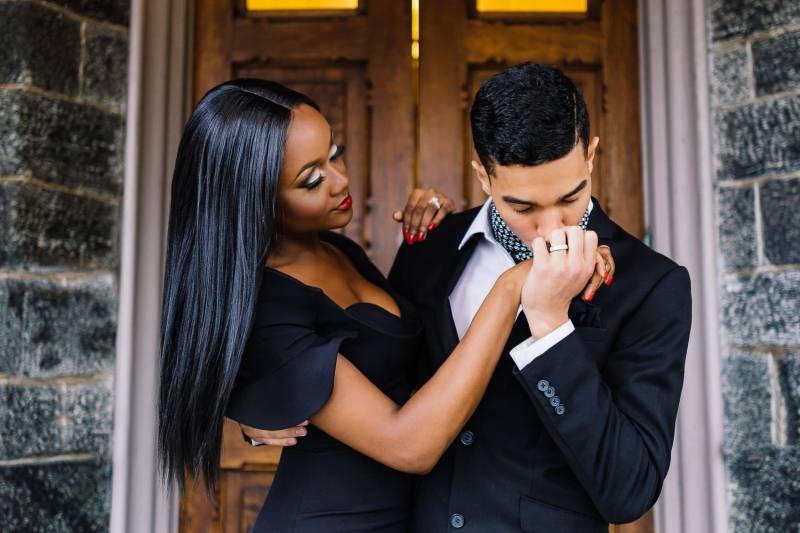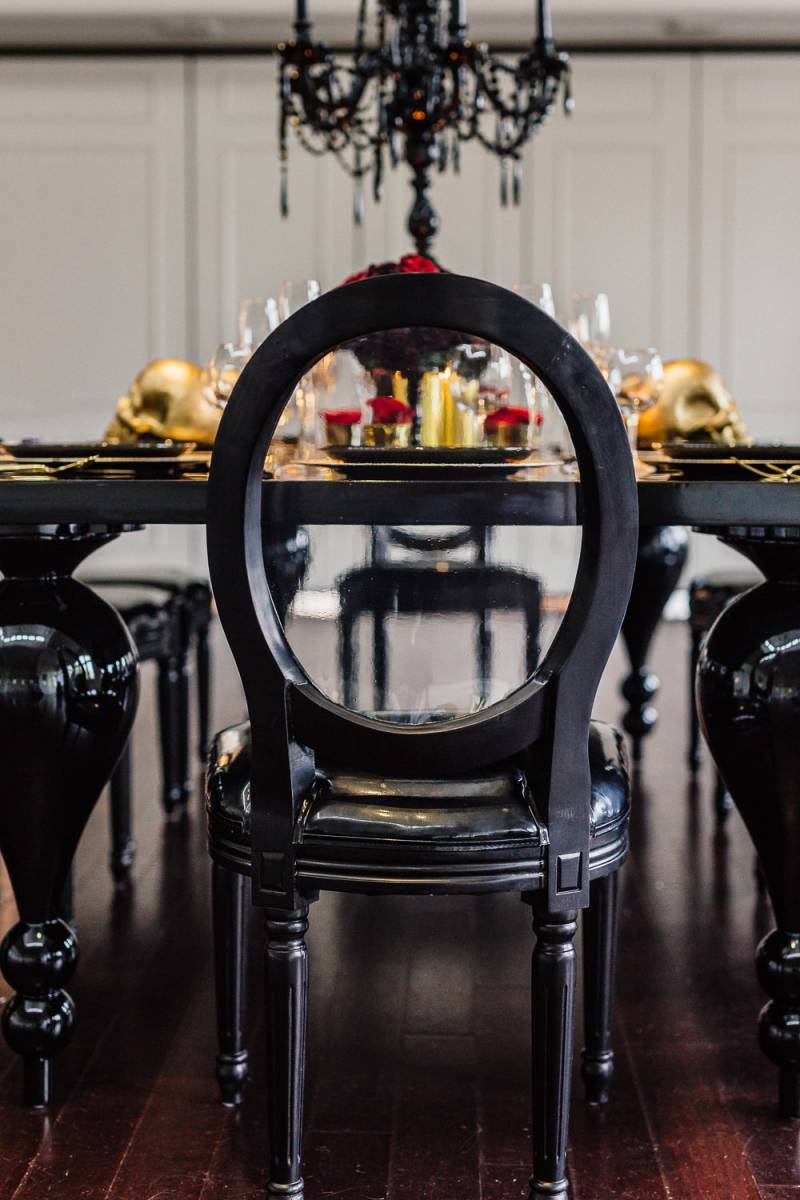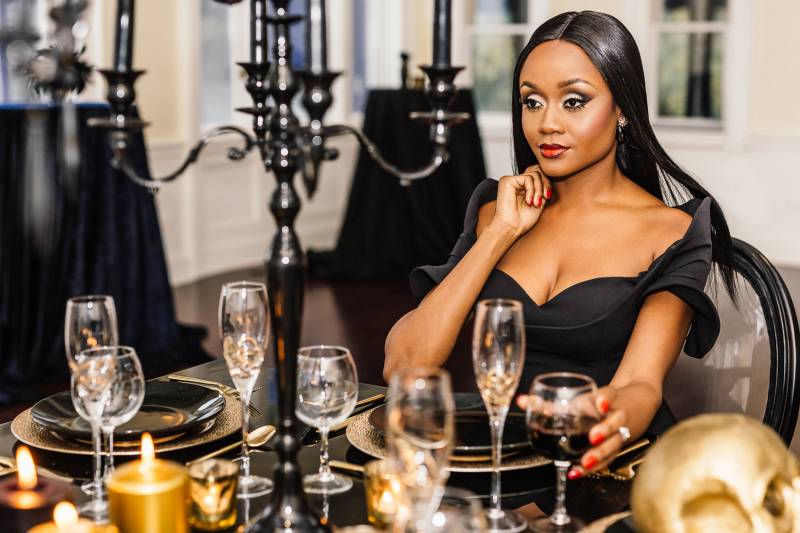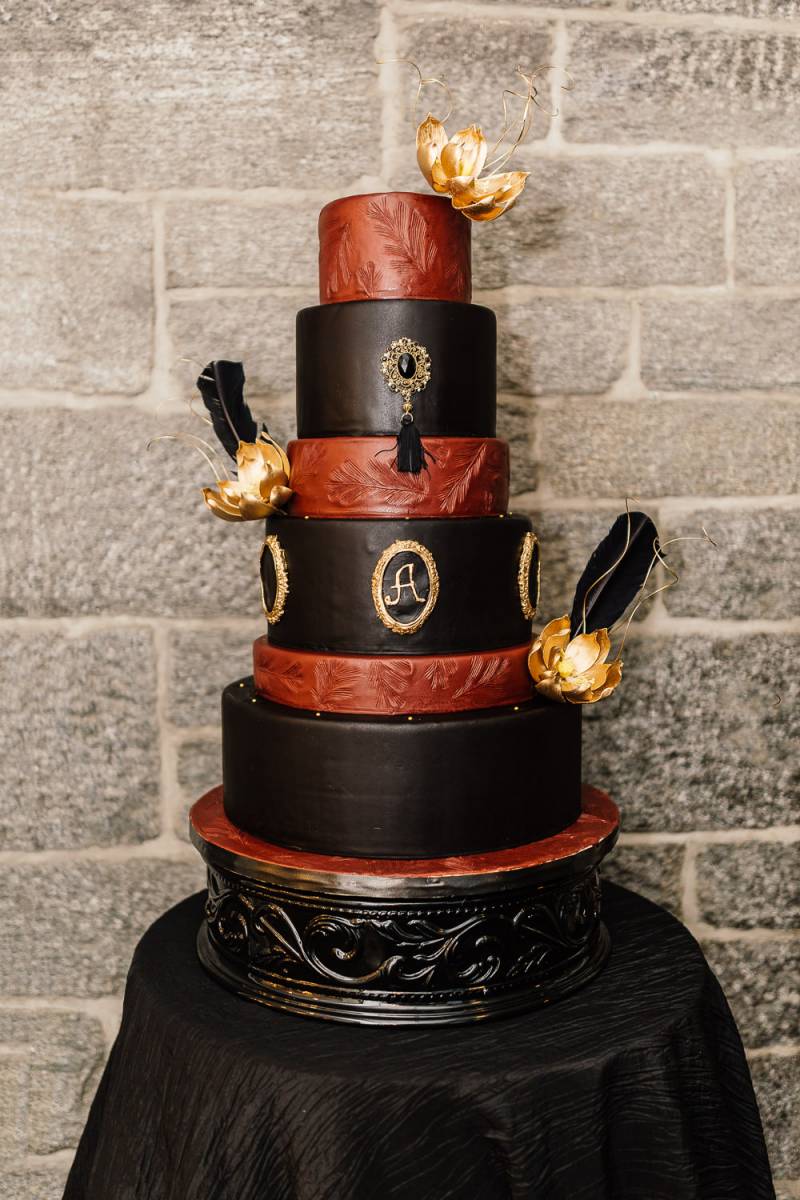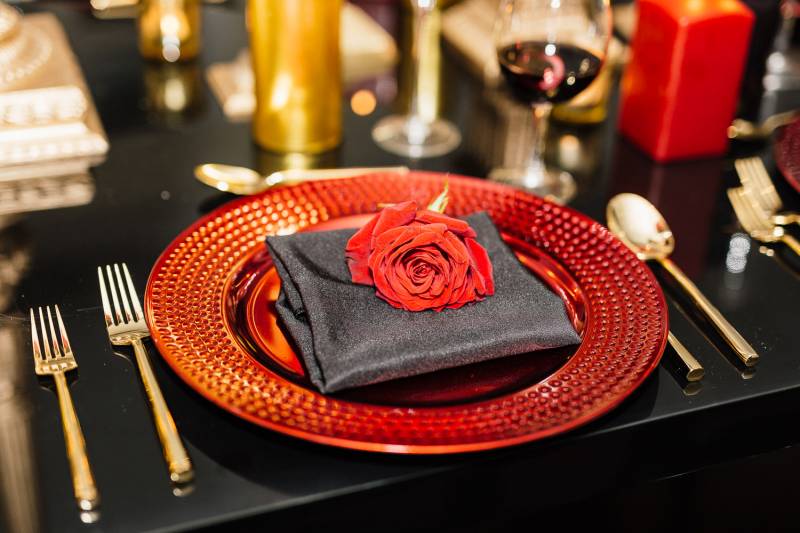 Decor Details:
Linens:
Our choice of linens included red velvet and crushed black taffeta on cocktail tables.
Centerpiece Description:
For our centerpiece, we had tall, compact red elements on a vintage roman-inspired gold stand. The vintage gold candle holders and black candelabras contained tapered candles. We also threw in a mix of red and gold pillar candle while detailed red accents sat low on a vintage black stand.
Place Settings:
The place settings featured textured gold acrylic chargers with black plates and gold utensils. Moreover, there were red acrylic chargers with black napkins, red roses, and gold utensils
Stationery:
We had a black invitation suite with gold handwritten calligraphy.
Please share unique details from your shoot:
Gold skulls at every other table setting
Black roses on cocktail tables
Gold skeleton hands holding vintage love quotes from the Addams Family movie
A six-tiered red and black cake, with vintage embellishments, tassels, black feathers and golden flowers
Modern black acrylic table with sculpted legs
Black Victorian leather chair with a clear back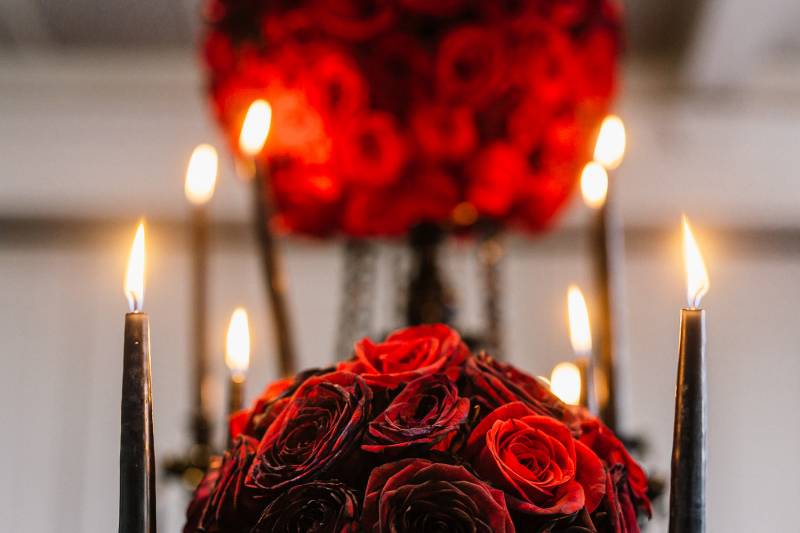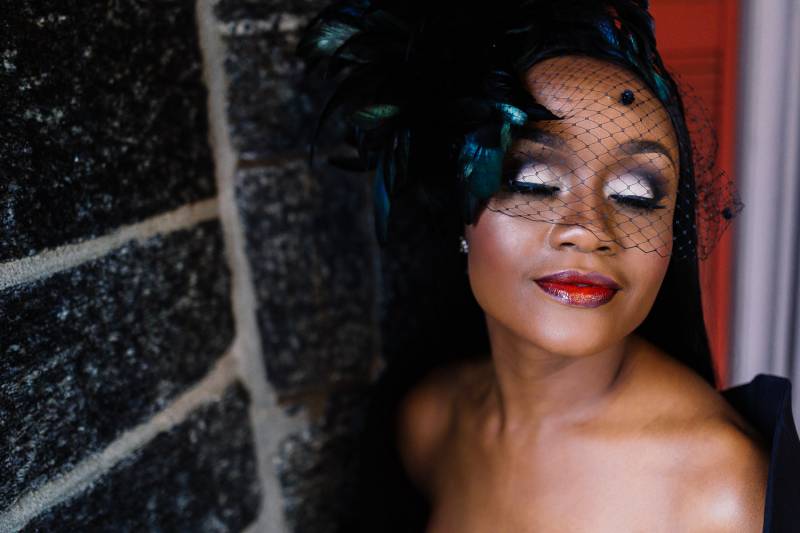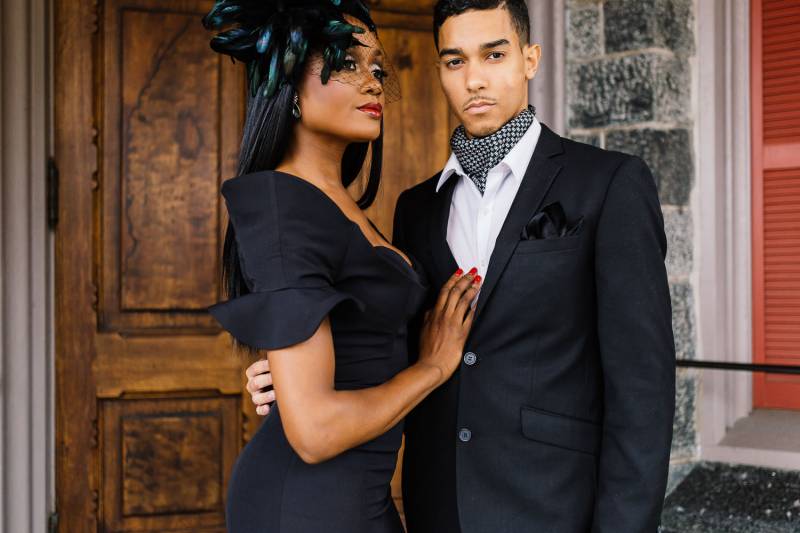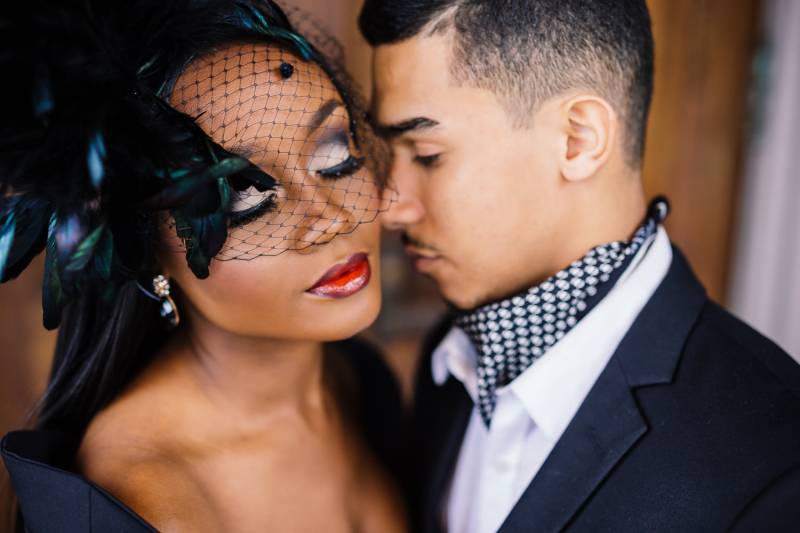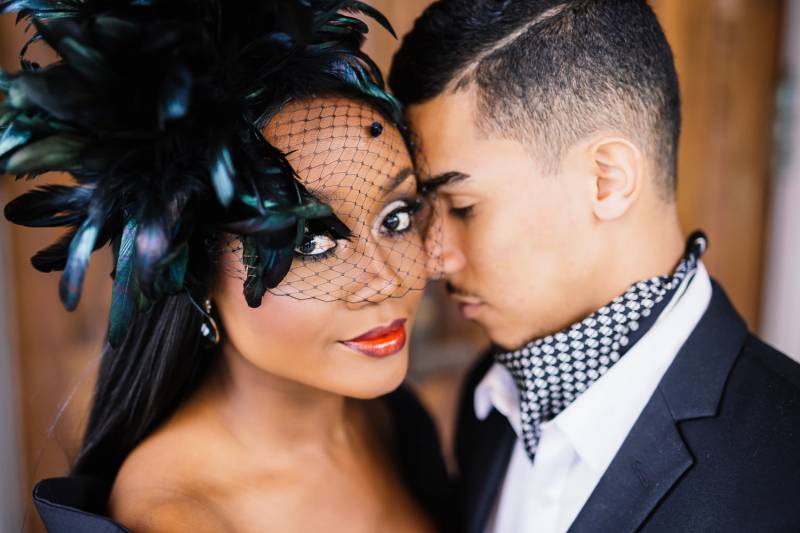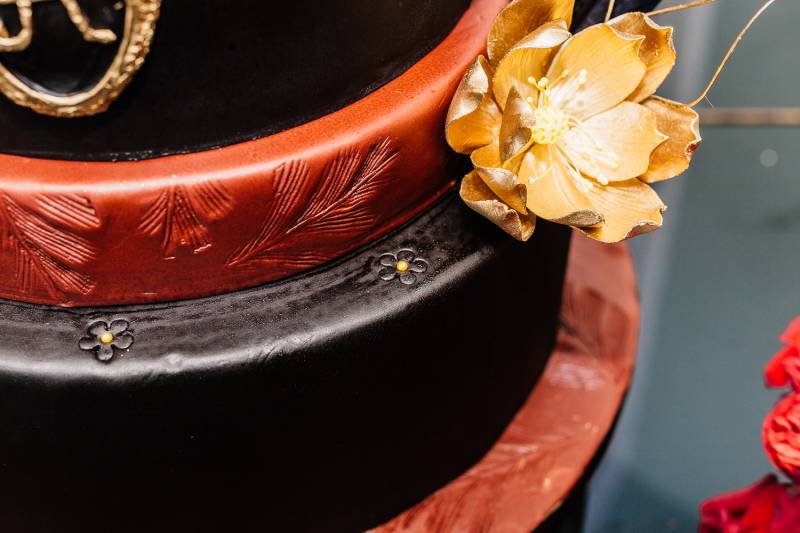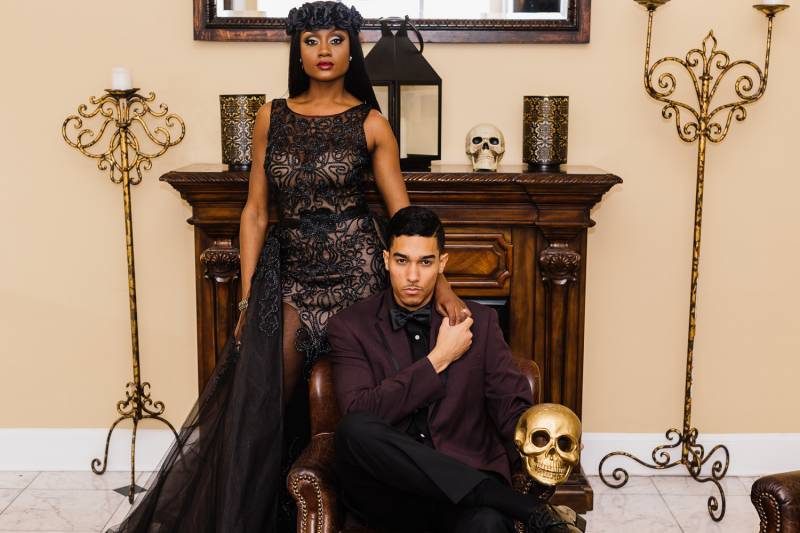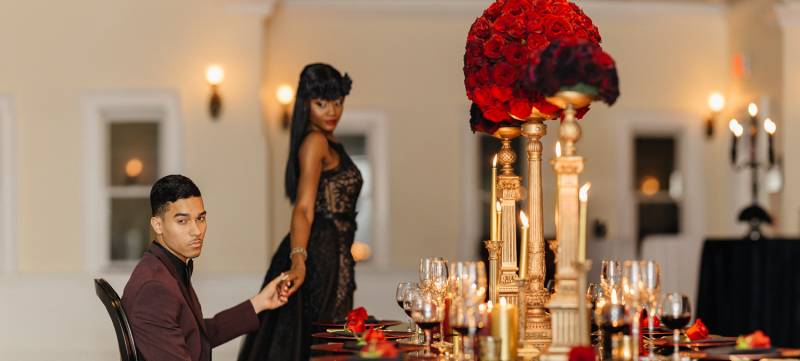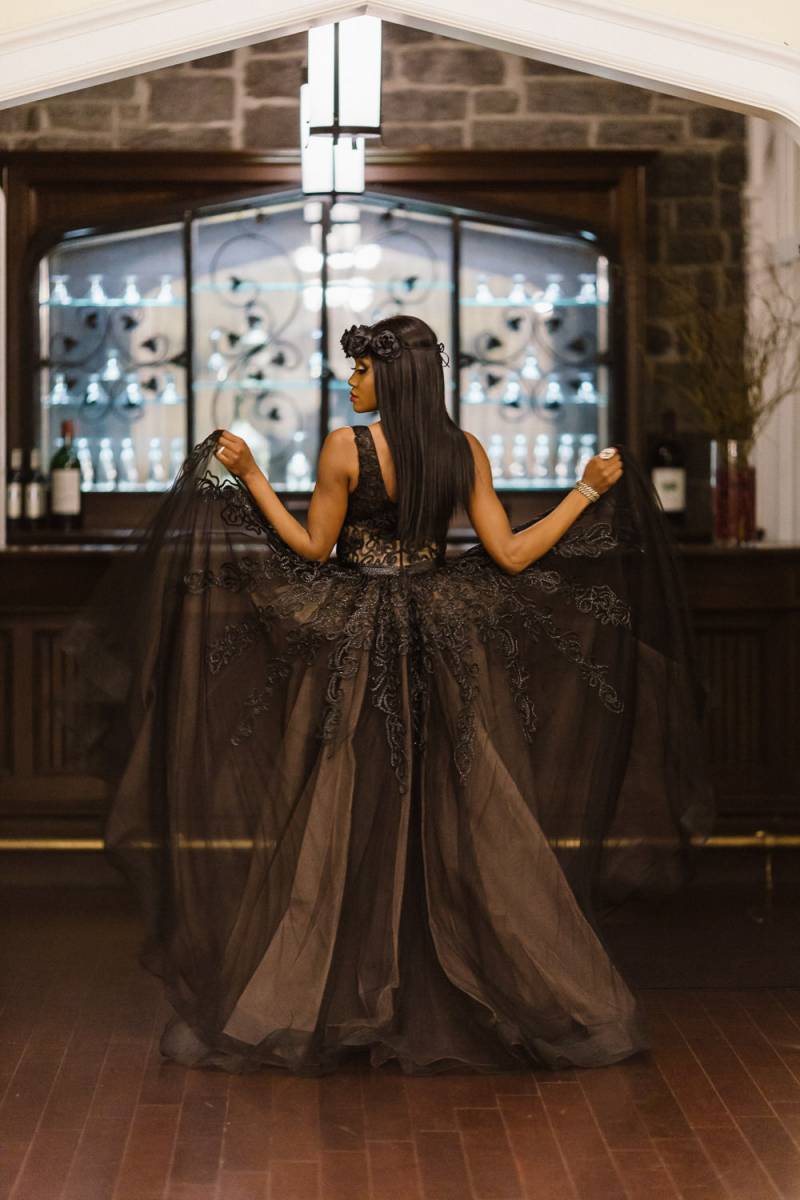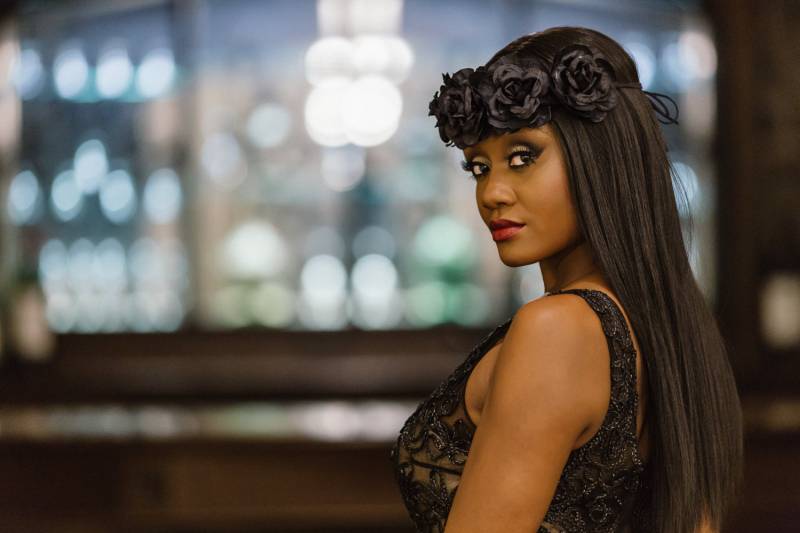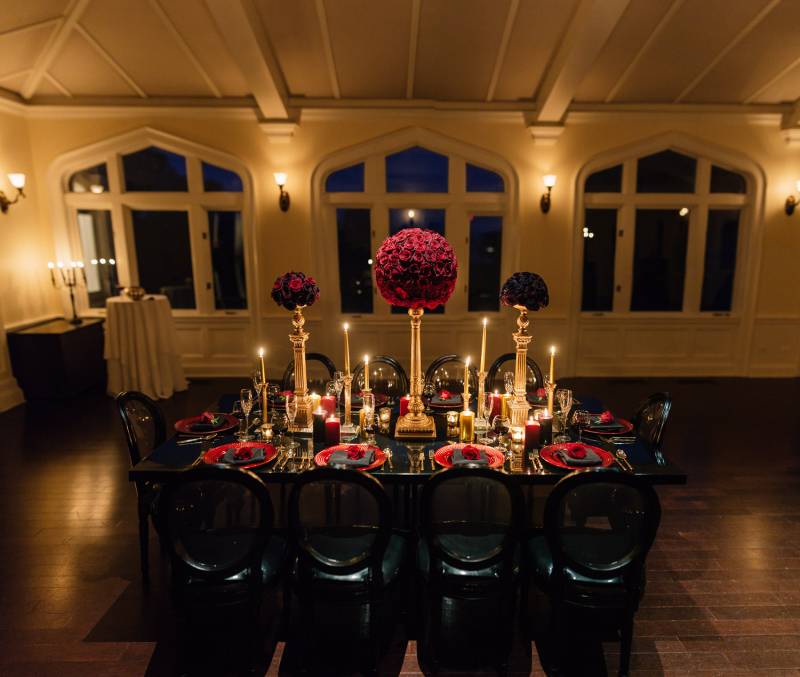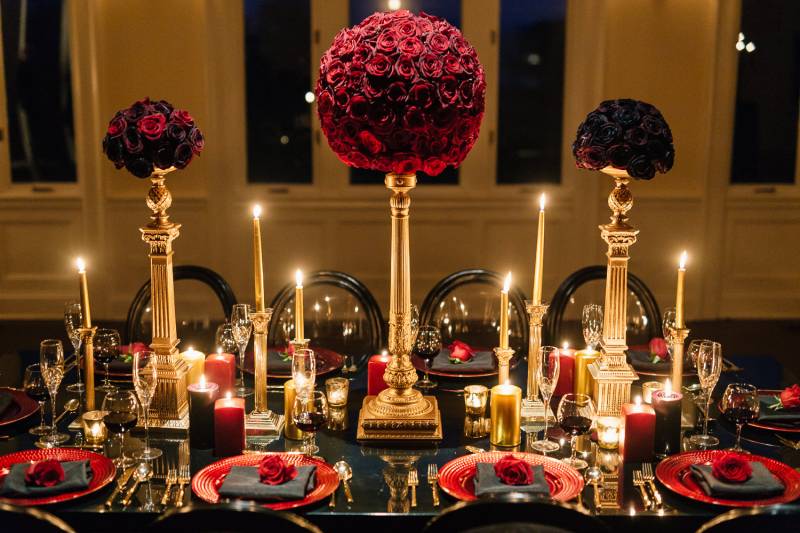 We can't get enough of this gorgeous Halloween styled shoot. Share your favorite details in the comments below.